HJC IS-33 vs. Fulmer 755 Review Summary
HJC IS-33 vs. Fulmer 755 Image Gallery
Time for something different: a comparison of two open-face helmets of modern design.
While the HJC IS-33 may not be a direct competitor of the Fulmer 755, there is one clear winner!
An email arrived, entitled "Helmet Reviews".
"Why don't you guys have more open face helmet reviews?". Good question! And I didn't have a good answer.
I told the writer that…well, I don't remember what I said. Truth is, once I started thinking about it, I realized we have been rather focused on full-face helmets as of late, although in defense, I can point to the open-face AFX FX-50 we reviewed not long ago.
I might also point to a couple of near-open-face gems in what we call the "Modular" category.
A "modular" helmet is, in the webBikeWorld vernacular, comprised of parts, assemblies or "modules" which allow the helmet to be converted from one form to another.
Thus, a flip-up helmet is not necessarily a modular helmet in this taxonomy.
Our definition of modular includes a couple of helmets that others might consider to be an open-face design. Call 'em what you will, they're definitely worth a look also.
These include very cool (in more ways than one) Caberg Ego (review) and Caberg HyperX (review); the Nolan N43 Air (review) and Nolan N43 Trilogy (info).
And let's not forget the unique Shark Evoline Series 2 (review), which is another category-busting and versatile combination flip-up and open-face helmet.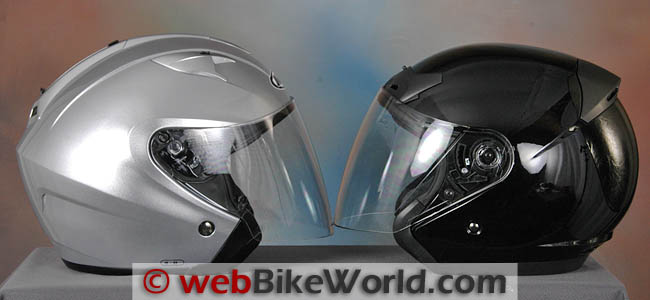 Introduction: The HJC IS-33 vs. Fulmer 755
First things first: if you know your open-face helmets, you will also know right away that the HJC IS-33 isn't really a direct competitor of the Fulmer 755.
Indeed, the HJC CL-33 is HJC's equivalent to the Fulmer 755 (or vice-versa), because neither helmet includes an internal sun visor.
The HJC IS-33 does have an internal sun visor, so it is actually more of a competitor to the Fulmer 9B, which also has the internal sun visor.
Thus, an argument could be made for comparing the HJC IS-33 with the Fulmer 9B, or the Fulmer 755 with the HJC CL-33, but not the HJC IS-33 with the Fulmer 755.
Got it?
Well, if you know helmets to that level of detail, then you know waaay too much about open-face helmets!
So how did we end up with what at first glance appear to be two slightly dissimilar products?
Here's how it happened: As I was browsing the aisles of a local shop, looking for a good candidate for an open-face helmet review, I came upon the Fulmer 755 — a helmet I knew absolutely nothing about and didn't even know existed.
Since Fulmer doesn't sell helmets online, the only place you'll find one is in a brick-and-mortar motorcycle shop. And since I don't often get behind those brick walls, I wasn't up to speed on the 2011 Fulmer product line.
We haven't been all that fond of the Fulmer helmets we have reviewed so far, but this one seemed different. After inspecting it and putting it on, I was impressed. But before I made my decision, I wanted to check out some of the competition.
And that's when I discovered the HJC IS-33 — and it looked like another good candidate for an open-face review, so I bought both.
I did not see a Fulmer 9B, nor did I see an HJC CL-33, and I knew nothing about those helmets until I got home and did some online research.
So that's how I ended up with these two helmets for an open-face comparison. As it turns out, fate was with me, because it just so happens that this pair makes for a very interesting comparison…and there's also one clear winner.
And I'll bet it's not the one you think!
HJC IS-33 vs. Fulmer 755: Paint, Graphics and Overall Quality
We've been less than satisfied with the quality of Fulmer helmets that have been reviewed on webBikeWorld. But, I have to say, I was impressed when I first handled the Fulmer 755 and that hasn't changed after riding with it.
Granted, I'm looking at a sample size of one, so I'm giving Fulmer the benefit of the doubt. The 755 looks good and the quality is much better than any Fulmer helmet I've tried in the past.
In fact, both of those factors made the helmet a standout compared to the rest of the open-face helmets I found on the dealer's shelves, and its good looks are what initially brought it to my attention.
The 755 is an open-face helmet in the modern idiom. These "new generation" open-face designs look good, with a modern, slightly angular and sleek appearance, compared to the 3/4 size open-face helmets of the past.
Those old-school 3/4 helmets never performed well back in the day and they certainly don't perform any better in 2011 — not when helmets like the HJC IS-33 and the Fulmer 755 are available.
Both the Fulmer 755 and the HJC IS-33 exhibit outstanding quality. They both have excellent paint and, I must say, the Fulmer is especially nice, looking good in all of their color variations.
In fact, the Fulmer edges past the HJC — but only just — in this regard, because our HJC has one tiny paint flaw and the press-on HJC logo decal not only looks a bit crude, the lettering already shows some wear just from sitting in the box.
All of the Fulmer 755 helmets I handled at the dealer were impressive, especially the silver version. Fulmer customers apparently agree, because the silver in size L was sold out at the store.
The main difference between these two helmets (and the only reason they're not exactly comparable) is that the Fulmer does not have an internally rotating sun visor, while the HJC does.
But, unfortunately, in a money-saving gesture, HJC used their standard spring-loaded sun visor design on the IS-33, which has never been a favorite around here.
It just doesn't work very well and when it's fully engaged, the sun visor lies directly in the rider's line of sight. Thus, its presence actually deducts a few points from the IS-33's rating.
The styling of the Fulmer 755 is also less complicated than the IS-33 and we think that actually makes it more attractive. It's modern, yet subtle and, as you'll learn, the smooth surface helps control noise.
The HJC IS-33 is no slouch in the quality department however, and the liner quality is maybe just a touch better than the Fulmer, especially around the ear cups.
Both helmets have outstanding visibility through their optically correct face shields, so no problems there.
The vents work well, although the dual independent vents on the HJC IS-33 require more fussing than the preferred single vent on the Fulmer 755.
And, in another surprise, the Fulmer's vent system actually works a bit better, although neither is what I'd call effective.
Score: The Fulmer 755 just pulls ahead of the HJC IS-33 in initial quality, with super paint, a nice thick clear coat, nicely fitted vent covers and more. The HJC is also very good but a couple of very minor ticks give the nod to the Fulmer.
HJC IS-33 vs. Fulmer 755: Helmet Fit, Internal Shape and Liner
Both of these helmets are size large and both have what we are classifying as a neutral to slightly round fit. The HJC fits slightly snug, perhaps about 1/2 size small, while the Fulmer fits slightly large for its size, perhaps 1/2 to 1 size.
I didn't find a size chart on the HJC website but some of the retailers list the IS-33 in size large as fitting a 59-60 cm head and I'd agree, although it does run slightly snug, so I'd shade it down slightly to 58.5 cm or perhaps even 58.0, depending on the head shape.
The Fulmer size charts are listed along with each helmet in their Spring 2011 catalog (.pdf). The Fulmer 755 in size large is listed as "24" on that chart, which I assume means inches (Note to manufacturers: it helps to label the dimensions!).
If it does mean 24 inches, that translates to 61 cm, and I think the 755 is all that, because the helmet feels about a half-size big on my 60.5 cm round head. I'd say it should fit a 60-61 cm neutral- to round-shaped head.
Since these are both open-face helmets, there's a bit more wiggle room in the sizing, especially around the bottom of the helmet, which can be made snug with the chin strap to make up for slight differences.
Both helmets are very comfortable, with the HJC perhaps having a slight edge due to its slightly thicker-feeling liner and padding.
However, this is hair-splitting, if you don't mind a pun, because both are pretty comfy and actually about as comfy as the better full-face helmets.
Both liners are removable, by the way.
HJC uses its "Silver Cool" lining in the IS-33; in fact, the helmet has many of the features found on the better HJC full-face designs. But, in another surprise, we both agreed that the Fulmer 755 liner feels more comfortable in the very hot weather we've been experiencing.
It seems to have better moisture-wicking performance, although this may be due to the slightly larger fit, which allows more air to circulate.
But I have noticed that in very hot weather, sometimes the more thickly padded helmets trap more heat and moisture than a helmet with thinner padding, something to think about.
The ear pockets on both helmets appear to be slightly larger than average (i.e., compared to full-face), with the HJC having a slightly thicker fabric liner along the bottom.
Bottom line?
Both of these helmets are very comfortable and I think either would be a good choice especially for riding big touring bikes (see the Noise Levels section below though) or for riding behind a large fairing and/or tall windscreen.
Both Burn and I had many opportunities to swap out a variety of bikes while wearing these helmets and we're in agreement on this.
More information on helmet fit can be found in the webBikeWorld Motorcycle Helmet FAQ page, along with the chart that lists the helmet weights of webBikeWorld reviewed helmets and also by shape on the webBikeWorld Motorcycle Helmet Shapes page.
Score:  This is a tough one, both helmets fit well and are comfortable, so I'll call it a draw. Visit your local dealer to try one on to see if you need the slightly snug HJC IS-33 fit or the slightly roomy Fulmer 755 fit.

Fulmer 755 liner (L) and HJC IS-33 liner (R).
HJC IS-33 vs. Fulmer 755: Face Shield, Eye Port and Visibility
One of the really nice features of an open-face helmet is the outstanding visibility provided due to the absence of a chin bar. Of course, there's a downside to not having a chin bar because of the protection factor.
But some motorcyclists feel claustrophobic in a full-face helmet so for them, there isn't a choice.
One thing's for sure though — both of these helmets offer virtually unlimited visibility in all directions, and that's a real safety factor in and of itself. I almost always wear full-face helmets, which have only slightly varying degrees of difference in terms of their outward visibility.
So wearing either the HJC or Fulmer is a real eye-opener, if you don't mind another pun.
It really is nice to be able to see everything in front of the bike, everything on both sides (as much as my peripheral vision allows), all of the instruments and even down on to the top of the fuel tank, something rarely visible when wearing a full-face helmet.
Both of the face shields have outstanding optical properties, with a slight advantage to the Fulmer version because the clarity seems completely unaffected when the rider is wearing polarized sunglasses.
The HJC IS-33 shield measures 2.20 mm thick on our helmet and the Fulmer 755 measures 2.10 mm. Both are marked as meeting the VESC-8 standard in the U.S., another plus.
The HJC face shield has 6 detents, which is more than many full-face helmets but ironically, they really aren't necessary on this type of helmet; a simple all down and all up is all that's required.
The Fulmer has 5 detents that feel a bit less crisp than the HJC, but again, who needs them? Up or down is all you'll probably ever use.
Both snap into place when fully lowered and the Fulmer 755 helmet shape works with the face shield to provide smoother air flow and a quieter environment.
Neither face shield has a lift tab; grabbing the center with two fingers is the way to go.
Things are a bit different when it comes to removing and replacing the face shields. The HJC IS-33 does not have the excellent HJC "RapidFire" quick removal system; it uses the older "QuickSlide" system instead, which is slightly balky, although it gets the job done.
The Fulmer removal system, which is explained only on the vinyl protective face shield stick-on (don't lose it!), is more difficult to use.
In fact, we couldn't get it to work when we were taking the video (below); it's supposed to release with finger pressure but doesn't.
You'll probably need a screwdriver or some type of stylus to push the lever, which is very tight, and release the shield. I'm not sure if they're all like this, but ours is very stiff — too stiff to work with a finger.
The upside is this: how often will you remove and replace the face shield on an open-face helmet?
One side note: the design of the Fulmer 755 permits the installation of the excellent Sunax Sunshield (review). We installed a basic Sunax Sunshield on ours and it works better than the original equipment sun visor in the HJC IS-33. Simplicity beats complexity again!
HJC lists the IS-33 face shield as having an anti-fog and anti-scratch coating, and they specifically state also that it blocks UV light. We couldn't find any information about the Fulmer 755 face shield.
We did, in fact, try the Clarity DeFog It anti-fog treatment (review) on both helmets, which is very easy to apply to the "open" style face shields on an open-face helmet. Since the temperatures are hovering around 90 F, it wasn't really necessary, however…
Both face shields seal tight enough across the top to keep water from running in, although the eye port gasket on the HJC continues along the side of the face shield to shunt the water away.
While on the Fulmer 755, a space on either side has the potential to allow water to enter the eye port, although we didn't experience this.
webBikeWorld Eye Port Visibility Estimator: HJC IS-33 (Red) and Fulmer 755 (Blue)
Visibility
Poor
Below Average
Average
Above Average
Outstanding
Top to Bottom
Side to Side
Score:  Both helmets get an "Outstanding" rating for the overall quality and operation of the face shield, the seal along the top of the eye port gasket and outward visibility.
The Fulmer 755 face shield works better with polarized sunglasses, while the HJC IS-33 face shield has better sealing. But the Fulmer face shield removal system is difficult, so the HJC gets the nod here, although just barely.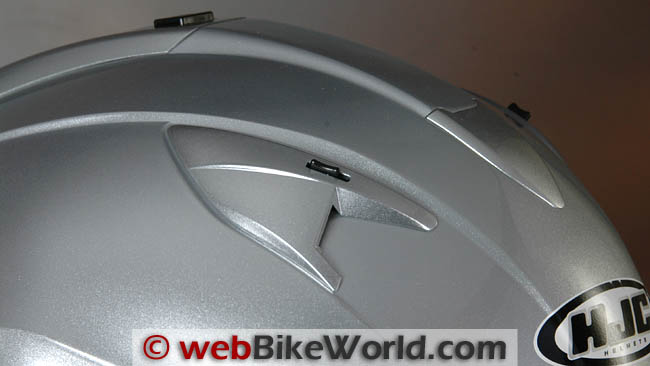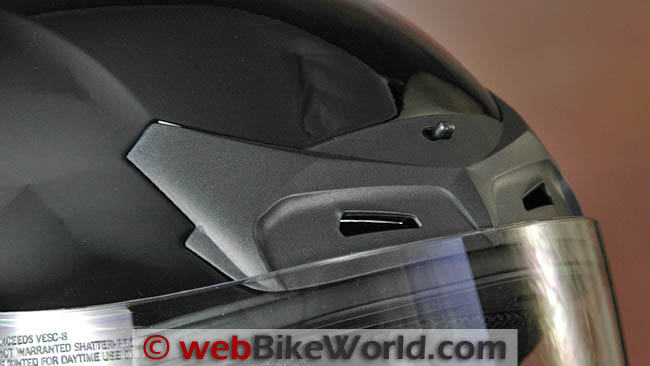 HJC IS-33 vs. Fulmer 755: Ventilation and Air Flow
An open-face design usually means unlimited air flow, at least around the chin and face. But, as we noted in our current hot weather, this doesn't necessarily mean the upper ventilation will be as effective.
Both of these helmets have good air flow around the bottom, of course. The large face shields cover almost the entire face, which helps keep wind and noise levels under control.
Unfortunately, neither helmet has anything more than the typical weak air flow through the top vents.
The plush liners are partly to blame here, as the fabric can block any air streaming in through the small vent openings in the EPS liner.
The Fulmer 755 liner does block the vents, but if I really concentrate, I think I can feel more air coming through than I can on the HJC IS-33. Again, this may be due to the slightly looser fit of this helmet.
In any event, the Fulmer 755 feels a bit more comfortable in very hot weather. Also, its top vent design is smoother, sleeker and easier to operate, needing only a push of the single lever that operates both vents.
And there's an issue with the dual vent system on the HJC IS-33, as you'll learn in the following section…
Both helmets have functional exhaust vents; the Fulmer vents are incorporated into a ridge along the top that also serves as a spoiler, while the HJC rear exhaust vents are incorporated into the rear of the spring-loaded internal sun visor assembly.
Both helmets also have secondary exhausts; they are located along the bottom edge of the Fulmer along the rear, while on the HJC they are located about half-way down.
webBikeWorld Opinionator: Ventilation – HJC IS-33 (Red) and Fulmer 755 (Blue)
Location
Poor
Below Average
Average
Above Average
Outstanding
Top/Upper
Chin/Face
Score: Another draw, because neither helmet has an efficient top venting system. Both have, obviously, nearly unlimted lower ventilation at the chin, whether you want it or not.


HJC IS-33 vs. Fulmer 755: Sound Levels
Here's where the real difference is noted between these two helmets.
The dual upper vents on the HJC IS-33 remind one of the days when almost every helmet had poorly designed scoop-style top vents of the type that usually created a lot of wind noise.
The top vents on the IS-33 are perfectly positioned to catch the air when the rider is sitting upright.  Unfortunately, this doesn't mean that the air flows down on to the rider's head. What it does mean is that the air hitting them creates quite a racket.
There's no getting around it, these vents whistle, blow and hum like nothing I've heard in some time.
They are especially noticeable when riding a touring bike or behind a windscreen that funnels the air towards the top of the helmet.
That big internal sun visor operating appendage on the back doesn't help either; as noted on other HJC helmets that use this system, it creates noise from the air turbulence as it sweeps over the assembly.
The only way to stop the noise is to put a hand over the vents, or, perhaps by filling them with silicone! So in the Sound Level criteria, the HJC IS-33 fails.
It's too bad actually, because the air seems to flow rather well around the rest of the helmet and the noise levels along the lower half are well controlled, probably helped by tight seal created by the plush liner and padding.
The Fulmer 755, on the other hand, was the big surprise here.
This is where its sleeker design really helps because it slices through the air with very little wind noise and, in fact, it's quieter than many full-face helmets I've worn. This is pretty amazing actually, more so because the 755 is an open-face design.
The air also seems to flow smoothly off the face shield and sides of the helmet, which helps. It works just as well when riding a motorcycle without a windscreen as it does riding a big touring bike (Burn's BMW K1100LT).
webBikeWorld Opinionator: Noise – HJC IS-33 (Red) and Fulmer 755 (Blue)
Location
Very Quiet
Quieter
Average
Louder
Very Loud
Upper
Lower
Note that our helmet evaluations are a combined effort of several riders over time on different types of motorcycles with and without windscreens.
Evaluators wear correctly fitted, high quality ear plugs (even when evaluating motorcycle intercom systems).
Always protect your hearing when riding a motorcycle. See the wBW Earplug Reviews for more information on choosing and wearing earplugs.
Note also that perceived noise levels will vary, depending on the individual.
Noise can be caused by many factors, including helmet fit, the type of motorcycle and windscreen, wind speed and direction and even the rider's clothing.
For more information on helmet noise, visit the wBW Motorcycle Helmet Noise page.
Score: I'll give the Fulmer 755 and "Outstanding" rating for excellent noise control. The top vents on the HJC IS-33 create a loud whistling noise that borders on unacceptable.
wBW Video: HJC IS-33 and the Fulmer 755
In another surprise, both helmets weigh nearly the same. Prior to putting them on the scale, both Burn and I thought that perhaps the Fulmer 755 was the lighter of the pair.
Surely the sun visor contraption on the back of the HJC, along with the visor itself, would add weight? Not so, apparently.
The HJC IS-33 weighs in at 1421 grams (3 lbs., 2-1/8 oz.) while the Fulmer 755 weighs 1439 grams (3 lbs., 2-3/4 oz.).
There must be some differences somewhere to account for this; hopefully it is a thicker shell on the Fulmer 755, which, by the way, is noticeably smaller in the photos and on the head.
For comparison, the Zeus ZS-608A in size large weighs 1416 grams (3 lbs. 2 oz.); the GMAX GM 27(L) at 1427 grams (3 lbs. 2-3/8 oz.); the Zamp JS-1 in XL at 1497 grams (3 lbs. 4-3/4 oz.) and the AFX FX-50 in size large at 1525 grams (3 lbs. 5-3/4 oz.).
To a certain extent, weight is immaterial on both of these helmets, as they fit comfortably and both feel balanced, so the weight is carried well.
The HJC IS-33 shell does seem larger, as noted, and it has a touch of that "space helmet" look of a too-big helmet shell on a too-small head.
Also, it doesn't sit quite as low on the head (or on my head actually), which is also one of the reasons why the internal sun visor doesn't close low enough to remain out of my vision.
Note also that all of the helmets reviewed on webBikeWorld have been weighed and the weights are available on the wBW Motorcycle Helmet Weights page, along with a chart that lists the helmets by weight and shape on the wBW Motorcycle Helmet Shapes page.
Score:  I'll give both helmets an "Excellent" rating for non-obtrusive weight and good balance.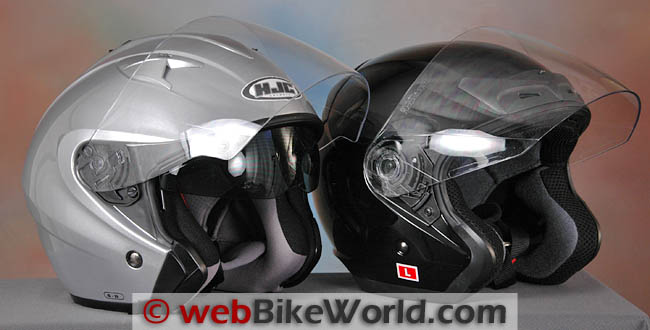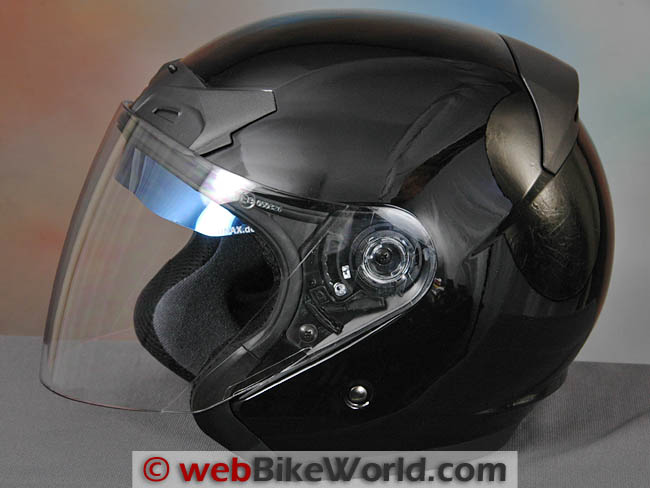 Miscellaneous
Both of these helmets use the double D-ring attachment system and both feel comfortable, with extra padding underneath. They both have snaps to hold the extra length of chin strap.
The helmets are labeled as meeting the DOT safety standard. Both have a polycarbonate shell.
webBikeWorld Overall Opinionator: HJC IS-33
Picks…
…and Pans

Excellent overall quality.
Comfortable liner and padding.
Looks good.
Face shield has excellent optical quality and is fairly easy to remove.
Solid construction.

Upper vents are weak.
Upper vents make a loud whistling noise in almost any riding situation.
Internal sun visor could have more travel.
webBikeWorld Overall Opinionator: Fulmer 755
Picks…
…and Pans

Excellent overall quality.
Comfortable liner and padding seems to work better in hot weather.
Looks even better.
Face shield has excellent optical quality.
Solid construction.
Very quiet.
Low price.

Upper vents are weak.
Difficult to remove the face shield.
Padding around the bottom of the shell and ear pockets feels thin.
Conclusion
The Fulmer 755 is the surprise winner of this comparison. it looks just right; modern, up-to-date styling but not too much of the far-out "Jet" helmet look.
The quality is excellent and the fittings appear to be of higher quality also than any Fulmer helmet we've seen in the past.
It also has a list price of only $69.95!
Its sleek looks pays off on the road also; it seems to slice through the air and both of us are very surprised at how quiet this helmet is, especially considering it's an open-face design.
The Fulmer 755 is also comfortable, it has a fantastic view out the optically perfect face shield and it's comfortable. It's definitely our pick for a solid open-face helmet.
The HJC IS-33 is a nice helmet also, in all areas except two. The spring-loaded internal sun visor system that HJC uses is not our favorite and never has been.
There's nothing wrong with a simple friction-based system; we think this one is overdesigned and it underperforms, a losing combination.
We could live with the sun visor, but the loud whistling noise that we heard in the top vents under all conditions makes the IS-33 the definite loser in this comparison.
The Fulmer 755 is much quieter in comparison and that makes a huge difference, especially for the touring rider who is probably the target market for this helmet.
The downside for some is that Fulmer helmets are only available at "brick and mortar" dealerships. But it's worth a visit to try one on and see what you think next time you're downtown.
wBW Review: HJC IS-33
Available From: HJC Helmets
List Price (2011): $139.99-$144.99.
Colors: Solids and Metallics
Made In: Vietnam
Sizes: XS-2XL Shell Sizes: Unknown
Review Date: August 2011

Rating Scale is subjective: Unacceptable, Poor, Neutral, Very Good, Excellent, Outstanding.
wBW Review: Fulmer 755
Available From: Fulmer Helmets
List Price (2011): $69.95
Colors: Solids
Made In: Taiwan
Sizes: XS-2XL Shell Sizes: Unknown
Review Date: August 2011

Rating Scale is subjective: Unacceptable, Poor, Neutral, Very Good, Excellent, Outstanding.
Note
: For informational use only. All material and photographs are Copyright © webWorld International, LLC since 2000. All rights reserved. See the webBikeWorld® 
Site Info page
. Product specifications, features and details may change or differ from our descriptions. Always check before purchasing. Read the
Terms and Conditions
!
Owner Comments and Feedback
---
From "D.E." (September 2012): "I have used the HJC IS-33 for several months riding a Kawasaki Vulcan Nomad and a BMW R1200RT and have to disagree with the complaint about the noise.
I have found the IS-33 to be quieter than my full face helmets (one of those is an HJC and the other is a Scorpion EXO-900) and have never noticed a whistling noise….maybe HJC has fixed this since your review or I have just gotten a "good one".
While the internal sun visor is nice, I do wish that it came down a bit farther and so I usually wear sun glasses instead. Just my two cents….great review and I can't wait for you to review the Bell Mag9."
---
From "D.S." (October 2011):  "Interesting comparison between the Fulmer 755 and the HJC open face. I've had The HJC for 18 months or so and, contrary to your findings, I find the spring loaded internal visor to be one of the helmets best features.
Very convenient, quick and dependable one handed operation. It has yet to give me a problem with near daily use on a Goldwing or KLR, depending on my mood, and wish all helmets were set up this way.
The Nolan 103 I used worked ok but seemed awfully clumsy when compared to the HJC. I agree that the HJC is noisy though.
Which has me looking to purchase either a Vemar Jiano (review) or Caberg Sintesi (review) (if I can find a dealer-trying to contact an overseas dealer is not all that easy) helmet for an upcoming trip to Alaska and then sort of a "four corner" tour as I return to Maine.
Anyhow, I spend a lot of time on your site and find it informative as well as entertaining."
---
From "W" (August 2011):  "The face shield base needs some time to "break in" or use silicone oil lubricate it, and it will be easier to remove and set up the face shield. This is (a YouTube video that shows) the smooth action for (the face shield on this helmet)."
Other WebBikeWorld Helmet Posts