Introduction
Recently I posted that I had purchased an airbag vest so as one can tell from the title of this writing, I chose to go with the Hit-Air MLV-C Airbag vest. Here's a look at why I chose the Hit-Air brand and why I chose to go with a vest instead of an airbag integrated jacket.
Why Hit-Air Over Helite?
The two major players in the motorcycle airbag vest/jacket arena are arguably Hit-Air and Helite. There are also a handful of others making vests using a tethered system like the one used on these devices. After a lot of research, I chose to go with the Hit-Air brand.
(Note: There are options from Dainese and Alpinestars that use electronic sensors to activate their airbags but I wanted to focus on the tethered systems for this review)
Deciding wasn't easy as both manufacturers offer a quality product. Helite, for there part, does a bit more marketing than Hit-Air so their name may be more familiar. Marketing isn't everything (but sometimes it is, I'm looking at you Betamax) and I wouldn't have guessed that Hit-Air got started several years before Helite based solely on name recognition alone.
In terms of options, Helite has three with their Turtle vest, a race version, and a custom leather option. Hit-Air has several offerings for vests, seven by my count, and that is just the vest options. There also appears to be 13 jackets available from Hit-Air that include their airbag technology so Hit-Air has the most variety of options.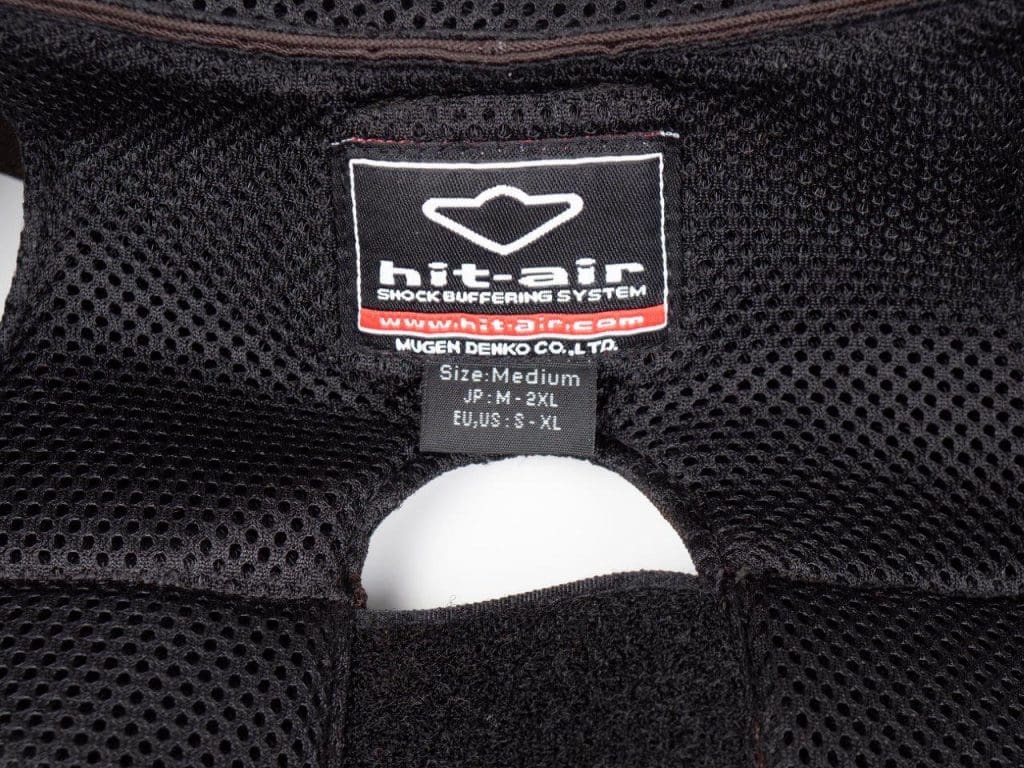 The Helite Turtle vest has an integrated back protector that sits over the inflation bags in the vest. This is a great feature for impact protection. The Hit-Air vest offers optional back protectors for their vests that installs via hook and loop fastener on the inner side of the vest under the airbag.
I like the optional nature of the back protector in this case, especially since I have CE level 2 back protectors installed in my riding jackets already. This last point I would consider a toss-up so no points either way. In the end, I chose the Hit-Air, but then I had to answer the next question…
Which one?! Read on to find out.
Why the MLV-C?
At the top of Hit-Air's lineup is the new VHR model which boasts their fastest inflation time at .09 seconds. The VHR is designed with inflation priority on the neck area followed shortly after by the rest of the airbag coverage.
Just below the VHR in price is the MLV-C, which is the model I purchased for myself. This model boasts a just slightly slower inflation time of .18 seconds which is still very fast. I also believe but have not yet verified, that the airbag volume is a bit larger on MLV-C than the one used in the VHR which may be part of how the VHR inflates so fast.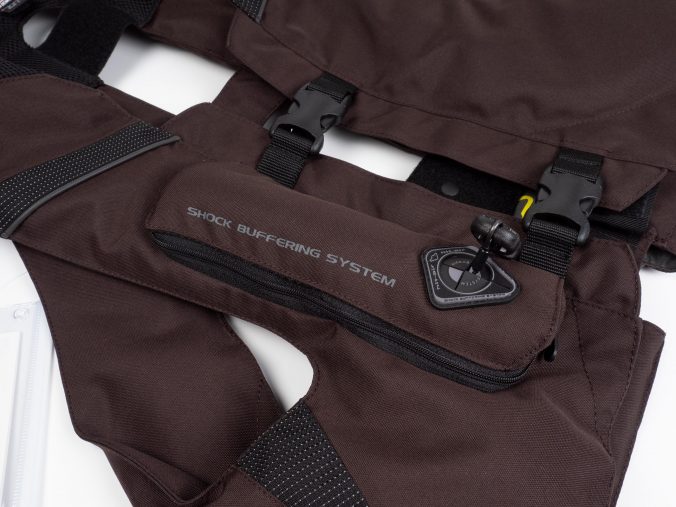 Coverage over the tailbone (coccyx) also appears more generous with the MLV-C model. This was part of the reason I chose it over the VHR. For me, it seems worth the extra coverage at the cost of .09 seconds of inflation time.
The MLV-C is also the base for two variants including a nighttime reflective option, and Hi-Viz option. On top of that, there are several color variations in addition to black including brown, red, blue, white with special edition color schemes of black/red, black/green, black/white, blue/white, and red/white. To steal an old saying from Burger King®, you really can have the MLV-C "your way".
Vest Versus Jacket
The most difficult decision I had to make ended up being the choice between getting a vest or going with a jacket with an integrated airbag. Hit-Air has a good selection of jackets from Summer mesh to ¾ length adventure styles.
There is a convenience factor of not having to put on a vest over a jacket and I appreciate the "designed around an airbag" idea. In my mind, the jacket seemed ideal but at the same time, a vest will work with all of my current jackets.
Versatility ended up winning out as the vest would go over a mesh jacket, waterproof/cold weather jacket, or anything in between. For now, I have the vest but the Hit-Air jackets still look very interesting so there may still be a jacket or two from them in the future.
Pricing
I was leaning towards the Hit-Air over Helite even before delving into the prices and I ended up on the better side of value. The MLV-C vest starts at $479.00 (USD) in black and the particular version I purchased was an extra $30.00 for the brown version.
The Helite Turtle vest runs $629.00 (USD) but includes the SAS-Tec CE level 2 back protector. So while it costs more than the base MLV-C or even the VHR Hit-Air model, the difference is not that great and by the time one adds the extra $40.00 for an extra back protector from Hit-Air, the cost difference is pretty small.
I want to point out that pricing should not be the most important factor in purchasing protective equipment. The difference here is near enough that my decision wasn't really influenced by price but in the end, the difference was just over $100.00 so it worked out well for me.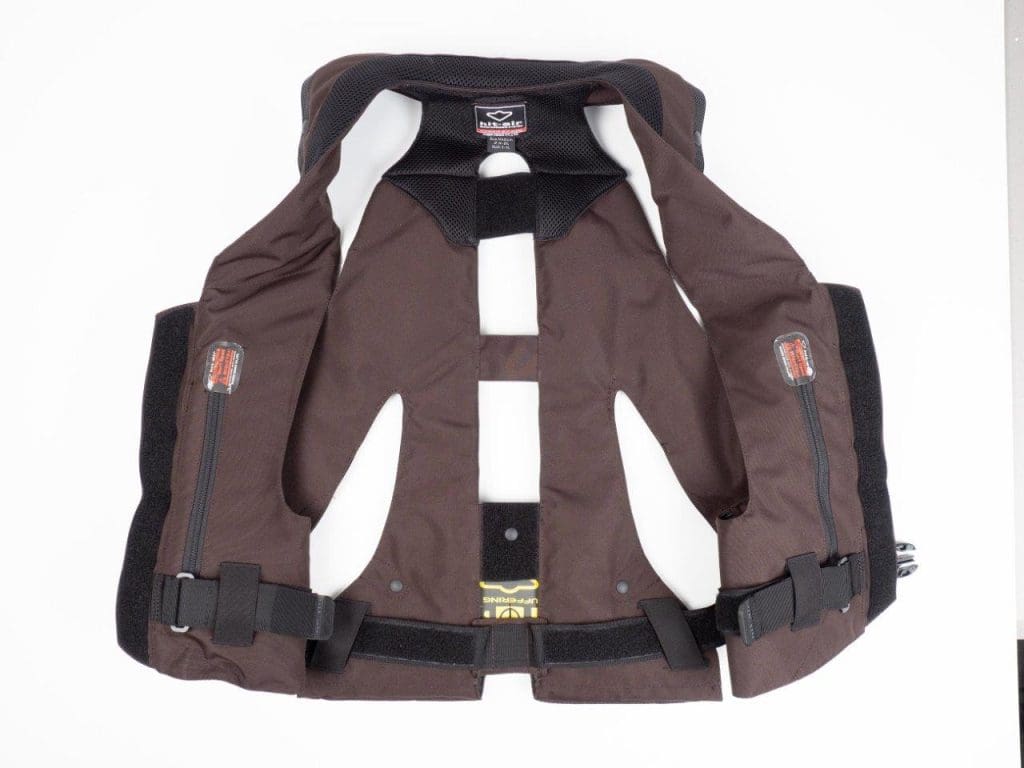 Conclusion
In the end, I don't believe one brand is necessarily "better" than the other. Rather, there is likely one that has offerings better for one's specific needs. Obviously, I preferred the offerings from Hit-Air but I don't believe that either will offer significantly better protection when similarly equipped.
Hit-Air offers more variety of choices for both vests and jackets and, in the case of the MLV-C, a selection of colors to add some style to the vest. Style may not offer more protection but I appreciate the options and took advantage of it myself.
My goal here is to offer insight into the reasoning behind my choice of brand and device so hopefully, this will be useful in helping to guide others to find the best airbag device for them. Keep an eye on MotorcycleWords as I'll be posting up my review of daily use of the vest as well as an installation of the tethering cable.
Specifications
Product: MLV-C Airbag Vest
Manufacturer: Hit-Air
Sizes: Medium (covers S – XL), Large (covers XL-3XL)
Color(s): Black, White, Red, Blue, Brown, plus special edition colors
Made In: Japan
Price: $479.00 base ($509.00 as tested)
*Article originally published at Motorcycle Words by Brandon Jackson.