If you're looking for a new sports helmet, then the Scorpion EXO-GT920 should be at the top of your short-list. Perfect for hardcore sports commuters and light on your wallet, this modular design comes stuffed with all the fine features you need.
Despite being a flip-up helmet, the EXO-GT920 is more than capable of protecting you in the event of a crash. Weighing in at 3.71 pounds (1.68 kg), it is one of the lightest modular helmets that you can find in the market. This makes the EXO-GT920 an ideal choice for sport touring and long rides in general.
This intermediate oval-shaped helmet comes with a number of small features that make it more user-friendly than some of Scorpion's previous, heavier and more expensive models. In addition, it has a different aerodynamic structure than previous models which allows for smoother rides. The difference in aerodynamics and ventilation scheme also gives the EXO-GT920 a cool, edgy look.
All in all, the Scorpion EXO-GT920 Helmet provides premium protection and flexible features. That too in an aggressive-looking lightweight design that is sure to turn heads. That being said, let's take a closer look at what Scorpion has to offer.
Benefits
The major benefit of buying the EXO-GT920 has got to be its lightweight design. The use of a polycarbonate shell ensures that you can get a lighter helmet without compromising safety. Durable, strong, and light, the helmet allows you to go touring without causing any discomfort from long-time usage. The lightness of the helmet ensures that there will be minimum stress on your neck and shoulders as you ride. Furthermore, it makes the product easier to carry around even when you're not driving.
Another winning point of the EXO-GT920 is that it comes with speaker cutouts. These allow you to later add Bluetooth communication to your helmet if you want to. These cutouts let you easily integrate a Bluetooth system near the ear positions. The presence of the cutouts also ensures that you can integrate a communication system without creating pressure points near your ear. This is a huge advantage for daily commuters who may need to attend calls on the way to work or just listen to music when they're stuck in traffic.
These benefits make the Scorpion EXO-GT920 an excellent choice for both sports touring and sports commuting. Now, let's look at all the individual features that make up this modular design.
Features
Scorpion provides a number of features, big and small, that increases the EXO-GT920's modular functionality. They are as follows.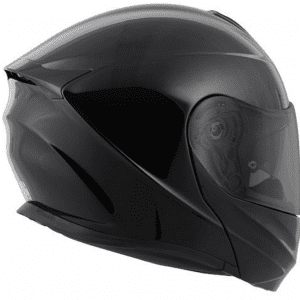 Shell
The intermediate oval shell of the EXO-GT920 comes in 3 shell sizes across 7 fits—XS, SM, MD, LG, XL, 2XL, and 3XL. This allows all manner of users to find a size that fits them best.
The premium polycarbonate shell is the crowning glory of this helmet. It is engineered to be light and strong and provides maximum impact displacement. Despite being a flip-up design which is bound to have weak points around the joints at the front, the polycarbonate shell ensures optimum safety in the event of a crash.
The use of dual density multi-layer EPS protects users from all kinds of impact by providing superior energy displacement. And, to top it all off, the aerodynamic scheme of the shell provides a great deal of stability and allows for smoother rides.
Thus, the shell of the EXO-GT920 provides a comfy fit while keeping you ultra-safe.
Face Shields
Scorpion offers an Everclear no-fog face shield that is perfect for all weather conditions. It comes with a locking mechanism that allows for a very positive seal. It's easy to lock down and the tight seal weatherproofs your head. This makes the EXO-GT920 an ideal choice for rainy, misty weather.
The SpeedView internal retractable sun visor optimizes visibility under the harsh sun and provides comfortable vision under the glaring electric lights of the night. It is easy to operate and its controlling knob is easy to find while wearing a glove. This makes it hassle-free to drop down and retract while driving, especially in bad weather.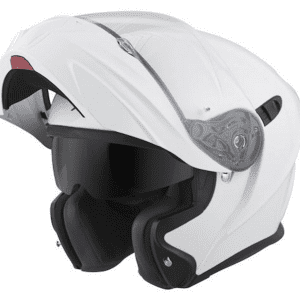 Ventilation System
The EXO-GT920 comes with Aero-tuned ventilation. This creates the most comfortable degree of airflow, allowing you to stay relaxed and focused as you drive. The ventilation system uses dual intake ports to force cool air in, keeping you comfortable in warm weather. The main exhaust vent pulls hot air out, maintaining optimum temperature and air circulation within the helmet.
The adjustable vents are also glove-friendly, making them easy to find and operate. This advanced ventilation system combined with the helmet's aerodynamic structure gives maximum stability during long rides at high speeds.
Liner and Cheek Pads
Scorpion provides a KwikWick II removable liner that keeps you comfortable in a variety of weather conditions. The liner material is such that it can keep you cool in hot weather and warm in cold weather. The liner is also washable and long-lasting.
The EXO-GT920 comes with KwikFit cheek pads. This allows users to easily fit most styles of eye glasses within the helmet.
Speaker Cutouts for Bluetooth System
As mentioned earlier, the speaker cutouts on the side of the helmet allow you to easily integrate a Bluetooth communication system into the EXO-GT920. This is an added advantage if you can't afford a Bluetooth integrated helmet at the moment.
Extra Features Worth Noting
Apart from the main features mentioned above, the Scorpion EXO-GT920 also provides some rather useful minor characteristics. First and foremost among these is the flip-up front of the helmet. As with all modular helmets, the joints of the flip-up front is like a chink in an armor. These act as weak spots that will easily sustain damage in the event of a collision. However, Scorpion has reinforced these regions (like the chin area) with metal hardware. This provides far better protection than helmets that use plastic instead.
The visors of the EXO-GT920 are DOT approved and thus, their quality is certified. The helmet also comes with a 5-year warranty.
So, if you're looking for a feature-stuffed modular helmet, the Scorpion EXO-GT920 will make a great investment.