If you're a lover of long rides and crave the heart-pumping excitement of racing, then the Icon Airframe Pro Ghost Carbon Helmet is the must-have headgear for you. Crafted to perfection in every way, this borderline pioneering product takes comfort, efficiency, and style to a whole new level.
This futuristic design is both a beauty and a beast. With a gorgeous handmade carbon-fiber shell encased in a matte finish exterior, the Icon Airframe Pro Ghost will make heads turn wherever you go. It is manufactured in such a way that it provides optimum comfort and smoothness while you drive (especially at high speeds). It is specially designed for the racing position, and as such, provides optimum ventilation and airflow, reducing drag and maximizing efficiency.
Furthermore, the Pro Ghost is stuffed with features and fits like a charm. With ultra comfortable padding and a superior quality liner, the helmet can make even the longest of journeys strain-free and enjoyable. Yet another desirable quality of the Icon Airframe Pro Ghost is that it has passed several quality/safety standards from various countries all over the world.
So, without further ado, let's take a closer look at all the details of this top-notch product.
Benefits
What every rider seeks in a sports helmet is safety, comfort and a badass exterior. The Pro Ghost provides all three.
The modern motorbike, with its higher rear seat and its lower clip-ons is what the manufacturers of this helmet had in mind when they dreamed it up. Such motorbikes, optimized for racing, make its riders sit and position their body in a certain way. The Pro Ghost is specially designed for such rides. With a face shield that gives increased visibility, a superior ventillation system, and an aerodynamic design that ensures stability, this helmet provides more benefits than most other products of its kind.
The Icon Airframe Pro Ghost has a number of safety certifications under its belt and is designed to protect its users from the kind of heavy damage that can occur in a racecourse. Therefore, it can easily handle any accidents that may occur during regular drives. From flyovers to highways, it can handle all your safety needs.
The Pro Ghost comes in 4 different shell sizes and it is a long oval shape. Therefore, it would be quite easy to find a size that matches you perfectly. Furthermore, its quick-dry padding and modular liner provides a very comfy fit that is perfect for long journeys. The lightweight carbon-fiber is an added bonus.
Features
Now that you have a reasonable idea of what the Icon Airframe Pro Ghost Carbon Helmet has to offer, let's look at this 3.37-pound lightweight beauty at a more technical level.
Shell
The shell of the Pro Ghost comes in 4 unique shell sizes that offer 8 different fits—2XS, XS, SM, MD, LG, XL, 2XL, and 3XL. No matter what your head's shape and size is, you're sure to find a good fit among these options.
The handmade, 4Tress, aerospace-grade carbon fiber shell is sturdy enough to protect you against most impacts, but at the same time, it's very light. This makes the helmet easy to carry around. Another advantage of the lightweight shell is that it doesn't put a lot of stress on your neck and shoulders, especially during long rides.
Face Shields
The optic face shield that Icon offers is fog-free and provides distortion-free vision to its users. It also comes with a rapid release system that makes it very easy to put on. These features ensure that your vision in crystal clear in all light and weather conditions.
The Pro Ghost also comes with a Tracshield tear-off compatible face shield. Therefore, the helmet will be race-ready as soon as you get it. It also offers a Prolock positive shield locking system which keeps the shield in place under all driving conditions. This avoids any need to fiddle with the shield when you are in a hurry.
Ventilation System
As mentioned earlier, the Icon Airframe Pro Ghost Carbon Helmet provides optimum airflow for maximum comfort and minimum drag, making it the ideal racing helmet.
Icon provides linear ported forehead vents for air intake from the front and low-profile vents throughout the shell for optimum circulation of air.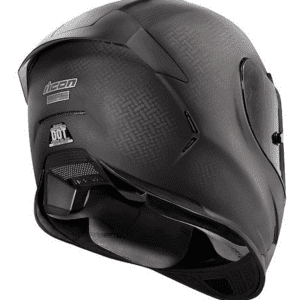 Better Fit with Modular Liner
Unlike traditional three-piece liners, the Pro Ghost comes with a five-piece modular liner with moisture-wicking HydraDry technology. This allows for a greater number of fitment combinations, which means that users can easily find an arrangement that fits them in the snuggest way.
To further sweeten the fitness options, the Pro Ghost has crown, lateral, fore and aft padding components that can be rearranged to get 27 different fitment combinations. And, Icon has made all these available in a single shell. These are almost double the number of fitness option offered by most of Icon Airframe's competitors.
Standards
The Icon Airframe Pro Ghost Carbon Helmet has passed an impressive number of certification tests, so much so, that it will be easier to list them in points.
track-recognized ECE certification (for carbon fiber shell—FRP)
DOT FMVSS 218 (US)
SAI AS1698 (Australia)
ECE 22-05 (EUROPE)
SG (Japan) safety and testing standards
Other Features Worth Noting
In addition to all the features mentioned so far, the Pro Ghost also offers a few extra functions and creature comforts that make it quite a unique product. This includes the sculpted neck roll, which is as comfy as it sounds. It also reduces jacket/suit interference where the helmet ends. Another such detail is the removable breath deflector and the removable chin curtain. And finally, to top it all off, the Icon Airframe Pro Ghost Carbon Helmet comes with both clear Optics and dark smoke Tracshield face shields. There is no need to buy them separately.
So, with all these features and functions combined, this unique helmet is a great investment for anyone who loves life on the road.