More riders can now wear helmet cameras and bluetooth intercom attachments and fit tinted visors after South Australia joined the ACT in formal acknowledgement of 2015 changes to the Australian Road Rules (ARR).
That leaves Victoria as the only state where police have an issue with these attachments, although we have not heard of any recent fines.
It has never been an issue in Western Australia, Tasmania, Northern Territory or Queensland where a former Police Minister actually encouraged helmet camera use for evidential reasons.
Australian Motorcycle Council Protective Clothing sub-committee chair Brian Wood says their advice from the NSW Centre for Road Safety is that cameras and communication devices are legal provided the helmet manufacturer approves their use.
"I'm not aware of anyone in NSW being booked for having a camera or communication device on their helmet for a couple of years," Brian says.
Attachments legal
South Australian Ride to Review spokesman Tim Kelly says the state accepted their submission to accept the ARR.
Hew says it means the requirements for adherence to a helmet standard "become point-of-sale only".
"This means helmet attachments will become legal, tinted visors will become legal and MX sun visors will become legal," he says.
The only amendment to the ARR was the inclusion of a reference to a helmet being in good repair and proper working order and condition.
Rider warned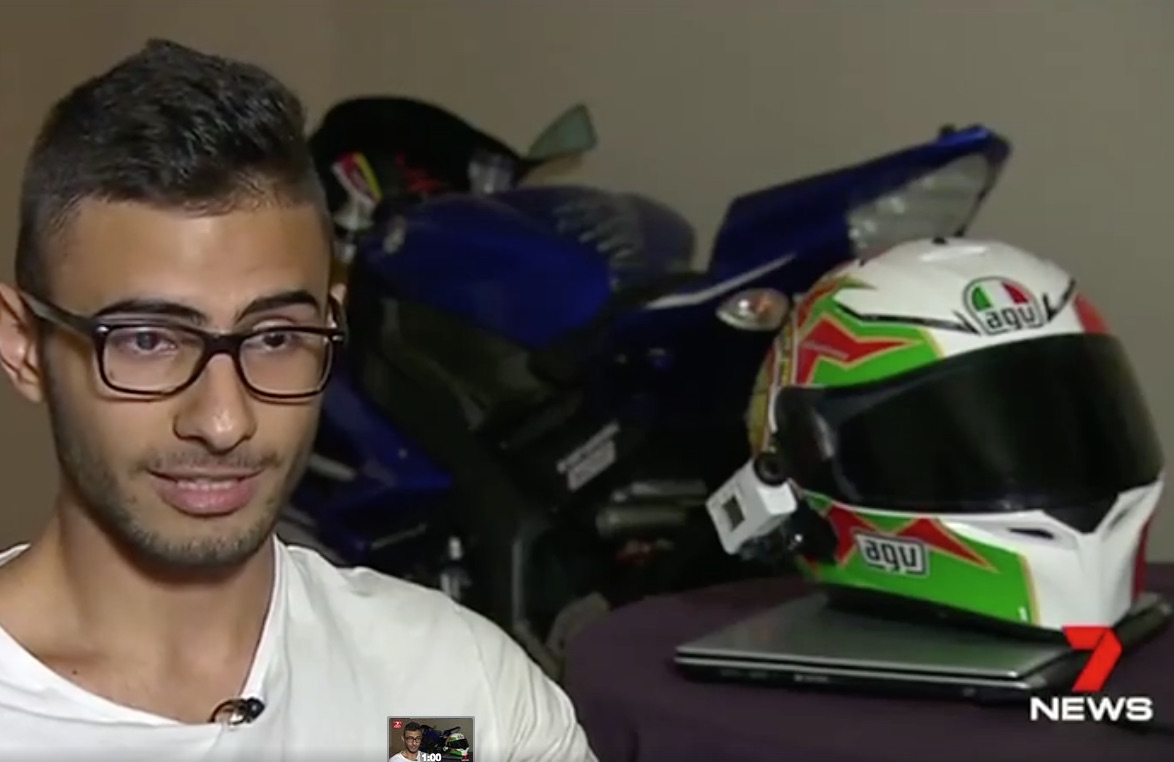 In 2017, Adelaide rider Eric Aria went to the Sturt Police Station to submit video of drivers cutting him off in traffic but instead received an official warning for an "illegal helmet camera".
The police said he could cop a $450 fine if he was caught again with the camera.
Eric has now welcomed the changes to the state rules.
"At least now people know if they can legally wear them or not and there'll be no double standards with police wearing them and not the riders who genuinely need the camera for safety and insurance reasons," he says.
Safety testing
Brian says the NSW Centre for Road Safety did some "oblique impact testing" at Crashlab several years ago on the effect of helmet attachments.
It has been suggested that they can rotate the rider's head in a crash, causing neck injuries.
However, the Centre's report on this testing is yet to be released.
"It should eventually be released, we just don't know when," Brian says.
The Centre told us they had completed three sets of tests on attachments fitted to motorcycle helmets:
The final series of tests were completed earlier this year.  The results and recommendations from the tests are currently been reviewed and a report is expected to be published in 2020.
Brian points out that in the ACT it is legal to have a camera or communication device on a helmet provided that the mount is 'frangible' which means it easily breaks off in a crash.
"What constitutes a frangible mount is not defined," Brian says.
"Hopefully, the CfRS report will give guidance on this. 
"The NSW Police wear cameras and communication devices on their helmets.
"I believe they have done their own oblique impact testing at Crashlab. They use a 3M product called Dual Lock. 
"I believe Dual Lock was part of the CfRS testing. However, there are several versions of Dual Lock. I don't know which one or ones have been tested."