Held Kallisto Gloves Review Summary
Kallisto Gloves Image Gallery
Comfortable, attractive gloves ideal for spring and autumn, let down by materials and stitching that are quick to wear out. When summer eventually rolled round, I realised I needed a new pair of in-between gloves; something for those days when my Hein Gericke Pathan gloves (review) are too hot but it's not warm enough for mesh. Most of the year, in other words.
My search led me to a shop in Surrey. This tiny shop offers an extensive range of gloves which I was able to peruse in advance on their website. I had already picked out the Held Kallisto gloves as my probable favourites on grounds of price and appearance, but I wanted to try them out in person before I committed. The Kallisto gloves come in two colourways: black and the hi-viz yellow "Fluo".
From browsing the website, I had originally planned to buy the yellow version; in real life, however, the colour looked a little sickly and washed out. The black version, on the other hand, was much more attractive than it looked on the web, and this was the glove I ended up buying.
Appearance and Design
'Kallisto' is Greek for "beautiful", and while I might not go quite that far, it was the appearance of the gloves that first attracted me to them. There's something very visually pleasing about the different textures, patterns and colours on the back of the hand, and the silver stitching really stands out against the black material.
The detail that's gone into the design is fantastic — perhaps even a little over the top. Plenty of reflective bits — two stripes up the cuff, lines down the backs of the fingers, and also the stretchy area at the base of the fingers — and a good combination of leather and textile.
I don't like too much leather on my gloves, and these get it just right, with suede cuffs, soft leather palms, leather over the knuckles and hardwearing Taslan elsewhere.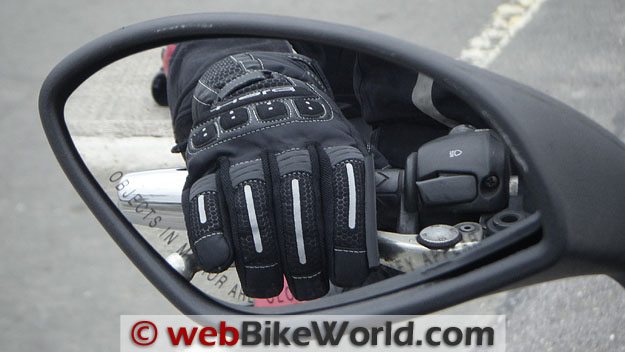 I did notice that the stitches were a little uneven around the reflective bands and at the edges of the cuffs. The stitching in these areas is purely decorative, though, and for all I know it's meant to look like that.
There are lots of nice little touches to increase ease of use, too.
The wrist strap is wider at the end, making it easy to grab, while the large strap at the cuff has a little Velcro-less tab at one corner which can be grasped between finger and thumb even if you're wearing the other glove at the time.
The underside of each finger has an extra-grippy section down the middle, visible as a shiny stripe.
The wavy silver lines on the palm probably help to increase grip too, as well as looking cool. And, praise be, there's a visor wiper. This rubber blade on the left index finger is indispensible in the rain, when wiping a visor with a leather or textile glove just makes it smeary.
Fit and Fastenings
The Kallisto gloves come in sizes ranging from 6 (XS) to 12 (XXL). I tried on both a 6 and a 7, and although there wasn't much difference between the two sizes, it was enough to make the size 6 more comfortable.
Many gloves are slightly too long in the finger for me. There will often be space in the end of the thumb and little finger, even if the fit is OK on my other digits. These ones fit perfectly.
The soft leather palm grips well and gives a good feel for the bars and controls. The sides of the fingers are made of a slightly elastic material so they fit snugly, which helps my hands feel like hands rather than clumsy paws.
The cuffs are the perfect length to fit either over or under jacket sleeves; I usually favour wearing them over, as it's quicker to sort out before I head off to work, but tuck them inside if it's raining.

Protection, warmth and weatherproofing
The two straps, which each have a large Velcro area, hold the gloves securely in place. On me, the strap that goes round the narrowest part of the wrist is as tight as it will go, and I could wish it would fasten just a little tighter.
The areas of the glove most likely to come into contact with the ground in a spill are reinforced.
On the heel of the hand there's a teardrop-shaped pad set on an extra layer of leather, while the knuckle area has both a long pad with the Held logo and four individual pads over the knuckles themselves. There's an extra leather layer here too.
All these pads are soft leather.
They're firmly attached and barely noticeable when the glove is on, though I can't say how much protection they would provide in an accident.
The cotton lining is perfect for mild spring and autumn days as well as cooler summer ones, but when the temperature really drops the gloves soon start to feel a little chilly.
A water-resistant, breathable Hipora membrane provides some protection from the rain. The gloves cope well with light drizzle or short sharp downpours, but when worn in proper rain for prolonged periods they get soggy in under an hour.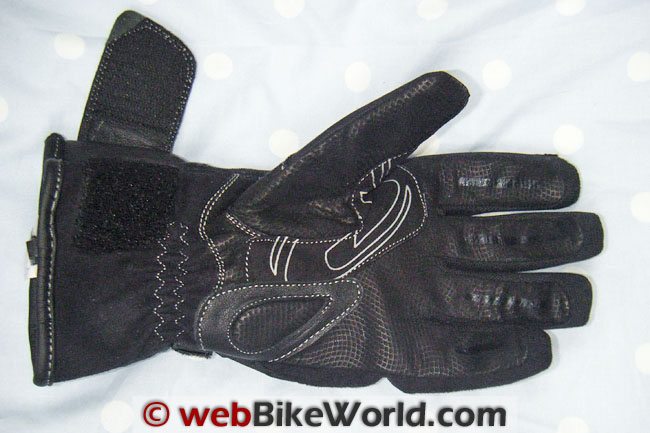 Wear
For looks, comfort and day-to-day practicality, I'm very pleased with the Kallisto gloves. Unfortunately, it doesn't look as if they'll last me much more than a year.
After just a few weeks the suede (or lookalike) and the stretchy fabric at the sides of the fingers began to look tatty, with little wisps coming away. The grip pattern on the fingertips is already wearing smooth, and the silver detailing on the palm is peeling off.
The biggest sin, however, is that the stitches which attach the loop part of the Velcro to the wrist strap have started to rip out — on both gloves. I have to undo the strap very gingerly to avoid making it worse.
This kind of problem isn't unusual for gloves in this price range. However, I'm disappointed in Held, a company I've previously trusted to provide clothing that's stylish and competitively priced but also hard-wearing. .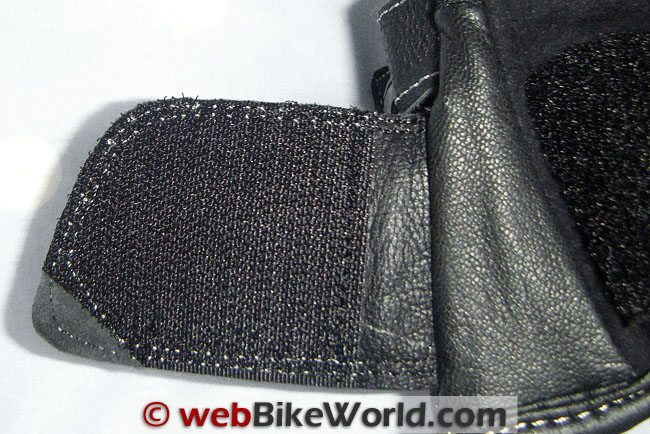 Conclusion
I think Held tried too hard with this one. The variety of fabrics that makes the gloves comfortable and interesting to look at also means more joins and more things to go wrong.
It's a great pity.
On looks and price tag the Kallistos (Kallisti?) jumped off the shelf at me, and they're lovely to wear. It's just that I probably won't be able to wear them for very long…
w

BW

 Review: Held Kallisto Gloves
List Price (2010): £39.99 / €39.99
Made In: Pakistan
Colors: Black or "Fluo" (high-visibility yellow).
Sizes: 6 (XS) to 12 (XXL)
Review Date: November 2010
Note:
 For informational use only. All material and photographs are Copyright © webWorld International, LLC since 2000. All rights reserved. See the webBikeWorld® 
Site Info page
. Product specifications, features and details may change or differ from our descriptions. Always check before purchasing. Read the
Terms and Conditions
!
Owner Comments and Feedback
---
From "G.R." (11/10):  "I just wanted to give me two cents on current Held quality as well. I've been a Held fan for years and have always gravitated towards their products.
I currently have a set of their Freezer gloves for cold weather use.
The most recent race-style gloves I owned were a big disappointment however, and I'm hoping the Freezers don't become that for me as well.
At the end of last season I found a pair of discontinued Krypton road-race style gloves (the style I wear everyday on the street) at a local shop.
Living in Colorado, gloves don't take much of a beating as you don't hit much rain, etc. These gloves lived a pretty pampered life and only went through one rain storm. After using them for not even one full season the entire stitching along one finger blew out for no reason.
When I returned them to Held for repair, I was told they couldn't be repaired and that most of the other fingers were on their way to similar "wardrobe malfunctions".
Needless to say, I was dismayed that this would happen to a pair of expensive Held road-race gloves. I was thinking of replacing them with the Phantom model but I just no longer trusted their quality.
I ended up buying a set of Knox Handroids and am so pleased with the fit and quality that I will probably never go back to Held. I'm not trying to promote Knox but these are the finest gloves I've ever owned. We'll see how they do after a full season but I'm confident I'll get good mileage out of them.
After reading your review, I'm concerned for the state of Held's current quality control. I hope we both simply got weak examples but logic tells me otherwise. I hope they can turn this around, I've always respected the company."