Held Freezer Gloves Review Summary
Held Freezer Gloves Image Gallery
The Held Freezer gloves feature super-supple leather and a puffy look. They also have a roomy and comfortable interior. The gauntlet is the largest in this comparison, which is definite plus.  The Held Freezer gloves are also waterproof and have excellent quality stitching. webBikeWorld is known for digging up some pretty unique, interesting and hard to find motorcycle products from around the world.
So a monster webBikeWorld glove comparison wouldn't be complete without a pair of gloves that aren't available in North America! And the Held "Freezer" gloves (not sure if that's a good name or not…think about it) came highly recommended by sources in both the UK and Germany, so in the pile they go. The Freezer gloves won a recent Motorrad (Motorcycle) magazine comparison test in Germany, and that carries a lot of weight with many riders because the magazine is known for their detailed evaluations of motorcycle products.
It is rather curious that German motorcycles, motorcycle clothing and products always seem to come out on top of the Motorrad magazine product comparisons, but I'm sure that's just a coincidence, right?
Anyway, the Held Freezer gloves are different than most of the other gloves in this 9-part review. They seem more like an old style winter motorcycle glove, and very similar to Rick's old pair of Belstaff winter gloves that he wore for many seasons before the advent of modern materials with names like Gore-Tex, Porelle and Keprotec.
But classic can be good, and although the Held Freezer gloves may look a bit like the mitts worn by Dad, looks are deceiving in this case.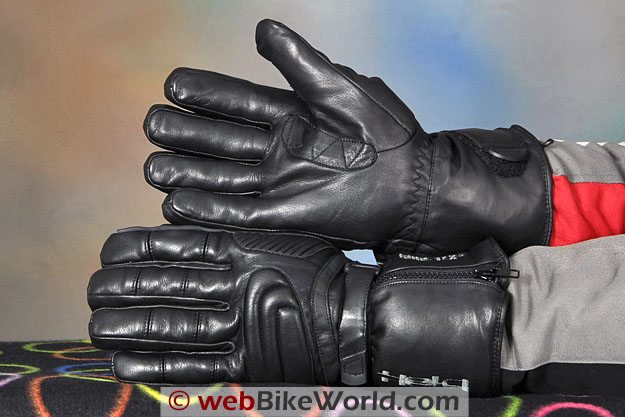 Held Freezer Gloves: Fit, Comfort and the Warm Factor
The Held Freezer gloves are very roomy inside, one of their advantages I'm sure to many touring riders who aren't fond of those tight-fitting race gloves. Yet the thick 'n' fluffy Primaloft insulation does a very good job at keeping those digits warm, and I've been wearing these in our very cold (for me anyway) 35 to 40 degree Fahrenheit (2-4 C) clear weather recently. Did I mention that it's been cold?
None of the gloves in this comparison keep my hands as warm as any of the heated gloves I've tried, so at 40 degrees F, I can only stay out for about 1 hour or so wearing the Freezers (see what I mean about "Freezer" being a strange name for winter gloves?) before my hands start to get pretty cold. That is, unless I'm riding behind a fairing, like the K1100LT, when my butt gets sore enough for me to have to take a break before my hands get too cold.
So if you're planning on riding long distances in these kinds of temperatures on a bike without any type of hand guard, heated grips or fairing, none of the gloves in this comparison — or any of the winter motorcycle gloves I've ever tried, for that matter — will keep you warm enough to go cross country, in my opinion.
But one thing's for sure — the Held Freezer gloves feel great. They're very comfortable, although the thick (the thickest in this group I think) insulation does isolate you from grip feel, just like every other glove in this comparison but more so.
Except, that is, for the Firstgear Carbon heated gloves, which have nowhere near the volume of insulation as the other gloves in the comparison, substituting their heating elements for Thinsulate.
The Held Freezer gloves run just about perfect to size, I think. The size large feels like it fits to size and I tried a size 10, or XL, and although the fingertip room was fine, the thumb feels too long for my size large hands.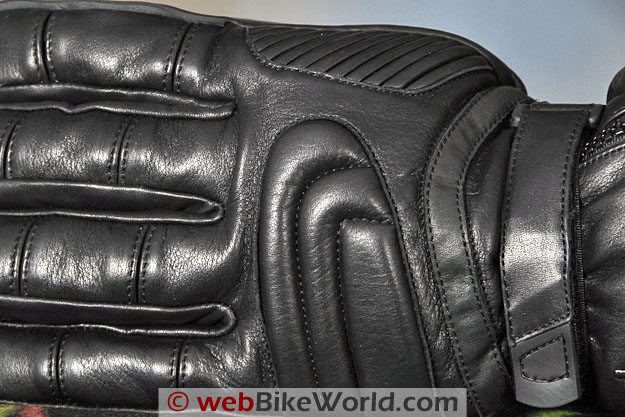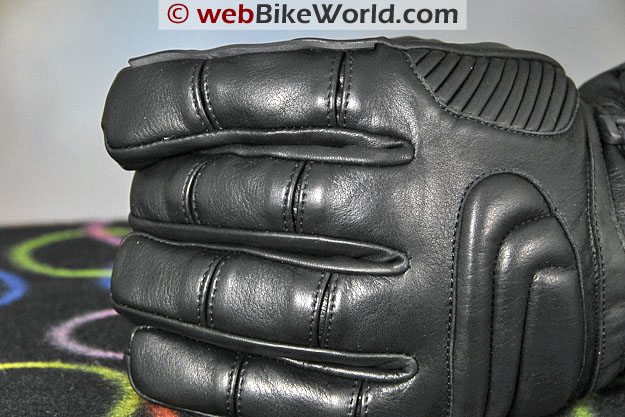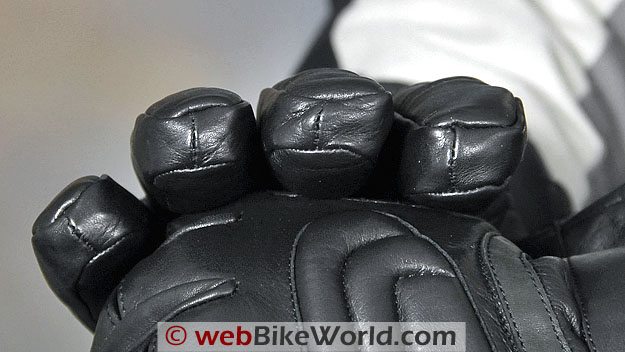 Finger, Thumb and Overall Construction
The Freezer gloves have the "classic" and, I think, preferred type of "box" construction in the fingers. The fingers are bigger than any in this comparison; by that I mean they have the most room and I think they'll fit thick-fingered types better or much better than any of the other gloves compared.
The box at the fingertips can definitely be seen in the photo, and the stitching and sewing on these is first-rate all the way, with slightly rolled edges on the seams, right up to the tips of the fingers. The box looks bigger than the rest because of the thick Primaloft insulation. I'm not sure how Primaloft compares to Thinsulate; all I know is that it works very well in this pair of gloves.
Where the thickness of the Primaloft causes a slight problem is in the thumb, which seems like it's proportionally longer than the thumbs on any of the other gloves in this comparison. The thickness of the insulation means that the thumb has to be tapered down farther to fit. I'm not sure why no glove manufacturers use the box construction, or a modified version of it, in the thumb. There must be some technical reason I'm not aware of.
But even the thumb is beautifully stitched and attached to the palm and glove body. This is a simple-looking leather glove, but when you study the details, it's impressive.
Perhaps it's because this pair was made in Hungary?  Nothing against gloves made elsewhere, but Held gloves used to be made right in Germany, and customers could even log on and watch the German Frauen (und Männer) sewing away in the factory. I'm not sure about current strategies; perhaps Held has moved the manufacturing back near home from Asia and is able to keep better tabs on quality control.
The top of the glove (back of the hand) is also very nicely done, with incredible-looking "inside out" articulations sewn over the middle and top knuckles, as you can see in the photos.
The leather is bunched diagonally on the heel of the hand and puffy-looking curved strips over the base knuckles hold a bit more padding for protection. No hard armor anywhere on these gloves.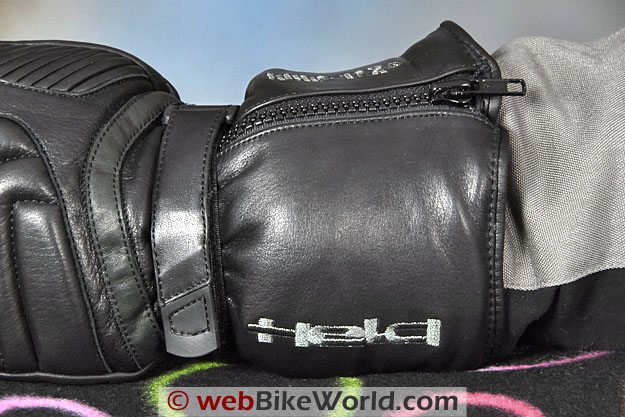 Gauntlet
At 180 mm width (measured with zipper open), the Held Freezer gloves have what we consider to be the minimum size for gauntlets and they're also the largest in this comparison.
The combination of the large gauntlets, the zipper and the roominess of these gloves make them easiest to fit over the Rev'it Cayenne jacket sleeve and any other jacket I've tried. However, the thickness of the insulation may prevent the Freezer gloves from being worn underneath a sleeve, rather than over it, if that's your preference.
I'm of mixed feelings on motorcycle glove gauntlets with zippers; they look kind of goofy I think. But this one works well, I can unzip it, which makes it much easier to get the glove over my sleeve, then zip it up. It has a large YKK zipper with nylon teeth, but the zipper pull, which I think is metal, sticks out so you have to be careful where you lay the gloves so the paint doesn't get scratched.
The underside of the gauntlet also has a hook-and-loop fastener, which is typical. This one's about average sized, which means small in today's gauntlet-phobic manufacturing world, but it works because of the generous gauntlet size.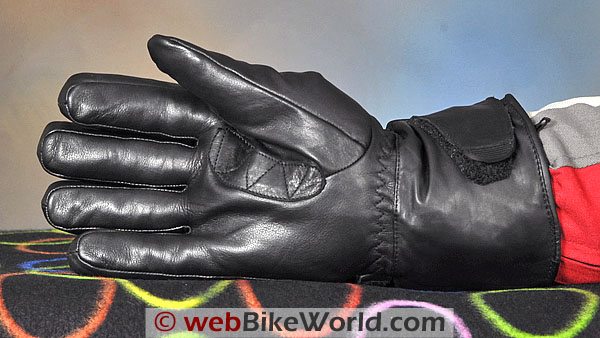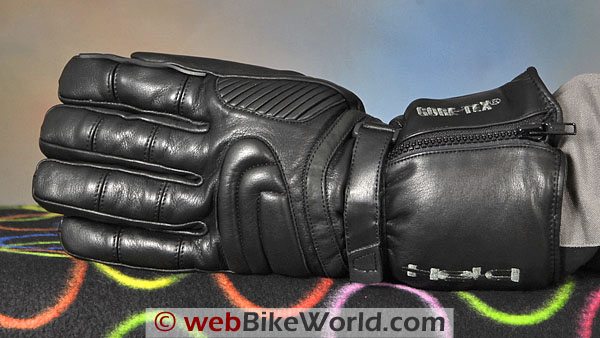 Normally, leather touring gloves like these either don't have a strap or if they do, the strap doesn't do much. The Held Freezer gloves are different, in that the strap actually works!
It's located across the back of the wrist and works with the not-too-tight elastic sewn into the bottom side of the wrist to keep the gloves on. I can't (with reasonable force, of course) pull the Held Freezer gloves off my hands when the strap is secured, which is correct for gloves. You don't want your gloves to come flying off just when you need them the most!
As I mentioned, no armor or added patches of leather for protection on the Freezer gloves, with the exception of a small section of what Held says is Schoeller Keprotec on "the ball of the thumb". I'm assuming by that they mean the extra section of what looks like leather added over the wear point between the thumb and forefinger?
Water Resistance
At first I wasn't sure if the Held Freezer gloves were waterproof or not — I had to dig out the card they were attached to when they arrived to find out. The card says that the Primaloft insulation is "water resistant" and that the gloves have a "Gore-Tex membrane, waterproof, windproof and breathable".
It was a shame to dunk a beautifully soft and wonderfully made pair of gloves like this in the bucket, but it's all for a good cause. I figured there would be no way these would be waterproof, but what do you know — they are!
In fact, the outer leather seemed to absorb less water than any other glove in the comparison, and they dried out within about 24 hours, while every one of the other gloves felt wet at the fingertips 3 days later.
Miscellaneous Details
Held Freezer Gloves, model number 2570. Apparently not available in North America for some reason. The outer body of the glove is made from "soft aniline cowhide, water-repellent". The lining is Primaloft, consisting of 65% polyolefin and 35% polyester. Sizes available are 6, 7, 8, 9, 10, 11, 12, 13.
Also, the Held Freezer gloves have a rubber strip in the left forefinger that can be used to wipe condensation or moisture from the visor.
Conclusion
The Held Freezer gloves are about the best I've found in this type of glove — a winter motorcycle touring glove.
The gloves are plainly styled, so I don't think you'll see many Sportbike riders wearing them, but they'll be missing out, because it's a nice, comfortable pair of gloves that are as waterproof and windproof as is claimed. This proves that all you need is the basic concept but done right, and you'll get a great result.
The price isn't bad either, at around £69.50 in the UK. See our recent article on the recent strength of the dollar (or weakness of the Euro and Pound), which has dropped the U.S. cost of these gloves (and other motorcycle gear) purchased and shipped from Europe.
At today's rates, the Held Freezer gloves would cost about $100.00 USD, which is a very good deal. Why Held isn't exporting these to North America is a mystery.
Next: 2008 Winter Motorcycle Gloves Home and Comparison Rating Chart
w

BW

 Review: Held "Freezer" Winter Motorcycle Gloves
List Price (2008): £69.50 (Approx. $150.00 USD)
Made In: Hungary
Colors: Black
Sizes: 6-13
Review Date: December 2008
Note:
 For informational use only. All material and photographs are Copyright © webWorld International, LLC since 2000. All rights reserved. See the webBikeWorld® 
Site Info page
. Product specifications, features and details may change or differ from our descriptions. Always check before purchasing. Read the
Terms and Conditions
!
Owner Comments and Feedback
---
From "T" (May 2013): "I live in Melbourne, Victoria Australia, I've had a set of these for just over two years now. Amazing heavy weather winter gloves. Great for temperature down to 2 degrees. Lasts a good 2-3 of hours in heavy rain without soaking through. And still keeps you warm.
I do a lot of long distance riding, in all weather, and I mean all weather. (I'm that guy who rides past when you've pulled over in your car because the rains are that heavy 🙂 A 3.5 hour ride from Melbourne to Lakes Entrance starting at 1am, in heavy winter storms, with an average temp of 4 degrees, not a problem."
---
From "W" (1/09):  "I haven't really had the chance to use them in a cold winter temperature, I live Socal 🙂
But it gets cold enough for me to buy these gloves. I got them in the same size like my Held Steve gloves but they don't fit like them, I had this issue with Held gloves before that their sizes differ a little from model to model.
But they are still fit good enough to be comfortable and are really thicker compared to the Held Steve Gloves. I have my brake lever set up that my finger tips touches the upper front edge of the brake lever.
With the Freezer Gloves I had to adjust the lever a little closer to the bar to accommodate the thicker glove. You lose some feel with the Freezer gloves but they also take away a good part of the vibration of my little v-twin. The quality seems to be the typical high Held standard.
I could only use the gloves on some short trips and one point my finger started to get a little to warm but that's better than cold."
---
From "T.M." (1/09):  "Well my Freezer Gloves finally arrived and I was so excited to see them. They are beautiful. I travel between 5 and 10 miles one way to get to work and around town. My hands were freezing with everything I tried.
Some of the motorcycles shops were very good to me in that that let me try some winter gloves out but they all failed miserably, my fingers were numb after 5 miles at 45 mph. When i read your review of the Freezer glove I had hope. I looked hard and found them, size 8. Oh yes my size was a perfect fit.
I was looking and saw that a reviewer had posted on your review and it worried me, esp the part of it being too thick to be safe. YIKES!!  I tried them out for 2 days at temps of 24 degrees F (brrrr) to 36 degrees. They were a dream come true my fingers still got a little cool but not a hint of numbness.
Also the feel and fit of the glove was perfect for controls on my motorcycle. Someone really knew what they were doing when they designed these Held gloves. I believe anything above freezing Ill be able to deal with now with these gloves.
For under 32 degrees I'm using some Tourmaster silk liners that do the trick!  Two down sides to these gloves, 1) they are very expensive WOW!  2) they look so good and are so well made I feel like I ought to be riding a better bike LOL LOL.
However for short distances to travel, under an hour at a time, these gloves will keep you in control, and your hands relatively warm. Thanks again for your review I found what I was needing, you were great help!"
---
From "DJW" (12/08):  "I ordered a pair of these and probably will end up sending them back:
There's probably an inch of extra room in the thumb. Not sure who would/could have a thumb this long. Maybe to store the little money left after buying them.

They are so thick (but comfy I might add) that I can't imagine safely operating a bike through them. Perfect for a passenger though.
But they are beautifully made."
DJW's Update of January 2009: I held off returning these gloves and decided to live with them for a while. I may have been a bit to critical in my initial comments.
1. After conforming to my hands around grips the thumb does not seem to be cut as long as they were when new. I suspect the palm pulls up the extra length of the thumb? Anyway, they seem to fit much better after they are broken in.
2. Again, the break-in seems to take care of the thickness issue from my initial impressions. They are thick but not a problem when riding.
3. They are the warmest gloves of any non-electric I have ever tried. My fingertips do not get cold in any weather the rest of me will I will tolerate.
Hope this update helps."
Editor's Note: Note that finger length and fit can vary depending upon the individual's measurements. Some of the gloves that fit Burn correctly do not fit me, and we both usually take a size large.