Stream Gloves Review Summary
Stream Gloves Image Gallery
A rider with equipment that is comfortable, reliable and confidence-inspiring has an edge — an edge that we all need to maintain. The Held Air Stream gloves are all of the above and more. Having survived severe temperature changes, lots of moisture and sustained use on multiple motorcycles of all types, these gloves have never let me down.
For their intended function and appreciating the choice we consumers have, the purchase of these gloves has not been regretted. Late November may seem like a strange time for a warm-weather motorcycle glove review, at least for our readers in the northern hemisphere. But it's just turning summer in the lower half and there's still plenty of warm weather during the rest of the year in the southern U.S. and other regions.
And northerners can take comfort in the fact that summer will be here before you know it (one can only hope!). In any case, those are the only excuses I can offer for not publishing H.B.C.'s review of the Held Air Stream gloves back in August! Gloves, like other gear we motorcyclists wear, are a personal thing.
This is especially true for leather gloves which, with proper sizing and use, seem to acquire that "just right" feel, so they fit (pardon the cliché) "like a glove". Each rider has priorities regarding gloves; coverage, protection, style, material, colouration and more. But the one priority that should remain a constant is protection — remember, it's "All The Gear, All The Time".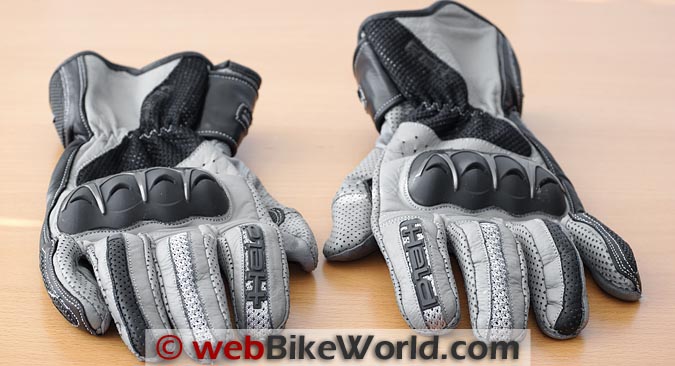 Held Motorcycle Gloves
webBikeWorld published many reviews about riding essentials, including gloves, and among this long list of manufacturers is Held.
According to the historical information posted on the Held USA website, the company has been around since 1946 (or earlier), supplying "fine glove products to discerning consumers around the world".
Like other businesses involved in marketing clothing and related equipment, opportunities are always available, and so it was that in 1975 Held added motorcycle gloves to their product line.
In 2005, Held USA came into being as the exclusive importer and distributor for the U.S.A. and the North American continent in general.
I suspect that Held may not be considered a household name for motorcycling gear, but in fact the company does market just about anything needed for riding, now including gloves, boots, bags, jackets and more.
Leading the way in this head-to-toe approach (at least in North America), are the Held gloves, undoubtedly the most recognized product line for Held on this side of the pond.
Held has four basic categories for their motorcycle gloves and liners: Sport, Seasonal, Touring and Glove Liners.
So this brings me to my latest pair of Held motorcycle gloves, from the "Seasonal" category, marked as the Air Stream Gloves, gray, size 11.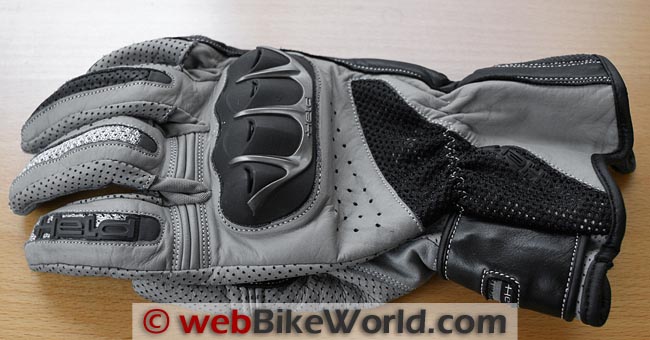 Held Air Stream Gloves: Form, Fit and Function
The Held Air Stream gloves are representative of the Held glove product line, with a mix of leathers, including the specific use of Kangaroo leather for the palms and the use of synthetic materials elsewhere.
These gloves reflect the tradition, technology and toughness that Held is known for.
A quick tour of the Air Stream gloves reveals their characteristics and strengths.
As I have discovered over the years, Kangaroo leather is very abrasion resistant, virtually sweat proof, almost colourfast and it provides grip and sensitivity that rivals any other leather or man-made material.
This is especially true when the palm is unlined, as with the Air Stream gloves.
Rotating to the back, the strategic use of ventilated polyester mesh, perforated leather and Kevlar panels stitched together or used for reinforcement becomes apparent — a confidence-inspiring combination.
You can't miss the very distinctive hard plastic knuckle guard prominently stitched to the back and the four small but very effective half-moon vents molding into the guard.
These vents really catch the air without compromising guard integrity.
A distinctively cut half-length expandable cuff with a large hook-and-loop closure provides good adjustment; it can be tightened up or kept loose to fit over or inside light- to medium-weight outer garments.
The elasticized wrist section provides some snugness and resistance to removal, but not enough by itself to (probably) keep the glove from coming off in a crash.
Securing the cuff, however, makes pulling the glove off more difficult; possibly enough to keep it in place so as to provide continuing protection to the hand and wrist.
Moving inside the gloves reveals just how expandable the cuff is, thanks to its elastic insert. The Cool Max liner provides great moisture wicking for the larger surface areas, and something I have noted before, comfort even when the temperature drops.
Held Air Stream Gloves: Comfort and Details
Comfort is something that Held knows how to build in to their gloves. One of the methods they use is a specialized step seam machinery during assembly.
Step seams eliminate the often obtrusive inner welt to the seam so that joined surfaces are flatter, reducing pressure and abrasion points. The result? Comfort and control.
The inner finger areas used a lightweight mesh fabric that forms a web between each finger and this is one of the best features of the Air Stream gloves.
Holding the hand up or just spreading the fingers apart slightly demonstrates how effective this feature is in keeping the hand ventilated.
Critical impact areas likes the outer palm, the little finger (by itself easily injured) and edge areas extending back to the cuff are protected with SuperFabric, the engineered material with a base fabric like nylon, polyester or neoprene that is then overlaid with tiny hard ceramic plates in a specific pattern.
SuperFabric was first used in motorcycle clothing in the Rev'it Cayenne Pro jacket (review) back in 2008 and is now becoming more common as the costs drop.
SuperFabric is "claimed to outperform by a large factor" the abrasion and puncture resistance of other materials including ballistic aramids. Kevlar, a well-known and respected technical material in its own right, is used on the inner thumb and side of hand points for additional protection.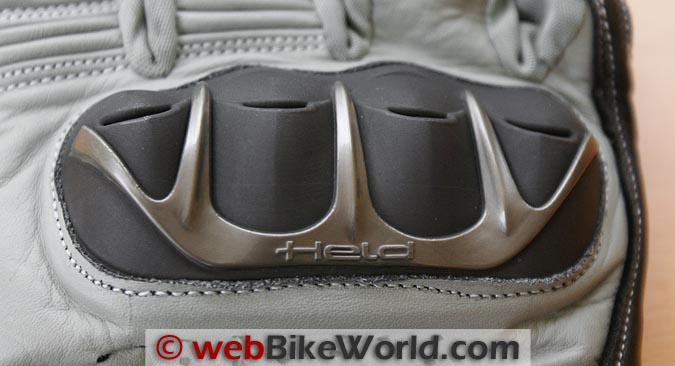 Riding With the Air Stream Gloves
During a visit to a favourite U.S.-based BMW dealer this summer, I accomplished one specific objective: getting another set of Held gloves. Given the time of year and the temperatures, the Air Steam gloves were the perfect candidate.
I typically wear a size 10.5 to 11 glove (numeric sizing is good) and with the heat and humidity , my hands were definitely a snug fit inside the size 11 Air Stream gloves.
Factoring in my desire for a comfortable but slightly loose fitting glove, knowing they would stretch and the swelling in my hands go down somewhat, this choice would eventually work out, and indeed it has.
I didn't wear much else all summer and only occasionally swapped them out for my BMW Rallye 2 gloves that are now tied with the Held Air Stream gloves as my warm-weather favourites.
I put on the Held Air Stream gloves immediately after exiting the store and within the hour they became truly initiated, thanks to a tropical-quality deluge as we headed north.
Other than some minor initial bleeding from the leather, the gloves remained very comfortable and fully functional.
A squeegee-style wringing at a couple of rest stops saw most of the moisture pushed out and the gloves easily pulled back on, something I can't say about most other leather or textile gloves when they are soaked.
Even with sustained use on a wide number of differing motorcycles, the Held Air Stream gloves are holding up in superb manner aided by care and attention (well detailed on the Held website) to keep them in tip-top shape for many years to come.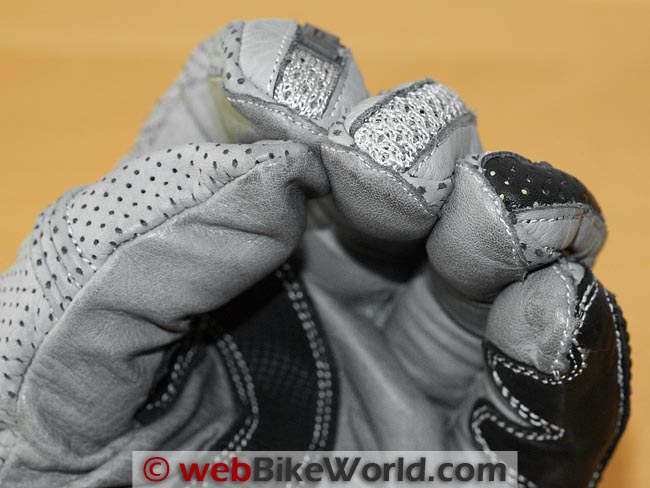 Conclusion
The Held Air Stream gloves aren't the heaviest or most technologically-advanced pair that I have used as summer gloves, but comfort, protection and feel — the important requirements — are present.
From my perspective, the Held Air Stream gloves are an outstanding example of how technology, knowledge, experience and ability can be applied to address form, fit and function requirements.
A rider who has comfortable, reliable and confidence inspiring equipment has an edge — an edge that we all need to maintain.
w

BW

 Review: Held Air Stream Gloves
List Price (2011): $129.99
Made In: Unknown
Colors: Black or gray.
Sizes: 7 to 12
Review Date: November 2011
Note:
 For informational use only. All material and photographs are Copyright © webWorld International, LLC since 2000. All rights reserved. See the webBikeWorld® 
Site Info page
. Product specifications, features and details may change or differ from our descriptions. Always check before purchasing. Read the
Terms and Conditions
!
Owner Comments and Feedback
---
From "H.S." (October 2012): "I bought a pair of the Held Airstream gloves in January of this year primarily based on your review. I liked the look and material and summer is a killer in Texas.
Sadly, they sat on the shelf throughout the winter, and I got busy over the summer and did not ride much.
However, this fall after wearing them maybe a dozen times (or less), the un-reinforced mesh/perforated material along the side ripped easily (disintegrated?). I am pretty gentle on my stuff too.
Puzzling, but this seems to be very weak material as I poke at it.
Your readers might want to reconsider — they are cool in several ways, but this seems a very weak area. I've attached a pic. Keep up the good work on the web site. I love it."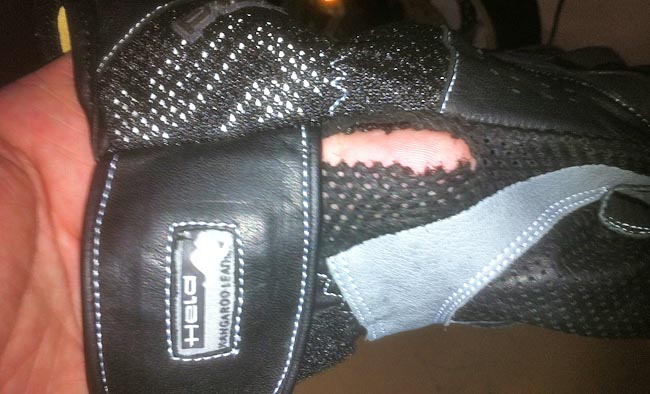 ---
From "B.K." (December 2011):  "I thoroughly enjoyed reading your review of Held Air Stream Gloves. I've now worn mine for two summers and have worn them for approximately 25,000 miles.
They were on my hands for every mile of a SCMA USA Four Corners Tour and worked well in 113 degree desert temperatures, high temperatures with suffocating humidity in the Florida Keys and six hours of riding through the rains of Hurricane Irene in New England.
From the much darker shade of grey that they are today, it's apparent that they're well-worn but they've remained in excellent condition even though I've ignored Held's recommendations for proper glove care and have done nothing with the gloves except wear them.
Certainly, these are more expensive than the summer gloves that most riders wear but I appreciate how comfortable these are in moderate to extremely hot weather and feel certain that my hands will be well-protected if my bike and I were to ever, unexpectedly part company."
---
From "D.M." (December 2011):  "I read your review on the Held Airstream gloves and have some input which other readers my find helpful. I purchased these from my local dealer. I was looking for a summer glove that would replace my Cortech Vice gloves and decided on these over the Dainese 4-stroke gloves because of the price.
I was very happy with the fit and finish and they felt amazing, but when I rode for the first time I found that these caused an unsafe condition for my application.
My Speed Triple is equipped with Rizoma Lux grips. These grips have a hard plastic portion at the bar-end portion of the grip.
The heel of the palm has "Superfabric" dots which slide on the plastic of the grip in such a way that when I am braking hard (particularly trail-braking into a corner) and applying weight to that part of my hand, causes a loss of grip and the heel of the palm wants to slide around.
Even while transitioning from braking to acceleration the palm slides on the grip and caused me to open the throttle quite abruptly on several occasions.
I ended up selling the gloves to another rider who wouldn't have the same issues due to the Rizoma grip and replaced them with Revit gloves that didn't have a hard plastic palm heel portion.
I tried the Dainese gloves on the bike and found they would have caused me the same issue as they have a hard molded plastic insert that also slid on the grip.
Just something for riders to think about… it's not all about the fit and finish of the glove… keep the style of grips you use in mind."
---
From "S.B." (November 2011):  "I bought a pair of these gloves last winter after having a great experience with a pair of Held Sprint gloves. Your review is pretty much spot on except for two things.
As your article mentioned, the elastic-Velcro wrist closure I have little confidence that the gloves will stay on in a crash. A simple Velcro wrist closure would fix this. I can pull them off easily.
The other items is long term durability. I put perhaps 15,000 km on these gloves over the summer. They are already coming apart at the hem of the cuff (not a high stress area!) and one of the seams on the fingers is coming apart.
This is not typical of the quality I come to expect from Held and my Sprints have well over a 100,000km on them and are still my go-to gloves. A wash once or twice a year, some leather treatment and their good to go.
Thanks so much for the ongoing reviews – from a long time reader!"
---
From "J.P." (November 2011):  "I purchased these gloves earlier this year and your review is spot on. I love these gloves. They have become my de facto warm weather glove. I live in Louisiana and these gloves are magic during our 95 degree, 80% humidity summer days. Good on ya!"