The H-66 Dual-Visor Modular Motorcycle Helmet is one of Hawk's most advanced models. Designed for protection, ease of use, and comfort, it is a great choice for daily commuters.
The modular design allows for easy, one-button and one-hand flip-up of the front face. This can help prevent the clear outer visor from fogging up if you travel very early in the morning. The inner sun visor is a new addition that Hawk has brought in to provide excellent vision when the sun is high.
The Bluetooth system provides crystal clear music while you drive and can be easily synced with your smartphone to make calls and check messages.
Features
Solid Shell
The Hawk H-66 has a gorgeous elongated modular shell that comes in 3 sizes—M, L, and XL. It is made of ABS thermoplastic polymer which makes it strong and durable.
Weighing 6.8 pounds, the helmet is a little heavy. This may take a toll on your neck and shoulders when worn for long durations, like on a road trip or tour. However, for daily commuting, the H-66 is a good choice.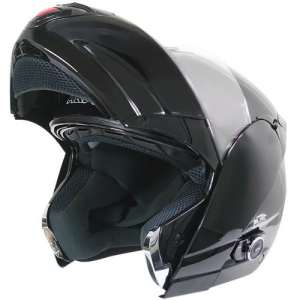 Visor Features
The clear visor of the Hawk H-66 is integrated with a quick release mechanism that makes it easy to operate. It is scratch-resistant and provides good vision in all lighting conditions. One drawback of the visor is that it isn't fog resistant. This can cause it to get foggy pretty quickly in bad weather and during chilly, morning rides.
The inner smoke tinted sun-visor provides clear visibility in even the brightest of sunny days. It provides very good protection against harsh lights at night while maintaining a wide line of vision. The H-66 comes with a drop-down button located at the side of the helmet that allows the sun-visor to be easily put down or retracted.
Ventilation
The ventilation provided by the Hawk H-66 falls a little short of expectations. However, since it can easily go from a full face model (that covers the entire front of the helmet) to a flip-up open face model, ventilation will not be a huge problem.
The Hawk does provide an adjustable, flip-down air-vent near the mouth that is quite convenient. All in all, the ventilation system is passable and meets the basic air-flow requirements.
Bluetooth System
The built-in bluetooth system of the Hawk H-66 allows users to pair the helmet with their smart-phones, receive GPS directions, communicate with other riders and listen to music.
The H-66 model comes with a manual for the bluetooth system, a battery for the bluetooth receiver, and a bluetooth charger.
While speaking through the bluetooth system, the listeners at the other end of the call get good quality sound with very little noise from wind or traffic. The system has good clarity even at high speeds, making it a good purchase.
Focus On Safety
Hawk provides a solid shell for the H-66 that can withstand most kinds of impact. The ABS shell is both tough and long-lasting. It will provide excellent protection against direct blunt forces.
In the event of an accident, the Hawk's EPS combined with the helmet's inner padding, will be able to effectively absorb most of the shock, leaving you unharmed. An additional proof of the H-66's safety standards is that it is DOT certified.
Focus On Comfort
Hawk provides its users with a comfy fit with its liner and comfort padding. The helmet also provides a flap of fabric (fitted with velcro) that can be closed in around the chin for protection against the wind. This will be particularly useful in winter to protect one's neck.
The H-66 is glove-friendly, making it easy to use while wearing winter gear or protection against the rain. Its controls, especially the ones used for the bluetooth communication system, are waterproof as well.
The clarity of the bluetooth system's mic and dual stereo speakers are also a great convenience.
Pros
ABS thermoplastic polymer shell.
Comfortable padding.
Dual-Visor.
Quick release mechanism for visor.
Can operate as an open-face and full-face model.
Good quality bluetooth system.
Bluetooth and intercom are easy to set up.
DOT certified.
Cons
Rattling and wind noise at high speeds.
Non-fog resistant visor.
Lower volume for phone calls compared to playback music.
Bluetooth battery can easily get overcharged.
User Reviews
Users are largely satisfied with the Hawk H-66's most important feature, that is the bluetooth system. Almost all users have said that the sound clarity for playback music on the H-66 is crystal clear, even at high speeds when noise levels will be high.
Users have also said that, while making phone calls, wind and road noises are subdued on the listener's side. The only complaint regarding the bluetooth that users have pointed out is that the audio volume and clarity while making phone calls is not as good as that of the music. This problem is even more pronounced at high speeds when wind noise is a little higher.
Some users have complained about the velcro for the chin flap not being up to mark. The same goes for the chinstraps that use buckles instead of rings.
A good portion of users are not very happy about the ventilation system either. Especially the adjustable flip-down air-vent near the mouth which, they claim, do not take in enough air. But users do agree that since the H-66 is a modular flip-up helmet, ventilation is not a huge problem in warm weather.
Conclusion
The Hawk H-66 Dual-Visor Modular Motorcycle Helmet is not a great product if you're looking for something that can be used for touring and long trips. However, for daily routine trips (like from home to office, or for basic errands), it is a very good choice.
The H-66 offers a very good bluetooth system for a product in its price range. If what you want is a good intercom system and a durable and comfortable everyday headgear, then Hawk's H-66 is a good investment.