The Hartford Classic 250 rides into Australia on a nostalgic wave of small-capacity neo-classic motorcycles appealing to hip young among commuters.
At just $4799 plus on-road costs, it's a bargain way to enter the market or add a second bike to your garage.
Hartford motorcycles and scooters are made in Taiwan and imported by Joe Fisher of Hartford Australia, based in Ballina.
Joe also imports the Hartford 125cc Sienna ($3399) and 300cc Vita ($6199) scooters. The Sienna comes with a one-year warranty and the Vita with a 24-month warranty.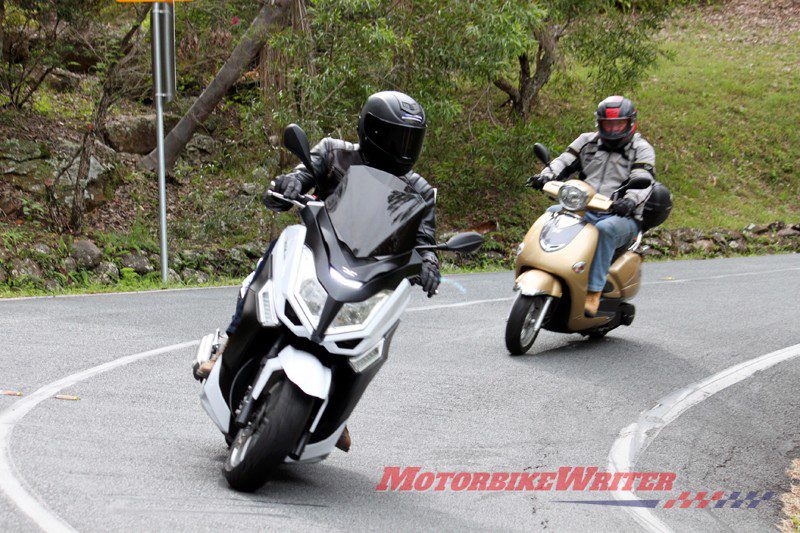 He recently invited me to ride the bike and scooters over Mt Tamborine in south-east Queensland.
Classic 250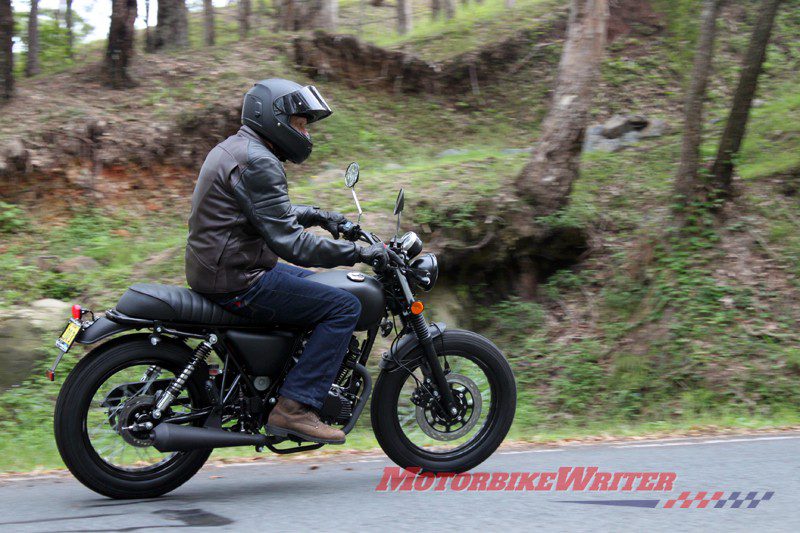 First impression of the Classic 250 is that it looks great.
Styling is very retro and quality of parts and build is as good as bargain Japanese bikes.
If you are into customising bikes, there wouldn't be much to do as the front and rear fenders are chopped already and the rest of the bike's styling is spot-on.
Perhaps the only modifications I'd make is swapping to Ace bars and bar-end mirrors for a cafe racer look or MX bars and upswept pipe for a scrambler/tracker feel.
Surprisingly the Classic 250 has an easy-to-read digital single instrument dial and all LED lighting. That means headlight, indicators, brake and taillight are all bright LEDs.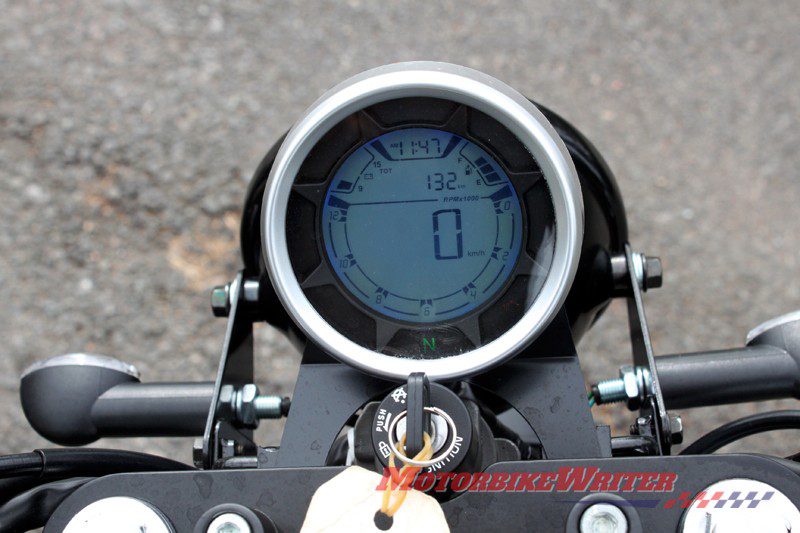 The bike also comes with front and rear discs with ABS as required on all 125cc+ motorcycles from November this year.
It is powered by an air-cooled 223cc four-stroke engine with just 13kW of power at a dizzy 9000 revs.
You have to rev it and use the gears to get the most out of the single-cylinder engine, but it will run ahead of most of the city traffic up to a claimed top speed of 111km/h.
However, the transmission is geared way too low and you quickly flick through to the fifth and final gear by 60km/h where it buzzes quite a lot.
Joe says he plans to add a tooth to the front to decrease the ratios and provide a better spread of gears.
That would decrease the buzz and mean fewer gear changes in traffic which would be handy as the cable clutch is quite heavy. However, the transmission feels as slick as most Japanese models with no false neutrals and neutral easy to find.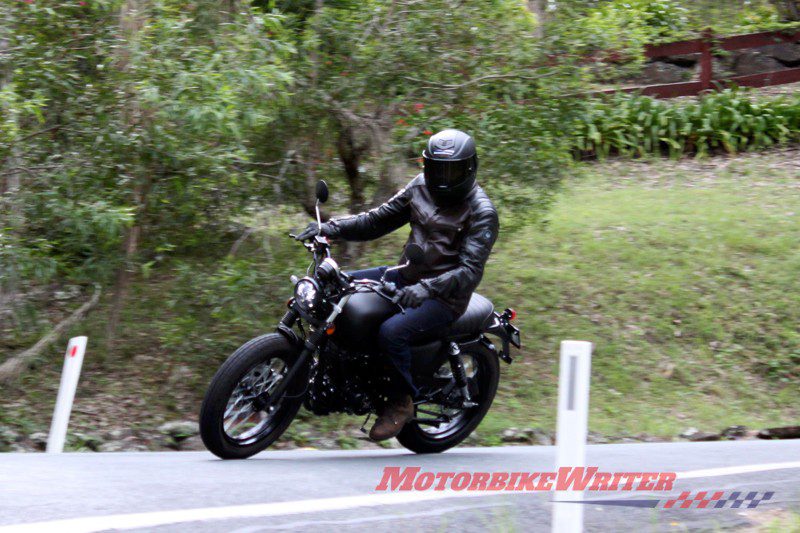 At just 132kg wringing wet, it's as light as a feather and a joy to flick around the city streets.
I wasn't particular happy with the standard Taiwanese Duro HF308 tyres on the 18-inch wheels.
They look like classic Firestone tyres with that zig-zag tread and angular edge. That makes them flop a bit in corners which takes a bit of getting used to. They also are plasticky and grip isn't great.
Suspension is rudimentary with soft forks that dive under braking and a hard spring with an under-damped shock, yet it all works just fine thanks to the low bike weight.
I didn't encounter any dramas over the bumps and lumps of Mt T carrying my 80kg frame around, but a heavier rider might struggle.
Over our short ride, we didn't get a chance to drain a tank, but the claimed economy of 2.5L/100km would provide more than 450km of range from the generous 12-litre tank.
Joe is offering a 24-month and 24,000km warranty. He hopes to have dealers in Ballina, the Gold Coast and Brisbane.
Hartford scooters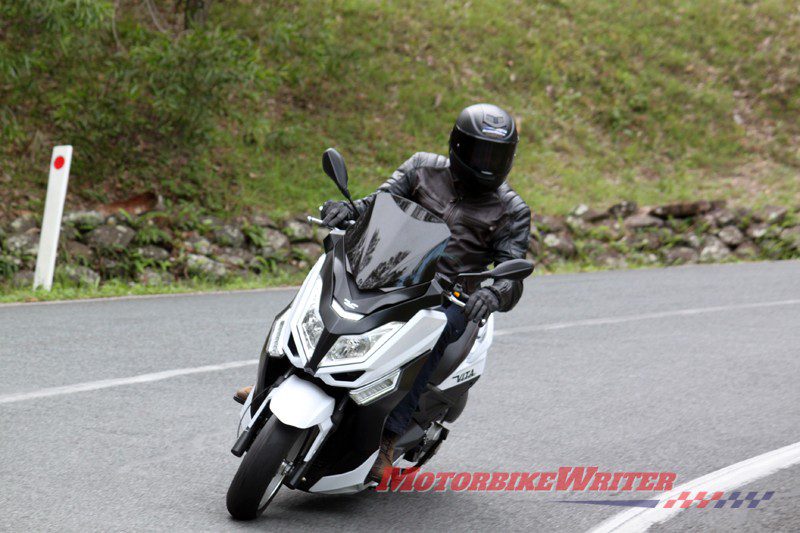 The scooters also looked like Japanese quality scooters and behaved in a similar manner.
Their prices and features make them a great bargain.
They would make a great second machine as an alternative for commuting, small grocery shopping or a quick ride to your favourite cafe.
Hartford Classic 250
Price: $4799 (+ORC)

Warranty: 2 years/24,000km

Engine: 223cc, single-cylinder, four-stroke

Power: 12kW @ 9000rpm

Transmission: 5-speed, chain drive

Brakes: discs, ABS

Wet weight: 132kg

Wheels: 350×18; 400×18

Fuel tank: 12 litres

Economy: 2.5L/100km

Length: 2000mm

Width: 800mm

Height: 1070mm

Wheelbase: 1340mm

Website: https://hartfordmotorcycles.com.au/