Halvarssons Safety Review Summary
Halvarssons Safety Image Gallery
A combination of soft goat and kangaroo skin makes the Halvarssons Safety Grip gloves feel supple and comfortable. They meet the European EN 13594:2002 safety standard for motorcycle gloves and the EN 340 protective clothing standards and they have a certificate to prove it. But, the sizing may be unexpected and the construction of the thumb is unusual so you may want to try these before buying.
I first read about CE-approved motorcycle gloves in a Bike Magazine (UK) article last summer. They were going to be "the next big thing". But CE approval for motorcycle gloves shouldn't have been much of a surprise, because if an item of clothing is claimed to be protective equipment, it falls under one or more European safety standards and is subject to Personal Protective Equipment (PPE) regulation.
The Bike Magazine article indicated that this has been the case since 1995. For motorcycle use, PPE includes armor, clothing and protective gear like gloves. To prove that the product meets the standards, or what motorcyclists sometimes call the "safety standard(s)", the item must be tested at an approved independent laboratory. Probably one of the most well-known labs is SATRA in the UK.
But what is strange is that until recently, there were few-to-no manufacturers that used CE approval to market their gloves. The first pair I came across while on a trip to England was this pair of Halvarssons (that's right — no apostrophe) Safety Grip gloves, the same pair that was featured in the Bike Magazine article about the coming of CE-approved motorcycle gloves.
The Halvarssons gloves aren't the first CE-approved pair to grace the pages of webBikeWorld; a pair of "semi-CE" approved gloves was reviewed on webBikeWorld last fall: the Velocity Gear Formula Gloves (review).
Velocity Gear claims the gloves meet the EN13594:2002 standards for resistance against cutting, tearing, seam burst and abrasion, but it's not clear if they mean that the gloves meet the entire standard, or just those parts of it. A webBikeWorld commenter pointed out that the product must meet all the requirements to be approved, not just a few of them. That's probably correct, but it still would make me feel better to know that a pair of gloves passed some of the tests rather than none of them. Or that the manufacturer hadn't even bothered to test them at all to any type of standard, as is the case with most motorcycle gloves.
According to the Bike Magazine article, to pass the entire EN 13594:2002 regimen, the gloves must be tested for everything from "harmful manufacturing residue" in the materials to mechanical tests, such as abrasion resistance (2.5 seconds on simulated pavement).
Gloves are also tested for the way the armor is fitted, so that it doesn't poke the rider's hand through the glove.
The material strength is tested for shear and tear resistance. There's even a test for how well the rider can work the controls when wearing the gloves.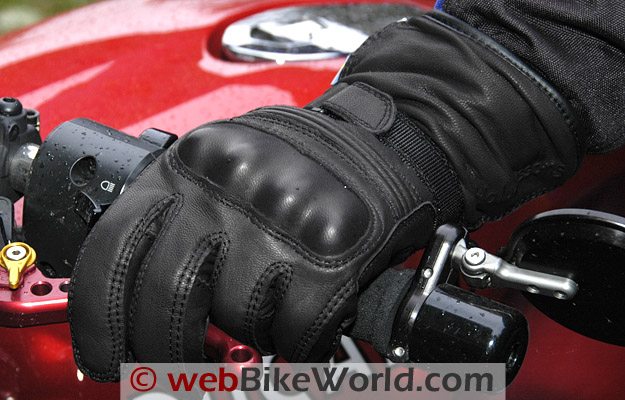 Halvarssons Safety Grip Motorcycle Gloves
Halvarssons products are not widely recognized in the U.S., and as far as I know, they are not officially sold in North America.
But the company is fairly well known in Europe as a manufacturer of a full line of good-to-high-quality, everyday "tool" clothing that doesn't cost one arm and one leg and is highly functional and sold at a relatively affordable price.
I'd say their competitors are mid-tier brands like Hein Gericke, Ixon, Joe Rocket and the like.
Not all Halvarssons gloves are listed as meeting the EN 13594:2002 standards, which brings me back to my confusion.
If they're sold in Europe and they're Personal Protective Equipment, then they must meet the standards.
But not all gloves are labeled as CE-approved.
So perhaps some of the other gloves are sold as "cold weather gloves" or under some category other than PPE?  Perhaps one of our European visitors can enlighten us on this paradox.
I'm not sure why this particular pair of Halvarssons gloves is called the "Safety Grip" model other than the fact that they meet the CE standards.
The gloves come with a guide book that goes into some detail in describing the standards and the ways in which the gloves might protect the rider, and it's printed in 7 languages.
Comfort and Feel
But standards alone aren't enough reason to buy a pair of gloves — or any other product for that matter.
As is often said on webBikeWorld, "It can be the best (helmet, gloves, jacket, boots, etc.) in the world, but if it doesn't fit and isn't comfortable, it's worthless."
I'll buy that, but fortunately the Safety Grip gloves are indeed pretty comfortable.
The outer material is goat leather and kangaroo hide, and a close-up of the leather tells me that the kangaroo skin, with its very closed-cell appearance, is used in the palms, while Mr. Goat is used everywhere else.
Goat and kangaroo hide, when treated correctly in the tanning process, happen to make some of the softest, most pliable and usually the most comfortable motorcycle gloves to be found.
While the medium-thick padding inside the Safety Gloves dulls some of the feel, I think that these gloves are probably some of the softest you'll find for colder weather use.

Water Resistance and the Bucket Test
The Safety Gloves are lined with a fairly comfortable fabric, and Halvarssons uses the "HI-ART" (High Abrasion Resistant Textile) material they developed, claimed to be both breathable and "air-permeable".
I believe the claims, because before it started snowing here, I was wearing the Safety Gloves every day to work in some downpours and my hands stayed nice and dry.
However, the gloves don't really have a lot of information on which materials are used where and it's not clear if the HI-ART material is a water resistant barrier or not.
The Halvarssons website indicates that HI-ART is used on the outside of the gloves, but if this is so, I don't know why it would also be breathable, because that type of material is usually placed inside the gloves.
I gave them the traditional webBikeWorld water bucket test, wearing the gloves and holding them in a full pot of water for 4 minutes, which is a pretty good test, and they remained dry as the desert.
Also, I have been surprised that the leather on the outside seems to retain very little water compared to other leather gloves put through the webBikeWorld bucket test.
For example, after 4 minutes of soaking, the leather did not feel like it absorbed much water at all and a quick wipe had them feeling good as new. A few minutes later and I tried them and you'd never know they had been soaked in a pot of water.
I am surprised at their ability to resist water, because the cut and the styling of the gloves just doesn't seem to me like it lends itself to being waterproof.
The key here is to ensure that no stitching cuts through the internal one-piece or seam-sealed water barrier material, and apparently Halvarssons has done a bang-up job on this.
Stitching and Protection
The Halvarssons Safety Gloves do not have what I would consider to be race-glove styling.
They seem more suited to commuting or touring and they have none of the "boy racer" graphics or style features of race gloves, so they are probably well suited for the basic street riding segment in that regard.
Other than a leather-covered main knuckle protector, the gloves have no other hard armor.
There are a couple of extra sections of leather on the palm and heel of the hand, but no extra padding or protectors over the rest of the knuckles or wrist.
Of course, this is what helps make them more flexible and therefore comfortable, and my hope is that by meeting the CE standards that perhaps they don't need armor that may not hold up during a crash anyway.
Sizing the Halvarssons Safety Gloves
The gloves come in numbered sizes, not the usual XS through XL range, which is somewhat unusual. I bought the size 10, which fits me correctly, and they are also available in men's sizes 8 though 13 and women's sizes of 6 to 7 only.
This seems like a limited size range to me and I suppose it's possible that, like motorcycle helmets, different sizes or outer dimensions must be separately tested to the CE standards, raising the costs.
Sizing these gloves is confusing, in my opinion. The size 10 is considered to be an XL, I take a medium and the gloves fit me.
According to the UK size charts (I can find no sizing chart on the Halvarssons/Jofama website), I should take a size 8-9, which would be too small.
I think if you took a U.S. size L or XL, you'd need to buy a size 11 or 12. So this is one of those products that you should really try first before buying.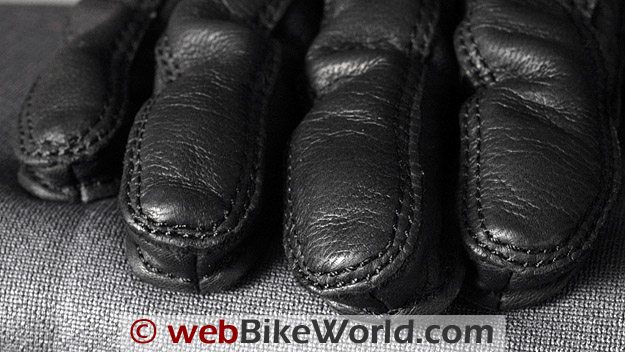 Construction
The Safety Grip gloves have excellent quality construction, as I hope you can see from the photos included.
The fingers have a box construction, the "two walls, floor and ceiling" arrangement described in other webBikeWorld glove reviews. This gives the fingers a comfortable amount of room.
The biggest complaint I have with these gloves is the shape of the thumb. It is sewn flat, just two pieces of leather sewn together, and it leaves way too much room at the tip of the thumb, which is typically the thickest finger on the hand.
I end up with nearly an inch of floppy thumb end hanging out, which sometimes either gets in the way or overall feels uncomfortable.
So if you're interested in purchasing a pair, make sure you pay attention to the fit over your thumb.
The gloves also feature a wrist cinch, which does a good job of keeping the glove on the hand, although the hook-and-loop strap could easily have been another 25 mm (1″) or so longer.
The wrist cuff has a small tab, also with hook-and-loop, and this could be larger also, as could the entire gauntlet, which is admittedly smaller because of the street-oriented styling.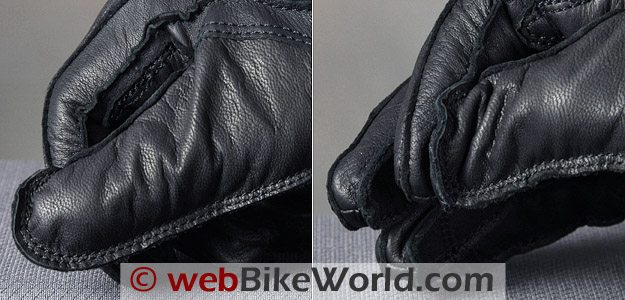 The Two-Season Glove
When I bought these gloves, I had winter in mind. But the mid-weight thickness is somewhat deceiving.
Although they feel like they do a good job of blocking the outside air flow, there doesn't seem to be enough insulation to really make these a pair of winter gloves equal to, say, the Held Freezer Gloves or the other winter gloves we reviewed in last year's comparison.
The Halvarssons Safety Grip gloves are probably designed with the British rider in mind. Waterproof, with enough thermal insulation for the comparatively milder but wet British winters, they work as a three-season glove in North America.
Or make that a two-season glove — fall or spring. I don't think they're warm enough for winter but they're too warm for summer, with no air flow to speak of.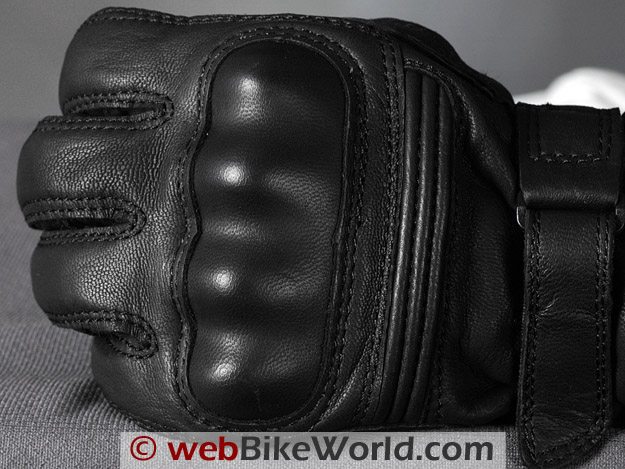 Conclusion
Comfortable to wear and very waterproof but the thumb issue is a complaint for me.
The lack of other protective features and the smaller wrist and gauntlet sizing aren't as bothersome don't help matters either.
I'll give these a neutral; if you simply have to buy a pair of CE-approved gloves that are waterproof, they may be for you.
w

BW

 Review: Halvarssons Safety Grip Gloves
List Price (2010): £85
Made In: Unknown
Colors: Black
Sizes: Men's 8-13. Women's 6-7.
Review Date: February 2010
Note:
 For informational use only. All material and photographs are Copyright © webWorld International, LLC since 2000. All rights reserved. See the webBikeWorld® 
Site Info page
. Product specifications, features and details may change or differ from our descriptions. Always check before purchasing. Read the
Terms and Conditions
!
Owner Comments and Feedback
---
From "M.E." (May 2012): "After around 12 months of very light use, the stitching came apart on one of the Safety Grip Gloves fingers leaving a 1 inch hole through to the lining.
"No problem" said the dealer "We'll get them repaired". Some 10 days later I went to pick them up and was given a new pair of gloves; full marks to the Halvarssons rep for that one, excellent customer service.
The new pair need wearing in, but what was immediately obvious was the thumbs are now the right length, as are all the fingers (at least for me). Again, well done Halvarssons.
Now for a couple of moans: considering the cost of these gloves the stitching could be better, and not just because my glove finger split, generally they don't look that well made close up.
Secondly, the wrist strap desperately needs a little brass stud in the end to stop it pulling through it's plastic loop, its infuriating and time consuming trying to retread the wrist strap every time I put the gloves on, especially as I'm wearing gloves…"
---
From "K.N." (2/10) at RaceLeathers (UK):  "In your tests/review, you have informed people that these are waterproof. They are not.
They do not have a waterproof membrane. That said, a CE glove is in development which does have this quality but it will not be released until at least 2011.
Editor's Reply:  Thanks for the information. We put the gloves through our standard procedure for water resistance by wearing the gloves and holding them in a bucket of cold water for 4 minutes and they did not leak a single drop.
So although Halvarssons does not claim water resistance for the gloves, this pair sure is!
---
From "F.M." (2/10):  "In response to J.P. (comments below), who wrote:
"Of course, there are all sorts of pros and cons – especially when you realise the EEC22-05 standard is only intended to protect the head from impacts to 17mph (?) – essentially, a direct fall from standing height to the ground."
I am sure that J.P. is aware that this is the most logical means of specifying helmet impact protection. It doesn't matter if you are going 120mph or 5mph: The vertical impact speed of your head will be directly related to how high it was when it started to fall.
Some high-speed high-side crashes can have the head somewhat above a normal standing height, but those are relatively rare. Of course you will likely slide much further after a high-speed crash, but that does not generate high G-forces on the head.
If you crash head on into a brick building at 60mph, you will die, regardless of what helmet you were wearing. You just can't decelerate a head from 60mph to 0mph in a couple of inches and not cause fatal brain injuries."
---
From "J.P." (2/10):  "An interesting article. CE kit has been bandied around for a good ten years now, to little avail.
I worked for a motorcycle clothing retailer from 2000-2004 and we had one jacket/trousers/gloves combo in all that time that was CE approved.
The problem is- or should I say the situation is- it is only necessary by law in the EU to wear a motorcycle helmet, and so this is really the only item to which serious thought has been given.
Of course, there are all sorts of pros and cons – especially when you realise the EEC22-05 standard is only intended to protect the head from impacts to 17mph (?) — essentially, a direct fall from standing height to the ground.
'Body armour' also HAS to be CE-approved, as it is intended to absorb a specified amount of energy in an impact. Non-CE armour may only be referred to as 'padding' or 'comfort padding' and isn't expected to do much in an accident.
Interestingly, there are to the best of my knowledge three CE grades- of which 'body armour' has to be at least Grade 2 (reduces the risk of serious injury).
Grade 3 is something along the lines of (reduces risk of fatality). Grade 3 just isn't possible for motorcycle wear. (Editor's Note: See a discussion of this in our review of the Forcefield Pro Sub 4 back protector).
Now we come to gloves and gackets. The CE standard sets standards here mostly for the abrasion and tear resistance of motorcycle garments.
It also sets stringent standards for stitching and construction- such as burst limits for seams and reinforcing measures like hidden stitching.
What these standards typically mean is that top-quality, highly supple (and therefore expensive) leather has to be used.
The leather is also typically thicker than that used in many regular motorcycle jackets- and has to cover pre-determined impact/abrasion risk areas. It usually leads to unvented and heavier garments.
In the case of gloves – as seen in this article – the only easy way to achieve the abrasion and stitching standards is to significantly reduce the number of stretch panels and sections of leather the item is constructed from.
The double-stitched seams are also both uncomfortable and highly difficult to achieve inside the glove, so get moved to the outside.
The use of Kangaroo and Goat skins in recent years has helped to achieve the abrasion standards at a lower weight of material, but the thinner leathers also require more dedicated cleaning and conditioning by the user to maintain suppleness.
CE-approved clothing does give a concrete level of protection to the rider, but it has not proved so popular due to the reasons listed above.
Manufacturers are limited by design constraints and ultimately choose to place the strongest materials only where really needed – leaving a broadened scope for the design and features in the garment.
A non-CE glove (or jacket/trouser) may in the real-world provide just as good protection in a crash as a CE item – but by the CE you are 'guaranteed' a minimum protection.
For my money, the buyer should consider fit/feel, usability, riding-style and construction of the garment when making a purchase.
For example, I now avoid any glove with fake suede on the fingers, even in non-impact areas, as it tends to get ripped apart over time by contact with Velcro fasteners.
Ultimately, though CE-approved kit will help see you through a crash with reduced injuries, there are far wider factors to consider in your overall safety whilst motorcycling. Use your head."