Finally, the POW has jumped the second barbed wire fence and escaped the Nazis for freedom in Switzerland … even if it was just a stunt for a British TV show.
Performing the stunt from the 1963 World War II POW film, The Great Escape, was former TT racer and all-round larrikin daredevil Guy Martin.
And he made it look easy on his specially prepared  Triumph Scrambler 1200.
Don't try this at home … that bike is substantially different to the street-wise model with different suspension, a lot of weight stripped off, punchy little exhaust and god knows what else under the skin.
The bike was used to complete the second failed jump by Steve McQueen's character in the 1963 World War II POW film, The Great Escape.
Guy even had his trademark unkempt hair cut to look just like McQueen's!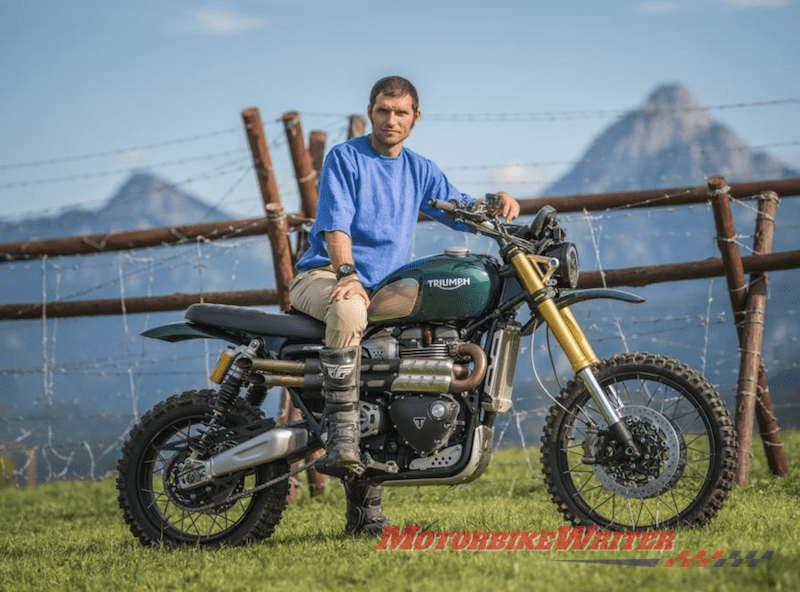 The jump was aired on the UK's Channel 4 overnight and you had to be a British TV licence holder to watch it.
The video is not yet on Guy's or Channel 4's YouTube channel nor social media and there is no word yet on when it will be available.
Meanwhile, here is the preparation video.
Next stunt
Guy's next stunt will be to break the 300mph (482.8km/h) speed barrier on a motorcycle within a mile (1.6km).
The last person to attempt the record, Bill Warner, crashed and died after a tyre failure.
"If anything goes wrong, if it all goes to shit, they're all right," says Guy. "Sharon and Dot are all right, and the dogs, Nigel and Steve."
Jump mystery
Meanwhile, the Great Escape movie stunt, which is one of the most famous in movie history, remains a bit of a mystery.
We know it was not done by McQueen – not because he couldn't do it, but because the filmmaker's insurance company wouldn't let him.
Many believe it was done by his friend and bike fettler Bud Ekins who died earlier this year and has been honoured with special edition T100 and T120 models.
However, there remains some doubt.
Several endurance riders who were competing nearby at the European motocross championship were invited by McQueen to visit the filming.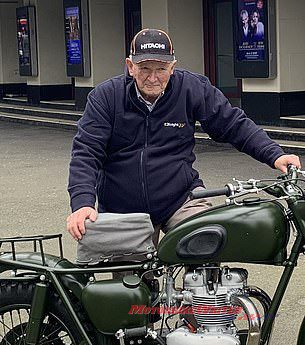 They included Australian Tim Gibbes (who swears it's not him in the film) and another unnamed Aussie rider who had a go while the cameras were rolling.
It is still not clear which take was used.
Some home movies of the filming shot by Tim have recently been unearthed.
Switzerland jump
Guy jumped a reconstructed 2.4m barbed wire fence to complete the failed leap to freedom in Switzerland.
The video apparently had a part where the team didn't think they would have the fence done in time. Typical reality TV dramatisation!
Not that the jump needs much dramatisation.
In the film, McQueen jumps the first 5ft (152cm) fence, but fails to clear the 8ft fence (244cm).