Gore-Tex Membrane Types Review Summary
Gore-Tex Membrane Types Image Gallery
The use of Gore-Tex brand products in motorcycle clothing has increased dramatically in the last 10 years.
The technology developed for what is now called the Gore-Tex membrane was first developed in 1969.
That technology is now available in a wide variety of Gore-Tex branded membrane types that have been specifically designed to perform in defined conditions for each individual sport or activity.
There are currently at least six different Gore-Tex products used in motorcycle clothing, and these can be found in motorcycle clothing at a variety of price points.
Because the membrane is normally "hidden" inside the construct of the motorcycle garment, the cost/benefit ratio isn't always obvious.
Thus, understanding the differences can help the motorcyclist choose the most effective solution for their particular needs.
We have received many emails in the last few months asking about the different types of Gore-Tex brand membranes used in motorcycle clothing.
So I dug through my archives and I think I have enough information here to help explain the choices that are currently available.
During my research when preparing this article, I also found some related video taken at the Rev'it booth at the 2010 EICMA show.
It illustrates a Martindale abrasion testing machine and a Gore-Tex wind/water/moisture barrier membrane test rig. I included that below and I hope you find it interesting.
Since the stated mission of webBikeWorld is to "Provide information that helps our visitors make informed purchasing decisions" (more), the goal of this article is to illustrate and describe the current array of Gore-Tex membranes used in motorcycle clothing and to explain some of the differences.
Hopefully, this information will help you choose the "perfect" motorcycle jacket or pants.
Note: Revised to further explain the differences between the 2- and 3-Layer membranes. 16:22 EST 01182011.
Bob Gore first developed what is now called Gore-Tex back in 1969 and the first products using the Gore-Tex brand were announced in 1978.
I have owned several different types of outdoor garments containing Gore-Tex brand membranes in the 1980's and 1990's.
But to be honest, I initially wasn't very impressed.
In fact, some of the original webBikeWorld reviews from 10 years ago referenced my disappointment with the promise of Gore-Tex and it became less important to me as a factor in my choices of motorcycle gear.
The problem wasn't that the membranes failed to keep me dry; it was the poor performance of the outgassing of moisture vapor that was disappointing; i.e., sweat.
There may be a certain amount of irony in the fact that it wasn't until I discovered a Gore-Tex competitor membrane product called Sympatex, used in Triumph motorcycle clothing, that I first started believing the claims of "waterproof yet breathable" for this type of material.
The modern versions of Gore-Tex membranes work very well to keep my warm and dry and I have noticed none of the problems with moisture buildup that I experienced in the past.
Of course, it's always important to use correct layering techniques and materials.
But in general, I've been very pleased with the performance of Gore-Tex brand membranes incorporated in motorcycle clothing in recent years.
Apparently, the original Gore-Tex patent expired some years ago and several other textile companies have also developed "waterproof and breathable" membranes often found in motorcycle clothing and other high-performance outdoor gear.
In addition to Sympatex, these include brand names such as Hydratex; Helly Tech (Helly Hansen); H2No (Patagonia); HyVent (North Face); MemBrain and PreCip (Marmot); Omni-Tech (Columbia); Pertex; Reflex (Macpac); Storm-FIT (Nike); Triplepoint (Lowe Alpine) and many others.
Some of the recognizable brand names, such as Hydratex and Sympatex, are often found in motorcycle clothing and others can be found in outdoor performance wear.
It's likely the use of the brand name increases the cost of the garment.
However, it's difficult to know whether a brand name and a generic waterproof/breathable membrane have equivalent performance.
Thus, depending on your needs, it may be worthwhile to pay extra and get the performance guarantee and peace of mind that comes with with a brand name product.
The Gore-Tex Guarantee for Motorcyclists
Perhaps to distinguish themselves among this array of competitors, Gore-Tex has developed one of the best guarantees available to motorcyclists.
We first announced the Gore-Tex "Guaranteed to Keep You Dry" guarantee with our introduction of the Rev'it Gore-Tex motorcycle clothing lineup in 2010 (article) and that guarantee is now available on many different motorcycle garments that feature a Gore-Tex brand membrane.
Although I'm not aware of anyone who has actually taken advantage of the guarantee — and I'm sure W.L. Gore & Associates hopes to keep it that way — its wording is very specific.
It basically states that W.L. Gore guarantees the garment for life against leaking and if it fails, Gore will repair or replace it if necessary.
Note that this guarantee isn't simply granted to the motorcycle clothing manufacturer carte blanche.
A license is given to the motorcycle manufacturer only after a highly detailed manufacturing process is followed, including an inspection and oversight by Gore for everything from the design of the garment to the manufacturing processes and the procedures used to manufacture it.
This surely increases the cost of the garment, so the cost/benefit analysis must be done by the motorcyclist.
If you want a jacket, pants or gloves that are truly waterproof — and guaranteed to stay that way — then it may be worthwhile to spend the extra money.
All of the membranes shown below will have the Gore-Tex guarantee when used in certified motorcycle garments.
Types of Gore-Tex Brand Membranes for Motorcycle Clothing
Following is a pictorial overview of the 6 different types of Gore-Tex membranes currently used in motorcycle clothing.
The list starts with the high-end Gore-Tex Pro Shell, which can be found in what is usually the more expensive motorcycle garments, down to the basic Gore-Tex Performance Shell 2-Layer.
By the way, I should also back up a step and describe exactly what a Gore-Tex membrane is, paraphrasing the official Gore-Tex wording:
A Gore-Tex membrane contains over 1.4 billion microscopic pores per square centimeter (9 billion per square inch). These pores are 20,000 times smaller than a water droplet, but 700 times larger than a water vapor molecule. This makes the Gore-Tex membrane completely waterproof from the outside, while allowing perspiration to escape from the inside.
An oleophobic ("oil-hating") substance is integrated into the membrane, preventing the penetration of body oils or insect repellent that could affect the performance of the membrane.
Here's the key part that is relevant to this article:
To meet the specific needs of each end use, W.L. Gore & Associates has developed different Gore-Tex membranes and applies them as appropriate.
Descriptions of Gore-Tex Membrane Types
Gore-Tex Pro Shell 3-Layer Leather
Gore claims that the new Pro Shell 3-Layer Leather is "the very first to offer absolute weatherproofness".
It includes a Gore-Tex membrane and is claimed to be 100% waterproof. It carries the "Guaranteed to Keep You Dry" guarantee from Gore-Tex.
The leather has what Gore calls a "solar reflective outer shell" incorporated into the surface, which is claimed to reflect solar radiation, keeping the rider cooler and more comfortable than leather without the treatment.
Note that the leather is perforated to allow the outgassing of body moisture (i.e., breathability).
Gore claims that the leather is "highly breathable and allows the skin to breathe freely even at high temperatures and under the greatest physical strain".
They also claim that "the new functional material is extremely abrasion resistant".
The leather has the Gore-Tex membrane bonded to the back side with a textile inner liner then bonded to the membrane and the seams are sealed with breathable Gore-Tex material: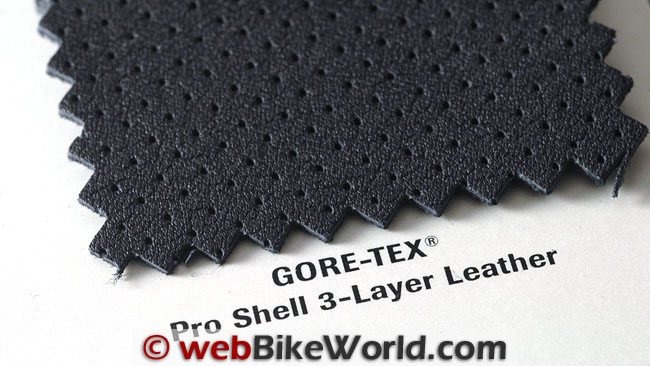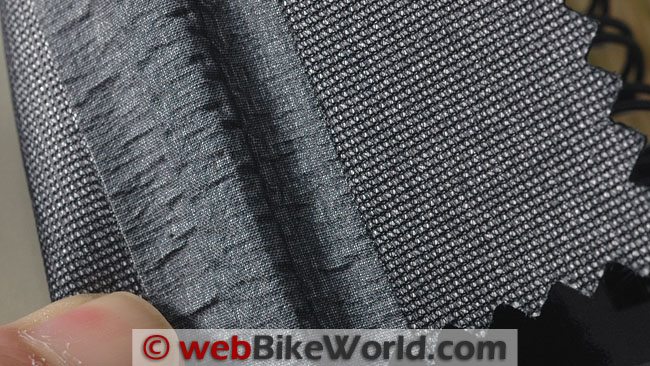 Gore-Tex Pro Shell 3-Layer With Armacor
This is the highest level of Gore-Tex textile (non-leather) product and it will be used in the upcoming top-of-the-line REV'IT! Everest GTX jacket and pants (report) I described in my 2010 article.
Gore-Tex Pro Shell 3-Layer With Armacor was developed for the most extreme motorcycling conditions as a no-compromise product.
It uses the most breathable, most waterproof Gore-Tex membrane technology currently available.
This product is designed for touring and off-road adventure touring riders who will be exerting a lot of energy and perspiring during their off-track adventures and who require the ultimate in breathability, moisture outgassing and protection.
One of the unique features of the three-layer Pro Shell is that the outer shell is bonded directly to the Gore-Tex membrane.
So there's no membrane visible on the inside of the fabric; the shell has the Gore-Tex membrane bonded to the inside and then a special textile liner is bonded to the inside of the Gore-Tex membrane, facing the rider.
This means that the outer shell is completely waterproof and water will not soak into the shell itself.
This is the "holy grail" of motorcycle clothing. Many webBikeWorld readers have been hoping for a jacket and pants that will resist water at the outermost layer, and this is it.
Be forewarned: you will pay for the privilege of owning this technology!
Hopefully, as it becomes more common, the prices will drop and who knows — someday, this may be the entry level Gore-Tex membrane product.
One other unique feature of this product is the ripstop pattern on the outside of the shell, which uses Kevlar threads for extreme abrasion and tear resistance with what Gore claims is lighter weight.
Here are photos of the outer and inner shell of the Gore-Tex Pro Shell 3-Layer With Armacor: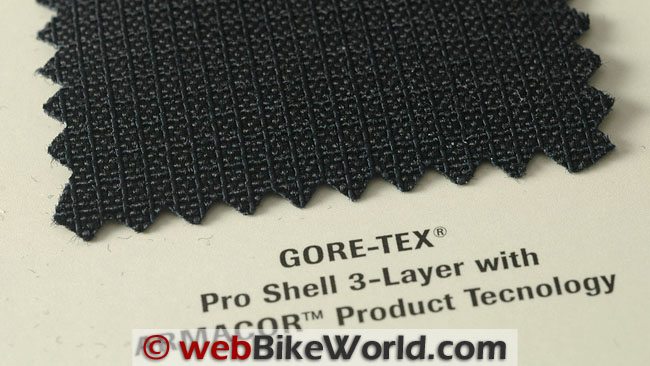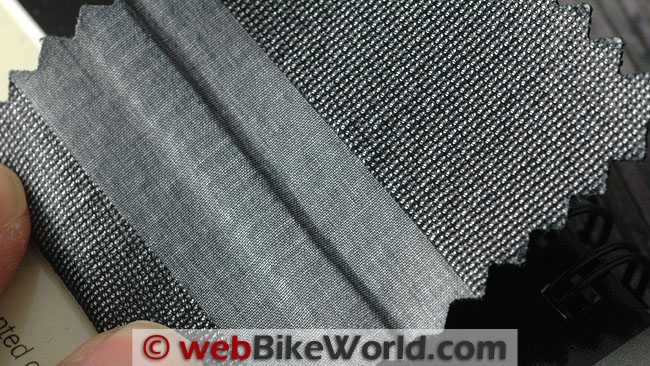 Gore-Tex Performance Shell Z-Liner
Next in the Gore-Tex textile product hierarchy is the Performance Shell Z-Liner.
Gore-Tex says this membrane is designed specifically to provide breathability and waterproof capability for the touring rider.
Since a touring rider isn't expected to be using the same levels of energy that would result in high perspiration levels such as that encountered by an adventure touring rider, the product is designed appropriately.
The red fabric shown in the photo below represents the outer shell, while the Gore-Tex membrane is free-floating underneath and between the outer shell and the typical perforated mesh liner on the inside, towards the rider.
The outer fabric can be made light weight and allows different styling and color combinations.
The Gore-Tex Performance Shell Z-Liner is used in the Rev'it Legacy GTX jacket described in my 2010 report. The Z-Liner is very thin (a Gore-Tex membrane is only microns thick) and flexible, which makes a comfortable garment.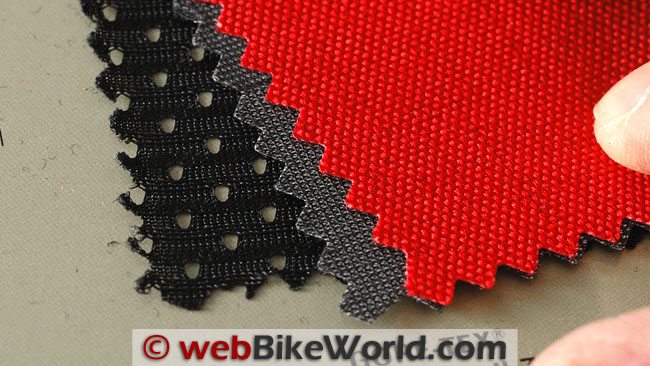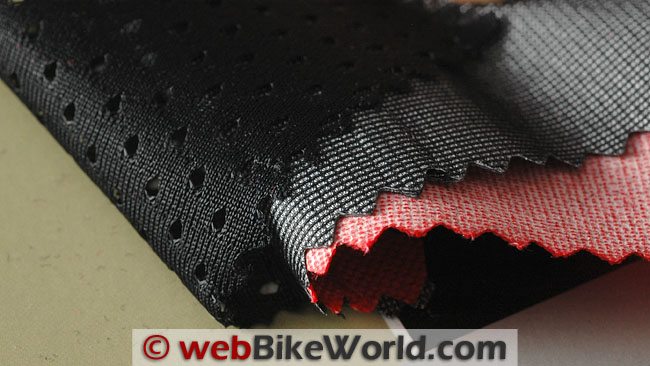 Gore-Tex Performance Shell 3-Layer Removable Liner
Next up is the Gore-Tex Performance Shell 3-Layer Liner, used in a removable form in jackets and pants such as the REV'IT! Defender GTX (review).
This 3-Layer liner is suspended behind the outer shell of the jacket and has a textile layer bonded to the side of the membrane facing the rider, so no other internal liner is needed.
The Performance Shell 3-Layer removable liner is important because it allows the rider to choose when waterproof capability is needed.
This then allows the garment to work over a wider range of temperatures and conditions, one of the key factors in the versatility of the Rev'it Defender GTX outfit and one of the reasons we chose the outfit as our Motorcycle Product of the Year (more).
Note that a motorcycle garment with a removable breathable/waterproof liners usually means that the outer shell can become soaked with water in the rain.
But the shells of both the Defender GTX and the Firstgear Rainier jacket we reviewed in 2010 were treated with water-repelling products that minimize the amount of absorption and both jackets quickly dried when they were on a hanger inside.
Gore-Tex nomenclature can be a bit confusing regarding the difference between a "2-Layer" and a "3-Layer" liner, and Rev'it sent the following explanation:
Update: 2- vs. 3-Layer Gore-Tex
The staff at Rev'it sent this information to answer the question about 3-Layer versus 2-Layer Gore-Tex.
The Gore-Tex membrane is the milky white lining shown in some of these photos. It is visible in the Gore-Tex Performance Shell 2-Layer photo, the 6th photo below.
In a 2-Layer Gore product, the membrane is bonded to the fabric substrate and the fabric helps to give it form and protect it on the outside.
This is why those products also have an inner fabric (usually mesh) liner to protect the membrane on the inside.
In a 3-Layer product, the inner side of the membrane also has an additional protective textile layer added for durability, to protect the membrane and prevent chafing of the rider's skin. So the membrane layer has protection on both sides.
A few additional notes: The seam tape used by Gore is a breathable tape, where the clear tape normally found on lesser products is not breathable.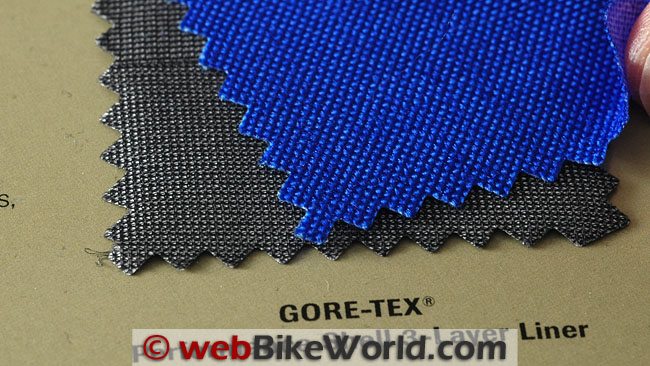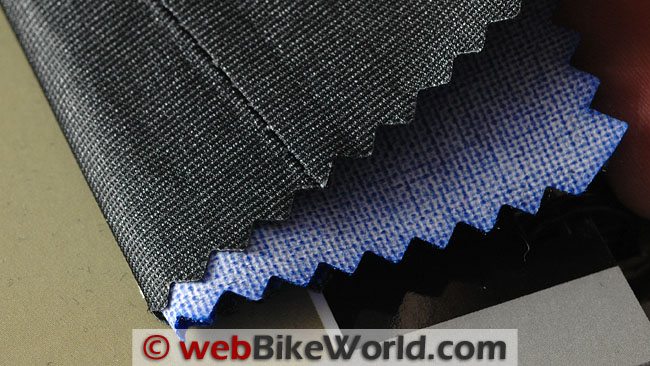 Gore-Tex Performance Shell 3-Layer
Continuing in the Gore-Tex Performance Shell hierarch is the Performance Shell 3-Layer. Gore says this product is designed for "a wide range of motorcycle activities".
This one is called "3-Layer" because the outer shell fabric acts as a carrier for the Gore-Tex membrane bonded to the inside, then the inside of the membrane also has a bonded textile lining.
In this product, the breathable/waterproof membrane is bonded directly to the inside surface of the jacket or pants shell.
This offers less weight and doesn't require a separate liner, but it also means that the zippers and seams must be carefully designed and constructed to prevent the ingress of water.
It can theoretically provide a looser-fitting or more comfortable garment, due to the decrease in layers or liners.
The Performance Shell 3-Layer also stops water at the outer part of the shell, so the shell itself is waterproof but the Gore-Tex system is part of the shell, so it is not a removable liner.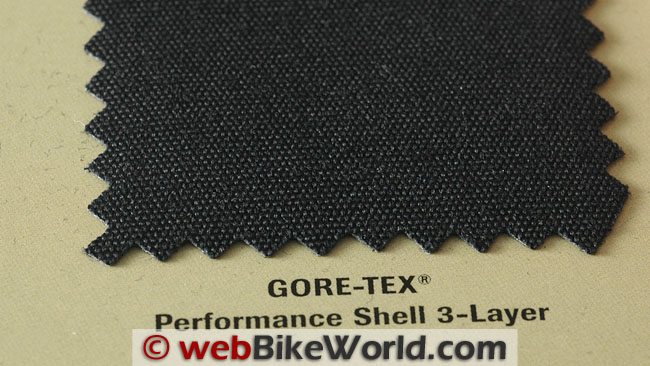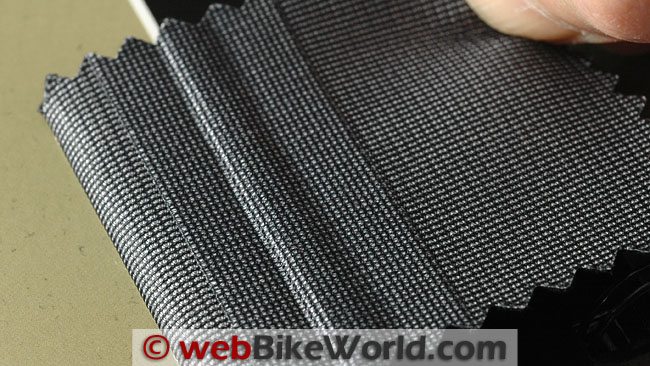 Gore-Tex Performance Shell 2-Layer
Next is the Gore-Tex Performance Shell 2-Layer product. Gore says this is designed for scooter riders, street or casual riders and touring riders to provide "all-weather protection in any weather condition".
The membrane is bonded directly to the back side of the dark gray fabric shell seen in the photo directly below. The membrane used in this product has a different feel; it feels more like a thin silicone or rubber layer.
This product then also has a perforated mesh liner, which is free-floating inside the jacket (but permanently connected to the shell).
It acts as a protector for the membrane and also keeps an air barrier for distance between the membrane and the rider's skin.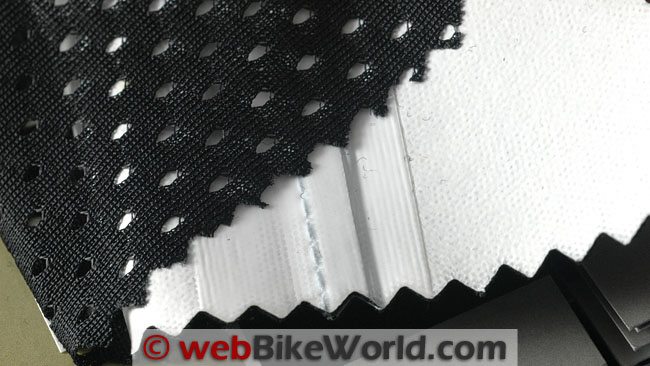 Gore-Tex Airvantage Insulation
Airvantage is a Gore-Tex insulating product that is quite different from the breathable/waterproof membranes shown here.
Airvantage is a garment filled with air channels or bladders used for insulation.
The channels can be inflated by the rider via a tube.
This product was described in our 2004 review of the BMW AirVantage insulating vest (review), which used the Gore-Tex technology, but I haven't seen it used in many other motorcycle clothing items and the BMW vest is no longer available for some reason.
Note: A reader (see the Comments section below) pointed out that AirVantage technology is currently used in the Aerostich Kanetsu electric vest and jacket.
The irvantage product is claimed to be breathable and windproof and Gore says that no special care is required for its maintenance. This illustration is courtesy of W.L. Gore & Associates.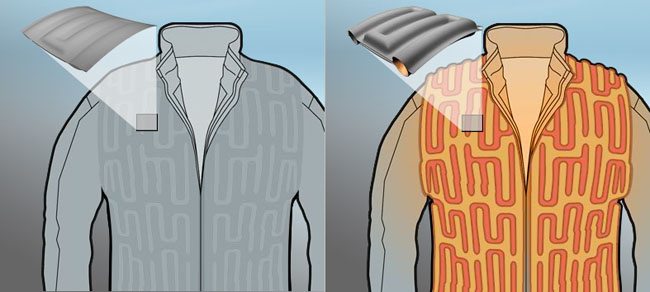 Raw Gore-Tex Material
Here's a photo of something you don't see every day (below).
This is a sample of Gore-Tex membrane in its raw state, before it is processed to become a Gore-Tex membrane. It's semi-soft, pliable and feels much like a piece of hardened silicone putty.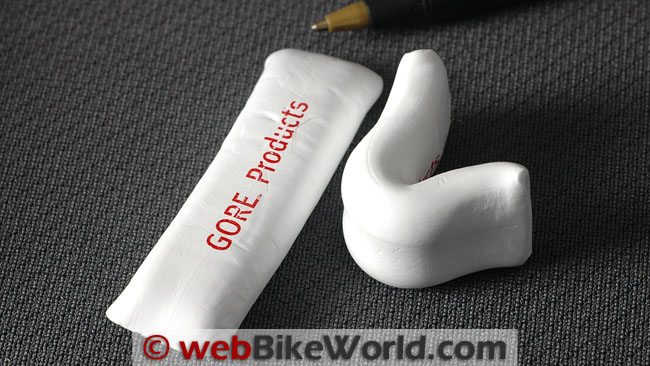 BBonus Video:  Motorcycle Clothing Abrasion Testing and Gore-Tex Membrane Testing
The following video shows a Martindale abrasion testing machine and a test of the breathable/waterproof membrane.
A Martindale abrasion tester is a standard machine used throughout the textile, fabric and apparel industries to compare the abrasion resistance of various fabrics and textiles.
It puts a specified amount of weight on a selection of materials and abrades them with the rotating discs, which have a specific surface finish or texture.
Martindale tests are specified in ASTM, DIN, ISO and BS standards, so the fabrics that are compared are tested to a specified number of abrasions, weight, resistance, etc., which results in an accurate comparison.
w

BW

 Video: Motorcycle Clothing Abrasion and Water Resistance Testing
Publication Date: January 2011
Note:
 For informational use only. All material and photographs are Copyright © webWorld International, LLC since 2000. All rights reserved. See the webBikeWorld® 
Site Info page
. Product specifications, features and details may change or differ from our descriptions. Always check before purchasing. Read the
Terms and Conditions
!
Owner Comments and Feedback
---
From "B.K." (October 2012): "My perspective on the Gore-Tex debate: I've had too many jackets, trousers (especially) and boots advertised as waterproof.
But they are not waterproof in practice, especially after a few 8 hour rides through heavy rain. Breathability comes second to waterproofing.
I buy Gore-Tex in particular because the taped seams don't come undone like virtually all other allegedly waterproof garments I've worn.
The crotch is the weak spot in trousers; stretched across the seat, cheap seam tape is put under tension and slowly comes unstuck, and all the water that runs down your front and pools there starts leaking in.
Highly unpleasant. A similar situation occurs on jackets at the stomach (where the zip may be the weak point – I'm grateful for my jacket with a Gore lock-out zip here) and around the armpits.
I second the perspective of "E.S." (below) on the idiocy of removable liners.
In jackets especially, all they do is guide the water right into your gloves; and when it stops raining, you're riding around wearing a big wet blanket wrapped around a thin waterproof shell. That's just as uncomfortable as it sounds."
---
From "M.E." (01/11): "My 'two penny worth' in the Gore-Tex debate: I have owned two jackets that had 'none breathable' linings and have suffered from trapped perspiration to the point of feeling wet even on moderately warm days, no surprise there.
I've also had two jackets with Gore-Tex lining that even in the heat of Spain hasn't left me feeling half as damp so I'm confident that at least for me, Gore-Tex works.
I also have a pair of work-ware over-trousers that are a Gore-Tex laminate, these work amazingly well, never leak, never get sweaty, just great!
Lastly, an observation: a friend of mine had a plastic back protector in a pocket inside his Gore-Tex jacket.
When he took his jacket off he had a huge wet patch on his back where the back protector was, that to me proves Gore-Tex was allowing LOTS of perspiration out, where it could!"
---
From "E.S." (01/11):  "I have been working with / using / selling garments and footwear for over 10 years in the outdoor industry and there is a definite misunderstanding on the consumers behalf on what to expect from these products, and what they are intended to do.
All of the products, including Gore's, are breathable, but that is in comparison to a plastic bag.
Waterproof/breathable textiles are not "active" barriers, and do not suck or draw moisture through their fabrics.
They operate more like a cell wall with osmosis (remember your High School biology). They rely on you, and your heat to provide the energy to push moisture, on a microscopic level through the membrane or coating.
The greater the differentiation between inside the garment or shoe and the outside, the better they work. Warm and humid on the inside, cold and dry on the outside, the better they work.
If you are wearing a waterproof/breathable jacket in the rain and it's 90 degrees and 90% humidity, it's going to get moist on the inside. Plus, none of these materials are breathable enough to keep up with high-aerobic activities.
On a side note, some of these products are membranes — think wallpaper (Gore Tex, Sympatex, Marmot MemBrain).
And some are coatings — think paint (Hyvent, Precip, Omnitec, H2No).
In general, membranes tend to be more durable, stiffer, and more expensive. Coatings are almost always less expensive, have a softer hand, but usually less durable.
They all have their "magic sauce" that the manufacturers use for marketing, but breathability performance is all over the map, because the breathability if the face fabric will dictate the permeability of the textile.
Gore-Tex bonded to 4 mm leather? Not breathable.
What will make your waterproof/breathable item work better?
Wear underlayers that promote wicking of sweat off your body: polyester or wool base layer. Skip the cotton please. It's not raining? Wear leather.
Don't get me started on the absurdity of motorcycle jackets with removable waterproof liners on the inside of the garment. Dumb."
---
From "S.D.G." (01/11):  "My wife has a Rukka Amazon (I can't believe they named it that) that came with the Gore-Tex/AirVantage vest. She never uses it preferring a rain jacket to wear over the Rukka.
I have a BMW SG2 which also had a 3 layer laminate with Armacor (that is why I bought it) and it definitely does not get as wet, and it dries very quickly, compared to a jacket with a non-laminated liner.
If I could only have 1 jacket it would be a jacket with a laminated waterproof membrane."
---
From "R" (01/11):  "I was interested to read your recent review of Gore Tex material. In the section about the Airvantage insulation material, you indicate that the material was initially used by BMW but has not used in other motorcycle clothing.
For several years, I have seen different liners made and sold by Aerostich that use AirVantage.
They currently list 2 such products: an electric vest and an electric jacket liner (both using AirVantage in combination with the electric wiring).
I don't have any experience with those two products (or any of the other former AirVantage products offered by Aerostich), but I have been pleased with several other Aerostich products over the years.
Just an FYI, if you wanted to correct that. Thanks for such a great website!"
---
From "S.S." (01/11):  "I bought some Gore-Tex garments when they had been on the scene for a few years, and always found them to be waterproof but not breathable.
I also remember seeing a demonstration of Yvon Chouinard or someone from Patagonia holding a swatch of Gore-Tex over a steaming kettle of water to show that it did not pass the moisture as it claimed.
Manufacturers who tried it in sleeping bags found that it just did not work, which compromised the insulation, and actually made down filled bags a hazard in very cold weather, where the moisture froze inside the lining.
There were additional reviews from that time which explained the Gore-Tex sales revolution as being a success primarily because of the huge marketing effort made on its behalf, and not from it actually working as claimed.
Many years have passed since that time, so I assume that either this product has improved, or else continuous clever marketing has created a placebo effect (The emperor's new Gore-Tex clothes?).
Certainly the price premium one pays for these garments, and the fact that well known manufacturers put it in their most expensive models both help to create the impression that this stuff actually works.
Not to be disrespectful, but I have to ask: has anyone really worn this stuff and not sweated? Perhaps I generate more moisture than average, or perhaps the newer versions actually work.
But I can honestly say that every Gore-Tex product I have purchased has not prevented me from sweating, even when trying many different combinations of layers.
Waterproof? Very much so, but unfortunately from the inside as well as the outside. Thanks as always for a great magazine!"
Other WebBikeWorld
Motorcycle Clothing 

Posts

wBW Motorcycle Clothing Info