Givi X.01 "X Zero 1" Motorcycle Helmet Review
Let the debate begin: is it the Givi X.01, the Givi X01, the XZero1 or….?
Givi has devoted an entire website to this helmet, which they're apparently calling the XZero1; the Givi UK site calls it the X.01.
But whatever you call it, this has to be the coolest — and I mean that literally — helmet since the SCHUBERTH J1 (review).
The X.01 is different, that's for sure, and it's pretty hard to compare it to any other motorcycle helmet.
It's probably not for everyone — but for all of the hot-weather riders who have been asking about helmets with the best air flow, here's your helmet.
Why is the X.01 different?
It is a true modular helmet in every sense of the word. I'm not talking about a "flip-up" helmet, which is sometimes called a modular helmet but isn't modular at all.
The word "modular" is defined as "capable of being easily joined to or arranged with other parts or units", so if you want a true modular, the X.01 is it. In fact, Givi calls it a "Modul-Air" system. Get it?
If I had to compare it to something, I'd say that the Givi X.01 takes the Airoh TR-1 approach to the next level. The X.01 can be used as a cool-weather helmet with its solid chin bar and solid vent covers installed.
Remove the top vent covers and plug in the mesh over the vents and it's a Spring and Fall helmet. Strap on the open air chin bar and leave the screens up top and summer is a breeze.
Not enough air?  Pop off the chin bar and wear it like a "jet" helmet on your scoot. Cool!
Now you may think this is sort of a gimmick. So did I, truth be told. Until the first 80 degree day, that is.
Believe it or not — and I'm as skeptical about this stuff as anyone — the thing really works, and the amazing part is that the X.01 is also comfortable and it isn't all that loud.
"Cool" is a word that can be used in a number of different ways when describing the X.01, and it certainly does look — and act — cool with its open air chin bar and mesh vent covers installed. So let's put it through the webBikeWorld wringer and take a closer look…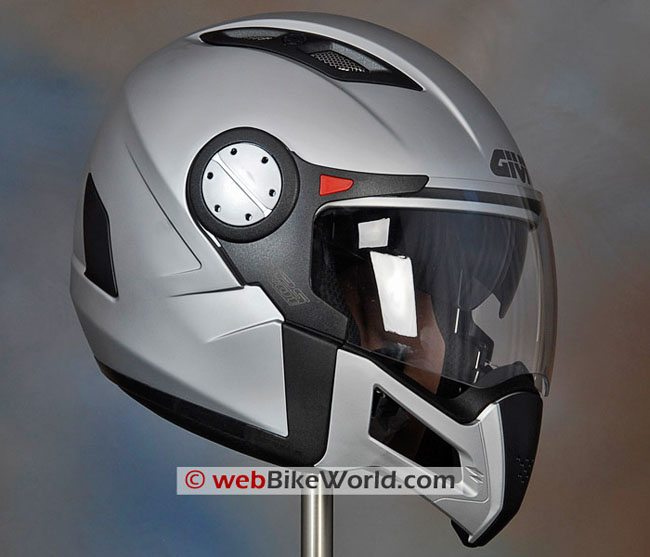 ---
Where to Buy Givi X.01 Helmet
Check Reviews & Prices on Amazon
Check Reviews & Prices On RevZilla
See More Motorcycle Helmets, Motorcycle Visor, Motorcycle Intercom
---
Paint, Graphics and Overall Quality
The X.01 comes in any color you like, as long as it's silver or black. Matte, that is. I'm not sure why the color choices are limited; but I'm guessing that it may have something to do with the composition of the helmet shell.
The shell is made from Lexan — you know, the polycarbonate they use as a replacement for glass in subway cars and iPods and fighter jet windscreens and food containers and other products.
Yep, Lexan is pretty amazing stuff, and here it is in a motorcycle helmet.
But Lexan is a polycarbonate, and many motorcycle helmets are made from polycarbonate, so don't worry. And besides, it meets ECE approval (in all of its different configurations).
Perhaps the silver and black are the only colors that can be used in the mold? I'm not sure if the helmet is painted or if the colors are part of the Lexan itself.
Anyway, the matte silver finish has that rubbery sort of feel, and overall the helmet looks good and all the parts fit together rather well.
The helmet does have a sort of molded feel to it, and if I wanted to nitpick a bit, I would say that the black fittings are a little bit clumsy and could probably have been installed with closer tolerances.
This bothered me slightly at first but after I discovered the incredible utility of the X.01, it no longer matters.
Besides, the thing just looks great in the full-on Summer configuration, when all of a sudden the black fittings look perfect against the matte silver.
Score:  I'll give the X.01 a "Very Good" rating for the admittedly plain color choices and for the quality of the fittings. See the ratings scale in the summary table at the bottom of this page.
Helmet Shape and Fit
After wearing the SCHUBERTH J1 and the Airoh TR-1, both of which I put in the same class of helmet (i.e., different…much different), I expected the Givi X.01 to have a long oval shape; longer front-to-back and flatter on the sides.
Surprise!
While the X.01 isn't as round inside as, say, the Arai Quantum II (review), it feels like it has nearly the same fit as a Shoei RF-1000 (review).
That is, round with just a touch of neutral intermediate oval thrown in.
It's a nice, comfy fit and the liner — although not quite as plush as the Arai — is also rather nice, and the fine furry fabric feels fantastic on my face.
The liner is removable and washable and hypo-allergenic. Memory foam is used for cushioning, and although it feels a touch thin, it's still pretty comfortable.
Another surprise is that the sizing of the X.01 is pretty much right on. We're used to finding these "boutique" helmets sized smaller than expected, but the X.01 shown here is all of its size XL — indeed, it's probably even a half-size big.
Thus, I'm pretty sure that a size L would fit me perfectly, and the Lexan shell is slightly more flexible than a fiberglass or composite helmet shell, so the flexibility helps with sizing also.
As always, be sure to check out the wBW Motorcycle Helmet FAQ for more information on choosing and fitting a motorcycle helmet and for a discussion regarding human head shapes.
And don't forget that choosing the correct helmet shape is crucial for both comfort and safety!
The Givi X.01 is currently available in a limited size range, from XS to XL.
We're not sure if they use one, two or more shell sizes to span this range — perhaps each size has its own shell, and that's why the size range is limited?  Don't know…
The bottom of the helmet feels like it's slightly more open (i.e., less tapered) than other helmets, and this, in conjunction with the sizing, means that there is some air that leaks in from underneath. This is actually welcome when the helmet is in its summer air-cooled configuration.
The X.01's ear pockets in the liner are rather shallow, but I can slip on a pair of wire-framed sunglasses over my ears after the helmet is on my head.
Score: I rate the Givi X.01 an "Excellent" for comfort and fit, with the note that the sizing may run slightly large, but this is only based on our one example.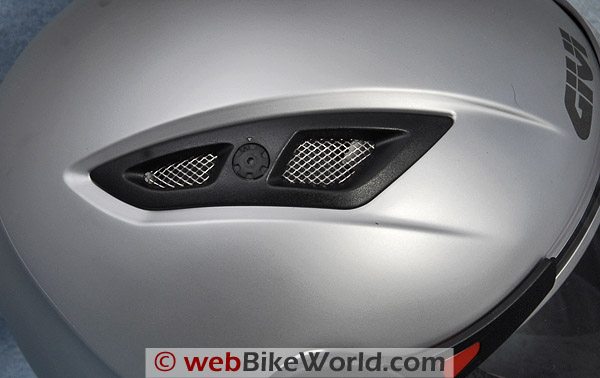 ---
Where to Buy Givi X.01 Helmet
Check Reviews & Prices on Amazon
Check Reviews & Prices On RevZilla
See More Motorcycle Helmets, Motorcycle Visor, Motorcycle Intercom
---
Ventilation
Top Vents
The X.01 is interesting because it covers a range from almost no venting to all the venting you'll ever need and then some.
In winter mode, the X.01 has a solid chin bar with a movable vent, but that's it. Any additional venting will come from up underneath or through the visor if its cracked open a notch.
In "half way" mode, which I've found comfortable in a range of Spring or Summer temperatures from around 21 to 27 degrees C (70 to 80 degrees F.), the top vent covers can be replaced with the screen mesh inserts.
With those in place, and with the solid chin bar, the top vents create a definite sucking effect, and the air flows right up and through the helmet in a nice, cool breeze, just like there was a big fan up there pulling the air through.
The top vent covers and the big round screws on the sides of the helmet that hold the visor are removed with a special tool provided by Givi.
The tool comes in a nice little lined kit bag (see photo) that has pockets to store whichever spare vent covers aren't being used and also the spare chin bar.
The top vents are removed by turning a little plastic twist screw on top of the vent 90 degrees to remove the cover, sort of like a Dzus fastener. An arrow on the cover indicates which way to turn the screw for the locked position.
Chin Vent
The X.01 can convert to full-on summer mode by replacing the solid chin bar with the open version, and you'll have plenty of fresh air, no doubt about it.
See the photo below — note that in this mode, the visor doesn't meet the top of the chin bar, leaving about a 20 mm gap at the widest part.
Also, the air rushes in on either side of the chin bar through the slots.
The chin bar attaches to the helmet via two metal buckles, one on either side, underneath the padding (photo above).
The chin bar has molded tabs that slide into the helmet shell, and there are hooks inside the helmet on either side that catch the metal loop on the buckle that's attached to the chin bar piece.
Slide in the chin bar, snap the buckles tight and you're ready to go.
They're very unobtrusive; indeed, I didn't even know they where there until I read the instructions. The arrangement is actually very ingenious.
Givi was actually pretty thoughtful about making sure the center section is covered anyway, more or less, to help prevent bugs and thingies from sandblasting the rider's mug.
I haven't tried the X.01 in max gnat mode yet, because the late spring weather has still been bug-free, so maybe they should have designed in some screens over the slots, but we'll see.
But in any case, full summer mode definitely pumps in the air. Funny thing, when the top mesh vents are installed with the solid chin bar, I can feel more air being pulled through and out the top than with the summer chin bar.
This is probably due to the pressure differential from inside and outside the helmet — the spread decreases with the open chin bar in place, decreasing the pressure at the top? A lesson in physics is no doubt needed to fully explain…
Now having to carry these spare parts and the tool may be a problem for some. If they become lost, you're out of luck.
I wish Givi would have at least provided a couple of extra tools in the kit, but if the tool is lost, I don't think it would be too hard to improvise to turn the screw on the vent covers.
There are also a couple of exhaust vent holes buried in back under the black covers along the side, and I'm guessing they suck out some air in this low pressure zone.
Oh, and by the way — don't forget that the X.01 can also be used in scooter mode, as a so-called "jet" styled helmet, without the chin bar. I haven't tried it like this, but it can be easily done by just leaving out the chin bar.
Score: The X.01 definitely gets an "Outstanding" for venting and air flow and for its ability to customize the amount of air flowing in and through the helmet.
Noise Levels
OK, so all of this means lots of noise, right?  Wrong. Well, relatively speaking, of course. Certainly the X.01 isn't a quiet helmet, but I have to say that I'm surprised that it isn't much louder than it is, even in full summer mode.
The helmet exhibits a continuous mid-frequency wind rushing noise during a ride, and this seems to emanate mostly coming from the rear of the helmet.
Like just about any other motorcycle helmet, I can stick my thumb up under the helmet right behind and below my ear and noticeably reduce the noise.
Why helmet manufacturers don't focus on this spot is beyond me — it honestly seems to be the #1 motorcycle helmet noise producing region. I can't tell you how many helmets we've tried that can go from loud to quiet by just covering that area.
Anyway, the big surprise is that whether the top vents are completely plugged with the winter covers, or if the mesh vents are installed, noise levels in the X.01 don't seem to change much.
And the noise level remains about the same even with the hole-y chin bar in place.
There's a bit of extra room around the bottom of the helmet because the size XL is about a half-size too big for me, and I think the space may be causing some low frequency booming when I ride the Bandit with its half fairing.
But overall, although the X.01 is slightly louder than average, I'm surprised it isn't louder, and the outstanding air flow is definitely a worthwhile tradeoff.
By the way, please pay a visit to the wBW Motorcycle Helmet Noise page. Also, note that we always wear high-quality, correctly fitted ear plugs when riding.
Please see the wBW Earplugs and Hearing Protection page for more information on choosing and wearing earplugs.
If you don't wear ear plugs, all bets are off — every motorcycle helmet is dangerously noisy, in our opinion, and your hearing is as precious as your eyesight, so don't mess with it. Wear ear plugs.
Score: The Givi X.01 gets a "Good" for acceptable noise levels considering the amount of air that flows through the helmet.
---
Where to Buy Givi X.01 Helmet
Check Reviews & Prices on Amazon
Check Reviews & Prices On RevZilla
See More Motorcycle Helmets, Motorcycle Visor, Motorcycle Intercom
---
Face Shield and Visor
The face shield on the X.01 seems huge — this helmet offers outstanding up/down and side-to-side visibility compared to other full-face helmets we've tried.
Rick agreed, and he said it's probably the only helmet he's tried that allows him to see from the instruments all the way down to the top of the triple clamp on the GT1000 by simply moving his eyes down without moving his head.
The clear face shield provides good optical qualities, with no waviness or other issues.
The rotating mechanism is slightly balky; it doesn't quite seal perfectly on the eye port gasket when the helmet is in winter mode.
And there are some gaps between the helmet shell and the side plates that hold the visor rotating mechanism, but this may be necessary to convert the helmet to the "jet" mode, without a chin bar.
When I first started the evaluation, I rode with the helmet in winter mode, completely blocked up, on a cool and damp day when it was just spitting rain.
The face shield would not fog up, even when I got back into the garage and I tried heavy breathing mode.
That's really the only opportunity I had in cool 'shield-fogging weather, but I was pleased that the helmet seems relatively impervious to fogging.
Internal Sun Visor
The X.01 also has an internally rotating sun visor. It can thankfully be located in any position, but when it is lowered as far as it will go, it still isn't really far enough to remain out of my line of sight.
If they're going to install these things, I wish the manufacturers would design them to go all the way down out of the line of sight. And forget about the corny cutout for the nose — I'll take mine cut straight across please.
Score: The Givi X.01 gets a "Very Good" for visor clarity and operation and an "Outstanding" for field of view.
Helmet Weight
Our X.01 in size XL weighs 1592 grams (3 lbs., 8-1/8 oz.). That puts it in roughly the bottom third of the motorcycle helmets we've reviewed, making it a relatively lightweight helmet.
See our wBW Motorcycle Helmet Weights page for the complete chart, comparing the weights of every helmet we've reviewed.
The X.01 is in the neighborhood of helmets like the AGV Ti-Tech Rossi (review) at 1582 grams and the Arai Vector (review) at 1583 grams.
Also the Akuma V-1 Ghost Rider (review) at 1591 grams; and the Shark RSR (review) at 1601 grams.
For comparison, the popular Shoei RF-1000 (review) weighs in a 1610 grams.
Score: The X.01 gets an "Excellent" for relatively light weight and good balance.
Miscellaneous
The X.01 uses a new type of "quick release" buckle we've seen on a few European helmets recently; it has a serrated tab that fits into the buckle mechanism like a ratchet, and it releases quickly.
The strap length must be adjusted the first time it's used, but the serrations insure a small range of micro-adjustment when the buckle is secured.
The Givi X.01 currently meets ECE helmet safety standards only.
w

BW

 Video: AFX FX-50 Helmet
Conclusion
TThe Givi X.01 is certainly a very unique helmet. In full summer guise it offers outstanding air flow, and the helmet is a sort of "3 for 1" with its modular winter/spring/summer/fall capability.
It also offers outstanding visibility, it's comfortable and it's relatively quiet, considering its amazing versatility.
Perhaps it took an outsider like Givi to shake up the establishment — we can only hope that other motorcycle helmet manufacturers will be as innovative!
w

BW

 Review: Givi X.01 Helmet
Manufacturer: 

Givi Helmets

List Price (2008): $99.95
Colors: Matte black or silver.
Made In: Italy
Sizes: XS to XL. Shell Sizes: Unknown
Review Date: April 2008

Rating Scale is subjective: Unacceptable, Poor, Neutral, Very Good, Excellent, Outstanding.
Note:
 For informational use only. All material and photographs are Copyright © webWorld International, LLC since 2000. All rights reserved. See the webBikeWorld® 
Site Info page
. Product specifications, features and details may change or differ from our descriptions. Always check before purchasing. Read the
Terms and Conditions
!
---
Where to Buy Givi X.01 Helmet
Check Reviews & Prices on Amazon
Check Reviews & Prices On RevZilla
See More Motorcycle Helmets, Motorcycle Visor, Motorcycle Intercom
---
Owner Comments and Feedback
---
From "C.C." (August 2013): ""I have the Givi X-01 for a few months now using it in summer mode mainly. It is a great looking helmet but very noisy after 100 kph (60 mph).
Without the sun visor on there is a lot of turbulence hitting my face. This get's even worse when it's raining. Too much water get's on my face and on the inside of the visor making it difficult to clean it while driving!
In my opinion this helmet best configuration is in winter mode (full face helmet). The noise is very much reduced and the rain is no problem.
Summer mode for the city (or open face but with some risks) and for long rides full face! Ride safe"
---
From "B.B." (August 2009):  "I've been using my x.01 up in Edmonton, Canada for the last few weeks (illegally?). The helmet flows an incredible amount of air in the summer mode; it's basically like wearing an open faced helmet.
However, this may prove problematic — I frequently wear contact lenses when I ride, and there is considerable wind blast up into the eyes even with visor and sunshade down (which I agree unfortunately disrupts riders' sightlines).
I have yet to try the lid with close fitting sunglasses, but this seems annoyingly redundant considering the available sunshade.
The visor has positive positioning detents, and the chin bar's holes serve as convenient handholds when carrying the helmet around. I love the ratchet strap, which allows one to put the helmet on and take it off one handed and with gloves on.
The lid's memory foam interior and high-quality lining make for a sumptuous fit on my slightly oval head; no break-in period was necessary.
I also love the rubberized finish and overall unique, Darth-Vaderish looks in general. I've been getting a lot of stares and compliments!
The fit and finish of all its parts is remarkable considering the intricate design of the helmet.
The carrying case for the alternate chin bar has been the only real letdown; its zipper self destructed when trying to enclose the winter chin bar for the very first time. Strangely, it seems the pouch is only big enough to contain the summer chin bar.
I also worry about the impact resistance of a non-integrated chinbar– here's hoping I never find out!
All in all, this is a fabulous helmet, particularly considering its mid-level price tag. I actually hope no one imports these into North America so the helmet holds its cachet!  Bravo Italia!"
---
From "F" (Italy) (2/09):  "I'm writin' you from Modena… you know, that little city in the north of Italy, where we make Maserati, Ferrari, Bugatti, Pavarotti, balsamic vinegar, Parmigianino (the real one, not your Parmesan 😀 ), and all that fresh stuff.
Well, I read quite often your helmets reviews on your site, and first of all I really have to congrats for the great job, particularly for the interesting and useful focus on noise issue and fit differences on head shapes… keep it up!!
Said that, I'd like to share with you some ideas about the Givi x01, which i bought last year on March, so I could be considered a long time tester.
I largely agree with your review, even if I'd say the x01 is a noisy helmet. it's true, you'll have to comb your hair for the windy journey when you take it off, and it's really outstanding on this side, but there is a annoying boom from the bottom of the winter chin guard, that leave also a considerable amount of air come to the face downside up….
I found a good solution in an aftermarket chin net, to put between the inner and the outer shell of the chin guard: 5 Euros worth… aside this, the gap you found between the shell and the visor plates can create some whistle at high speeds.
Anyway, and partly thanks to you, I bought a big box of earplugs… ;))
Another BIG, enormous, issue of this helmet is that it lacks a security ring in the strap, and, as you can imagine, is not a great idea to pass a chain through the chin bar.
I asked about it to Givi directly, but x01's project leader, truly being very polite and open to suggestions, hasn't gave me any persuading answer for this…
Last detail: x01 is NOT registered for Jet standard, as you can see also in the strap label, reporting the "P" only, without any "J". So you actually could not use without the chin bar.
This time i have to agree with Givi: they spent a lot of work to develop a protective full face helmet with the air flow of a Chicago day, and usin' it without the chin bar fools their efforts…
That's it. Hoping to be useful."
Follow-up from "F":  "Coincidently Givi has made some changes in the Xzero1 line, right this week. The breaking news is that we have an all brand new young and psychedelic paint scheme that will truly have a revolutionary effect on the design of future helmets…!
Yes. It's white.
The second change they made is that you'll not have both the chin guard anymore in the box: you'll have to choose what version to buy, summer or winter, with the single relative chin guard only, and then, if you want the second one you'll have to buy it separately for 60 Euros.
On the other hand the price for the helmet will be 257 instead of more than 300 Euros (actually the real price has been quite less than the official…)
And last but not least, eventually they managed to do it: they labeled it for Jet standards, and in the box they added two small plastic sticks to cover the shell holes when you'll use it without the chin guard… wow… what to say?  Real Italian smoke-in-the-eyes style… desolating…
Anyway… unfortunately i don't have any news about DOT certification, but you can try to investigate on your own…. :)"
---
From "Y.A." (Indonesia) (10/08):  "Searched via Google for 'cool helmets' and the x01 came up along with other helmets. Read the extensive wBW review on it and since I wanted something different than the local guys with their n102, Arai and so on. Lucky for me it was available here in Indonesia so bought me one for $360.00 USD.
Guess the review says it all, except when I put my neck gator on a pretty chilly rainy day, fog started to spread the visor as I breathed down on the cloth!  Damn I was a bit disappointed to see this.
Of course it only happened every time I ran into a stop in a jam with visors shut. Overall…Cool and stand out looking helmet."
---
From "E.S.":  "So, I am in the middle of my ride from Vancouver, BC to SF, CA on my '05 Triumph Bonnie. On day 2, I went from 82 degrees and sunny in Portland to 52 degrees and overcast on the Oregon Coast.
The helmet went from scooter full open face style (and even then it was a bit warm, honestly), to winter mode with full face lower cover and top covers in about 5 minutes. It worked extremely well.
It is a bit noisy at times but that is somewhat a function of the height of my fairing, my stature and riding position. I will see what it sounds like when I remove the screen for some true naked bike riding.
Yes, I know, you are thinking that helmet is a bit to tech for my bonnie, I know. I like the tech though, and this helmet has already proved its mettle more than once. Just need to get some "DOT" stickers… "
---
From "O.T.":  "Great Review …. again !  Question: does the helmet have room inside around the ears for speakers, like that of the Cardo Scala Rider (reviews)?"
Editor's Reply:  The pockets are pretty slim; the Cardo speakers fit, but will probably interfere with some riders, depending upon their head and ear shape. The pockets are basically very shallow and don't seem designed for speakers.
---
From "ECS":  "I saw this was review and was very interested in the helmet. I love the idea of the true modular nature of it. Out of curiousity, I popped an email to the GIVI USA folks and they responded back saying that they have no plans to import any of the GIVI helmet line.
No innovative helmets for us!  Thanks, and keep up the good work!"
---
From "B.M.":  "An interesting concept, for sure, but I'm not sure how practical it is, especially here in the mid-Atlantic. I suppose in Arizona, where it's almost always warm and dry, it might be fine, but….
Here, spring mornings generally are cool, and frequently damp. That means the least vented configuration.
But afternoons are warm, which means pulling out the tool and replacing all the parts. I wonder how long all those fasteners (and the tool itself) are going to last changing parts every day?
Summers are even worse. Mornings may or may not be warm enough to use the vented configuration. Afternoons definitely are. Unless, of course, there's a thunderstorm, which means putting all the non-vented parts back on.
But thunderstorms frequently mean hot weather, which means I'll want lots of airflow, which means the vented configuration. But that means I get wet.
And at night, summer means bugs. Lots of bugs.
The lack of any screening in the vented chin bar makes that pretty impractical, as does the gap between face-shield and chin-bar.
Interesting? Definitely. Practical? I'm not so sure. Successful? I have my doubts.
Other WebBikeWorld Helmet Posts