GearWrench Stubby Flex Head Wrench Review Summary
Like all GearWrench products, the Stubby has excellent quality, appearance and feel.
It's made from highly polished chrome and has a lifetime warranty.
They are light weight and thin and the Flex Head rotates 180 degrees.
It needs as little as 5 degrees of sweep to move a fastener.
The Flex Head is secured with hex screw, not pinned and washers provide continuous tension so the Flex Head keeps position.
We've been big fans of the GearWrench product since they first became available several years ago.
They work really well for motorcycle repair and maintenance.
The thin profile of most GearWrench tools  makes it easy to fit them into the tight confines of a motorcycle.
Also, it goes without saying that the ratcheting box end is very useful.
They ratchet within a 5-degree arc, which can be a real lifesaver.
The GearWrench folks keep coming up with more configurations.
As a tool freak, I can't have enough tools, so every time they release a new design, it seems to end up in my toolbox.
The Stubby
The Stubby Flex Head is the latest example to find a home in my garage. Why a stubby wrench?  There are a couple of good reasons.
The first reason is obvious – sometimes a stubby wrench is the only thing that will fit in a tight space.
But here's a lesser known reason: Motorcycles use lots of aluminum and other lightweight alloys to keep the weight down to a minimum.
Every motorcyclist who's every turned a wrench has probably stripped a thread or two on their pride and joy at one time or another.
Also, some of the threads used on motorcycles have a very fine pitch.
This is due to the thin walled engine casings found on many bikes, again because of weight savings. Thin walls usually mean a finer pitch, so that the fastener will have a few more threads to grab.
Thus, it's crucial to use the correct torque on every nut and bolt and even screw to avoid problems. But all that aluminum and alloy makes it very, very easy to overdo it.
The stubby wrench can help limit the amount of torque that is applied, because the shorter length means less leverage, and less leverage means less torque.
Stubby With Flex Head
The GearWrench Stubby Flex Head wrenches have an added bonus: a flexible head.
I'll admit I don't often use this feature on my Flex Head GearWrenches, but every once and a while, it comes in awfully handy.
The flexible head allows access into some very tight spaces, and sometimes it's impossible to get the entire length of a wrench in the right spot.
The combination of short length and flexible head give these wrenches a wide range of uses.
It seems somewhat ironic that the GearWrench Stubby wrenches actually have a thicker profile than their longer cousins. They seem very heavy-duty; an 11/16″ combination wrench weighs 5 oz. (141 grams).
Or maybe they just feel heftier because of all the metal packed in to a smaller size.
The ratcheting end of the GearWrench has a very nice clicking ratchet sound; it sounds like a precision instrument.
The Stubby GearWrench combination set doesn't have a reversing lever, so the wrench must be flipped over to reverse it. This isn't really a problem, and it's just one less thing to go wrong.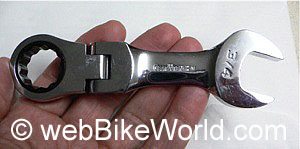 Surface Drive
The GearWrench products have a highly chromed finish.
I hate to get fingerprints on them, they're so nice! And one more thing — the ratcheting box end has what GearWrench calls "Surface Drive".
The wrench can be applied very tight to a flat surface, unlike some other box-end wrenches which have a rounded or recessed head, leaving the "teeth" too far away from the flats of the fastener to get a good grip.
The teeth of a GearWrench are configured so that they are a tiny bit farther away from the flats of the fastener, which gives them more grip and prevents rounding of fasteners, according to GearWrench.
Available Sizes
The metric 7-piece set contains 10mm, 12mm, 13mm, 14mm, 15mm, 17mm, 19mm wrenches.
The SAE 7-piece set contains 3/8, 7/16, 1/2, 9/16, 5/8, 11/16, 3/4.
Conclusion
Stubby wrenches are becoming popular, and rightly so with motorcycle owners.
If you're going to buy a set of stubbies, you may as well get a 3-for-one and get a GearWrench set.
You get the GearWrench ratcheting capability, the open-end capability, and the flexible head all in one wrench set. These are quality tools and they carry a lifetime warranty.
w

BW

 Review: GearWrench Stubby Wrench
Manufacturer: GearWrench
List Price (2005): $132.00 (7 set)
Colors: Polished chrome
Made In: Taiwan
Review Date: February 2005
Note:
 For informational use only. All material and photographs are Copyright © webWorld International, LLC since 2000. All rights reserved. See the webBikeWorld® 
Site Info page
. Product specifications, features and details may change or differ from our descriptions. Always check before purchasing. Read the
Terms and Conditions
!
Owner Comments and Feedback
Other WebBikeWorld GearWrench Posts