Garmin GPS Mount Review Summary
Garmin GPS Mount Image Gallery
This mount is no longer available. See our article on making your own Garmin GPS Handlebar Mount!
Garmin stock has been up about 30% since the beginning of 2006 and I know why. It's because 1) I didn't buy any and 2) we've recommended the i5 to about 80 bajillion people.
Some day I'll start a website called "Rick's Stock Picks" and I'll post my daily trades. Just do the complete opposite and you'll become very rich.
The truth is that the Average Joe has better odds pumping quarters into a slot machine than playing the stock market anyway, and I never go near either.
But Garmin must be as good a bet as any, because they stay focused on pumping out really nice GPS units.
GPS snobs look down on us for recommending the lowly i5, but i5ers know better. T
he thing is so easy to use that there's actually an underground i5 fan club, with people like James Yarwood pioneering surgery on the i3 (B&W version of the i5) to add an external speaker jack.
Sure, it would be easier to simply go with the next higher level Garmin GPS, but i5 devotees wouldn't think of it.
Need further proof that i5 fanatics really do exist?
Check out this bespoke bead-blasted, stainless steel Garmin GPS mount by Andy Pridmore. In addition to stainless, Andy will make this mount out of bronze, brass, copper, plastic, aluminum alloy (aka "aluminium" by Continentals) and even titanium.
Andy made up a Garmin i5 mount for us to fit the cross bar on our '98 Triumph Tiger Steamer (love this bike!).
The cross bar is just a hair over 12mm and Andy whipped it out and had it to me within a couple of days from across the Pond.
It fits perfectly on the Tiger's cross bar and the two 4mm stainless steel cap screws will hold it in any position.
The ball on top of the mount fits the Garmin i2, i3, i5 and Garmin Nuvi and Navman GPS units. He can make them for flat bars, 7/8″ bars or whatever.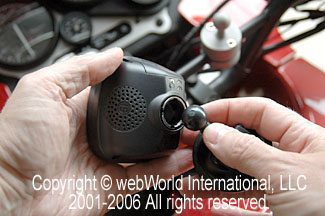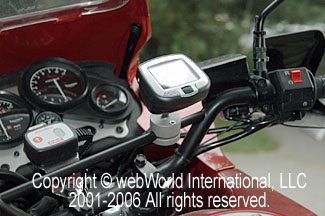 Andy also has some unique ball mounts that will fit the front fuel tank bolt, motorcycle clip-on handlebars, riser bars for cruisers and one-off GPS mounts for fuel filler lid bolts, cars and more.
Fitting one of Andy's GPS mounts is a piece of pie — simply bolt it in place (I used a dab of blue thread locker just in case) and it's ready to go.
The i5 separates very easily from its plastic mount on the stock windshield suction cup mount.
It's a slightly tighter fit on to the bead blasted stainless steel ball on Andy's GPS mount, mostly because it doesn't have the natural slipperiness of the factory plastic mount.
But it fits on and stays on. I think this is a much better solution than my original one, which was using the suction cup to attach the i5 to the glass cover on the tachometer.
It came off once or twice and I haven't trusted it since, although I have found that if I clean the suction cup and wet it, it tends to stick better. The same goes for when I use the unit in my car also.
Andy is currently charging £25 for these, which includes shipping and handling, even to the U.S.A.
At the current exchange rates for the weak U.S. dollar, that's about $48.00 for a custom-made, high quality mount that will probably last way longer than the GPS unit itself.
Conclusion
If you love your i3/i5 or other Garmin GPS, this is a great solution. I know from our email that a lot of Garmin GPS owners are looking for mounts and this may be just the ticket.
UPDATE:  As of August 2007, Andy is sold out of the GPS mounts and his manufacturer is no longer in business. He's looking for a new supplier, so if you're interested, please contact Andy at the link below.
w

BW

 Review: Garmin GPS Mount
Manufacturer: Andy Pridmore (No longer available)
List Price (20XX): £25 incl. S/H
Made In: England
Colors: N/A
Sizes: N/A
Review Date: May 2006
Note:
 For informational use only. All material and photographs are Copyright © webWorld International, LLC since 2000. All rights reserved. See the webBikeWorld® 
Site Info page
. Product specifications, features and details may change or differ from our descriptions. Always check before purchasing. Read the
Terms and Conditions
!
Owner Comments and Feedback
Other WebBikeWorld GPS Posts