Winter Motorcycle Glove Review Summary
A good cold and wet weather glove that won't break the bank. Just don't try to wear it when the mercury is over 20 Celsius! It's late Spring in the northern hemisphere, and thoughts of winter gloves may be fading from memory, but it's going winter in the lower half and it's still pretty chilly up in the hills, so this article isn't as untimely as you may think.
Besides, warm (and dry) hands are always in season! So when a Canadian has something to say about gloves, I pay attention, because if there's a country where people know how to deal with the cold, it's Canada. Ganka may not be a familiar name to motorcyclists, but take a look at their website and you'll see that they make some serious cold-weather gear. Why didn't I know about this before? Oh well…live and learn.
Quebec-based company Ganka has been making outdoor weather gear for decades. Gloves, hats, pants — you name it they've made it — for people who work or play outdoors. While many of the gloves in their motorcycle/ATV line are traditional leather gauntlets (with varying amounts of insulation), this article will focus on their cold/wet weather gloves with the clunky name: 60-1003. Come to think of it, everything made by this company has a number instead of a name, but what they may lack in imagination, they make up for in quality workmanship.
First Glance
The 60-1003 is a short gauntlet with a mostly Cordura shell and some articulation across the knuckles. The palms and fingers have a significant amount of reinforcement, with double-stitching and extra layers of a rubbery material at the base, the fingertips, and the top of the palm.
There is some padding along the palm, but it's not very thick or cushiony. The sides of each finger are made of polyester cloth, as is the base of the thumb, which has its own articulation, again with double stitching all around, and a wiper blade installed along the side. Every stitch and seam is securely fastened, with no hint of any loose threads.
The firm's redundancy department must have designed the double cuff. The innermost cuff is elasticized with a wide Velcro strip to get nice and snug. This is very useful on those frosty mornings, or if you're wearing this glove on your snowmobile.
The outer cuff has another soft polyester lining, and can be tightened with a very well thought-outCord Lock drawstring. One string holds the Cord Lock to the glove, while a second elasticized cord goes around the wrist and through the hole in the Cord Lock. The practical upshot is that the glove can be easily cinched with one hand — or teeth.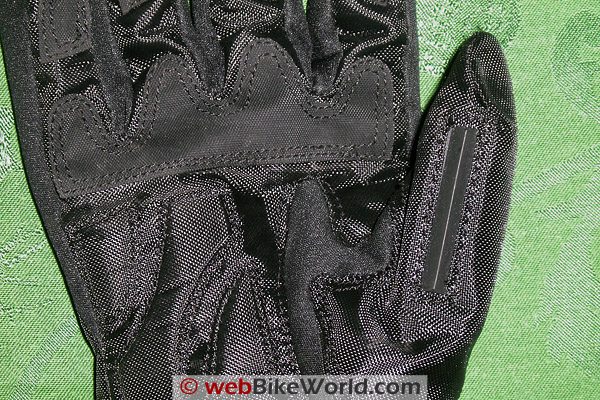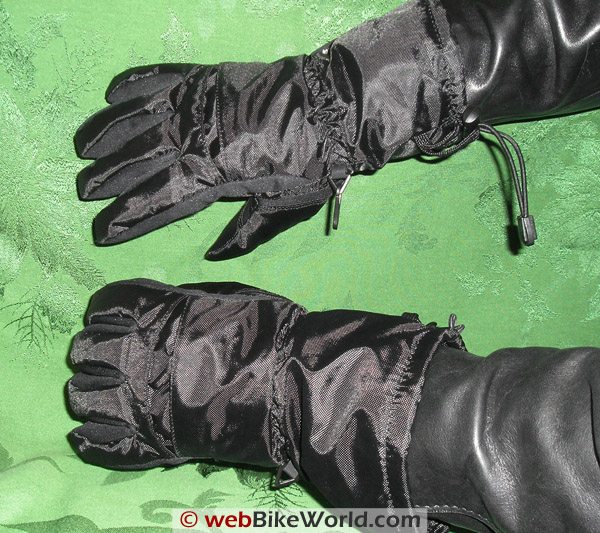 On the Road
These are rain and cold-weather gloves, as proved by the wiper blade built into each thumb. The blades are very firmly secured under the Cordura shell, so there is absolutely no worry about them ever coming off. Made of solid rubber, a bit more than 4 cm long, they do a great job of cleaning off a helmet visor.
The gloves also do a fabulous job of keeping out the wet. The cordura shell repels water for a decent amount of time before it eventually "wets out" under a sustained downpour, and the polyester cloth that helps with the articulation is surprisingly water resistant. However, even after the shell is defeated, the glove will continue to keep fingers dry thanks to a waterproof layer between the shell and the inner liner.
The overbuilt wrist cinches also point to these being good cold-weather gloves. The inner cuff with its wide Velcro closure can be a little finicky, but it does provide options. It is possible to do up the inner cuff and tuck that into a jacket sleeve, then layer the outer cuff over the jacket sleeve for maximum wind-resistance. For a long ride on a cold day, this is the way to do it.
For all the finickiness of the inner cuff, the outer cuff should win an award for ease of use. The drawstring is a piece of cake to close for even the most fumble-fingered person, and the idea should be stolen by anyone who makes gloves and mitts for toddlers.
Anyone who has had to try and hold a Cord Lock open with one hand, then use their teeth to pull the drawstring tight will appreciate the way this Cord Lock is already held in place. It's foolproof and dead simple to get these gloves nice and tight.
The cold weather insulation is top-notch, with a layer of 40 gram Thinsulate lying between the outer shell and the interior polyester lining. It's a blessing on cold days, and combined with the wind- and water-proof shell does a fabulous job of keeping hands toasty and warm. I recently took a two-hour ride in light rain and temperatures a degree or two above freezing, and my hands were the warmest part of my body.
But all that insulation can be a bit too much in warmer weather. When the mercury climbs into the teens, I often found myself bypassing the Velcro inner cuff, and taking the tab that goes along the back and slipping it on the underside of my wrist. On a sunny day with temperatures around 18-20 degrees hands will sweat like a pig, and anything warmer than 20 degrees is just too much unless it's raining hard, or the cuffs are folded back onto the gloves.
For a motorcycle glove, the padding on the palm is very light. This is a bad thing if a rider is used to a thick gel cushion, but the lack of padding does help make these gloves very lightweight. Unlike many other winter gloves that are over-padded, bulky, and difficult to work with, the 60-1003 tips the scales at just 188 grams for the pair. Compare that to my bare-bones leather gauntlets, which weigh 157 grams each.
The light weight and lack of bulk means these gloves will easily fit into the smallest of under-seat compartments, so there are no more excuses for getting wet hands in an unexpected rainstorm, or having hands freeze if the temperature drops to sweater and scarf weather when the sun goes down.
Conclusion
The Ganka GKS 60-1003 are excellent cold weather gloves. Any rider who is eager to get on the road as soon as the snow melts, or expects to find bone-chilling temperatures with or without rain would be well advised to pick up a pair, and they are light enough to stash away under a seat "just-in-case".
w

BW

 Review: Ganka GKS 60-1003 Winter Motorcycle Gloves
List Price (2008): $54.99 CAD
Made In: China
Colors: Black
Sizes: XS to XXL
Review Date: May 2008
Note:
 For informational use only. All material and photographs are Copyright © webWorld International, LLC since 2000. All rights reserved. See the webBikeWorld® 
Site Info page
. Product specifications, features and details may change or differ from our descriptions. Always check before purchasing. Read the
Terms and Conditions
!
Owner Comments and Feedback
---
From "K.T." (7/09):  "Just ordered these from the Joynes Department Store for $19.95 plus shipping; ask for Elaine. I even double checked the Ganka # with her and the catalog because of the low price. I didn't complain one bit. She will put them in the mail tomorrow; their number is 218-387-2233.
I hope you are right about them as I am trying to avoid the electrical gloves because I don't like being wired down. The Ganka people gave me her number. Ride on … and comfortably, thanks for your web site."
---
From "J.G." (10/08):  "I just ordered the gloves that J.D. ordered from ADM Sport (below) and be advised that the shipping IS very expensive — $38 to Washington state."
---
From "J.D." (10/08):  "Looking for a good pair of winter riding gloves to use here in coastal Massachusetts, I perused the reviews on wBW, and the Ganka 60-1003 gloves were the only ones that you recommended for very cold weather – even the PCi gloves were only reviewed down to ~45F. Working overnights, it's often in the mid-30's already when I ride home, and it's only October yet!
I checked out the Ganka web site, which has a plethora of swag; sadly (as you mentioned), there is no way to order from them directly. I scoured the web looking for a pair, but alas! naught were to be found.
However, I did discover two other Ganka products of note: the 50-WP-200[-DR-EX] gloves and 80-8070 balaclava. The gloves are Thermo-lite insulated Nylon with the same waterproof internal membrane as the 60-1003, they have a detachable polar fleece lining, a built-in wiper, and they are reflective. The balaclava is a Windstopper balaclava with a polar fleece lining. The gloves are $60CAD ($80CAD for the deerskin palm version), and the balaclava is $30CAD.
In my search for those gloves, I realized how difficult it was to find a retailer for Ganka products, even online. I found only three websites that carry anything useful for motorcycling: ADM Sport,Gear Up, and Recreation Supply Co.
For the American readers of wBW, bear in mind that these are all Canadian retailers, so shipping is double or triple (or more!) what you would pay if you purchase from within the U.S.
Recreation Supply Co. is located way out in Saskatchewan, which means shipping to the east coast would have cost an arm and a leg (and I need those to ride!), so I decided to try my luck with the other two retailers.
I was going to order the gloves from ADM Sport and the balaclava from Gear Up, since neither carried both. I ran into a technical issue (on my end, to be fair) while trying to place my order on ADM Sport, which they promptly fixed, but this is what puts them a cut above: while talking to them, I discovered that they will happily special-order items and even combine orders to save their customers on shipping costs!
Their customer service is truly second to none, with phone support and prompt email replies, and I highly recommend them to all wBW readers.
In any case, I just ordered them a few minutes ago, so hopefully they'll be here early next week, and I'll send you an update. If they're any good, maybe an official wBW review is in order?"
---
From "H.B.C.":  "…We have owned two pair of the Ganka gloves for three years now…we carry them in our emergency cold weather riding packs that stay on whatever motorcycle is being used for a weekend or extended trip. They have been used on many occasions (planned or otherwise) – they are absolutely weatherproof and extremely warm (overly if you have good circulation).
The extended cuff is excellent and sizing is pretty much bang on for both men and women. The only downfall found is that the outer material is very slippery and does not roughen up much with use…so a bit of care must be taken. But for protection and price, they are extremely hard to beat, eh?"