Fulmer M1 Modus Helmet Review Summary
Fulmer M1 Modus Image Gallery
Combining high-viz orange and retro-reflective white make this the most visible helmet on the planet.
It's a basic flip-up design without frills.
But it's also very solid, making it feel more like a full-face than a flip-up once everything is latched up and ready to go.
We've often bemoaned the fact that most flip-up helmets are painted in some of the dullest, most boring colors in the palette.
Meanwhile, the trend in full-face helmet graphics has been towards wilder designs and vivid, cartoonish colors — which makes the contrast between the two helmet types even more dramatic.
Well, no one will ever accuse the Fulmer M1 Modus of being boring — at least not in the "Trident" graphic pattern shown here.
The Trident "arrow and swirl" pattern is available in Blue, Pink, Green, Red, Yellow and Black, and it has to be one of the most radical color design on any flip-up helmet available today.
But the basic Trident wasn't enough for those wild 'n' crazy Fulmer designers.
They decided to kick it up "to notches unknown to mankind", as Chef Lagasse is fond of saying, by combining the Trident pattern with the special "Flamethrower" day-glow fluorescent orange and retro-reflective graphics scheme shown here.
This is eye-popping, migraine-inducing stuff folks — just make sure you have some welding goggles handy when you bring this one out into the sunshine!
Good news, this — more and brighter colors are always better for motorcyclists.
The M1 Modus Flamethrower and the Scorpion EXO-700 Neon full-face helmet reviewed on these pages recently indicate a very welcome trend towards high-visibility motorcycling.
And that's not all, because I've also noticed some pretty cool high-viz colors and patterns showing up in motorcycle clothing lately.
It would be nice to think that perhaps all of our harping on this issue over the past 8 years has finally sunk in with the manufacturers?
Oh and by the way: just for the record, the M1 Modus also comes in those, uh, "normal" flip-up helmet colors too, with your choice of Wine Red, Silver, White and — ugh — two shades of Black.
And, while I'm at it, the wild Trident graphics aren't the only thing Fulmer has up its sleeve.
Check out their full-face SS helmet in the "Maelstrom" graphics; it's sort of a Trident on hallucinogens. Or the S1 "Chieftain" or the D4 in the "Evil Spell" (we actually have one for a review coming soon) or "Apache" graphics — and they have plenty more.
We first reported on and predicted this colorful helmet graphics trend in our 2008 Powersports Dealer Expo narrative.
And Fulmer promised us that if you like the 2008 graphics, "wait until you see what's in store for 2009″… We'll be there again at Indy in February of 2009 and can't wait!
OK, so the M1 Modus Flamethrower will fry your…uh, sorry…other drivers' retinas, and the color alone is reason enough to buy one. But forget the color for a sec, how does it work?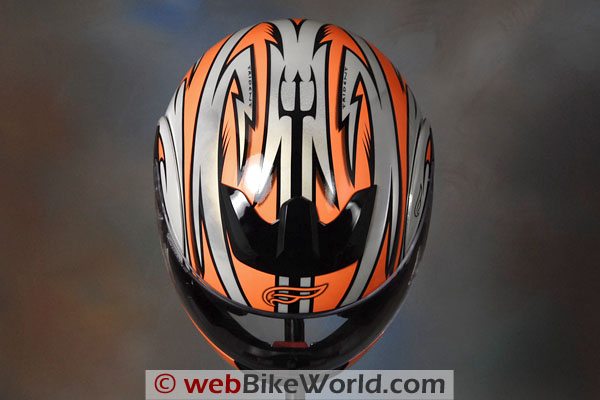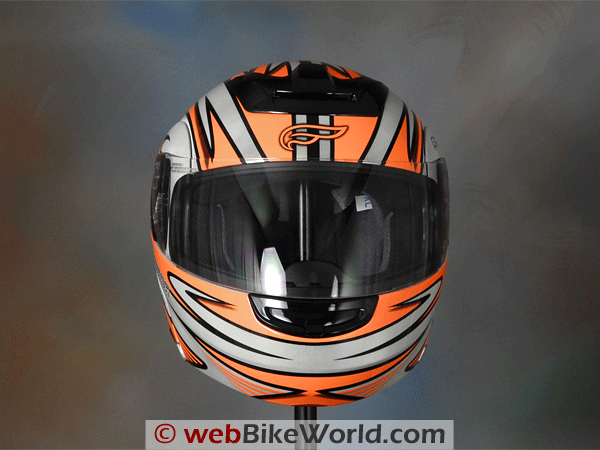 Paint, Graphics and Overall Quality
The Trident graphic pattern on Fulmer's M1 Modus series of flip-ups appears to be overlaid on top of the helmet's base coat of paint.
I've handled the M1 Modus in a local shop, but it's difficult to determine how the colors and graphics on this (or any other) helmet are applied. What most people normally call "paint" is usually a type of decal under the clear coat.
Some of the decals are easy to detect, while others are not.
But it would obviously be a very expensive proposition indeed to hand paint every helmet coming off the assembly line, and the colors and patterns can be laid out much more precisely on a printed decal than by a paint gun.
The Flamethrower uses a highly reflective undercoat, which looks to me like it is, in fact, applied as a base coat of paint over the helmet's surface.
As far as I can tell, the fluorescent orange sections are a decal that has been applied over this retro-reflective paint, and then the entire helmet is sealed with a thick clear coat, which Fulmer says also forms a UV protective layer.
The result feels substantial, and although the orange stripes can be detected as your fingers glide over the helmet, everything appears to be nicely executed with no obvious flaws in the finish or surface.
I'd imagine that applying the fluorescent orange graphics over the reflective paint must require some type of special process, and the Fulmer designers and engineers should be congratulated for both developing and executing the concept.
It wasn't easy to capture this in pixels, either. In reality, the orange is much more vibrant and it has a deeper tone than is apparent in our photos.
We had to ratchet down the exposure by about 3 stops more than normal to get a good compromise that would illustrate both colors, so you really have to see one of these for yourself.
The rest of the helmet is fairly basic flip-up stuff. The bits and pieces seem, well, a bit pedestrian I guess I could say.
There are a few slightly crude touches, like a sprue mark on the top vent assembly and the plastic cover over the release mechanism in back of the chin bar. But everything works as expected.
One thing's for sure: this is one solid flip-up.
The metal "zinc alloy" (according to Fulmer) latch receivers on the shell mate with metal hooks in the chin bar.
So when the rotating visor is shut, this becomes one of the stiffest flip-up helmet shells we've found, at least based on our "squeeze" test, as you can see in our video below.
The vents and other bits may not have the most elegant design, and the screws that hold the plastic backing on the inside of the chin bar are unusual, but everything has been working fine so far.
I wouldn't say that the M1 Modus has the elegance of, say, a Shark helmet, but what flip-up does?
And even Shark's new Evoline flip-up (review) seems less refined than, say, their RSX. Not to mention that the Evoline costs about 2.5 times as much as the M1 Modus…
Overall, I'd say that this Fulmer M1 Modus is more like a Timex than a Rolex. But get this — you can buy a Flamethrower, or any of the M1 Modus helmets, for only $150.00. And don't forget — the Timex keeps time just as good.
Score: The Fulmer M1 Modus in the Flamethrower graphics gets an "Outstanding" for the graphics concept and execution, and a "Good" for overall quality. See the ratings descriptions in the summary table at the end of this page.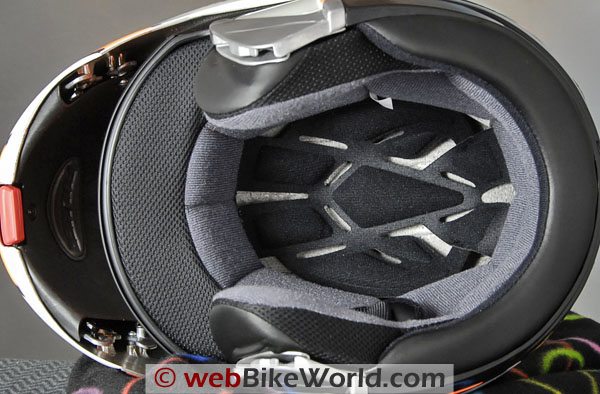 Helmet Fit, Internal Shape, Liner and Comfort
Three of the regular webBikeWorld helmet evaluators have roughly (and I use that term deliberately!) the same head size, so we normally order all of the helmets for our reviews in size XL.
This allows us to compare "apples to apples" with regards to weight.
The Fulmer M1 Modus flip-up shown here is a size XL, and it definitely runs true to XL sizing standards, in my opinion.
I couldn't find a sizing chart on the Fulmer website, and their policy is to sell the helmets through dealers only (although you can find a few online sources if you search hard enough).
So I'm not sure about Fulmer's sizing recommendations but I'd say that this M1 Modus will fit a 61-62 cm head.
Remember that due to their design, flip-ups usually have more flexible shells than their full-face counterparts, so if you're on the borderline for size you may want to go one size smaller.
We definitely could have gone with a size large, which I'm assuming would fit a 59-60 cm circumference, rather than this XL.
The internal shape tends toward long oval on top, with rounded, almost "bell shaped" sides that compress slightly when the rotating visor is closed.
So overall, the M1 appears to have a neutral-to-round internal shape that should fit a majority of head types, but as always, make sure you try it on first, as you should with all helmets.
Our experience has been that Fulmer helmets have a slightly different internal shape and fit than other brands.
Remember that helmet fit is crucial to safety and comfort, so make sure you try the helmet on before buying, and try a variety of sizes.
The smallest size that fits comfortably is usually the safest. For more information on choosing and fitting a motorcycle helmet, please see the wBW Motorcycle Helmet FAQ page, which also includes a discussion on head shapes.
Fulmer states that the liner in the M1 Modus is removable, although I haven't tried to do so. But I did take a peek and it looks like it is attached with real metal snaps, rather than plastic.
The liner is comfortable — more so than some other flip-ups I've worn recently, and I'm a flip-up type of guy. Fulmer doesn't say much about the composition of the liner material, so I don't have any more details.
I can fit a normal pair of sunglasses between the liner and my head, but the sizing on this one is slightly larger than I'd usually take, and the M1 Modus has large ear pockets that are unlined at the shell, so this helmet would be a very good choice for adding speakers.
Overall, the helmet is comfortable and several riders commented about how solid it feels when the visor is closed. The notes say "It feels more like I'm wearing a full-face helmet than most of the flip-ups I've tried", and I'd agree.
I noted this myself the very first time I rode with the helmet; I forget that it's a flip-up when I'm wearing it. This is a compliment indeed, because it isn't often the case with most flip-up helmets — most of them feel flimsy, or creaky or drafty, but not this one.
Score: I'll give the Fulmer M1 Modus an "Excellent" for relatively neutral fit, true XL sizing, a comfortable liner and solid fit and feel.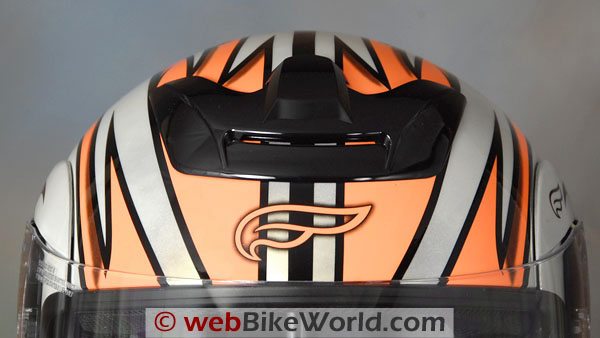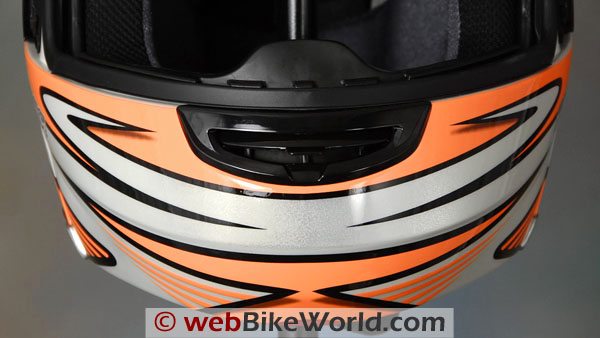 The M1 Modus has a very basic chin vent and top vent. The helmet has no exhaust vents in the rear, but for some reason, the absence of exhaust vents is fairly common among flip-up helmets.
The chin vent, when open, points downward, and it does seem to scoop some air up and onto the back of the visor, through the vestigial breath guard. There are no vent holes in the chin bar itself.
Like many helmets, it doesn't seem to matter whether the chin vent is open or closed on the M1 Modus.
The top vent is a simple affair, with a slider that moves forward and aft to open a small air vent.
When the slider is pushed back, a vertical "wall" moves backward, so the air has to first hit this wall, then go up and over and into the plastic vent assembly chamber, where I assume it is directed down through the helmet shell and on to the rider's head.
Looking inside the helmet, I can see two air channels through the EPS in the brow, and the liner has large open sections on top which do seem to allow some air to flow through the channels and down on to the rider's head.
I've been riding with the M1 Modus for the last few weeks, but the fall weather has been rather cool, so I can't determine how cool the helmet might be in hot weather.
Score: I'll give the M1 Modus a "Good" for air flow that seems marginal but is about average when compared to other flip-ups I've worn.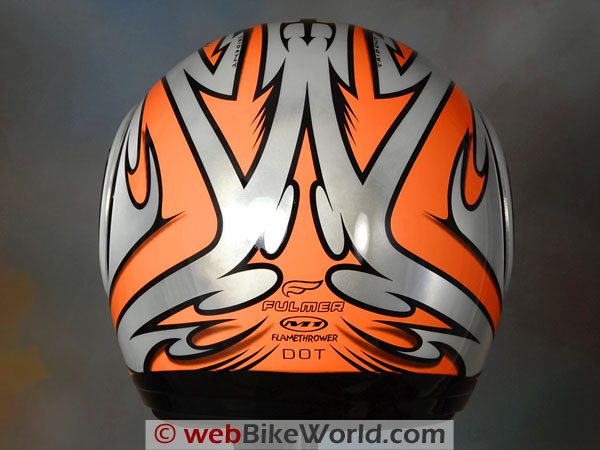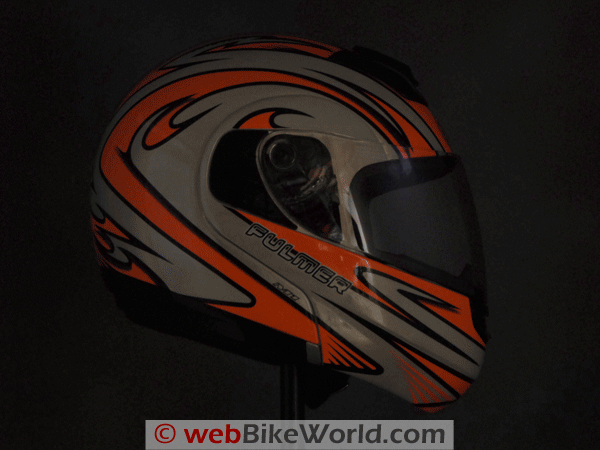 Animated .gif illustrating the retro-reflective capabilities of the Fulmer M1 Modus Flamethrower graphics.
Helmet Weight
OK, here's the bad news. We've been complaining about the ever-increasing avoirdupois of flip-up (and some full-face) helmets recently, so I won't go into another diatribe.
Suffice it to say that this Fulmer M1 Modus with the Flamethrower graphics in size XL weighs 1954 grams (4 lbs., 4-7/8 oz.), making it the second heaviest of the 103 helmets we've reviewed as of this date.
Helmets in this neighborhood include the Nolan N103 (review) at 1891 grams (4 lbs. 2-5/8 oz.) and the HJC FS-Max (review) at 1911 grams (4 lbs. 3-3/8 oz.).
Also the current King of the Heavyweights, the Shark Evoline (review), which weighs in at 1960 grams (4 lbs. 5-1/8 oz.).
The good news is that the weight does feel like it's balanced or distributed better than the Nolan or Shark, probably because the M1 Modus doesn't have any of the fancy rotating devices, internal sun visors or other features that add weight up top.
The weight of the M1 Modus can definitely be felt, especially when it's windy, in crosswinds or when moving the head side-to-side, but it seems like it's easier to live with than some of the other flip-ups I've worn recently.
The other upside is the solid feel of the M1 Modus does indeed make it feel more like a full-face rather than a flip-up helmet.
See the wBW Motorcycle Helmet Weights page for charts comparing the weights of all of the open-face, full-face and flip-up helmets we've reviewed.
Score: The M1 Modus Flamethrower gets a "Poor" rating from me for being a heavyweight, but that rating is offset by the even balance.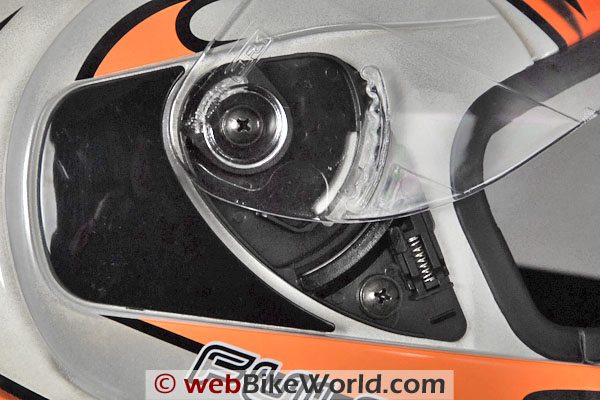 Visor is easy to remove; just be careful of the plastic locking tabs.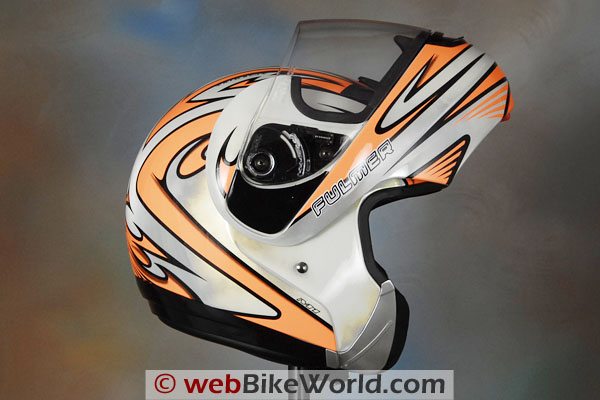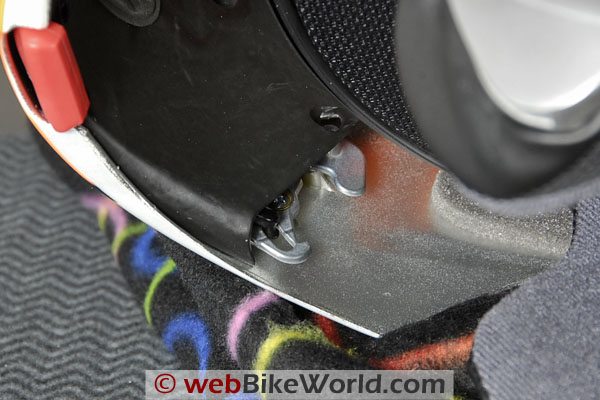 Metal hooks on chin bar mate with…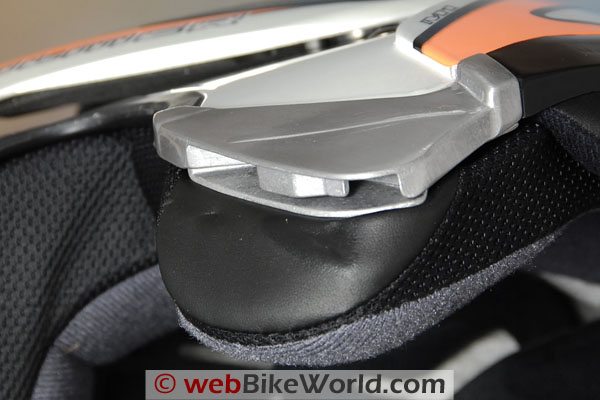 …metal receiver on helmet shell.
Face Shield and Rotating Visor
The rotating visor feels sturdy when it's opened or closed, although it doesn't really have the defined steps that rotating visors on some other flip-up helmets have when they're lifted.
But this one feels substantial and it does snap closed with authority.
As I've mentioned previously, when the metal hooks inside the chin bar connect to the very hefty metal receivers on the helmet shell, the entire assembly definitely feels more secure than many/most other flip-ups we've reviewed.
The button that releases the rotating visor is located under the center of the chin bar.
It must be pushed up for the visor to rotate, making it a matter of grabbing the bottom of the visor with the first couple of fingers as the thumb pushes up on the release.
The bottom edge of the visor release button protrudes from the bottom of the chin bar, and I'd rather this was recessed, because I wonder if there is a chance that the release could be activated if my chin hit something on the way down.
Probably doubtful, because of the location of the release under the chin bar, but it makes me wonder…
The clear visor or face shield has average optical qualities.
We measured its thickness at 2.05 mm. It's fairly easy to remove, but it has a tiny plastic tab that can be broken fairly easily if the shield is pulled incorrectly from the visor removal/rotating mechanism, so caution is advised.
Here's a suggestion for Fulmer: instead of sourcing the visors from Taiwan, how about buying them like Shoei does from MXL Industries (article)?  They make the highest quality visors available in a variety of colors, tints and coatings right here in Pennsylvania, U.S.A.
The clear visor has 5 strong detents that are very defined as the helmet is raised or lowered, so extra points for that. The first detent allows the visor to be raised about 6 mm for defogging or ventilation, another plus.
However, the lifting tab on the lower left edge of the visor is smaller than average — not really a problem, but something to note.
Fulmer has a new "Zero Fog" anti-fog visor available and we'll be reviewing that along with the Fulmer D4 "Evil Spell" full-face helmet coming up soon.
By the way, I can wear my sunglasses inside the helmet, which may seem obvious because, after all, this is a flip-up, but it's nice to be able to confirm this.
The eye port has average width and depth.
The chin bar on the M1 Modus seems taller or higher than average, so it brings the overall sight line visibility in line with other full-face helmets and, in fact, this may be one of the features that helps make the M1 Modus feel more like a full-face than a flip-up helmet while riding.
Score: I'll rate the visor rotating mechanism operation and the operation and visibility of the face shield on the M1 Modus as "Very Good".
Noise Levels
The M1 Modus has what I'd characterize as average to low noise levels when compared to other flip-up helmets.
Probably the minimal external appendages help in this regard. It's not the quietest helmet I've worn when compared to some other full-face helmets, but it's quieter than the average flip-up.
The helmet does seem to generate some turbulence induced noise around the bottom, but this could be from either the XL-sized shell or the slightly too large fit for my head.
But overall, I'd say that the M1 Modus is quieter than the average flip-up helmet with no unusually elevated or noticeable noise levels.
Score: I'll give the Fulmer M1 Modus a "Very Good" rating for noise control.
w

BW

 Video: Fulmer Modus Helmet
Miscellaneous
I'm not sure what type of material was used to form the helmet shell of the M1 Modus and I can't find that information on the Fulmer website.
The helmet uses a double D-ring attachment system and the chin strap padding is adequate. The end of the strap is secured with a plastic snap. The chin strap seems longer than average.
I also found no information on the warranty on the Fulmer website, but the card in the box indicates that the helmet has a two-year warranty. Our helmet did not come with a helmet bag.
The M1 Modus meets DOT safety standards.
Conclusion
The Fulmer M1 Modus in the Trident Flamethrower graphics is without a doubt the most visible helmets available today.
The combination of the day-glow orange during the day (and especially at dawn and dusk) and the retro-reflective material at night is a sight to behold
The overall helmet otherwise is a basic flip-up design; its solidity is probably its best feature.
But if you're interested in a helmet that is designed to act as a beacon to others on the road, this may be your answer. And at a list price of $219.95 (now confirmed), it's a super bargain too!
w

BW

 Review: Fulmer M1 Modus "Flamethrower"
List Price (2008): $219.95
Colors: Solids and graphics.
Sizes: XS-3XL Shell Sizes: 1 (3 EPS sizes)
Review Date: November 2008
Note:
 For informational use only. All material and photographs are Copyright © webWorld International, LLC since 2000. All rights reserved. See the webBikeWorld® 
Site Info page
. Product specifications, features and details may change or differ from our descriptions. Always check before purchasing. Read the
Terms and Conditions
!
Owner Comments and Feedback
From "B.B." (4/10):  "I called Fulmer and spoke to one of their reps.  She told me that they use the same shell for the M1 Modus size small to large size helmet and then a larger shell for the X-large up to 3 X-large, so by changing out the lining in a 2XL and putting in the lining from a 3XL you get a 3XL."
From "N.H." (4/10):  "I love my helmet. I am 56 and have been a rider since I was 20. At night, the cars behind me actually backup and away from me when I wear my Flamethrower helmet. I have never had that response before. They slow down to look at me and then move away. I don't know what they are seeing, but I love it!  I have never felt so safe at night."
From "A.F." (5/09):  "My M1 lasted about 2 months. The hinge wore out and the face would not stay up. It is under warranty. It has been mailed for repair or replacement. That was 4 weeks ago. Nobody knows a thing about when it will be back. It is a good thing I have a friend with a spare helmet. I will never buy a Fulmer product again."
---
From "C.S." (1/09):  "I have had a Fulmer Modus motorcycle helmet for about a year. It replaced my Vega Summit. I noticed that you have a review of the Modus M1, but not of the Modus. I pretty much agree with your review and it applies to the Modus as well as the Modus M1.
Last Saturday, I tested the Modus in a high side get off at 35 – 40 mph. It worked.
The rumors one reads about flip ups coming open during an accident did not materialize. Mine stayed shut through one 1 ½ somersaults, impact with the pavement, and a long slide until I opened it.
The right side of visor shield is badly scratched and the scratches run down to the center of the chin bar.
Just wanted to let you know these flips up work. I'm surely glad I was wearing full face protection!"
---
From "M.B." (11/08): "While shopping at a local leather outlet I spied a funny looking helmet from across the room. Walked over, looked at it, planted it on my gray haired pate and bought it. It fit my largish cranium perfectly.
On the other helmets I own there is always something that is not quite right and that after a few hours riding can become a real "headache". The two main attractions of this helm were the bright colors and being modular.
I don't quite understand why folks in the motorcycle culture want to be invisible by wearing black all the time. What is it cool or something to get run over by a semi that didn't see you because you're all dressed in black?
Not sure what is up with that. I am a newby rider and I will readily admit I'm scared out there in city traffic, and I want to be obnoxiously visible to everyone and their cousin. The Fulmer Flamethrower goes a long way toward fulfilling this wish.
The helmet is quiet enough that I do not feel the need for ear plugs. Not sure why all helmets ventilation systems don't do much ventilating.
I'm tempted to do some creative customizing so as to get some air moving around inside. but regardless of any minor drawbacks this is my #1 fav helmet. I have 7 and the rest can go."