Formotion Motorcycle Thermometer Review Summary
Formotion Motorcycle Thermometer Image Gallery
The stick-on Formotion Motorcycle Thermometer is claimed water-resistant to 3 ATM.
It uses 3M double-sided tape for mounting.
It has a stainless steel back and alloy case.
Also claimed to be vibration proof. Needs no battery.
"Back in the old days", said Burn, "nobody wore a watch".
So what if you asked a biker for the time?
"Well, forget it, you just wouldn't" he said.
Most motorcycles today come with a digital clock, a trip odometer or two and they even have…a fuel gauge! Can you imagine?
The Old-Timers are rolling in their graves…
So what about a thermometer? You're kidding, right?
I hope ol' Burn never sees this Formotion Products thermometer that's now ensconced on the Tiger's dash. He'll freak…
But heck, this is the 21st Century. And after all, we're such wimpy "bikers" that we even own seasonally-matched helmets and riding outfits.
So as long as we're wimps, why not go all the way and add a thermometer?
As long as we are going all the way, we might as well get a jewel like this one. This thing isn't just a thermometer, it's a scientific instrument.
The Formotion Products Motorcycle Thermometer
The Formotion Products motorcycle thermometer is liquid filled, which helps prevent the vibration from harming the movement. It also makes the pointer seem two-dimensional and the temperature is very easy to read.
The beautifully executed numerals are sharp and precise. And the case is made from 316L stainless steel, with an alloy bezel. Also back in the old days, we used 316L to make shafts for paper making machines in a paper mill, where the paper "liquor" would quickly corrode any lesser material, so it will surely do the job for a thermometer.
The Formotion Products thermometer is claimed to be calibrated at the factory and is claimed to be "super accurate". The case is also claimed water resistant to 3 atmospheres (ATM), or 30 meters.
But wait — there's more: Formotion claims that their gauges "are the highest quality-tested gauges on the market" and that "all product testing is verified at an independent testing laboratory … in the United States". They list stuff like "Gravel Bombardment Testing", Altitude Testing, Vibration Simulation Testing, Ramp Temperature Testing -40 F to 140 F and more.
The Formotion motorcycle thermometer is available with either a white or black face. The black face version shown here is a pretty close match to the black-faced gauges on the '98 Tiger (see photos below).
I played around a bit with mounting locations, and found a space right between the tachometer and speedometer, which makes a nice location for the instrument.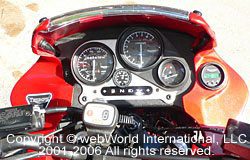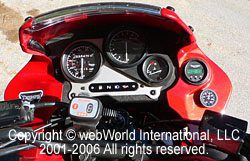 The thermometer is only 10 mm thick and it weighs 1.5 oz., or 42 grams. It feels hefty in the hands and definitely has a quality look. It comes with a piece of 3M foam-backed sticky stuff on the back, but Formotion also offers various mounting brackets for mounting on a handlebar, and for about 8 bucks more, you can get a white-faced model with their "Super LumiGlow" glow-in-the-dark dial.
But is all this quality for naught?  The one problem I've found — and it's a big one — is that when the Tiger's dashboard is exposed to the sun, which is pretty often when riding, the indicator hand on the thermometer can quickly rise, even soaring up to 120 degrees, pegged on the dial.
I guess this is partly due to the black face. It seems to me that unless the thermometer is in the shade, the temperature is way off (Note: this is probably true with other brands of thermometers also).
This is disappointing, since I wanted an accurate temperature reading when we're using the Tiger to evaluate various pieces of equipment, clothing, gloves, etc. It would be nice if we could record the temperature. But I feel like I can't depend on the thermometer to give me an unbiased reading.
I'm also assuming that the Formotion thermometer is correct when, for example, the bike is parked in the garage, although it's hard to tell. A recent check showed my (admittedly el Cheapo) wall thermometer reading 72 degrees, while the car's digital thermometer, which always checks correctly with the local bank's gauge, read 65 degrees. The Formotion thermometer said it was 67. Go figure…
Conclusion
So although the Formotion motorcycle thermometer is a wonderful example of instrumentation, I'm not sure I can trust what it's telling me. And in fact, it's off by a few degrees from a NIST-traceable calibrated thermometer I have in the garage.
The temperature reading also varies, depending on where it's mounted, but you'd think that mounting it on an aluminum plate in back of the small fairing on the Tiger would be fine for this purpose. Also, the degree indices are close together due to the small size of the thermometer, making it difficult to read the exact temperature at a glance when riding.
Master Listing of All wBW Motorcycle Product Reviews
w

BW

 Review: Formotion Products Motorcycle Thermometer
Manufacturer: Formotion Products
List Price (2006): $39.95
Colors: White or black.
Made In: Unknown
Review Date: April 2006
Note:
 For informational use only. All material and photographs are Copyright © webWorld International, LLC since 2000. All rights reserved. See the webBikeWorld® 
Site Info page
. Product specifications, features and details may change or differ from our descriptions. Always check before purchasing. Read the
Terms and Conditions
!
Owner Comments and Feedback
Other WebBikeWorld Accessory Posts