Forcefield Sport Lite 2 Back Protector Review Summary
Forcefield Sport Lite 2 Back Protector Image Gallery
The new Forcefield Sport Lite 2 back protector has a thin profile and it's comfortable, while still providing EC Level 2 protection.
The overall design is similar to the Pro Sub 4, but the Sport Lite 2 back protector is about 30% thinner.
It also has a slightly different profile, which allows an easier fit under a motorcycle jacket. But if you're not used to wearing a back support, the waist belt can be a bit uncomfortable
While the Forcefield Pro Shirt feels more comfortable and provides more comprehensive upper body protection, the Sport Lite 2 back protector is a good solution.
We're reviewing two Forcefield Body Armour products in this abbreviated series, the Forcefield Sport Lite 2 described here and the Forcefield Pro Shirt (review).
I described the background about Forcefield in the Pro Shirt review, so I won't repeat it here, other than to say that Forcefield Body Armour is now being distributed in the U.S.A., Canada and Mexico by Motonation.
Motonation also distributes Sidi, AGV Sport and Vemar Helmets and gear from all of those manufacturers has been reviewed on webBikeWorld.com.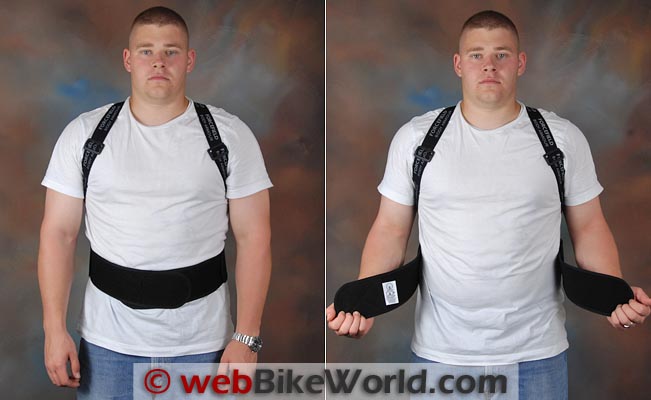 The Forcefield Sport Lite 2 Back Protector
The Sport Lite 2 back protector is relatively new in the Forcefield lineup. It looks very similar to theForcefield Pro Sub 4 Back Protector (review) reviewed on webBikeWorld in 2009, when it was first released.
There is a difference, however, because the Sport Lite 2 is more street-oriented and it's easier to wear.
It's thinner by about 30% (approximately 27 mm thick for the Sport Lite 2 compared to ~37 mm thick for the Pro Sub 4) and it has a slightly different profile to fit more comfortably under a motorcycle jacket for street riding.
I don't know how many street riders wear back protectors, but I'd guess that the percentage is probably pretty small. I would also guess that there are a couple of reasons for this.
First, with many motorcyclists still thinking that a T-shirt and jeans are acceptable riding gear, it's going to be a tough job to convince them that any type of protection should be worn — even a basic jacket (or long pants!).
Those who do wear a motorcycle jacket would probably argue that the jacket provides enough protection with its built-in armor and padding.
And a back protector isn't the most comfortable piece of equipment one could wear.
Personally, I don't have a problem with wearing a separate back protector; it's the belt that bothers me. I just don't like that constraining feeling around my stomach.
The Sport Lite 2 is one of the more comfortable examples I've tried though.
The back protector and rear section is especially comfortable; it has a sharper cutout or taper at the top and bottom than the Forcefield Pro Sub 4, which helps to make it fit better around the back.
The wide waist belt is still there, however. I'm not sure why back protectors need such wide belts. What's wrong with having a narrower belt made from some type of stretch material?
I would think this would still keep the back protector in place, because it's worn under a jacket.
Or, why don't the jacket manufacturers partner with the back protector manufacturers and make a built-in belt inside the jacket that would hold the bottom part of the protector in position?
Some riders don't seem to mind the belt, especially those who are used to wearing a back support or "kidney belt" on their motorcycle or their job.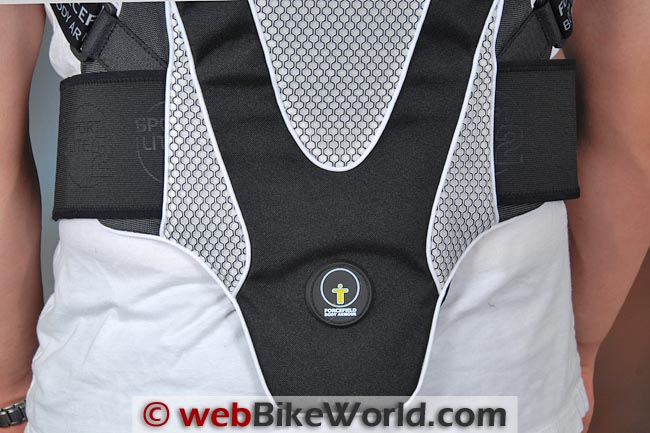 Forcefield Armor Technology
The Sport Lite 2 is available in both an EC Level 1 and Level 2 version. The protector we're reviewing here is the Sport Lite 2, so named because it meets the EC Level 2 standard.
The Level 1 protector is called the Sport Lite 1 and it has a different shape and outline than the Sport Lite 2.
I don't think the difference is enough to justify dropping down to Level 1 protection, however.
If you're going to wear a back protector, you might as well buy the Level 2 (although any back protector is probably 100% better than none), although the Sport Lite 1 might be a bit easier to wear with its slimmer profile.
Note also that unlike the Pro Shirt, the Sport Lite 2 can be worn over just a T-shirt or over other riding shirts or even a sweater.
As I mentioned in the Forcefield Pro Shirt review, the 2003 standard for EN1621-2 back protectors uses an impact energy of 50 joules to test the protector, and the transmitted force has to be between 9 and 18 kN for Level 1.
For Level 2 (back protectors), the transmitted force must be less than 9 kN.
Obviously, less is more in this case (the Forcefield Pro Sub 4 Back Protector (review) holds the record, transmitting only 3.38 kN). Basically, a kilo-Newton is equivalent to 224.8 pound-force (lbf); a pound-force is the force that a mass of one pound exerts on a scale at sea level.
The special "Nitrex Evo" material used in the Forcefield back protector absorbs energy differently than other types; see the video below for a brief illustration of how the impact is absorbed.
Sport Lite 2 Sizes
The Sport Lite 2 is available in men's and women's sizes, ranging from S to L for men and in medium and large for women.
The Sport Lite 2 shown here is a size medium; it fits a torso length of 47 to 50 cm (18.5″ to 19.6″). Here is a complete Forcefield size chart (.pdf) for all their Body Armour products, along with a measuring guide.
The size medium fits all of us here, averaging around 5'10" to 6'0″ tall (approx. 177 to 183 cm).
The elastic arm straps are adjustable and the waist belt does have a section of elastic on both sides, but it's fairly stiff due to the width of the belt (100 mm).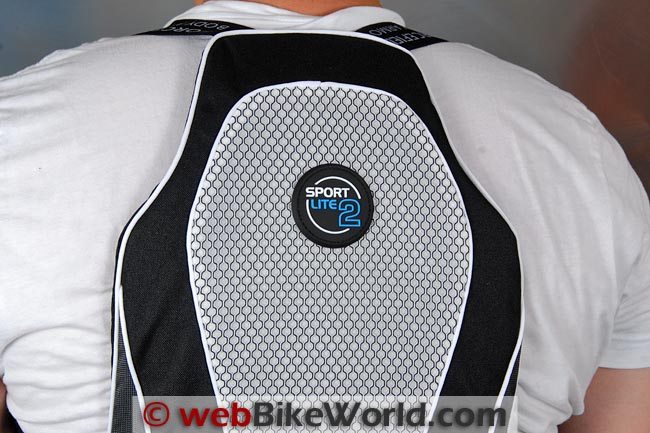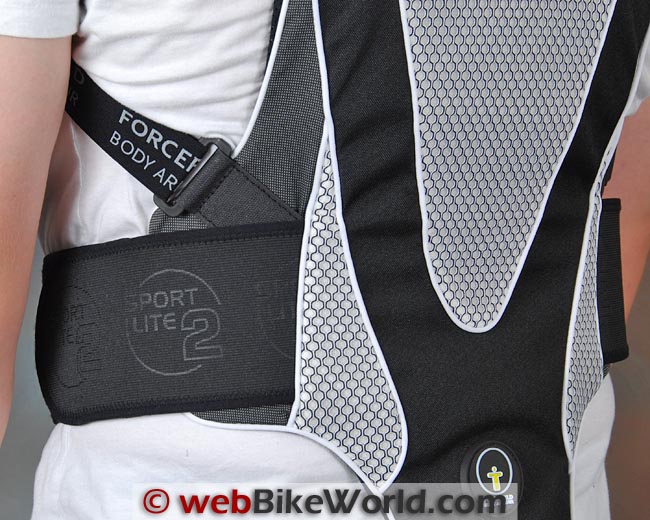 Wearing the Forcefield Sport Lite 2
The Sport Lite 2 is relatively thin and although the impact-absorbing material is a bit stiff when the protector is first put on, it forms to the shape of the back as it heats up from the wearer's body temperature.
Most motorcycle jackets come with pretty pathetic back "protectors" that are usually a thin piece of cheap foam padding. Even some very expensive jackets we have reviewed don't include a decent quality back protector.
So it's easy enough (usually) to remove the foam from the jacket and wear a Sport Lite 2 underneath for back protection, and you can wear it over any turtleneck, a sweater or a street shirt that you might be wearing under your jacket.
The Sport Lite 2 does fit more easily under leathers than the Pro Sub 4, which is about 30% thicker. In fact, I haven't found a jacket yet that won't fit over the Sport Lite 2.
Once the jacket is on and while riding, I don't really feel the back protector, and I suppose I do get used to the belt also, although again, I prefer wearing the Pro Shirt instead to get my "dose" of back protection medicine.
w

BW

 Video: Forcefield vs. Competitor Armor Impact and Rebound
Conclusion
The Forcefield Sport Lite 2 is one of the more comfortable back protectors available, and it's made with high quality and materials.
It is very similar in size and shape to the Forcefield Pro Sub 4 "ultimate" back protector, but the Sport Lite 2 is easier to wear, especially under street riding gear or tight leathers.
Technically, both the Pro Sub 4 and Sport Lite 2 offer CE Level 2 protection, but only because there is currently no higher standard to rate the Pro Sub 4.
The Sport Lite 2 and other Forcefield Body Armour products will be more readily available at more of the webBikeWorld affiliate retailers soon, and that's good news.
See Also: Forcefield Pro Shirt Review  |  Forcefield Pro Sub 4 Back Protector Review
w

BW

 Review: Forcefield Sport Lite 2 Back Protector
Manufacturer: Forcefield
U.S. Distributor: Motonation
List Price: $199.00
Colors: Black.
Made In: Taiwan
Review Date: October 2012
Note:
 For informational use only. All material and photographs are Copyright © webWorld International, LLC since 2000. All rights reserved. See the webBikeWorld® 
Site Info page
. Product specifications, features and details may change or differ from our descriptions. Always check before purchasing. Read the
Terms and Conditions
!
Owner Comments and Feedback
---
From "P.G." (October 2012): "In your review you talked about how comfortable you feel without any "belt" holding the back protector on.
I believe I read lately that the most important determinant of whether the back protector worked well was that it had a belt to secure it in place. This meant tons to the end results.
I have worn every generation of Forcefield undergarments over the years with a 4 layer armor upgrade, whenever possible. Comfort is ensured with these conforming sets of multi layer armor that are a snap to replace and clean.
You must replace all high quality armor every 3-4 years due to material degradation.
Just like helmets that have a certain lifespan. Just replaced the action shorts with the new pants, super surprised at their comfort and heat dissipating properties.
Used Forcefield's limb protector for my knees in combo with shorts before. Use these undergarments plus a Forcefield Pro Sub 4 back protector under a one piece ultra trek Mesh Kevlar suit from Motoport.
Living in Sacramento, it is a luxury to keep comfortable in the summer heat. Plan to get the new generation of shirt, if I can order it without the back-protector.
Always enjoyed working with Alan at Johnson Leathers on getting the word out on these great products. Had issues with lack of gusseting in the shorts that always lead to crotch rips that needed mending.
But whenever I had QA/QC issues, Alan always stepped up and showed his best side.
I would encourage everyone to ride with ATGATT in mind, All gear all the time! No one I've ever met planned to go out and have a wreck, and so only then they wore their safety gear as if it mattered, and the rest of the time, oh it's just a run to the store."
Editor's Reply: Bill's point is that if the protective device isn't comfortable, then the rider won't be wearing it when needed. As long as the back protector stays in place, that's all that's required.
Whether that is accomplished by a belt, a properly fitted jacket or leathers, or a snug-fitting shirt like the Pro Shirt is basically immaterial. The Pro Shirt is more comfortable than the Sport Lite 2, so most riders would be better off wearing the shirt I think.
Other WebBikeWorld Accessories Posts