Forcefield Pro and Sport Lite Back Protector Insert Review Summary
Forcefield Pro and Sport Lite Back Protector Insert Image Gallery
Forcefield has added the Sport Lite line of Level 1 back protector inserts to their product lineup.
Also, the Forcefield Pro back protector insert is now available in eight different sizes (up from 6) to fit a variety of motorcycle jackets.
The Forcefield Pro back protector inserts are rated CE Level 2 and the 009 is rated to the updated EN1621-2:2013 standard.
The Forcefield Sport Lite (also referred to as the Super-Lite) is a CE Level 1 rated back protector insert.
The advantage of an "in the jacket" back protector is that it's more likely to be there when you need it most.
The Forcefield Pro "Nitrex Evo" shock absorbing material makes these back protectors more flexible and comfortable than other types.
Bottom line is that you'll probably be much better protected with one of these in your jacket than that cheap piece of foam that came with it…
UPDATE:

 July 2014

Since this article was originally published in May of 2013, Forcefield has released many new products.

Those include two new Pro Level 2 back protector insert shapes (#5 and the L2, photos below).

Also introduced was a line of Sport Lite back protectors, which use multiple layers and are rated at CE Level 1.

In fact, there are now so many Forcefield back protector inserts, race-style full-length back protectors and other protective gear that it's become rather difficult to figure it all out.

We'll try to make it understandable here but after spending several days sorting it all out, there are surely some mistakes here because it all seems very confusing.

For example, there's the Pro L2 series, but that consists of both Level 1 and Level 2 protectors.

Then there are multiple shapes for each protector insert and multiple sizes for each shape.

We think Forcefield needs to re-think how they name, label and list their line of protectors to make it as easy as possible for motorcyclists to choose the right insert for their jacket.

They can start by normalizing the name of the new Level 1 series of back protector inserts.

They're confusingly named both "Super-Lite" and "Sport Lite" in different places on the packaging and the website.

And that's the point of both the original article and this updated version.

If you can sort it all out, there's a really good chance that Forcefield has a back protector insert that will fit your motorcycle jacket, no matter the brand, type or pocket shape.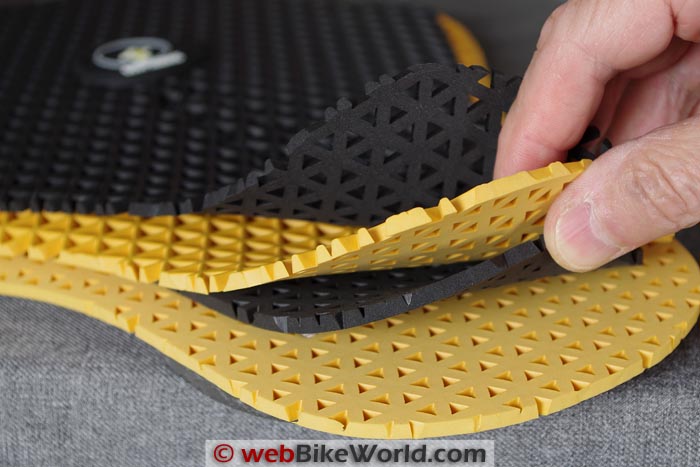 Introduction
Forcefield now makes a huge number of back protectors and "body armour" in many different shapes and sizes.
Several of these types have been reviewed on webBikeWorld.com, including the webBikeWorld2012 Motorcycle Product of the Year,, the Forcefield Pro Shirt (review).
One of the most important things to remember about back protectors is this: if you're not wearing it, it's not doing you any good.
And let's face it — most street riders don't wear a dedicated back protector, for one reason or another.
Even wearing the Forcefield Pro Shirt (review),, as comfortable as it is, means adding another layer and more time to your riding preparation routine and too many riders go without.
That's why a good back protector that fits right inside the jacket may be the best bet for many motorcyclists.
Once you've installed it, you never have to worry about it again…as long as you're wearing the jacket.
The Forcefield Pro Back Insert
The Forcefield Pro back insert now comes in six different sizes to fit a selection of motorcycle jackets. For example, the Forcefield Pro 009 shown above was designed specifically to fit Rukka jackets.
As far as we know, the 009 fits all Rukka jackets, including the Rukka Armas jacket (review) andRukka Airway jacket (review) described recently in the webBikeWorld reviews.
The Forcefield Pro back inserts are made just like the other Level 2 Forcefield protection, using the "Nitrex Evo" material described in other webBikeWorld Forcefield reviews.
WWe embedded the quick video below, which demonstrates the difference between the Nitrex Evo material, which absorbs impact, compared to other types.
The Nitrex Evo and the overall composition of the back insert is similar to the Forcefield Pro Sub 4 Back Protector (review) reviewed on webBikeWorld in 2009, when it was first released.
It feels stiff yet flexible and it has five distinct layers.
There's also a semi-soft/hard flexible mesh on top (towards the rear when inserted in the jacket pocket) that looks like a miniature version of the Rukka RVP Air protection.
The 009 back insert we have weighs 745 grams (1 lb. 10-1/8 oz.), so it does add some heft to the already porky Rukka jackets.
But on the other hand, those jackets have a nice trim fit, so the 009 insert actually feels right at home.
Note that adding a back protector insert or full-sized back protector may change the fit of your jacket, which can be felt at the throat as the collar becomes tighter in the front. Lots of collar adjustment is a good thing…
The construction quality of the Forcefield Pro back insert is outstanding, with a lot of detailing and a very rugged-looking double-piped border seam around the entire perimeter.
I have no doubt that this is one product that should last way longer than your jacket…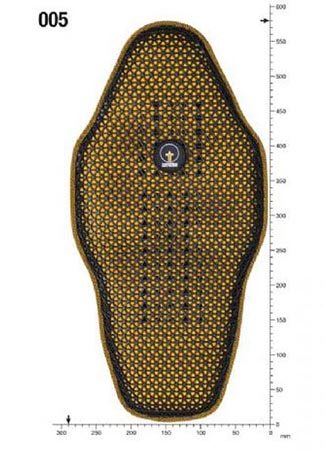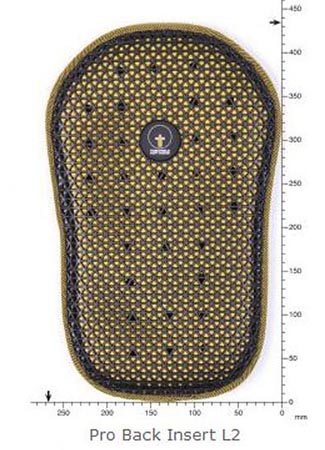 Two new Forcefield Pro back protector insert shapes have been added.
Forcefield Pro Back Insert Sizes
As of July 2014, the Forcefield Pro back insert lineup now has a total of 8 sizes.
Once you determine the shape and size of the back protector pocket in your motorcycle jacket, you'll probably find a Forcefield protector to fit.
More information is available on the Forcefield website, but we borrowed some of the photos to show the comparative size and shape differences below.
Although we've been asking for years for the jacket manufacturers to standardize on a back protector pocket shape, this hasn't happened unfortunately.
We'll keep bugging them about it, but in the meantime, hopefully you can find one of the Forcefield Pro back inserts in a shape below that will fit your favorite jacket.
Update: Forcefield Sport Lite Level 1 Back Protector Inserts
Since this article was first published, Forcefield has released the Sport Lite (aka "Super Lite") line of back protector inserts.
These are rated at the CE Level 1 standard and they're a bit thinner, lighter and have slightly better ventilation than the Pro series of back protector inserts.
We were able to easily fit a Forcefield Super Lite L1, shape 001 in an older Rev'it Air mesh jacket (review) that Rick still wears for hot-weather riding.
The 001 shape also fit several Joe Rocket jackets we had on hand, including the Joe Rocket Blaster jacket (review) and the popular Joe Rocket Phoenix (review).
Riding With the Forcefield Back Protector Inserts
Both the Pro and Sport Lite inserts fit all of the jackets we tried. The Pro insert is thicker at about 23 mm thick, while the Sport Lite insert is only about 15 mm thick.
The Sport Lite feels slightly more comfortable because it's more flexible and has better ventilation.
The upside is that the Sport Lite is virtually unnoticeable in the jacket.
That's the benefit of finding a comfortable fitted back protector insert — you'll always have it there when you need it, with no extra effort involved.
While it may not provide the ultimate in back protection (especially in Level 1 form), it's surely better than nothing or the thin foam insert that comes with most jackets.
Forcefield Sport Lite Details
Here are photos of the current lineup of 5 different Forcefield Sport Lite CE Level 1 back protector inserts and a few close-up photos showing the features: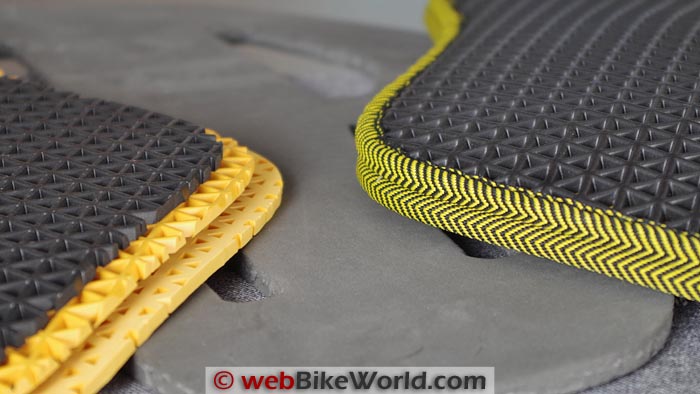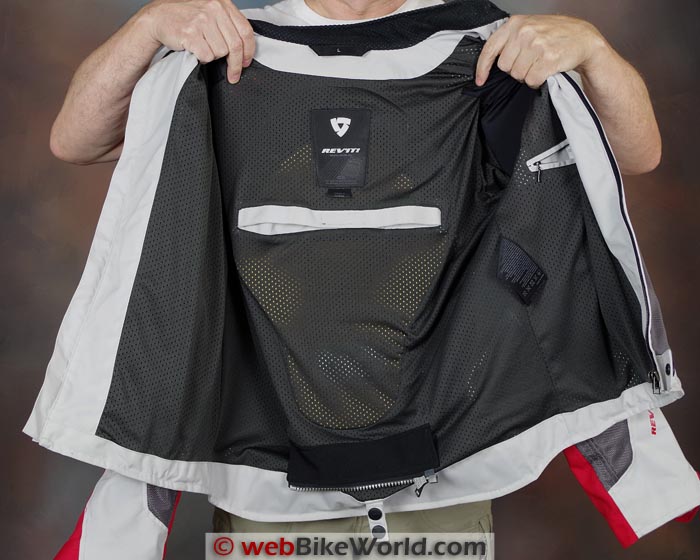 Updated Back Protector Standards: EN 1621-2:2003 vs. EN 1621-2:2013 Level 2
The EN1621-2 Level 2 standard, revised in 2003 is designed to protect the spine and other parts of the back from nasty things like stones and pavement.
The standard has various requirements, including coverage (size) to ensure rider protection.
Basically, the protectors are tested in a standardized and described format (tests must be conducted by a certified lab).
The protector is hit with an anvil somewhat like the shape of a cobblestone on at least five different locations.
Level 2 is the "best" standard; the energy of the hits is 50 Joules but the "average peak force recorded below the anvil in the tests shall be below 9 kN and no single value shall exceed 12 kN".
By the way, the champ so far is the Forcefield Pro Sub 4 Back Protector (review), which transmitted just 3.38 kN (the Level 1 average can't exceed 18 kN and no impact may exceed 24 kN).
The current standard EN1621-2: 2003 was replaced in 2013 by EN1621-2: 2013. In addition to the various tests and levels described above, there will be four different sizes that can be certified.
In addition to the impact under normal conditions, the standard has also introduced blow against protection in wet and a voluntary certification for cold (-10 C) and hot conditions (+40 C).
Currently, the only back protector officially certified to the new test is the Forcefield Pro back insert 009 shown here, designed to fit the Rukka jackets.
Forcefield plans on testing all of their back inserts and protectors to the new standard this year.
For more information on the EN1621-2:2003 standard, see the webBikeWorld Forcefield Pro Sub 4 Back Protector (review), which has more detail on the standards.
Forcefield Comparisons
Here is a chart from Forcefield with their explanation below.
Forcefield says that D3O claim that in a heavy impact, the product might be damaged.
Therefore, Forcefield considers it not to be true multi-impact protectors (you can have more than one large impact in the same crash).
Regarding the CE figures, Forcefield said that EN1621-2 is the back Protector standard (EN1621-1 is limb only) and is split into two levels: 1 and 2.
Any back protector with just EN1621-2 will be Level 1; back protectors labeled as EN1621-2 (Level 2) or B2 are true Level 2 products.
The CE test consists of 50 joules applied via impact to the protectors. Level 1 is 18 kN (4046 lbs. ft.) of transmitted energy or less.
Level 2 is 9 kN (2023 lbs. ft.) or less of transmitted energy. Less energy transmitted is better, as less energy is transmitted to the rider.
The products are impacted a minimum of 5 times, but Forcefield does 7 impacts and the average reading is taken, not just the highest or the lowest reading.
Other criteria: if one impact is over a certain value, in the case of the Level 2 test, any single impact of 12 kN (2697 lbs. ft.) or over is a fail, regardless of the other impacts.
Forcefield Pro Sub 4 Back Protector (review) official CE test yields 3.38kN (759 lbs. ft.) Forcefield Pro L2 K Official CE test was 5.6 kN (1258 lbs. ft.).
This makes these two back protectors the highest performing on the market.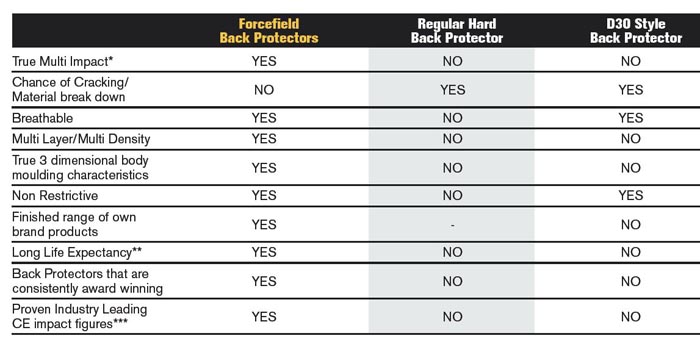 Forcefield Pro Back Insert Slide Show and Nitrex Evo Video
There's not much more to say about this important safety product.
Here is a slide show comparing the Forcefield Pro back insert 009 to the Rukka RVP Air product.
I think you can easily figure out which one we'd rather have protecting our backs!
w

BW

 Video: Forcefield vs. Competitor Armor Impact and Rebound
Conclusion
One of the most important items of protective gear is also probably the least used by street riders: a back protector.
And it's understandable why this is, because wearing a dedicated protector adds yet another step to the ride prep routine.
And to be frank, most of those back protectors with a belt and suspenders are pretty uncomfortable.
On the other hand, the vast majority of the back "protection" that comes in the jackets we've reviewed is absolute junk.
It's now (relatively) easy to fit a high-quality back protector insert in your jacket today for as low as 49 bucks.
A back protector is a crucial piece of safety gear that can greatly enhance the protective qualities of your jacket.
Forcefield makes more different types and sizes than just about anyone, so measure your favorite jacket and see if there's a Forcefield Pro back insert that will fit.
See Also: Forcefield Pro Shirt Review  |  Forcefield Pro Sub 4 Back Protector Review
w

BW

 Review: Forcefield Pro and Sport Lite Back Protector Inserts
Manufacturer: Forcefield
U.S. Distributor: Motonation
List Price: Starting at $49.00
Colors: N/A.
Made In: Taiwan
Review Date: July 2014 (First Published May 2013)
Note:
 For informational use only. All material and photographs are Copyright © webWorld International, LLC since 2000. All rights reserved. See the webBikeWorld® 
Site Info page
. Product specifications, features and details may change or differ from our descriptions. Always check before purchasing. Read the
Terms and Conditions
!
Owner Comments and Feedback
---
From "D" (July 2014): "Your site is my first stop on all motorcycle related product reviews and how-to articles. Thanks to you, I've been steadily changing my driving habits and gear.
My most recent gear upgrade was the acquisition of a Rukka Airway jacket (review) (based on your review) and the optional D3O and Forcefield inserts (purchased@RevZilla). There is no comparison.
Side by side, the differences between my older jackets and the Rukka with inserts is obvious.
The jacket alone is great, but the inserts make it superb. These inserts will make any affordable jacket that much better."
---
From "H.S." (May 2013): "Thanks for the review of the Forcefield Pro Back Insert. Up to your usual high-quality standards, and chock full of useful info.
I purchased a Rev'it "Tornado" mesh jacket a few months ago (to replace an aging Teknic mesh jacket). It was nice to be able to try it on at Revzilla's Philadelphia store, where I also checked out a bunch of other mesh jackets.
I could ensure that it fit properly over various combinations of base layers (or none), check out the quality, make sure that the elbow armor was over my elbows (which wasn't really the case with the Teknic).
And for the life of me, I can't understand why so many mesh jackets, at that store and elsewhere, have black mesh.
Seems to me, you're wearing a mesh jacket because it's hot out, and if it's hot, why in the world would you want to wear anything with black all over it?
The new jacket seems to be constructed in a very high-quality manner, but I certainly agree with Bill C.'s despair regarding the typical "junk" in many jackets.
Here's what I wrote in my review of the Tornado for Revzilla's site: "OTOH, for $350 you don't even get a real back protector, just some very thin foam.
While that foam has air holes, I replaced it with the CE1 (non-air-hole) protector from the Teknic."
Even though I wound up buying the jacket, I ultimately gave it a "No, I do not recommend this product" thumbs down, essentially the result of its negligible back protection at that price point).
I'll be looking to upgrade to the Forcefield shortly.
Speaking of which, I have a couple of questions:
1) The Forcefield — at least the older models — comes in a "Super Lite" version. Have you done any testing on that style, in terms of its weight and energy absorption?
2) Motorcycle Superstore (and Revzilla, for that matter, but I'll be ordering via the former — same price — to support you folks) lists the new Forcefield as unavailable on its web site; I just checked.
And here it is, May already. You have a guess regarding when it will really be available?"
Editor's Reply: 1) The "Super Lite" protectors are Level 1 only. 2) The 009 back insert is designed to fit the Rukka jackets; it will be available by the end of May.
The other back inserts are available through the links in the review above.
---
From "E.J." (May 2013): "Any idea if the Forcefield Pro 009 insert will fit in the ridiculously shaped pocked of my Tourmaster Intake 2 jacket?
I tried doing a measurement comparison, but the shapes are just different enough that I'm not sure. Thanks for keeping us informed!"
Editor's Reply: No, don't have a clue. Best you can do is try and figure out the measurements.
You could probably have someone adapt the pocket also, it shouldn't be too hard for someone who knows what they're doing to re-stitch a pocket to fit.
Other WebBikeWorld Accessories Posts