Claims that the Melbourne Council Draft Transport Plan will reduce motorcycle parking in the city is a conspiracy theory, says transport spokesman Cr Frances Gilley (above).
However, he does admit they will restrict some footpath parking in the short term with a long-term option of removing all motorcycles from CBD footpaths.
In the meantime, he says they will reduce street car parking and convert it to motorcycle spaces.
"Motorcyclists won't lose any spaces," says the councillor who used to commute on a scooter and park on the footpath outside council chambers.
Conspiracy theory
"I get the conspiracy theory that if we create 10 spaces we lose a thousand.
"We will create more spaces on-road and if we need more we will provide them.
"But at some point we may find there is no need to park on pavement and we may do something. But that is not the current plan."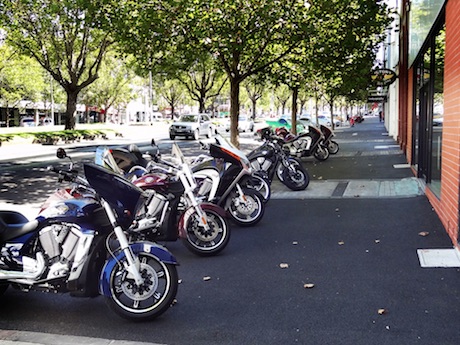 Footpath obstruction
He says motorcycles are a major obstruction to pedestrian traffic which represents 90% of the movement around the CBD.
"But there is nothing in the current Draft Transport Plan to say people can't keep parking on the pavement. However, there will be some places where we will restrict it," he says.
"The problem is that some motorcyclists keep ignoring disabled parking spots and park too close on the footpath which prevents people from getting out of their cars.
"We will clearly mark paces where people can't park."
Frances says riders of big motorcycles would find it easier to park in on-street parking spaces than to "go up on the pavement and have to weave around pedestrians".
"When we create alternative on-street parking spaces we will see what it looks like," he says.
"We think there will be a change in the number of motorbikes that use the pavement."
Keen rider
Frances says he is a keen rider who had an old 250cc Vespa and a BMW K 100 in the UK in his 20s and is "not quite finished" customising his 25-year-old Honda Trans Alp.
"I rent in the inner city and for the past six years I've ridden a Vespa 250 to work and just recently swapped it for an electric bike to use the bike paths."
He also owns a KTM 530 EXC dirt bike and his son and daughter have dirt bikes.
"We go weekend bush riding at our shack in Mansfield high country," he says.
"There is 10km of dirt to get to my shack. It's a nice ride up through the hills."
Draft plan discussion
The Draft Transport Strategy 2030 was endorsed for public consultation by the Future Melbourne Committee on May 7 and is open for public comment until June 19.
Information sessions to discuss the draft with the community will be held at the Wheeler Centre, 176 Little Lonsdale St, next Wednesday (29 May) from 6pm-8pm and on Saturday, June 1, 11am-1pm.
Click here to register to attend an information session.
Riders can also speak with the project team at one of the following pop-up sessions:
            Melbourne Town Hall Pop-up
            Melbourne Knowledge Week – Prototype Street Pop-up
            North Melbourne Station Pop-up
            Harbour Esplanade Pop-up
            Southern Cross Station Pop-up
Go to the Participate Melbourne page for more details.