One of three motorcycles used by actor Henry Winkler playing Fonzie in Happy Days has sold for $USUS179,200 (about $A240,000) in a Julien's Auctions Hollywood Legends in Las Vegas.
The 1949 Triumph Trophy TR500 was provided for the popular TV series by stuntman Bud Ekins, who also built bikes for Hollywood legend and racer Steve McQueen.
Ekins changed the the handlebars, removed the fender, and painted the tank silver.
The same bike failed to sell in an eBay sale a few years ago at the asking price of US$100,000 (about A$140,000). It had previously been sold at a Bonhams auction in 2011 for US$87,500 (about A$173,000).
Winkler played Arthur Fonzarelli (Fonzie or the Fonze) in the Happy Days TV series from 1974-84.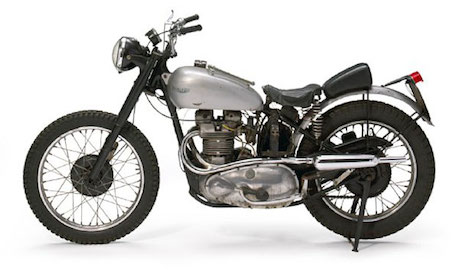 Fonzie can't ride
The 1949 Triumph Trophy TR5 Scrambler Custom is one of several bikes the Fonze used in the hit 1970s series set in the 1950s.
The early Fonzie bikes were actually Harleys. There was a Knucklehead, Panhead and possibly a Sportster. However, Winkler could not ride and found the Harleys too heavy to handle. He blamed his inability to co-ordinate clutch, brake and throttle on his dyslexia, but that hasn't hindered the dyslexic Charley Boorman!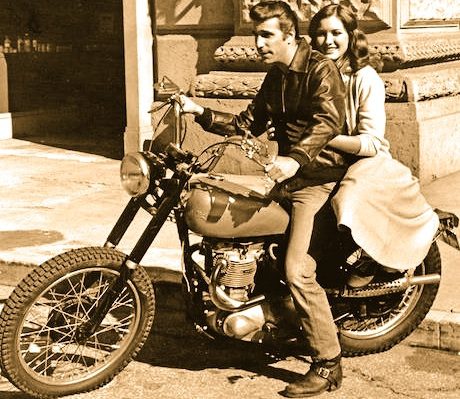 To accommodate his non-riding talents the Happy Days production crew switched to the much lighter Triumph. It started out fairly standard, even down to the "castrator" tank rack. However it was gradually customised by removing the rack – just as well as the Fonze crashed several times during shooting – adding ape-hanger bars as many Americans did back then, a bobbed front fender and switching from a bullet-holed muffler to pea-shooters. At one stage the bike was owned by Hollywood stuntman Bud Ekins who did the famed Great Escape jump for Steve McQueen. It has since been through several hands.
There may have been several other Fonzie bikes, including rumours of a BSA, but it is difficult to prove as often only a small portion of the bike was in shot. Because of his inability to ride, most scenes with Fonzie on a bike were stationary scenes with him sitting on it, so you rarely see a full shot of the bike in motion.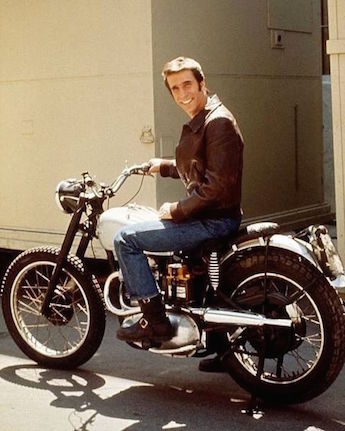 In one of the late seasons there is another Fonzie bike, but the model is unclear. His friends buy him the bike after he crashes his, but it is only on screen for a few seconds and it is difficult to identify. It looks like a customised Triumph with slightly extended forks. Some say it is a Trophy 650.