Firstgear Hypertex Mesh Jacket & Pants Review Summary
Mesh Jacket & Pants Image Gallery
Finer mesh than some competitors provides better fit.
Nice styling and very good air flow keeps you cool on the hottest days.
Comfortable pants have full-length liner and stay cool when you've reached your destination.
The jacket has a simple but effective wrist closure.
The pants have zippers on back of leg to prevent ankle chafing.
Armor is thin and is not CE-approved.
Zippers could use zipper pulls to make it easier to open them.
Motorcycle clothing manufacturers have (finally) made some enormous strides over the last couple of years in providing clothing that's suitable for use when the weather turns hot.
It only makes sense and it's about time; after all, most riding is done in warm weather, and there's a huge part of the U.S.A. that gets really, really hot and humid in the summertime.
Come to think of it, there may be a geographic reason for American motorcyclists to have taken such a fancy to T-shirts and shorts for their summer riding gear…
But there's absolutely no excuse to do that any more, not when you can spend 250 bucks and get yourself a nice-looking, pajama-comfortable jacket and pants combo that will give you at least an order of magnitude better protection than bare skin.
When I say "pajama-comfortable", I really mean it.
This FirstGear Hypertex Meshtex jacket and pants fit me like they were custom tailored.
The jacket has a finer mesh than, for example, the Joe Rocket Phoenix jacket. This seems to give the FirstGear product more "body" and a better fit.
The Phoenix jacket certainly flows a lot of air, so I have no problem in that department, but its open weave mesh feels "droopy", and I've often wondered if the armor would stay in place during a fall.
The FirstGear jacket's finer weave seems to make it much more form fitting, and it includes a non-removable mesh liner that feels comfortable next to the skin.
At first glance, the FirstGear pants don't seem like they would flow much air; the fabric looks about like any other textile riding pant.
But when you hold them up to a light, you can see through the "Hypertex" mesh. It's enough to let a nice breeze through without making you feel like you're wearing a set of chain mail.
Taken together, this is a very comfortable outfit for the hottest of days. We found that if it isn't at least around 75 degrees F., it's probably too cold to wear them!
This is rather amazing, when you consider that not very long ago at all, you'd have to sweat it out under a non-breathable textile jacket and you considered yourself lucky if it had a couple of chest vents.
For years, motorcycle clothing manufacturers designed their products like every ride was going to be in a 40 degree downpour.
The FirstGear Hypertex Meshtex Jacket
The name is kind of a mouthful, actually… But this jacket can be thought of as a sort of a  "second generation" mesh clothing product.
The first thing you notice is that it actually has a shape, probably a result of both the nice tailoring and the quality of the mesh itself.
When you think about it, you really don't need big, wide, open holes to keep cool when riding. Any breeze over 10 mph is going to be felt through the tiniest of holes.
I don't know how FirstGear knits the fabric, but it appears to be a very tiny 1mm wide crosshatch pattern, and in the middle of each crosshatch is a little, teeny slit about 0.75 mm long.
Multiply that by about a bazillion, and it all adds up to a lot of air flowing through.
The other nice feature about mesh jackets is that there's no moisture buildup on the inside, so it kind of doubles the comfort factor.
Most of the seams are double-stitched, and the cut and quality of the tailoring is first-rate.
There's no real "armor" in the jacket.
There is a selection of padding, but it's rather thin, and definitely not the same quality as you'll find in a set of full race leathers.
At least there's a decent selection of it up along the forearm and elbows; two pads in the shoulder and upper arm area; and a piece down the back.
The nice thing about the armor is that it's removable, which seems rare in this type of jacket, although I'm not sure what type of armor would fit in the pockets to replace what's there, or even if you could fit hard armor in the existing pockets.
In any case, all of the padding in the jacket is also vented, with 2mm holes spaced 1cm apart on center.
The neck has a padded collar with some "polar fleece" type material on the inside. The jacket's closures are kept simple, and it works.
The collar has no "hook and loop" fastener or snap, and it doesn't need them.
The cuffs have one simple band of "hook and loop" fastener and no unnecessary snaps or zippers. This makes it very easy to stuff the cuffs into the gauntlet of a pair of riding gloves.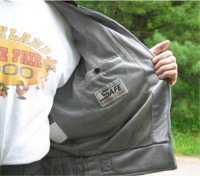 The jacket's liner is a fairly flexible mesh that's looser than the outer fabric, and it feels nice and silky next to the skin.
Most owners will probably wear a T-shirt underneath, so it's important to have a comfortable fabric liner to prevent chafing.
The inside base of the jacket has a piece of flexible fabric with a 25cm (about 10″) long plastic YKK Number 8 zipper that attaches to a mate on the back of the pants.
This can help prevent the jacket from riding away from the pants in case of a get-off.
There's also some elastic along the bottom of the jacket and a "hook and loop" adjuster on either side.
The jacket also has two "hook and loop" arm cinches on either arm, which can be used to tighten up the loose fabric to prevent flapping in the breeze.
There seems to be enough adjustment in these cinches for an arm a lot bigger around than mine…
Finally, there are two slash zippered "hand warmer" pockets on the outside of the jacket, and a flat pocket on the left inside chest area that has a single snap closure.
The chest pocket is about 15cm deep by 15cm across (about 6″ x 6″), big enough for a flat wallet or cell phone, although I don't recommend ever carrying anything hard in your pockets in case of an accident. T
he two outside zippered slash pockets are about the same dimensions.
The only fault I really have with the jacket is that the outside pockets don't have any type of zipper pull other than the standard YKK zipper end.
The zippers are very hard to find even with bare hands, and impossible when wearing gloves.
This is fairly easy to fix though — purchase some cool-looking zipper pulls at your favorite camping store.
Or use a piece of 3 mm diameter nylon rope and fashion yourself a handy extension. Hey, you can even use some fancy colored rope to add a personalized touch!
The FirstGear Hypertex Meshtex jacket is available in a wide variety of sizes, from men's small to XXXXL in men's tall from LT to XXLT; and in women's sizes small  to- XXL.
The sizes seem to run very true for American templates — I usually take a size 44 men's jacket, and I'd say that the FirstGear jacket is just about exactly that.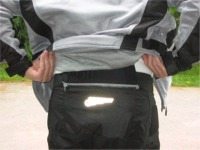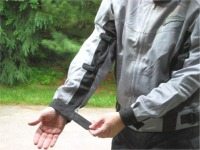 Firstgear Hypertex Mesh Pants
While the FirstGear jacket is obviously of the mesh variety, it's not obvious at all that the pants are also made of the same material.
They look like just about any other black textile motorcycle riding pant, albeit with a bit more style.
Black is notoriously hard to photograph, but this professionally done photo (left) from FirstGear illustrates the styling very nicely. The pants have just enough style to look good without overdoing it.
Some of the same perforated removable armor lives in the knees, and there's some very thin non-removable padding sewn into the hips.
The tradeoff for keeping cool is some protection; foam-backed hard armor would defeat the purpose of these garments, but that's a conscious choice of the wearer.
The pants have a small zippered pocket on the right thigh; the pocket is about 12cm deep (4-3/4″) and has an opening of about 10cm (4″).
Although the photo on the left shows a zipper pull, my pants don't have one, although it would be easy to attach a piece of rope to the zipper as a pull.
There are also two straight-cut pockets on the front of the pants, each with about a 13cm (5″) opening, but this time pretty deep, at about 21cm (about 8-1/2″).
There are also two pockets on the inside at the hip area, each about 16cm (6-1/2″) deep with a 9cm (about 3-3/4″) opening. These pockets have no zipper or closure, so I'm not sure what they're for.
The FirstGear pants also have a full-length mesh liner that feels comfortable.
One really nice feature is that the zippers at the cuffs are in back of the leg, rather on the side.
This simple feature prevents the zipper from pressing against your ankle, which seems to happen on every other pant that I own, and can be painful.
The FirstGear pants are cut like jeans, and designed to wear alone, or maybe over a pair of shorts.
They close with a plastic YKK zipper and one brass hook and one button at the waist. The button and hook backs are rubber coated to help prevent paint scratches.
Also, the pants have a nice 5cm (2″) wide elastic band on either side, which helps keep them comfortable both on and off the bike.
They also have stretch panels in back of the knees, which helps make them comfortable also.
What's really nice about this outfit, and especially the pants, is that you can ride to your destination and not have to immediately peel everything off for fear of roasting to death.
They breathe so well that you can easily walk around in the pants on a hot, sticky day and you'll probably be more comfortable than in a pair of jeans.
The FirstGear pants are available in men's waist sizes of 30 to 42 and in men's tall sizes 34-40 with proportional lengths (the lengths are a bit longer, as they should be to accommodate tucking in a boot and when bending a leg while sitting on a bike).
The pants are also available in women-specific sizes of 6 to 16.
Several riders whom I've talked to have all mentioned the strange sensation you get when you first go out for a ride with these if you've never worn a set of mesh riding gear before.
Compared to the confines of leather or Gore-Tex, it literally feels like you're riding naked!
About the first half-mile or so, you feel like you're going to be too cold. In fact, it pays to keep some type of windproof liner in your tank bag, because if you get caught out at night, you'll get pretty frosty.
I lived in Orlando, Florida for several years, and there were many days in the summer when it was just too hot to ride. That was before clothing like the FirstGear Hypertex Meshtex jacket and pants were available.
They don't offer as much protection as a good set of leathers.
And they could use a bit more padding or some nice CE-approved protection (although I'm sure this would decrease the ability to flow air).
But these clothes can make a world of difference when the thermometer climbs, and they're way, way more sensible than jeans and a T-shirt.
w

BW

 Review: Firstgear Hypertex Mesh Jacket & Pants
Manufacturer: Firstgear
List Price (2003): $139.95 each.
Colors: Jacket: Gray, Red, Blue or Black with Black. Women's in black and red/black only. Pants: Black
Made In: Indonesia
Review Date: June 2003
Note:
 For informational use only. All material and photographs are Copyright © webWorld International, LLC since 2000. All rights reserved. See the webBikeWorld® 
Site Info page
. Product specifications, features and details may change or differ from our descriptions. Always check before purchasing. Read the
Terms and Conditions
!
Owner Comments and Feedback
---
From "J.":  "I was browsing the web, looking for FirstGear's website, and came across your review.
I was riding with that very jacket a few weeks ago, and had a disagreement with my motorcycle. Needless to say, I was glad I was wearing the jacket…for the most part.
The stitching around one of the shoulder pads completely failed, letting the padded section peel away, along with a good portion of my shoulder.
The back and arm held together, and protected me as I would expect, but I am disappointed in the padded sections.
Looking at the jacket now, I would consider it a better design to make the arms and shoulders one continuous piece, and then stitch the pads either inside or outside. That might lesson the chance of a whole section coming apart." 
---
From "G.H.B.":  "I just read your review of the Meshtex jacket and thought I'd add my two cents. I bought the "Meshtex 2″ a year and a half ago, and I'm am very happy with it.
It has a removable liner which, since its so warm here in Texas, I removed almost immediately.
The jacket (without liner) plus a t-shirt is perfect for highway riding in any temperature above 70 degrees F.
As light as it is, the jacket is still pretty warm when the weather hits 90+ degrees in stop and go city riding.
When it gets in the 50s and 60s I may put the liner in (for the highway) and/or maybe add a long sleeve shirt or a sweatshirt.
Actually, I could discard the liner and it wouldn't really impact the way I wear it. Given north Texas' hot weather, my Meshtex 2 is the only jacket I wear (other than rain gear) from March through October and often during our mild winters.
I am currently searching for a proper cold weather jacket and am hoping your reviews help!
BTW, I got the gray since all the dealership had was gray and black and I thought the black would be too hot. But, I wish I had ordered and bought the yellow for higher visibility.  Thanks for your site. You folks to a heckuva job!"
---
From "G.G." :  "A little while back, before the hot weather really got going, I purchased a set of Firstgear Meshtex 2 riding gear. I'll just try to be brief about this set of gear, as I haven't owned it nearly long as my Aerostich.
The pants are still the original "Meshtex" model as far as I know, but the "MeshTex 2" has brought an improvement to the jacket. For the same price, there's now an included, removable windbreaker liner.
While the liner isn't very substantial, and will probably only buy about 10-15 degrees F temperature range, it's nice to have when you don't want to haul around anything thicker or heavier.
The included armor leaves much to be desired — I immediately ordered some of Aerostich's foam armor in bulk and cut it to replace all the "stock" padding.
This makes the jacket and pants a tad heftier and slightly warmer to wear, but I feel much more secure in them now.
A quick complaint about the soft mesh liner in the jacket–it's very comfy, but Velcro and hard objects will absolutely *shred* it, so be careful. (Keep your keys in a pants pocket!)
And that's all I have to add — I'm very happy with this gear overall and I don't venture into any high-heat conditions without it. Once again, thanks for a great site. "
---
From "J.L.":  "Rick: Just read your article on the First Gear Meshtex Jacket and pants.
Need to let you know that, while I wear Triumph gear (mesh and leather), I bought my wife a Meshtex Jacket.
Because she liked the color blue, I purchased for her the men's small as that color did not come in a women's size. It fit her perfectly.
The main issue is the armor. The supplied armor is garbage, but we were able to take the superior Triumph armor from her leather jacket and transfer it to the new one.
The only problem was that it slipped down shoulder and elbow so we had a seamstress stitch the pocket up higher now it works great!"
---
From "D.G." :  "Rick – After reading your review I went to look at a Meshtex jacket and ended up buying it at a local BMW dealer. It is such an improvement for hot weather riding.
Very comfortable, flows lots of air, feels good against the skin, and I feel as secure in it as I do my heavy Triumph jacket. Keep up the good work. Your site is excellent."
---
From "G.M." :  "After reading the article, FirstGear Hypertex Meshtex Jacket and Pants, on the webBikeWorld web site, I decided to purchase the pants.
One of my biggest problems riding motorcycles is the heat build up you feel when trying to ride with any measure of protection.
So, dare I say, on hot days, I ride in shorts or jeans. I contacted New Enough and they promptly expedited my order.
I received the pants, on time, yesterday, and I immediately took them for a test ride. All I can say is, I love these pants!
Right off the bat, I felt the comforting breeze flowing right through the pants.
Yes!!! I felt much more confident with the pants on, as opposed to the shorts or jeans. Of course, I don't want to test the performance in a crash, but they have to be better than what I have been doing.
I'm seriously considering ordering a second pair and the jacket from New Enough. The pajama analogy was right on."
---
From "L.E.":  "I bought a pair of the First Gear Mesh-tex pants last Friday and am returning them to the store today (7/15/03).
I wore the pants on Saturday over a pair of shorts and made the mistake of going into a restroom and taking off the shorts and leaving on the riding pants.
My shorts were wet and so were my underwear. I couldn't feel any air penetrating the fabric of the pants while riding my bike and was miserable until I got home and took off the pants.
Where there is armor, there is a nylon lining and when you sweat, that lining sticks to your skin.
They were very difficult to get off because of sticking to the skin. I wouldn't recommend these pants to anyone for hot weather riding because they don't act like the jacket which my husband and I both have and really like.
The fabric of the pants is totally different than that of the jacket – much tighter weave.
For the life of me I can't figure out where the person who said they felt like pajamas or wearing nothing at all got that from because it was the most miserable feeling I've had.
As a side note, we purchased our jackets from New Enough and got them in record time. We were not able to find the jackets locally. They seem to be good people to do business with.
Editor's Reply: I'm a bit puzzled as to the difference you've experienced in the comfort of the FirstGear pants. I wear mine with only a pair of underwear underneath, and I find them to be very comfortable. I do notice that the material in the pants is a tighter weave than the jacket, but I haven't noticed any sweating or the pants sticking to my skin, unlike other pants I own.
---
From "O.W.":  "I am new to riding and found this website very useful in obtaining all the info needed to get started and I also made some purchases through this site and one of the companies I used was New Enough.
The service was fast and the products sold of VERY good quality and I would and will recommend the folks to anyone. Please keep up the good work."
---
From "F.K.": Upon your recommendation, I just purchased a new FirstGear Meshtex jacket from New Enough. You're right – Nice folks.
Paul spent a fair time with me going over textile versus perforated leather for this wonderful Maryland weather, and discussed the relative merits of the Joe Rocket versus the FirstGear.
I needed a tall in a color they didn't carry, and they didn't carry the women's version of the jacket for my wife at all, but they looked it all up and got back to me within an hour with availability and the cost.
It was indeed, a pleasure. Thanks for the advice!"