Firstgear Glacier Women's Gloves Review Summary
The Firstgear Women's TPG Glacier Gloves are comfortable and waterproof winter gloves.
No insulation in the palms increases the effectiveness of heated grips.
A heel skid on the palm and padding on the side of the hand and wrist give added protection, and reflective piping adds nighttime visibility.
One fall day, I stared out my home office window at the beautiful, deep-blue Montana sky — Montana is called "Big Sky Country" for a reason.
I decided to blow off work (one of the benefits of being self-employed) to take the Ninja out for a spin. After all, winter was quickly approaching and my riding days were numbered.
It was a gorgeous, sunny day; I threw on my gear (all of it — I wear boots, riding pants and a jacket, gloves, and a helmet EVERY time I ride), jumped on my bike, and took off.
Several deer got spooked and ran away as I eased down my 700 foot long gravel driveway and onto the paved road beyond. Still watching for deer, I heeded the 35 MPH speed limit.
The sun was shining, the roads were dry, and I was on the open road — temporarily without a care in the world and grinning like an idiot. I reached the main drag and a minute later was on the freeway. A twist of the wrist and my bike surged forward, carrying me closer to the next exit and a winding, back road.
It suddenly occurred to me that I was a little chilly. Duh – it's much colder when I'm going 75 MPH (120 KPH) on a motorcycle than when I'm standing on my porch and I had failed to take that into consideration in my haste!
I rode for another thirty or forty minutes until I reached my destination, a bridge in the middle of the mountains, overlooking a river. By then, my hands were pretty cold. I was wearing myAlpinestars Stella SP-3 gloves (review) — just leather, no insulation. I warmed my hands by the engine and exhaust pipes and enjoyed the view before turning around and heading for home.
I was in the shade of the mountains then and since I was already chilled, I quickly became cold once again — especially my hands. I still had a distance to go before I got home, and the colder my hands got, the stiffer they felt and the slower they worked.
The moral to this story? It's so important to stay warm, and especially the hands because when your hands are cold, reaction times are slower. And when you're on a motorcycle, it's critical to be able to respond and act quickly in any given situation. Even one second can make a difference in avoiding an accident.
Not to mention that cold hands can be a distraction and it's vital to remain focused when riding.
Okay, that was a long story (I have the gift of gab) to get to my point: I needed a pair of cold-weather riding gloves.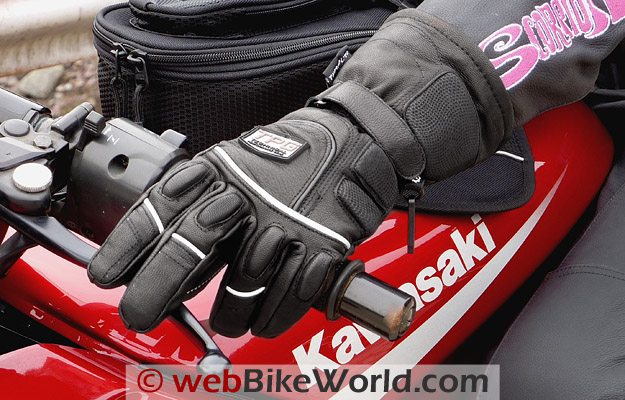 Protection
There's actually a pretty decent selection of women's motorcycle gloves available and many have padding or knuckle guards for added protection. But if you're looking for women's cold-weather riding gloves, then there are fewer choices and if you want them with knuckle protection, it's slim pickings indeed.
As usual, the selection of women's gear is not as extensive as men's. For example, one website I looked at offered 38 pairs of men's cold weather gloves (that were non-heated) and 27 pair had some form of knuckle protection.
The same site listed 14 pairs of women's cold-weather gloves (non-heated); six pair with knuckle protection (five of those were REV'IT! brand); and two other pair had no knuckle protection but additional finger protection.
What I found interesting was some manufacturers offered a men's and women's glove in the same style and in a few cases the men's glove had knuckle protection, yet the women's version didn't. Why? Is this because a large percentage of female riders are passengers only? Even so, protection is just as important for passengers as it is for drivers.
What about us women who pilot our own bikes? Yeah, we want to look good but we don't want to sacrifice protection in the process.
Alright, let's talk specifics about the Firstgear Women's TPG Glacier Gloves. "Burn" already did an excellent review of the men's version, so I won't duplicate the details that he already covered, such as the Hipora lining and hook-and-loop closure system.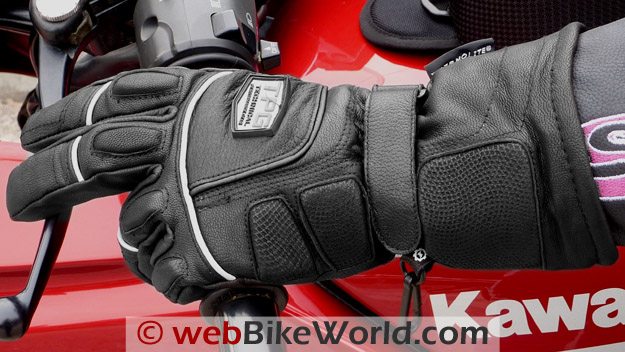 However, there is one noticeable difference between the men's and women's TPG Glacier Gloves: the men's version has a "ribbed panel across the knuckles for impact protection", but the women's glove doesn't. I am baffled by this decision and don't know why this feature is not on the women's version.
The Firstgear TPG Tundra Gloves (review) are the same — knuckle impact protection on the men's gloves, but not on the women's. I don't understand why — am I missing something?
Focusing on the positives, the Firstgear Women's TPG Glacier Gloves — like the men's version — have finger padding and padded sections on the side of the hand and wrist for impact protection. A hard heel skid on the palm gives additional protection as well.
Normally, I would also like leather reinforcements at the top of the palm below the fingers for added protection in a slide; perhaps additional leather on the palm was left off to keep the effectiveness of use with heated grips.
However, I'll admit I did some test dives on the floor and the heel skid seems to keep the upper palm from hitting the ground, so leather reinforcements on the upper palms may not be needed after all. I just hope I don't have to test them in real life!  In fact, if the heel skid works as well as it seems it will, it would be a great addition to any motorcycle glove.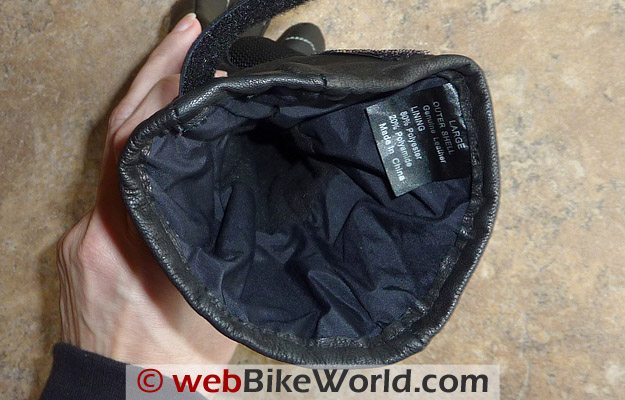 Construction, Fit, and Function
For tips on fitting gloves, see my Alpinestars Stella SP-3 Gloves review.
Generally, I need a size large glove and that is what I purchased. The medium Firstgear Women's TPG Glacier Gloves felt great until I wrapped my hands around some grips.
They width fit me but it was a little short in the fingers. Also, the heel skid in the size medium ended up between my palm and the grips when I grabbed the handlebars. With the size large, the heel skid did not get in the way.
When fitting winter gloves, it's especially important to not have any pressure points that might restrict blood flow, thus also affecting warmth. The size large fits the length of my hand and is slightly wide in the palm, but the little extra width is not an issue when riding.
Like any good pair of motorcycle gloves, the fingers on the Firstgear TPG Glacier Gloves are pre-curved and do not restrict movement or blood flow. Even though the gloves are leather, they are very soft and pliable.
I agree with "Burn" that these gloves are comfortable and very well made. Even the inside of the glove is finished nicely. The absence of insulation in the palm makes them more effective with heated grips and also makes it easier to operate controls because the gloves are not bulky by any means.
The Firstgear Women's TPG Glacier Gloves are warm enough until about 45-50 degrees (7-10 Celsius). However, as I've mentioned before, my hands get cold easily, so someone else might find them comfortable in even colder weather.
My motorcycle doesn't have heated grips (yet) so I cannot comment on how well the gloves work with them. A couple of other small details: the gauntlet on the size large is 3.5 inches long (9 cm). The gloves also have a convenience clip that secures the gloves to each other and to a jacket when not riding.
Free replacement if damaged in a crash!? Firstgear has a two-year crash protection policy on their TPG line. As "Burn" mentioned, this is their top-of-the-line gear.
If a TPG jacket, pants, or gloves are damaged in a crash, Firstgear will replace it for free. Wow! I guess they really stand behind their three favorite words: "never stop riding."
Conclusion
Excellent construction, quality, and free replacement if damaged in a crash (within two years) make these glove a great value.
With women's specific sizing, impact protection, and nighttime visibility, the Firstgear Women's TPG Glacier Gloves may be just what you're looking for during those cold rides.
See Also: Firstgear Glacier Men's Gloves Review
w

BW

 Review: Firstgear Women's Glacier Motorcycle Gloves
List Price (2010): $99.95
Made In: China
Colors: Black
Sizes: Men's: S – XXL. Women's: S-XXL
Review Date: January 2010
Note:
 For informational use only. All material and photographs are Copyright © webWorld International, LLC since 2000. All rights reserved. See the webBikeWorld® 
Site Info page
. Product specifications, features and details may change or differ from our descriptions. Always check before purchasing. Read the
Terms and Conditions
!
Owner 

Comments and Feedback