Firstgear Escape Pants Review Summary
Firstgear Escape Pants Image Gallery
The Firstgear Escape pants are designed as part of the Firstgear TPG system but they would make an excellent choice no matter what jacket brand you own.
They're very comfortable with a "real people" fit.
Featuring a water-resistant outer shell, Knox armor and a removable thermal liner, the Escape pants were obviously designed by someone who rides!
Finding the perfect pair of winter riding pants isn't as easy as it seems.
First of all, there's not an awful lot to differentiate between brands.
I mean, textile pants are usually black, with a water-resistant shell or lining and they have two legs, right?
There isn't a lot that can be done with a pair of black pants, unlike a jacket, which is expected to have style, color and flair.
Then there's the fit issue.
For example, I don't think my shape is particularly unusual, with a 36″ waist and 31″ inseam.
In fact, I can grab a pair of street pants off the rack in any store (although a 30″ or 32″ inseam is more common) and buy them without even trying them on, knowing they'll fit.
But finding a pair of ready-made motorcycle pants that fit my proportions is difficult to impossible.
The biggest problem is that apparently my kneecap-to-crotch distance is way out of proportion to the motorcycle standard (if there is such a thing).
Every pair of off-the-rack pair of motorcycle pants I've tried has the knees hanging about 6″ below my kneecap, which means the knee armor is floating somewhere in space, over my shins.
I've learned to cope with this problem by ditching the armor in the pants and wearing a pair ofBohn Cool-Air Bodyguard Adventure pants (review) underneath instead. Thank you Bohn!
The stretchy Bohn garment fits perfectly and they hold the armor precisely in place, something that is impossible with most textile touring pants anyway, which are made to fit loose to remain comfortable in the sitting position.
I don't think the clothing manufacturers have spent enough time and energy focused on the issue of fit.
Surely somebody can develop a pair of pants with, oh, how about multiple adjustments, stretchy fabric and right-sized proportions?
And if they can include a nice removable liner in a jacket, how about adding winter and summer versions of stretchy Bohn-type underwear with armor?
Then we could have our insulation and protection all in one.
The armored matching undies could be sold separately or have a mix-and-match size choice, which would allow the rider to have correctly fitted protection, while the pants would fit as a shell over the top.
Now that would be a revolution in motorcycle clothing!
In the meantime, finding a pair of pants that fits me correctly is so difficult that when I do find a pair that even comes close, I wear them until they're hanging off me in shreds.
Hard to believe I'm the only one with this problem?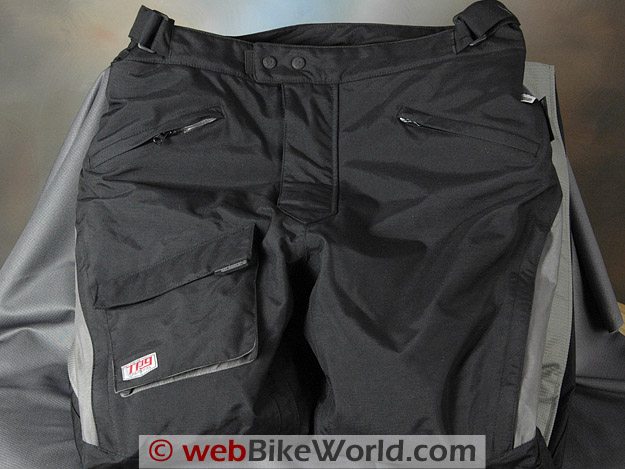 Sizing
The Firstgear Escape pants are available in sizes ranging from 30″ to 48″ waist in men's and sizes 6 to 18 in women's.
There are no long lengths in Escape pants, from what I can tell, so I'll have to assume the pants use the standard lengths shown in the Firstgear sizing chart.
Those lengths run from 31.5″ for the size 30 waist to 33″ for the 48″ waist. The size 36″ waist pants shown here have a 32″ length, which is correct.
The pants may look long in the photos, but that is also correct for a person standing. The extra 2″ of length is necessary when sitting on a motorcycle.
The good news is that Firstgear pants sizing is on the generous side and the size 36 pants fit me with room to spare.
I even wonder if I could have used the size 34, because the legs on the 36 are also slightly wider than expected.
But for a pair of winter touring pants, I'd much rather have it this way; first of all, they're more comfortable and second, it leaves room for the Basegear pants underneath.
Although in reality, it hasn't been cold enough to require the Basegear pants so far this season.
The Escape pants provide excellent wind protection and rain protection, based on my experience wearing them over the last several weeks.
The removable insulation does a great job at keeping me at what seems to be a perfect temperature that is neither too warm or too cool.
So it would have to be a very cold day indeed to require the Basegear under-layer I think!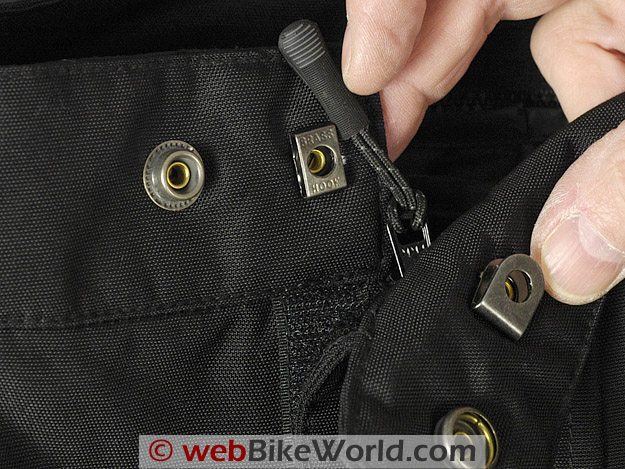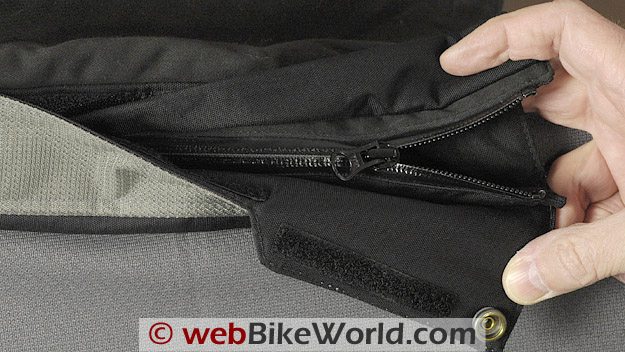 Waist, Zippers and Attachments
The waist also has what I think should be mandatory on any motorcycle pants: a metal hook attachment system underneath the waistband.
Too many pants use only a snap, which can immediately pop open in a fall — just what you don't want to have happen.
The Escape pants have a heavy brass hook attached to a wide round boss on the other side of the waistband. Next to the hook is a metal snap, also secured entirely through the waistband.
The front of the waistband covers these parts with the opposite attachments and they are covered in a rubbery-feeling material to help protect the paint.
So this is really the ideal motorcycle waist attachment system and it is very much appreciated for security and safety.
The front zipper on the men's pants is a heavy toothed type, covered by a flap that secures with hook-and-loop and backed by an attached water-resistant gusset.
The removable insulating liner also has a V-shaped section of what appears to be the same water-resistant material in front. These layers make the fly and zipper a good barrier against wind and rain.
The pants also have side entry zippers on either side.
These are water-resistant YKK zippers, covered by a separate piece of the shell fabric for the entire length and the final overlay on the outer shell.
Two of us who wore these pants in the rain had no leakage at all in the legs, so the system works.
Another very good design feature is that the full-length insulating liner, which is removable, also has its own zippers at the lower legs. This makes the Escape pants much easier to put on or take off over a pair of boots.
A waist attachment zipper is located in the rear, which allows the Escape pants to be attached to any other TPG jacket.
So this is a wonderfully designed system and shows extra effort by Firstgear.
This is the type of detail that makes the difference between a garment that maybe meets the basic requirements and one that was clearly designed by someone who knows what's important.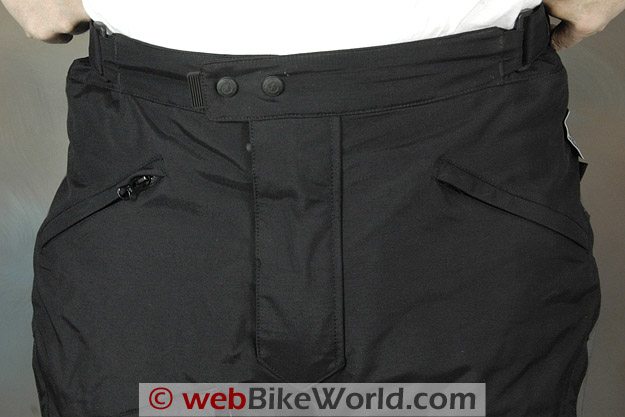 Adjustability
The waistband on the Escape pants features built-in adjusters on either side, which wrap through a large plastic D-rings located on either side of the waist.
A large pull tab on the adjuster is very easy to grab and the waist can be cinched tight and the band is secured with hook-and-loop.
It sounds simple and it should be, but the manufacturers don't always get it right for some reason.
The waistband and adjustment system on the Escape pants could be used as a model for other manufacturers to copy.
Liner
Like the other TPG garments, the Escape pants are water-resistant at the shell.
There is no separate water-resistant liner, removable or otherwise. The 600 Denier material is claimed waterproof and breathable, just like the Teton shell.
The insulating liner is removable and it connects with a full-length waist zipper, along with zippers at the lower half of the legs that hold the liner to the leg.
The other side of the liner opens with the zipper mentioned above that allows the bottom of the leg to open up for ease of entry.
That part is also attached to the cuff of the pants with a loop and snap.
This all makes the liner feel very secure and it stays in place when the pants are going on or coming off. Again, these are more nice details that are not found in less expensive pants and it all makes a difference.
I find the pants with the liner to be very comfortable and they work very well in blocking cold air and rain.
Pockets
The Escape pants have dual slash hand pockets at the top. They close with water-resistant YKK zippers.
The pockets are fleece lined but the backing inside the pants seems to maintain the water-resistant barrier.
The pants have a single cargo pocket on the right thigh, and I find this to be very useful for storing a wallet or cell phone.
It has a large fold-over cover that secures with hook-and-loop and a water-resistant zipper underneath the fold.
The pocket is designed so that the zipper folds over when the cover is closed, making it virtually impossible for water to get through the flap, run uphill, then go through the water-resistant zipper and into the pocket.
The pocket was water-tight during our rain rides and its location makes it very useful.
The pants have two more pockets in the rear. These are horizontally located, with the same type of fold-over flap system secured by hook-and-loop and a water-resistant zipper that is used in the front.
Protection and Padding
The pants feature Knox CE-approved protectors in the knees and hips.
Unfortunately, the knee protector pockets are located out of proportion to my knees, but as I mentioned above, this is a problem I often have and I use wearable protectors under all my pants instead.
The Escape pants also have Knox CE-approved hip pads on either side, and they feel substantial — not like the soft mushy padding usually found in cheap pants.
The Escape TPG pants do not have external abrasion-resistant sections on the knees or elsewhere. I can only assume that this decision was made for reasons of style, as on the Teton TPG jacket.
Conclusion
The Firstgear Escape pants have all the correct and well-designed features to make these an excellent pair of three-season riding pants.
I say three-season because I think the Escape pants are biased towards protection in cooler weather and I don't think they would be my choice in the heat of summer, which takes a completely different and special type of gear.
But overall, the combination of the real-world fit, the water resistance and the excellent waist connectors, pockets and zippers have made the Escape pants my winter favorite.
I can understand why Firstgear didn't see the need to create other versions of TPG pants, as these definitely would work for the entire lineup.
I also think the price is not unreasonable considering the features in these pants.
But I would like to see abrasion-resistant materials used in the impact areas and possibly a softer material used in between the legs that would help grip when seated.
And by the way, the pants also carry the Firstgear two-year warranty and two-year crash replacement warranty.
The Escape pants will make an excellent, solid pair of long-lasting pants whether or not you own a TPG jacket.
You can always fit a matching zipper for other brands, although I'm sure Firstgear would rather see you in an entire TPG outfit!
Part 1: Firstgear Teton TPG Jacket Review
w

BW

 Review: Firstgear Escape TPG Pants
Manufacturer: Firstgear USA
List Price (2009): $249.95
Colors: Black/Gray
Made In: China
Sizes: Men's: 30-48 Women's: 6-18
Review Date: November 2009
Note:
 For informational use only. All material and photographs are Copyright © webWorld International, LLC since 2000. All rights reserved. See the webBikeWorld® 
Site Info page
. Product specifications, features and details may change or differ from our descriptions. Always check before purchasing. Read the
Terms and Conditions
!
Owner Comments and Feedback
---
From "B.H." (October 2013): "I am one of those guys that reads reviews and gets recommendations prior to buying gear. I like to know that the gear is worth the money and effort at any price point.
Based on reviews here and elsewhere I bought a pair of TPG riding pants from First Gear.
In June of this year I sent my First Gear TPG riding pants in for repair.
By May I had noted that the pants leaked at the seams for the pockets, the dry pocket was not dry and then the pocket zipper failed and left the pants open to the weather.
At the time the pants were 10 months old, still in warranty.
Following instructions, I sent them back, via the dealer I purchased them from, for inspection/repair.
I was informed that they could not be repaired to the waterproof state that one would expect the pants to be in and was offered a credit back toward a new pair of pants.
When I returned to the dealer I found that there were no TPG riding pants available to warranty the pants, and the new TPG line would be out "soon" this fall.
Well, it is now fall, I spent the summer without the riding pants I purchased and there doesn't seem to be any TPG overpants in my size available to replace the pants I sent in under warranty.
I feel let down that the quality and service aspect of the Firstgear line of TPG pants has fallen far short of what the warranty would seem to offer.
Too often now it seem that the past performance of garments or equipment purchased several years back do not reflect the current state of affairs.
Emails back to Tucker Rocky just verified that they expect the new TPG overpants to be out "soon".
I did get some service out of the pants, I wore them on a long trip in late summer and used them on range as an MSF Rider Coach, but I would still expect them to last as long as the warranty.
Thanks for the review resource you supply, but I am going to lend a bit less credence to past performance on a product I am considering.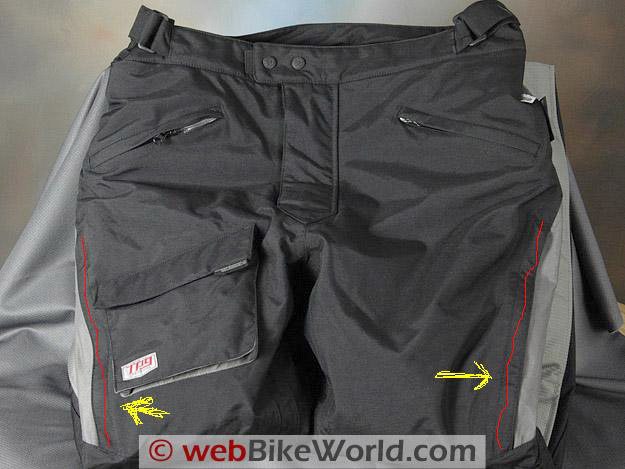 Follow-up From "B.H.": "I thought that the manufacturer and dealer were disingenuous in handling the warranty claim.
They did not offer a replacement pair of pants when mine were not repairable. I thought that was odd.
When I went back to get replacement pants from the dealer back in June, they said they wouldn't get more until the fall offering, not that the pants were discontinued and none in stock anywhere.
The Firstgear  representative I emailed this October stated that the pants were out of production and said they had trouble getting the new version of the pants into production.
The way the "credit" was offered, toward a new pair of pants, implied to me, till now when I asked for refund, that it wasn't a cash refund, but an exchange.
After waiting 4 months and having the weather turn here, when I contacted Firstgear the representative stated in a couple weeks the new pants would be out. I then asked for and received a refund from the dealer.
As far as use, I wore them on an extended trip last summer from Washington to Minnesota and back, and for some general touring. I also wore then for several MSF training school activities.
The training classes mostly involved walking and getting on and off of training motorcycles.
The small leaks were annoying, but not something that would make me want a different pair of overpants. When the zipper failed, that made the pants unusable in wet weather.
I didn't really use the zippers much, and it failed at the bottom and opened during wear, not when I was using the zipper.
I guess I was registering my surprise how a well reviewed, reputable top tier protective outerwear manufacturer handled this warranty claim.
I did see that the new TPG Escape overpants are now offered on a preorder basis on RevZilla and are supposed to be quite updated. I await a review."
---
From "K.D." (8/10): "First, I agree heartily with Rick's bit of editorializing in the "background" section of the review; if only the manufacturers would get the hook and separate the armor from the garment and include in a removable item similar to Bohn's.
I am always wondering how on earth the armor in my gear will stay put in a crash and protect the part of my body it was designed to protect.
I bought my TPG Escape pants right around the time of this review, in 11/09. I have three major complaints about them: fit, fit (yes, twice) and "waterproofing".
I am about 6'1″, and if I were to have a perfectly fitted pair of pants they would be 35×33. Since that size is never available to me, I usually settle on 36×34. I bought the size 36 TPG Escape pants.
The only time they fit properly is with the lining in, and the pants sitting higher then necessary, almost an inch above my waist, with the waistband adjustments pulled tight.
Otherwise, it's tough to keep them from dropping off my less-than-substantial hips.
With the lining removed (the second "fit"), I'd have to wear suspenders to keep them up.
But I'm really not sure if the expectation of a "3-season" garment to fit properly in all 3 seasons is realistic (spandex, anyone?).
Plus, lining in or out, the legs are pretty baggy, so I do wonder whether the armor would be where it needed to be in a crash.
As for waterproof, my word would be, "no". My first time in wet weather, in the mountains in New Hampshire, I started to feel a trickle between my legs.
Thank heaven it was July, so I didn't care too much about this, but if the ride were a long one or if the weather stayed wet (it wasn't and it didn't), it would have been mighty uncomfortable.
So, my take on these it that the fit was all wrong for me, and wish I had received better advice from the dealer I bought them from.
I'm near giving up on the notion of having any garment with a removable lining fit properly with the lining out, without cinching in the fit with hook and loop adjusters that pretty much wreck the look of the thing.
As for the waterproof aspect of these, I'm going to write FirstGear and hope they can offer some advice.
Else, it's eBay/Craigslist for these and I'll go with an overpant for wet weather and fashion my own protection in layers with Bohn armor and long underwear.
(My new favorite in this category is the Smartwool NTS gear, in light, medium and heavy — how 'bout a wBW review?).
I always check wBW first for product reviews before I plunk down my hard-earned frogskins on pricy gear. Keep up the good work, folks."
---
From "B.S." (4/10):  "I found something in the review that you didn't mention — there are vents for warmer climate riding in these pants.
In the (photo below) of one of the pics from the review, I modified it crudely to point out where I am talking about with red vertical lines being pointed to by crude yellow arrow pointers.
There is a sealed waterproof YKK zipper under each flap that opens to reveal ventilation (and) there is mesh and a layer of fabric underneath, but there is ventilation for warmer climate riding."