Fieldsheer Aqua Tour Jacket Review Summary
Review Summary
The Fieldsheer Aqua Tour is a very nice 3/4-length jacket that is priced right, that's for sure. Of course, it doesn't have all the high-tech features of the $500.00 jackets, but keep your expectations within reason and you'll get a lot of jacket for a very reasonable price. And so far, the waterproofing and wind-proofing has worked a charm for me.
Pros
Good
waterproofing and wind-proofing
good features for the money
well priced
Aqua Tour Jacket Image Gallery
Could this be the Bargain of the Year for 2009? The Fieldsheer Aqua Tour is comfortable and water resistant. It also comes in an extended size range including tall lengths. And last but not least, it looks great and it's priced to sell! It's that time again! Cool weather in the north and Spring down under.
Hard to believe that the last time a cold-weather riding jacket was reviewed on webBikeWorld was May of 2009 with the Tourmaster Epic Jacket review. Well, we've had some interesting new technologies come to the fore since then. So I'm working on a new series of reviews of (at least three) winter/waterproof/cold weather jackets.
And who knows — maybe more! First up is this Fieldsheer Aqua Tour jacket. The biggest draw of this one — and the #1 feature that got my attention — is the price. It lists for $159.95, which sounds like a super bargain for sure, but we got it for $122.95. That, my friends, is a deal, steal — whatever you want to call it — it's a bargain, as you'll see.
But, as regular webBikeWorld readers know, "cheap" sometimes means…well, cheap. Buying a jacket or helmet or gloves or whatever just because the price is right isn't always correct. If the product doesn't perform, then it's usually not worth it, no matter how inexpensive.
In fact, there are some jackets I wouldn't take even if you paid me — but that's another story! Fortunately, the Fieldsheer Aqua Tour jacket definitely does not fit into that category.
I keep looking for a flaw, and maybe there is one, but I think — and my colleagues agree — this is one super jacket for the price. In fact, it may be the best bargain we've found so far this year.
What makes it so good? Let's take a look…
Fieldsheer Aqua Tour Details
I didn't even know this jacket existed until the Editor handed it to me.
I haven't been much of a Fieldsheer fan, to be frank, but I do like bargains. But I didn't know how much the Aqua Tour cost when I got it. All I knew was that it was a Fieldsheer 3/4-length jacket for evaluation.
Something about it interested me right from the start. With motorcycle gear getting more complicated by the day, this jacket is simple, straightforward, unpretentious.
It reminds me a lot of another favorite, the Tourmaster Advanced jacket we reviewed in 2005.
The Aqua Tour doesn't push the envelope, it just has the basics covered very nicely. Decent styling that isn't over the top, with red, gray, black or blue color choices.
The red version is nice, and blue probably wouldn't have been a color I'd choose, but this blue has a nice color tone and it also has a saturated, deep vibrancy that even comes across in the photos.
In fact, the photos in this review are very representative of the actual color.
The outer shell is made from 600 Denier "Carbolex", which looks like your typical nylon-type of motorcycle jacket exterior.
They've done a nice job on the details and stitching, with no hanging thread ends to sap confidence and a few other additions like small strips of "Phoslite" reflective material (see photos below) and raised Fieldsheer logos.
The shell is of the soft type, which gives the Aqua Tour a comfortable feel and none of the stiffness that used to be associated with textile motorcycle jackets of times past.
What you don't get is much in the way of additional (and expensive) abrasion resistant material on the shoulders or sleeves or elsewhere. It's pretty much a polyester Carbolex shell and that's it.
Nicely designed adjustable waist belts on either side are easy to use and they have large rubberized tabs on the ends, which make it easy to grab the material when necessary.
Those rubber tabs are repeated on the pockets, which helps to undo the pocket flaps plus they serve to tie the styling together — sometimes its those little details that make the difference.
Pockets & Zippers
The jacket has a total of six pockets in front; two on the chest and two at the waist, and the square cargo waist pockets have semi-hidden hand pockets in back, which also have their own zippers.
The pockets seem to be waterproof, with the lower cargo pockets having their own zipper underneath the flap.
I say "seem to be waterproof" because there isn't a lot of information on the Aqua Tour on Fieldsheer's rather sparse website, so I'm going by my experience only.
A large back pocket has a vertical zipper on either side, it's down along the lower back of the jacket and I guess it can be used to store gloves or a thin sweater or a couple of bottles of water. This one isn't waterproof though.
There's another pocket just inside the left placket. It's a vertical pocket with a zipper, perfect for storing the wallet.
And the removable insulating liner — which attaches with a full-length, around-the-neck zipper — has pockets on either side also, one of which (left side) is shaped for a cell phone. Nice.
With the insulating liner removed, there are two more pockets located underneath, attached to the permanent inner liner, which is actually the backing of the waterproof material.
All of the pockets have special zipper pulls which make it easy to work the zippers and the large main front zipper is a YKK product with big teeth and smooth operation.
This is a two-way zipper to allow the hem of the jacket to open if necessary to sit on the bike. It also has a very large zipper pull on the upper half of the two-way zipper, embossed with the Fieldsheer logo.
And finally, the pockets have the little rubberized tabs (mentioned above) that serve as pulls to open the flaps that are held with hook-and-loop.
These tabs are one of those small features that might go unnoticed but actually add much to the value and functionality of the jacket and I think it's a surprisingly welcome level of detail in this price range.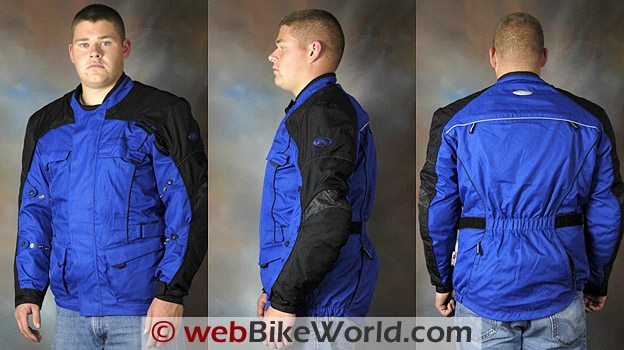 We've had more rain than sun over the past couple of weeks and Burn and I went for some deliberate rides in the worst of the weather just to try these jackets.
The Aqua Tour is claimed to be waterproof, with a "Rainguard" liner that's also claimed breathable.
The Rainguard liner is permanently attached to the inside of the jacket, and when I peek through the vents, I can see the sealed and taped seams on the outside of the liner.
This liner isn't bonded to the jacket shell though; it floats independently, but is sewn to the shell at the top and bottom.
What's interesting is that I don't get anywhere near as sweaty underneath as I would expect with a solid one-piece lining. Which brings me to the vents.
This is really the only question I have about the Aqua Tour jacket.
It has a couple of nice zippered vents at the shoulders in front and a large vent across the back, all covered by separate sections of material. But the vents seemingly do nothing.
There's no way for the air to pass through the one-piece waterproof liner.
So why bother?  I guess they saved a lot of money by not making the waterproof liner removable; thus the low list price of the Aqua Tour. But then why even bother adding vents?
The only reason I can think of is to help dry the outer shell.
Like any of these jackets where the internal liner does the water blocking, the Aqua Tour shell gets very wet and the water reaches the outside of the liner, then runs down and drains out some holes in the hem of the jacket.
This is typical for this type of jacket, even the jackets with a removable waterproof liner. But it must be expected that the outer shell will get very soggy — or as soggy and wet as nylon can get.
Nevertheless, it does keep me dry — although I'm expecting that any day one of the seams or something will start leaking.
No reason to expect it actually, just that…could it really be waterproof for 120 bucks? I'm a skeptic.
But on the other hand, the build quality so far has been excellent and those seams I can see look like they should hold.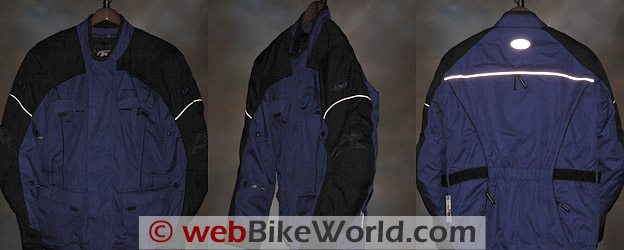 Wind Blocking and Insulation Too!
That waterproof Rainguard lining has a dual role, because it also acts as a wind barrier.
The temperatures over the last few weeks certainly aren't at what you'd call winter levels, but that liner works very nicely to block the cool-to-cold morning air from reaching my chest.
It's a nice surprise, and in a brief comparison I found that it also did a better job of wind-blocking than any of the three jackets that are in this review series.
To evaluate the jackets, I wore only the same cotton T-shirt and cotton turtleneck during back-to-back comparisons, to minimize the layers in an attempt to more accurately evaluate their wind-blocking and insulating properties.
I feel comfortable in the Aqua Tour and I can notice a difference, because I can feel no air leaks or cold spots, just an even temperature throughout that feels comfortable.
The Aqua Tour also has a good-looking insulating liner that's not too thick, not too thin, but just right. And it doesn't look cheap; in fact, it looks rather luxe for the price.
The Fieldsheer logo is printed in a semi-gloss font which contrasts nicely against the dark graphite lining, and there's an orange strip sewn at chest level that repeats the Fieldsheer logo.
This alone makes the liner look richer than it would without the embellishments.
The liner attaches to the jacket shell with a full-length zipper — not snaps — that runs up one side, around the back of the neck and back down the other side.
The liner also attaches to the hem of the jacket and inside the sleeves with snaps, so it stays put when the jacket goes on or off.
The sleeves of the liner are start about 100 mm up from the sleeve cuff, which effectively tapers the sleeve ends, allowing them to fit more easily inside a glove gauntlet.
Now the issue with the vents that don't go through the wind/waterproof liner seems like it may be a deal-killer, but actually, I've been pretty surprised that I don't feel all wet and swampy inside the Aqua Tour.
Maybe they've finally developed these breathable vapor barrier fabrics to a point that they really work, or maybe it just hasn't been cold enough yet, but it feels nice and dry inside to me.
Fieldsheer does say that the Rainguard lining is breathable, so I guess it works.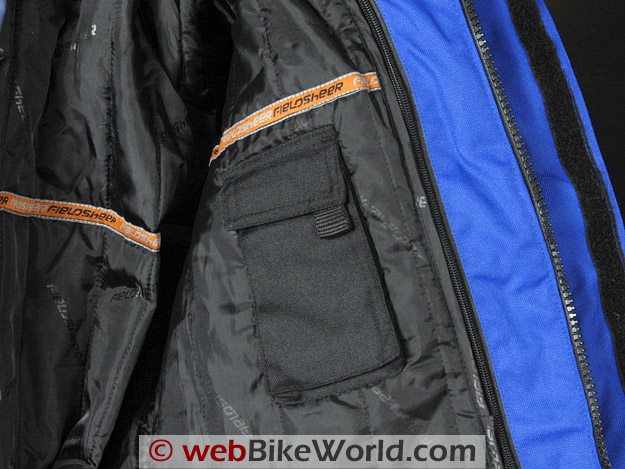 Protection and Padding
The jacket has the typical hard shoulder and elbow protectors, and a semi-decent back pad that's at least a step up from the normal too-squishy foamy stuff that usually passes for back protection.
I don't see where Fieldsheer is claiming that the protectors meet CE standards, but it's possible. It feels decent enough, like basic protection that should do the job.
The Rest of the Story
Fit and Sizing
The size large fits me very well, with just enough room underneath for a sweater or something if needed. The Fieldsheer sizing chart indicates that the size large would fit a 42-44″ chest, but I think 43-44 is more like it.
The jacket may be a bit too puffy on a 42-incher and the size medium is listed as 40-42 anyway, so I'd say if you're more towards the 42, you may want to try a size M.
But based on that, I'll have to assume that the Fieldsheer sizing runs true.
They have a huge size range for the Aqua Tour jacket, which is really good news. It runs from XS to 4XL plus Tall sizes in M to XXL and New Enough has them all listed at the same price!
Collar Notes
The collar is basic and it's a low fit, which I like actually.
In cold weather, I wear a neck warmer or neck wind blocker anyway, like the Frank Thomas neck warmer (review) or the EDZ neck warmer tube (review) or something similar.
I don't like thick collars that interfere with the bottom of the helmet.
Sleeve Cuffs
The sleeve cuff attachments are very basic, but they work. It's a simple hook-and-loop strap and a small dart in the fabric, combined with shorter sleeve insulation.
It allows the cuffs to be securely fastened around my wrists and I can fit into any size glove gauntlet, which is also a plus.
This isn't always the case on 3/4-length jackets with multiple layers of insulation or water/windproof lining.
Attachment Zipper
The jacket also has an internal 8″ zipper to attach to other Fieldsheer pants.
Too bad manufacturers have yet to standardize on these zippers so we could mix and match pants and jackets, but at least the Aqua Tour has one.
The Aqua Tour also has a loop and snap that will allow the jacket to attach to a belt if pants with the correct zipper are not available.
Sleeve Notes
The sleeves have two sets of adjusters with metal snaps (photo below) and the metal snaps hold better than some of the other sleeve adjustment systems I've tried on other jackets.

Conclusion
The Fieldsheer Aqua Tour is a very nice 3/4-length jacket that is priced right, that's for sure.
Of course, it doesn't have all the high-tech features of the $500.00 jackets, but keep your expectations within reason and you'll get a lot of jacket for a very reasonable price.
And so far, the waterproofing and wind-proofing has worked a charm for me.
I really do think this may be the bargain jacket of the year and it's probably the right product at the right time, in this crazy world economy as we head into winter.
w

BW

 Review: Fieldsheer Aqua Tour Jacket
Manufacturer: Fieldsheer
List Price (2009): $159.95
Colors: Red, Gray, Black, Blue
Made In: China
Sizes: XS-4XL a

nd 

M-2XL Tall
Review Date: November 2009
Note:
 For informational use only. All material and photographs are Copyright © webWorld International, LLC since 2000. All rights reserved. See the webBikeWorld® 
Site Info page
. Product specifications, features and details may change or differ from our descriptions. Always check before purchasing. Read the
Terms and Conditions
!
Owner Comments and Feedback
---
From "B.P." (6/10):  "Bought mine toward the end of last year's riding season and am glad I did, it extended riding my riding time by about one month on both ends of the cold weather.
I'm sure it's not the warmest jacket out, but if you layer up freezing temps are no problem.
It's pretty rain resistant, but I'm not sure if anything is totally rainproof.
The biggest drawbacks for me are that the neck is too loose allowing wind & water to get in, it's not a problem on my dual sport which sits upright, but when leaning forward on my sportbike it does create issues.
Also, the snaps on the arms seem like they allow water to get inside the outer shell there more than it should.
I've put hot wax in the snap centers, that looks like it's helped and I'm getting more Velcro sewn on the neck to help draw it tighter. It's not a hot weather jacket, if it's going to be over 80F I'll take my mesh instead.
Overall though, it does what it's supposed to, it keeps the bad stuff away and gives me a place to put my doodads. For ~$100 I paid, I don't think I could have come out any better."
---
From "B.K." (11/09):  "Bought this jacket last year and really wanted to see it work. I like the styling, the price, the simplicity. I prefer its subtlety to jackets with all kinds of stripes and various colors.
But ultimately, it failed in one area – on the XL Tall, the neckline was grossly oversized, allowing air to flow straight down the chest. It was definitely going to compromise any sort of water-proofness.
I ended up going with the Fieldsheer Quattro in hi-viz, which I think is far safer anyhow. Love the reviews and I'm on your site all the time. Thank you."
---
From "R.A." (11/09):  "100% agree with your assessment of the Aqua Tour jacket! Fit, function, finish are all outstanding. I purchased mine from an online store for $99.99 (US) and free shipping. A heck of a bargain!
I bought it to use as my cool/cold weather (Southern California) commuting jacket.
Also, I have a set of perforated leathers which can get a little chilly on cooler days and are a bit snug to layer underneath.
By removing the Aqua Tour's armor, I get ideal cold weather insulation and still have the peace of mind of the leathers.
A pair of Fieldsheer overpants and Tourmaster Solution boots finish the outfit."