Fieldsheer Adventure Tour Pants Review Summary
Adventure Tour Pants Image Gallery
The new Fieldsheer Adventure Tour jacket (review) has a pair of matching pants.
No surprise there!
The pants are made from the same Fieldsheer-developed 500 denier Maxtena-Pro outer shell — "heavy duty" stuff.
With a different approach and to simplify the on/off process, the Exkin Air insulating liner is attached to the Nanomax waterproof removable membrane in the pants.
Like the Adventure Tour jacket, this makes the pants perform very nicely in the coldest temperatures in which anyone would care to ride.
But, maybe it's not quite the optimum setup for summer, although if it's raining hard enough to need the waterproof liner, it probably wouldn't be a bad idea to have the insulating liner backing it up anyway.
The pants have a full-length zipper at the waist to hold the liner, with snaps in the legs. And the knee protectors have 3-way height adjustment.
Full-length zippers on either side of the shell and the liner mean that the Adventure Tour pants can be worn as overpants.
But their cut with a trimmer style, so they don't look like baggy overpants (and that's good).
Two pockets in front, two in back and one on the right (?) thigh all use waterproof zippers and the waist has plenty of adjustment and some elastic for comfort, along with an 8″ attachment zipper.
Like the jacket, the pants come in a varied size range in regular and short lengths, from S to 4XL.
Our conclusion is that the Adventure Tour pants make a nice addition to the jacket but the pants will also work with any other jacket, regardless of brand.
These are very nice, all-around useful motorcycle pants that perform in a wide variety of conditions.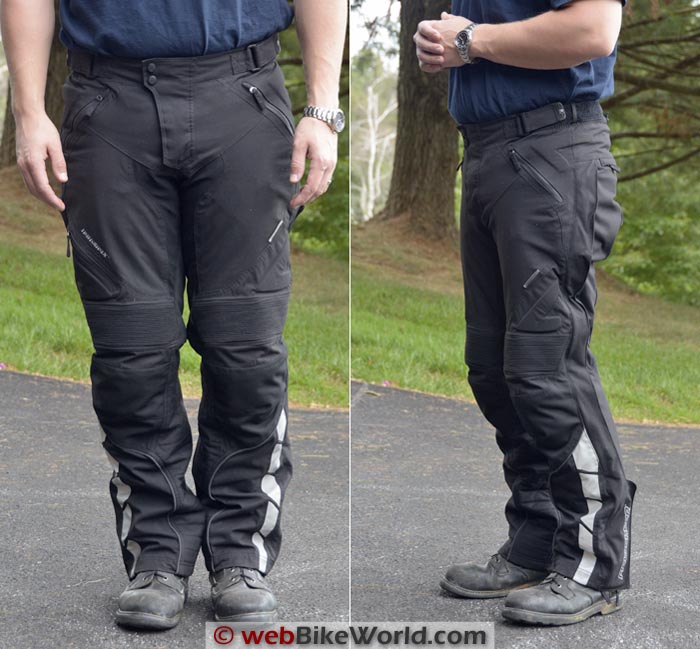 Fieldsheer Adventure Tour Pants Details
Pants is pants, right? A strategy employed by many motorcyclists is to spend the good money on a nice jacket, then find any ol' pair o' pants to match.
Maybe right and may be wrong, but there is a middle ground…and you're looking at it.
The Fieldsheer Adventure Tour pants have pretty good specs, with Fieldsheer's "Maxtena-Pro" outer shell that actually does feel heftier and more protective than the competition in this price range.
Most of the time, the manufacturers make up these fabric names to hide words like "polyester" so customers will want to pay extra.
In this case, it's Maxtena-Pro, but they're on to something here because it actually does feel more like a heavier Cordura clone than something you'd find on the shell of a Walmart windbreaker.
The details are good and actually, it is kind of difficult to tell the difference between a 600-buck pair of pants and these anyway.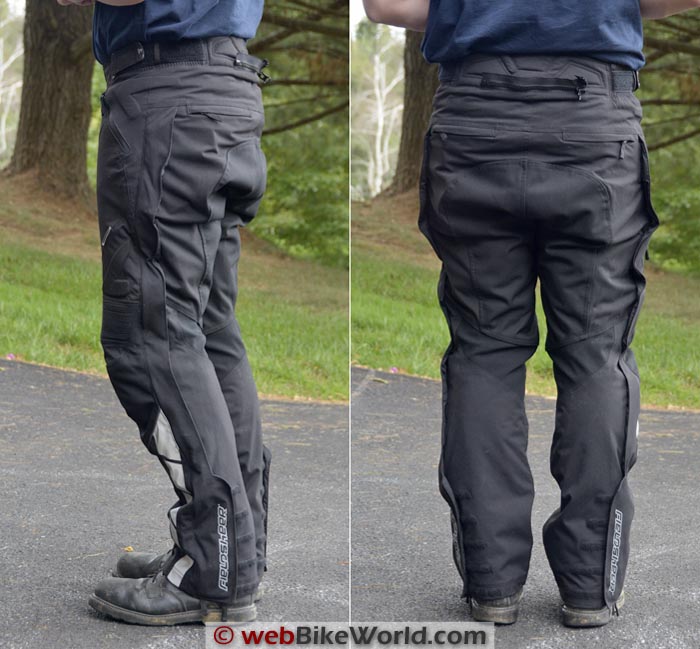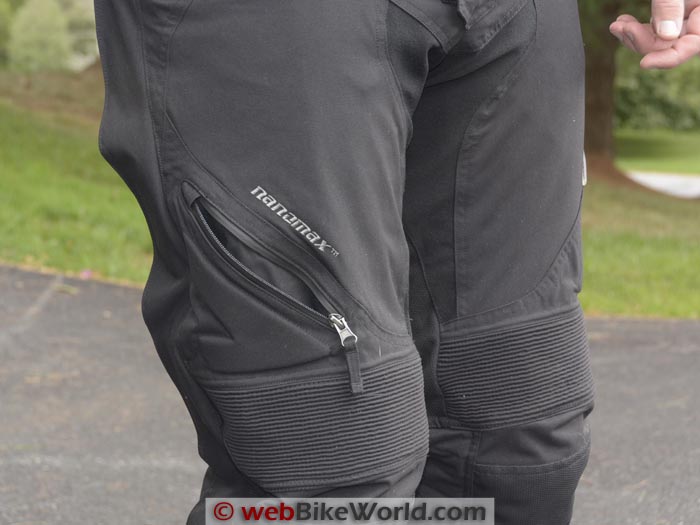 Combination Waterproof and Insulating Liner
For example, you get the Exkin Air insulation, the stuff usually found on higher-end motorcycle clothing.
In an interesting twist, the Exkin Air is bonded to the "Nanomax" waterproof membrane. Nanomax may be another one of those made-up names but again, it works.
And once more, here's that interesting video that illustrates the breathability of Nanomax under water pressure that we told you about in the Fieldsheer Adventure Tour jacket review.
One difference here is that if you leave the liner in to hold off the rain, you get the insulation by default.
We've been wearing the pants as cooler-weather fall riding gear and it hasn't rained in some time, so it's hard to offer a pro or con on wearing the pants with or without the liner.
We did try a quick water hose test on both the jacket and pants and the Nanomax liner does the deed.
Will That Be Overpants or Regular?
Note that these are both overpants and regular pants. We didn't even realize that at first and we've been wearing them as a normal pair of riding pants anyway and, in fact, they both look and perform very nicely that way.
The pants shell and the liner have full-length zippers on either leg.
so you can slip them on over a pair of jeans or something, although it might get tight with the liner installed, depending on your sizing and what type of pants you're wearing.
The zipper on the shell has a full-length flap to keep out the water.
But the zippers on the liner do not, so in those real torrential downpours when you're riding for 8 hours straight (who does that anyway and if you do, get a full-on rain suit) you may get some crotch wetness.
Ventilation
There is none and we don't have a problem with that. Pants vents don't do much anyway and it's one more place for water to leak through. If you want ventilation in your pants, buy mesh.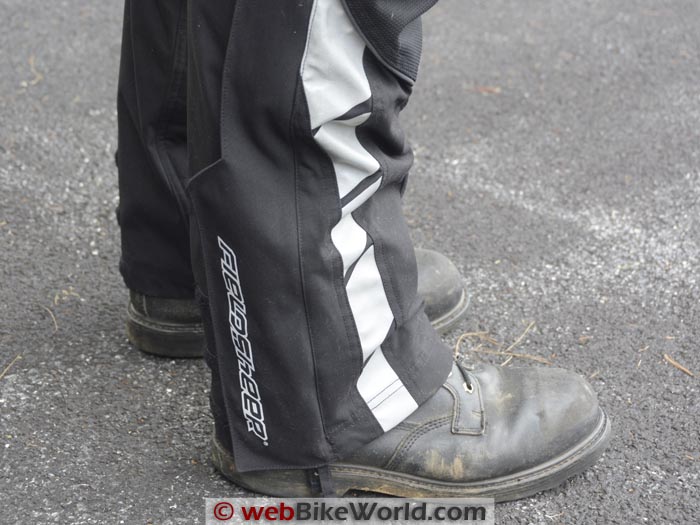 Pockets
The Adventure Tour pants have more pockets than the usual suspects; there are two in the front and two in the rear, all covered with water-resistant zippers.
Another pocket with the same type of zipper resides on the right thigh, which seems an unusual location for a pocket on a pair of motorcycle pants. But, it's there.
Waist and Adjusters
The pants have a nice waist system, with elastic and a fairly good range of adjustment (necessary for overpants) via the straps and tabs on the sides.
The fly has a large locking zipper but no fabric dart in back, although the liner does not have a front zipper and it comes up behind the pants main entry zipper to keep out the water.
The lower legs have a wide flap with plenty of adjustment to fit over or, with a bit more difficulty, into a pair of boots.
The pants also have an 8″ attachment zipper to match the Adventure Tour jacket.
And this zipper comes with the second half if you want to attach it to another type of jacket, which is actually a very reasonable thing to do because the pants are very versatile.
Uh-oh…Where's the Hook?
Unfortunately, the pants have two snaps only at the waist and no hook or belt for a more secure fit.
This is the one oversight and we suggest that Fieldsheer add at least a hook, to help ensure that the pants will stay on the rider in case of a crash.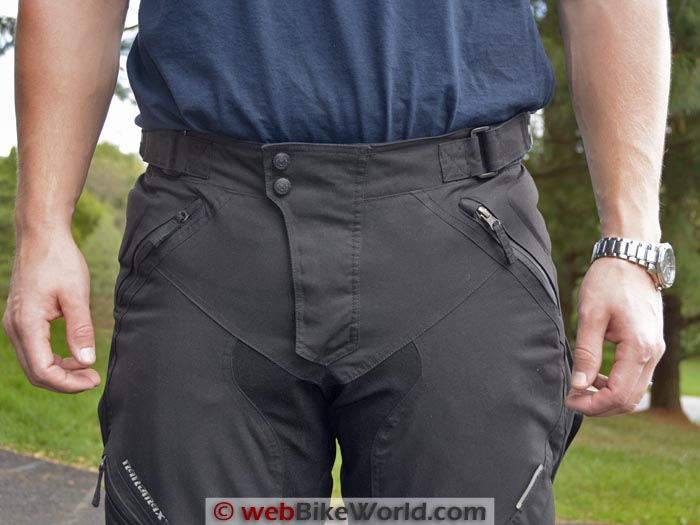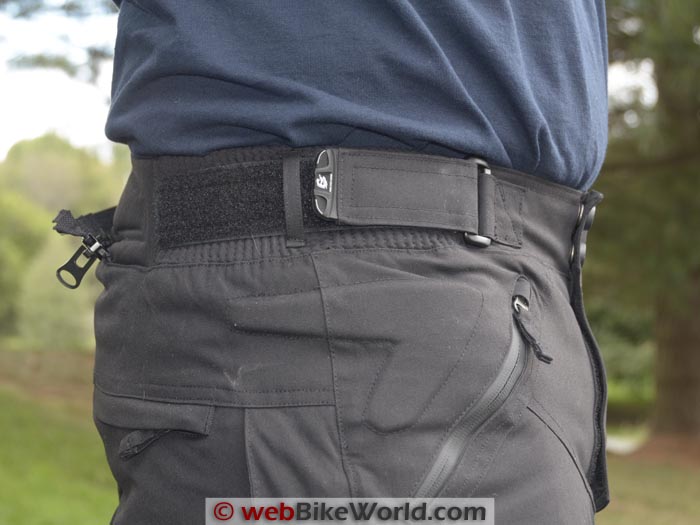 Sizing and Fit
Unlike the Fieldsheer Adventure Tour jacket, which we think runs about 1/2 size larger than expected despite the Fieldsheer and retailer size charts, this size large Adventure Tour pants run to size.
The size L shown here fits a 35″-36″ waist and the pants have a 32″ inseam (regular length) to account for the extra length needed when in the seated position on a motorcycle.
Like the jacket, the pants are available in a huge size range, from S to 4XL and the pants come in regular and short lengths.

Reflectivity
The Adventure Tour jacket and pants are loaded with Phoslite retro-reflective striping, more than most high-end jackets and pants. The Phoslite really lights up when illuminated.
The 

w

BW 

Opinionator: Fieldsheer Adventure Tour Pants
Picks…
…and Pans.

Very "heavy-duty" overall impression.

Overpants that look and feel like regular pants.

5 pockets.

Comfortable waist with good adjustment range.

Exkin Air insulating liner.

Nanomax waterproof breathable membrane works well.

Nice styling and details.

Needs a waist hook or more secure fastener for the waist.
Conclusion
The Fieldsheer Adventure Tour pants are highly versatile and they're pretty nice-looking too.
They don't look like overpants and that's a good thing, nor are they styled like bulky overpants usually are.
These would make an excellent pair of somewhat reasonably priced all-around motorcycle pants, especially for cold-weather and cooler-weather riding.
Take out the liner and you gain about a size, but then you can more easily wear them over a pair of jeans and max out the protection.
Put the liner back in and you're protected from rain and cold. And that Maxtena-Pro shell fabric does seem to be more than a catchphrase, as it feels pretty robust.
Don't think you can only use these with the Adventure Tour jacket; they make a good set of pants for any brand of jacket and they look and feel like they'll last quite a while.
Part 1: Fieldsheer Adventure Tour Jacket Review
w

BW

 Product Review: Fieldsheer Adventure Tour Pants
Manufacturer: Fieldsheer
List Price (2014): $329.99
Colors: Black, Blue, Silver. All with black trim.
Made In: Bangladesh
Sizes: S-4XL Regular or S-4XL Short
Review Date: October 2014
Note: Item provided by a retailer, distributor or manufacturer with these Terms and Conditions.
Note:
 For informational use only. All material and photographs are Copyright © webWorld International, LLC since 2000. All rights reserved. See the webBikeWorld® 
Site Info page
. Product specifications, features and details may change or differ from our descriptions. Always check before purchasing. Read the
Terms and Conditions
!
Owner Comments and Feedback