The death of a 61-year-old West Rockhampton man in a crash during a charity ride on the Moonie Highway yesterday (Wednesday 4 August 2019) highlights the risks of riding in a group.
They were heading west on the highway, about 20km west of Westmar, when one motorcycle collided with two others around 1.30pm.
Queensland Police says their preliminary investigations indicate a fourth motorcycle, which was also travelling with the group, crashed as the rider attempted to avoid the initial crash.
The West Rockhampton man was transported to St George Hospital where he was pronounced deceased.
A 50-year-old woman and a 69-year-old man were also transported to St George Hospital where they remain in a serious condition.
Our sincere condolences to families and friends and our best wishes for a full and fast recovery for the two injured riders.
They were part of a group of 351 on the 22nd annual Southern Cross Association Poker Run for Spina Bifida Queensland going from Yeppoon to Nindigully.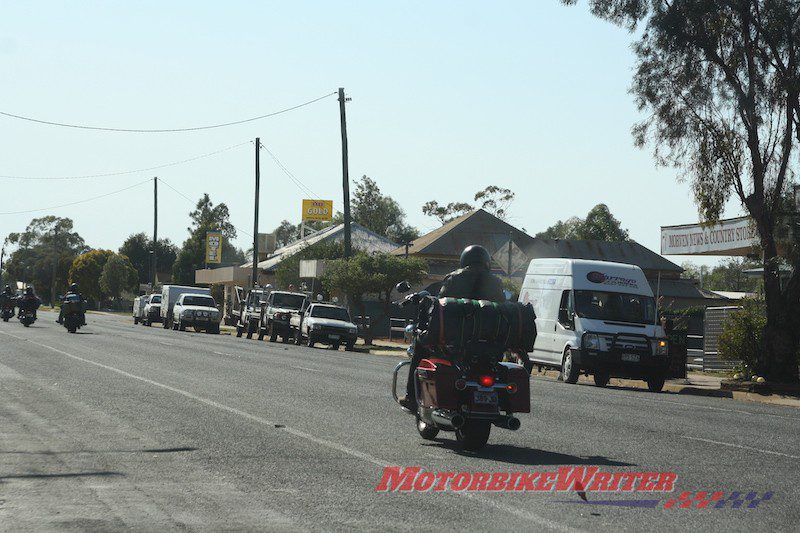 The poker run has raised more than $650,000 over the years for SBQ.
The Forensic Crash Unit is investigating the incident.
If you have information for police, contact Policelink on 131 444 or the online form 24 hours a day. Quote reference number: QP1901726246
Second fatality
In a second group riding fatality yesterday, a motorcyclist died after falling from his bike in the New England region.
About 3.15pm, a 65-year-old man was travelling with a group of riders heading west on the Gwydir Highway towards Glen Innes.
Police say the rider was travelling towards the rear of the group when he "failed to negotiate a bend in the road and fell from his motorbike".
"One of the other riders stopped and rendered assistance, however, he was unable to be revived and died at the scene," police say.
Emergency services were called and attended the scene where they commenced an investigation.
A report will be prepared by officers from the New England Police District for the Coroner.
Contact Crime Stoppers: 1800 333 000 or online.
Group riding risks
Another group riding crash occurred in July in the Lockyer Valley west of Brisbane.
Police said one rider ran into a vehicle while overtaking another and the four other motorcycles crashed while taking evasive action.
Click here for tips on safe overtaking in a motorcycle group.