Novo Boots Review Summary
The Falco Novo boots have been styled with flair and they look good on just about any type of motorcycle.
They're way more comfortable than you'd think, especially for a motorcycle boot!
My introduction to Falco boots came with the Falco ESO TT race boots (review), which are designed for sport and track riding.
Falco makes a large variety of different types of boots however, and several people suggested we also take a look at the Falco 775 "Novo" short boots.
Falco has been manufacturing boots in Italy since 1993; all Falco boots, including the Novo, are made in the Falco plant in Altivole, just northwest of Venice.
This is known as the Vèneto region, and it's a center of motorcycle boot manufacturing, among other things. Besides Falco, you'll find Alpinestars, Forma, Gaerne, Sidi, StylMartin and TCX all located nearby.
Falco Boots have been popular in Europe and they're now being distributed in the U.S.A.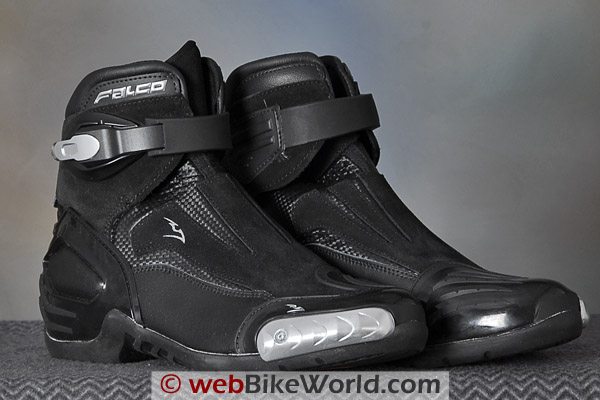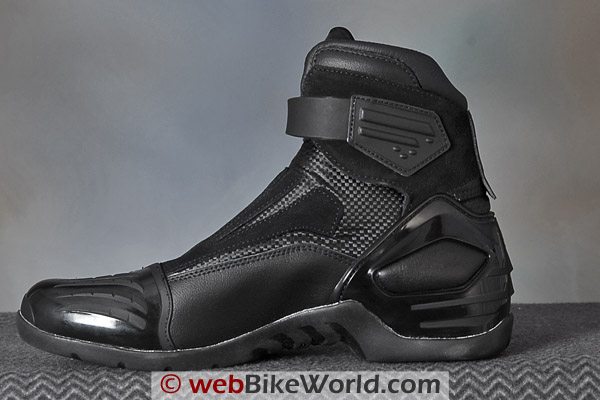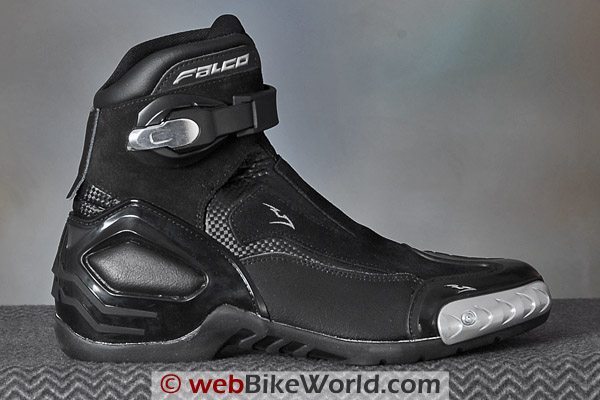 We've reviewed several different brands and types of short boots over the past couple of years, so I thought it would be a good idea to acquire a pair of the Falco Novo boots to see how they compare.
The Novo boots are in the Falco "Racing" collection, which seems a bit strange.
I'm not sure how a short boot that really isn't really loaded with sophisticated safety features ended up in the Racing category; perhaps it's because the Novo boots do share a few design touches with other boots in the collection.
The Novo boots have an interesting design and a unique style, that's for sure.
They may look like they were patterned after a motorcycle race boot, but I would definitely understand how a modern cruiser owner might also want to score a pair.
Maybe it's the black suede over the graphite carbon-fiber-look material across the instep, or the buckle details and the strap up top.
But the Novo styling does stand out from the mostly utilitarian look of other short boots we've reviewed.
And how about that metal ""Alu-Titan" toe slider?  It manages to look both out of place and just right at the same time. Perhaps they say "I'm serious" in a way that no other short boot can.
The bottom line is that the Novo boots look perfectly fine under anything from jeans to leather or textile pants and for everyone from cruisers to the street/stunt crowd.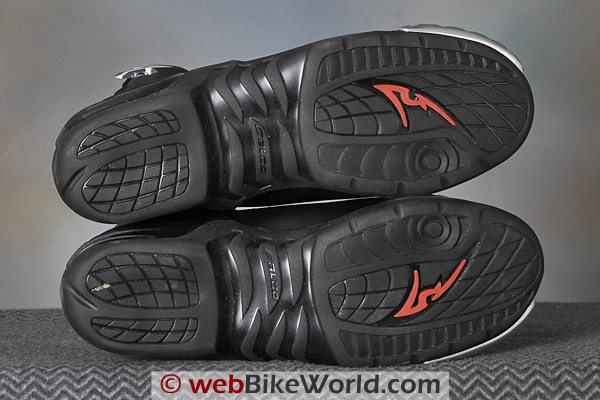 Toes and Heels
The toe and heel are covered with a plastic abrasion protection molding similar to that used in the Falco ESO TT race boots. Falco calls it their "Tech-Toe" system.
The Novo boots do not have a reinforced heel or toe cup, so other than the abrasion protection and whatever inherent stiffness there is in the plastic, there is no other reinforcement that I can feel.
I'd prefer some type of hard backing in these areas, but I suppose this might make the boots less comfortable.
Besides, the Novo boots are designed more for the street than the track, regardless of their listing in the "Racing" category.
The soles are sticky as gum, so no problems about looking foolish when you're backpedaling the 890-pound Road Hog out of the space reserved for RV's at the parking lot either.
Honest — I don't think I've found a stickier pair of soles on any motorcycle boot, they're that good.
The foot bed of the Novo boots are topped with a slight layer of padding, and that carbon-fiber-look material is actually a stretchy elastic; this combination makes for one very comfy boot.
In fact, when I first put them on, I thought they felt better than my pair of bedroom slippers!
Adding to the cushy feel is the fully lined interior and the slightly thicker padding around the ankle. These are very comfortable boots, and they're also easy to use for walking.
The rest of the uppers are made from real leather, which helps make the boot uppers more pliable than some of the other short motorcycle boots we've tried, which can sometimes feel pretty stiff.
The entire reach of the Novo boots between the toe and heel cup is much more flexible than, say, the REV'IT! Fighter boots (review) or the Kochmann Scout (review) boots.
The strap across the top is adjustable.
The strap and buckle system is similar to the one used on the ESO TT boots; the strap has plastic teeth molded on the back side, just like those ratcheting helmet chin straps.
Slide the strap under the buckle and as the metal buckle is closed, the strap is pulled tight.
The ankle has plenty of padding and flexibility underneath though to keep things soft and comfy and the strap ensures the boots will stay on your feet.
The size 44 Euro boots shown here run slightly large; they have plenty of room in the front of my toes.
And I also think the boots run slightly narrow, but this is fine because of the elastic across the instep.
I think the size 44's are probably more like a size 11 U.S. boot in terms of length. I wear a 10.5 street boot, and these feel slightly big, not enough to bother and enough to fit a pair of heavier socks if I wish.
The Novo boots have no vents or perforated leather, and the elastic across the top doesn't breathe as well as a natural material like leather. But I haven't really noticed them becoming any warmer than any other short boots I own.
By the way, Falco has two other short city/street/stunt type boots in their "City Riding" collection.
First is the 899 "Forge", which looks vaguely similar to the Alpinestars Recon boots we reviewed.
Also, the 831 "Nikko 2", which is a definite cruiser-oriented choice that looks like a slip-on shoe; the taller 842 "Pepper", another nice cruiser choice.
And there's more: the "Minibike Stunt" category includes the 770 "Hot Wheels", a variation of the 775 Novo shown here, along with the 771 "Stroke", which is available in three colors.
There are also a pair of classic cruiser/retro styled boots in their "Custom" collection.
Conclusion
The Falco Novo boots have a lot of style and they're different than other short motorcycle boots I've tried.
I think the design is very versatile, because these boots wouldn't look out of place on a modern cruiser rider, a street biker or a sport tourer.
They would also make a good touring boot if you're looking for comfort rather than something that's waterproof.
The tradeoff is that the Novo boots don't seem to have some of the safety features included in short boots like the Kochmann Scout boots (review).
But if it's an adequate level of protection along with sleek style you're after, the Novo boots are probably the only game in town.
Our sources tell us that the Novo has been a very popular boot in Europe and the UK, and it's already becoming popular in the U.S., so much so that they're hard to keep in stock.
If you want a pair, better get in line!
w

BW

 Review: Falco 775 Novo Boots
Manufacturer: Falco Motorcycle Boots
List Price (2008): $217.95
Colors: Black
Made In: Italy
Sizes: 38-47
Review Date: October 2008
Note: Item provided by a retailer, distributor or manufacturer with these Terms and Conditions.
Note:
 For informational use only. All material and photographs are Copyright © webWorld International, LLC since 2000. All rights reserved. See the webBikeWorld® 
Site Info page
. Product specifications, features and details may change or differ from our descriptions. Always check before purchasing. Read the
Terms and Conditions
!
Owner Comments and Feedback
---
From "K.M." (10/08):  "How about a short boot "shootout"? Shift "Fuel" vs. Icon "Superduty 3" vs. Falco "whatever it is" (way too expensive for what it is) vs. Icon "Accellerant" vs. any other kind of short boot.
I personally use the Shift "fuel" shoe and love it.
Other times I'm using my old trusty Bates "enforcers" (that I wear for work as well). Sure there's no "toe sliders" but seriously…how many street riders have even scuffed a shoe let alone need "toe sliders" (and on a SHORT BOOT no less)?
In my opinion, any "Hi top" sneaker with short laces or a Velcro stap at top (such as current Nikes) could do what these shoes do. It's not like current offerings offer much protection.
None the less, a shootout of "short boots" would be a fantastic article (since that's what most street riders wear)."
Editor's Reply:  Thanks for the feedback, we did try to compare some of the other short boots in this review.
A "shootout" is difficult, because the reviews were written by different authors at different times and they live in multiple locations.