Raid Boots Review Summary
Style, protection, function and comfort are key descriptors that come to mind when assessing the Falco 480 RAID motorcycle boots.
Getting in and out of the boots via two strategically-placed straps and large over-flap couldn't be easier.
These boots reflect the high standards maintained by Falco and will undoubtedly provide many years of use, on and off the motorcycles.
My feet couldn't be more grateful.
Falco leather products are not new to webBikeWorld, having been covered in the EICMA 2010 Live Report along with several product reviews.
Those include the Falco 305 ESO TT Boots review, the Falco 775 Novo TT Boots review and the review of the highly touted Falco Podium Gloves.
Acknowledging the extensive and ever-growing product line from the "other" Italian boot maker — Sidi — the products coming from Falco's innovative R&D department cannot be ignored.
Leading-edge boot technologies, such as the Falco ESO System (see the Falco 305 ESO review) is serious stuff.
And it is obvious that some of the engineering and core ESO features are carried over to other models, providing a measure of standardization and product enhancements.
What becomes evident from previous reviews and my ongoing experience is that Falco really is "driven by passion to live to the maximum on two wheels", as the company's motto states.
Located in Altivole, Italy (Google Map), literally in the heart of the major Italian sportswear industrial district, Gianni Falco s.r.l. has been designing and manufacturing sports boots and motorcycle boots for more than 15 years.
Their stated mission is "Total quality" and their goal is "Customer satisfaction".
My mission and goal is to assess the Falco 480 Raid boots, part of the Falco "High-Tex Water-Resistant" line.
The boots in this line comprise a wide range of full-sized, mid-height and over-the-ankle boots for general purpose use.
And a good general purpose boot is just what I needed.
My well worn pair of Sidi On Road Gore-Tex Boots touring boots that have accumulated in the neighbourhood of 250,000 kilometers finally revealed some serious wear earlier this spring when the instep stitching let go in a big way.
That negated their ability to provide prolonged protection from the elements.
While the older Sympatex-based Sidi On Road boots were still capable of providing backup service, given my daily all-weather riding work I had to consider repair (expensive) or replacement options.
On an outside chance, I asked the Editor if he had any ideas'and of course he did, resulting in this review of the Falco 480 Raid boots.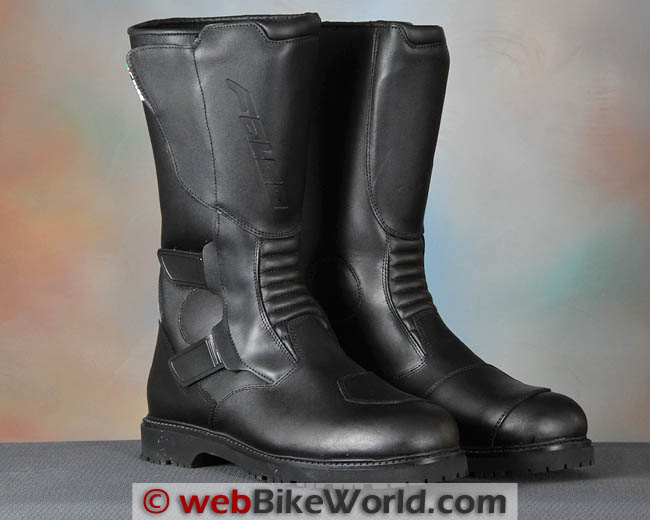 Falco 480 Raid Boots Features
Every boot, irrespective of manufacturer, possesses features common to a product line and unique to the boot itself and to me the 480 RAID boots very much reflect both the general and specific approaches.
If you are looking for high-tech, high-viz features, you won't readily see them on the Raid boots, but it doesn't mean the technology isn't there. What you will see upon "first look" is quality, strength and durability all backed up with simple styling that is seldom out of place.
There is nothing weak nor anything unfinished on these boots — everything is precision cut and fitted, double-stitched or bonded and sewn, then finished or trimmed to facilitate handling, looks and provide durability.
The full leather upper is a combination of heavy but extremely smooth and supple leather, the High-Tex waterproof membrane and a very comfortable liner.
Obvious and very well-placed padded plates are double-stitched into the outers for shin and malleolus area protection, both front and back.
Each side of the boot also features a large round double-stitched protection pad.
Ease of use, security and protection is provided by a large over-flap that stretches from the instep to the top of the boot.
A shaped Velcro pad provides grip for the top half of the flap that stretches around to the outside edge, while two large flat Velcro straps across the instep allow a comfortable and custom fitment for the bottom half.
On a styling note, the leather over-flap hides the flat plastic rings when the straps are secured.
A small addition that serves to provide a very discrete look to the outer side of the boot, something that can be appreciated if they are being worn to, at and from the office.
A full-width retro-reflective strip is stitched onto the back of the boot between the lower and upper (padded) back areas of the boot.
The strip is not very large, but it does really show up when "lit up", as illustrated in the slide show below.
The heel section of the Raid boot is stiff, but not uncomfortably so and well formed so as to not intrude (rub) in any way.
Although the thick, comfortable and (somewhat) breathable liner takes care of encasing and cushioning all parts of the upper and lower ankle and foot.
The toe is not steel (or I don't think it is) but it is extremely solid and resistant to heavy weights (ask me how I know): protection for safety is a good thing.
And speaking of good things, a reinforcement panel, also known as a shifter pad, is double-stitched onto both the left and right forward foot/toe areas of each boot.
And yes, I'm an "old timer", so the logic for having a pad on each boot is recognized and yes, I do still get to ride motorcycles that are right-foot, or even hand shifted.
Somewhat also related to an older philosophy, but in keeping with the heavy-duty look of the boots is the solid sure-grip sole.
It is far more substantial than expected, but more than offset by its multiple benefits.
Strength, support and comfort are first rate, on and off the motorcycle. Grip is positive, no matter the surface — rubber or metal pegs, dirt, pavement or artificial flooring.
The Vibram-style pattern used on the bottom of the soles might seem more aggressive than needed for a road boot, but it does not detract in any way. Quite the opposite; its size and composition are positives.
One of the biggest pluses is in how well this sole absorbs vibrations generated when riding large single or twin cylinder motorcycles with "healthy" (vibrating) motors.
Also, how well it soaks up shocks passed through the frame while travelling at speed over uneven ground.
Like early Fords, you can have the Raid boots in any part of the visible light spectrum, as long as it is black. The boots actually appear as a dark deep brown to my eye, a very neutral shade.
Falco Raid Boots – Sizing
So this is where I need to describe my "lesson learned".
In coordinating this evaluation, the supplier wanted to confirm my typical shoe size and what size boots I usually take.
This was a common sense and appreciated question, especially given the many and often widely varying interpretations on the Euro size standards. Falco lists a sizing range of Euro 38 to 48 or (6 to 13.5 for US and Canada) for the 480 RAID touring boots.
As I am just about a perfect Euro 46 (or 12 to 12.5 US and Canada) in a boot and a typical 11.5 for a shoe, I elected to go with a size 46 Raid boot rather than the recommended 47.
Reasoning? Well, a Euro 47 is usually long and also typically wider, another thing I don't need, having a long narrow foot.
So the lesson learned is that for a multi-day ability to live in the boots with lots of walking involved, the size 47 boots probably would have been a better choice.
Are the size 46 boots intolerable?
Not by a long shot and if I don't have to spend a long day walking long distances in them, they are near perfect. With continued use, comfort has improved anyway.
In considering form and width these Italian-made boots are just what I need, which is why virtually everything I wear on my feet is designed and/or made in Italy, and virtually everything for the feet is motorcycle oriented — strange thing that.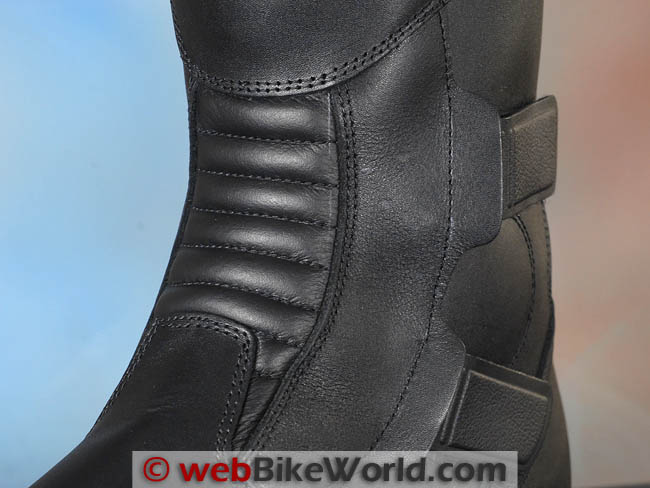 Ventilation and Water Resistance
I have become so used to the excellent wet-weather protection and ventilation properties provided by Gore-Tex equipped footwear that other boots with other solutions get pushed aside, which is a shame really.
So the Raid boots served to provide a wake-up call of sorts.
Between the heavy-duty leather and a thick comfort High-Tex membrane lining, the Falco Raid boots are admittedly warmer with less ventilation than most of my Gore-Tex enabled footwear.
But this same combination provides a close match for keeping my feet warm and dry during sustained periods of the wet stuff.
More information on the Falco High-Tex membrane can be found in the sidebar above. The membrane obviously works, and well.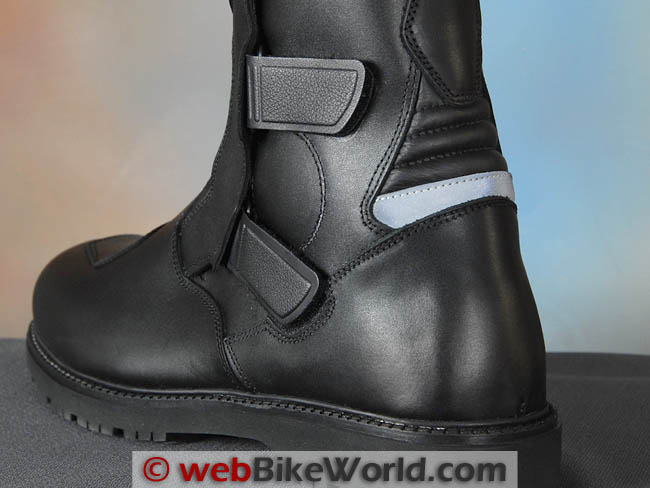 Heel and reflective strip of the Falco Raid boots.
Fit and Comfort
As noted by Bill C. in his Sidi Fusion Boot Review, more and more riders, for many reasons, now tend to tuck their pants or outerwear, either leather or textile, into the boots.
Paradoxically, there has been a recent trend by manufacturers to decrease the top diameter of the boots.
While this might be justified in some ways, it is counter-productive overall, especially when trying to tuck in a heavier textile or thick leather set of pants.
This issue is no different than the disappearing or shrinking cuffs on gloves designed to be used for wet and cold weather conditions.
So like so many nicely designed, tested and positive features of the Falco Raid boots, the over-flap and top of the boot cut is (still) quite full.
I typically wear my pants over the top of my boots, except for my leathers or my BMW Rallye 2 Pro pants but the Falco Raid boots are quite happy to accommodate any of my configurations.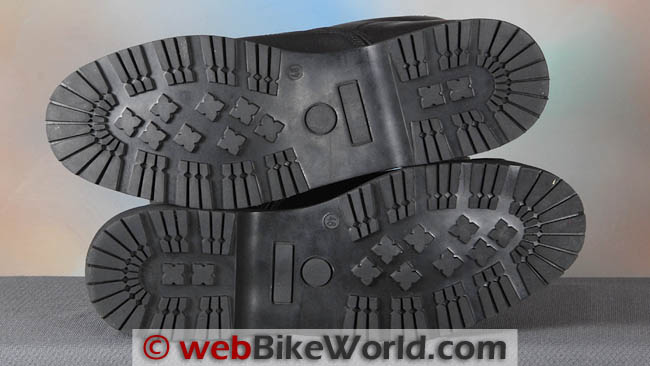 Bottom Line – Function and Comfort Plus
I wore the Falco 480 Raid boots around the house and garage for a couple of hours and that was about all the break-in period they needed.
Over the last five weeks, the boots have accumulated a few thousand kilometres on five different motorcycles and they have coped with some real weather extremes in the process.
Our spring and early summer has alternated between high temperatures with sweltering humidity mixed with extended periods of rain with lots of thunderstorms and the odd tornado.
Through it all the Falco 480 Raid boots have remained dry, sure-footed and supremely comfortable.
A specific example: after three days of six- to seven-hour riding stints in very wet weather, the inside toe area of the boots were just starting to feel damp but not wet and my socks were still dry.
Overall the boots are just slightly warmer in 35+ Celsius (95 F) temperatures than either the Sidi Gore-Tex or Sympatex On-Road boots, but far cooler than the heavy-duty BMW Santiago boots I have been evaluating concurrently.
A couple of cool early morning starts proved that the Falco Raid boots will keep the feet warm when the air temperature is probably close to 5 C or so (ambient and wind chill generation).
I can only hope that real cold-weather testing is a long way off!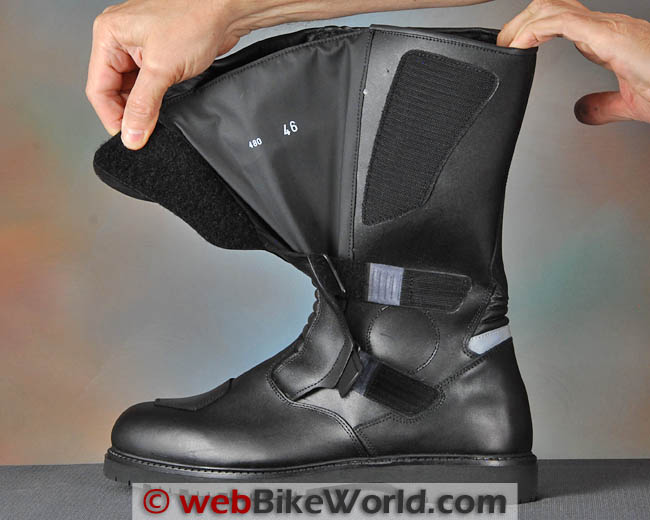 Conclusion
While one doesn't always expect or hope for severe trauma to the feet while out riding on a motorcycle, it is a fact of life and as such the protection provided by the Falco 480 Raid boots cannot be understated.
Remember "All The Gear, All The Time". Have I worn my Sidi On Road boots through a few serious off-road excursions? Yes.
Have I now worn the Falco Raid boots off-road? Yes. The difference here is that the Raid boots are far more capable and comfortable in this environment.
They still have some overall protection limitations, of course, and beating them up needlessly is not the objective.
I can't and won't yet make a judgment call between my well-worn Sidi On Road boots and the newer Falco 480 RAID boots; that could cause some loss of sleep and lots of waffling.
Regardless of the "winner", if that kind of decision was needed, I would stand by my personal conviction that Italian designed and crafted boots are still the best to be found — it is hard to beat experience, craftsmanship and passion.
While there may not be a lot of high-tech content visible in or on the Falco Raid boots, the look, feel, protection and functionality of these critical components in the personal protection gear category make their own statements.
Heavier and more solid feeling in every sense when compared to the Sidi On Road boots — and costing almost exactly $100.00 less — the Falco Raid boots make their own distinctive statement in providing an all-encompassing environment for the feet.
These are one classy, well-made and totally functional pair of boots that I can live with and in for a variety of motorcycle duties.
w

BW

 Review: Falco 480 Raid Boots
Manufacturer: Falco Motorcycle Boots
List Price: $230.00
Colors: Black.
Made In: Italy
Sizes: Euro 38-48 (6 to 13.5 US and Canada).
Review Date: July 2011
Note:
 For informational use only. All material and photographs are Copyright © webWorld International, LLC since 2000. All rights reserved. See the webBikeWorld® 
Site Info page
. Product specifications, features and details may change or differ from our descriptions. Always check before purchasing. Read the
Terms and Conditions
!
Owner Comments and Feedback
---
From "M.M." (September 2012): "I bought these boots a year ago after reading your review. I had to wait almost a year to get a pair, so worth it.
The value of these boots for what you get ratio, very high.
They now have another very good looking boot less expensive, and maybe more appealing to most, the "Yukon"'. I digress, I just wanted to Thank You! Keep up the good writing!"
---
From "M.P." (September 2011):  "I read your review of these boots with great interest. They look and sound really nice and I love the styling. Excellent and comprehensive review, IMHO.
Did you find them easy to maneuver on the pegs for shifting/braking?
I use the gearbox extensively and need a boot that I can get under the shifter without undo effort. I've had stiff boots that were like cinder blocks with a bulbous toe before – never again.
Also, how tall are they? Like the Sidi on road boot, or more like the Sidi Canyon boots (review)? I couldn't really tell from the photos, (though otherwise they were great).
They may be exactly what I'm looking for in a quality touring type boot and I hate paying extra for the Sidi name…
Thanks again for the no BS review! (I ride a Triumph Bonnie and Sprint GT)."
HBC's Reply: I haven't experienced any difficulties in sliding them forward or positioning them for shifting and braking.
While the Vibram-style sole will have more resistance or grip on a bare serrated style peg (as found on my BMW F800GS (review)), removing some of the pressure on the boots or slightly lifting them (angle) they still move around easily.
With a hard rubber foot peg as found on most standard motorcycles or a slim metal surface foot peg as now used on many sport machines, the soles work even better.
The Falco soles, like those found on many Sidi boots, are an excellent choice for virtually any type of riding, and style of foot peg.
I have been using them during my daily riding duties on a wide variety of motorcycles — small, large, sports, touring and mixed purpose machines and the boots (and soles) work well.
They look and feel stiffer than the Sidi On-Road boots, but the design and flexibility of the Falco Raid boots is not an issue and I find them very comfortable in any position.
And for what it might be worth, especially when addressing extensive use of the gearbox, one of the best tailoring exercises is to make sure the shift is properly adjusted (if possible).
It can make a world of difference and is often the answer to any boot versus machine issues.
The boots are 35 cm or 13.78 in. high (highest point measured at back of boot), which is 1 cm taller than my Sidi On-Road boots (review) that measure 34 cm in height, so there is a little difference.
A quality touring or all-rounder is just what the Falco RaReview,Reviews,Boot id boots are and yes, they are well priced.