Summary
A convenient way to carry around one's helmet when off the bike. Locking it on a bike is not always possible or desirable. The design works best with helmets using micrometric type chin straps but it can be used with double d-ring types as well.
Introduction
Motorcycle helmets are just a part of life for most riders and even in places where helmets are not mandated by law, riders will still more often than not have a helmet.
When riding a motorcycle, where to put a helmet is generally not an issue (your head!). What does one do with said helmet, however, once having arrived at a destination? Also, what if one needs to carry an extra helmet along for a passenger to be picked up later?
For some, that helmet ends up being stored in a top case or other lockable storage on the bike. This is fine for bikes that have this type of luggage but not all do or can even be outfitted with bags like this.
Some bikes have helmet locks that allow one to affix a helmet to the motorcycle itself. This can be a lock on the frame or even loops under the seat that secure the helmet when the seat is locked down.
Of course the last option is to just carry the helmet in hand, typically holding the fastened chin strap. This can be less than convenient if one has to carry other things or if there will be a lot of walking around and it doesn't solve the "bring an extra helmet" issue.
There are some backpacks that will handle a full-face helmet and some others that are specifically designed for this task. These bags can still be a bit bulky and would have to be worn while riding which some, including me, don't care to do.
What if there were a simpler way to carry it along and keep one's hands free? Enter the EZGO strap.
The EZGO Helmet Carrying Strap
This carrying strap from EZGO is a simple and inexpensive solution to carrying a helmet along while keeping one's hands free. It also packs up into a compact space so it can be easy to store when not in use.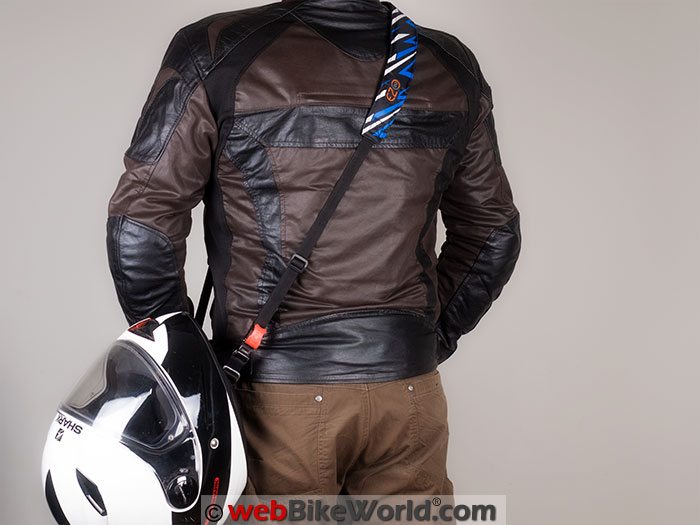 The EZGO is currently available in five different styles and colors including black, light blue, grey, blue and white stripes, and white stars on black. All of the styles include the orange EZGO logo and use 1 inch wide (24mm) black nylon for the adjustable portions of the strap.
On the underside of the padded portion of the strap is a black mesh material (orange on the grey strap model) that allows for some breathability.
At each end of the strap is one side of a micrometric (also called micro ratchet or Uvex) buckle. A ratchet strip on one end and the spring loaded locking mechanism on the other. This is the same type of fastener that has become popular in Europe and is available in some helmets in the USA market.
So how is the EZGO strap in use?
Using the EZGO
I'll admit that when I first received this item for review, I thought that this strap was an answer to a question that no one is asking. Carrying a helmet around via a shoulder strap? Really? When would someone use this?
Turns out after some time to think about it, I can see how this would be very useful for more riders than I initially thought. A scenario came to mind when I was at Barber Motorsports Park for their Vintage Motorcycle Festival.
At that event, most attendees arrive on motorcycles, myself included. I have a top case that can easily hold my helmet but not everyone does and they end up leaving their lid with their bike (locked or unlocked) or they carry it around.
At an event like the Vintage Festival, one can do a lot of walking at areas like fan zones and the huge swap meet that is also going on. Having both hands free while also having one's helmet safely beside you does have an appeal.
Thinking about the fact that if someone steals a jacket or gloves that are left on a bike or in a top case one will undoubtedly be upset but they would have their helmet. They can hop on their bike and ride home (or to the nearest bike shop for a new one). If a helmet gets taken, then you are essentially stuck.
Granted, at an event like the one described, a new helmet can be purchased on the spot but what if it is some other kind of event where one is walking for a while without somewhere to store a helmet. This idea starts to make sense.
The EZGO makes the most sense if one has a helmet with a micrometric buckle. I still had access to my old Shark Vision -R GT helmet which uses this type of fastener so I could see how it works.
It really couldn't be simpler. It slides into the buckle components like it was always part of the helmet. A simple lift of the red tab releases the strap when you're ready to remove the EZGO.
Concerns
Mechanically, the EZGO works as advertised and the strap seems strong enough to handle most any motorcycle helmet. There are a couple of potential issues one of which really depends on where you are located in the world.
First off, as I mentioned earlier, the micrometric buckle system is popular in Europe so many riders in the "Eurozone" will likely have or have access to helmets using that fastener. In the United States, where I am located, the Double D-Ring setup is by a wide margin much more popular.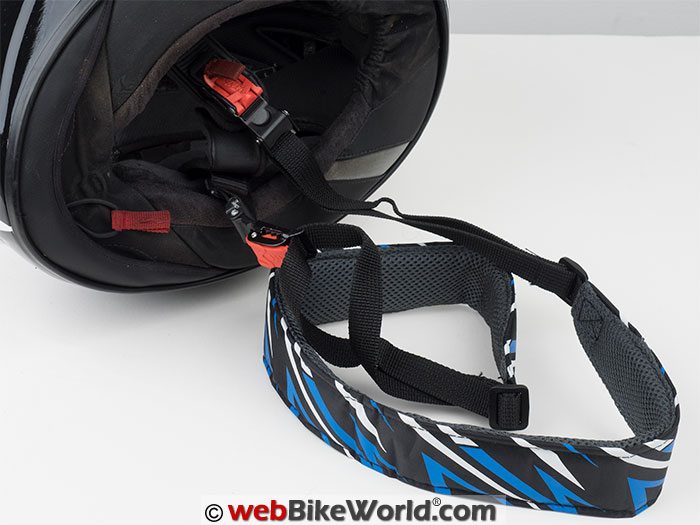 When I reached out to EZGO about this, they suggested that one simply fasten the D-Ring style strap and then just loop the EZGO through that strap and fasten it. Of course, this does work but the helmet has a tendency to "roll" and flip around on one's hip.
Another concern is more on the part of the helmet owner than the strap itself. Wearing a helmet on your hip means needing to be mindful of that extra margin needed to negotiate small and/crowded spaces.
I know I'd rather not have a potentially expensive item like this being banged around on tables, chairs, or even the heads of small children all of which live around waist/hip height.
The point is, be careful. Like adding large sidecases to a motorcycle, being aware of how much wider one has become needs to kept in mind.
Conclusion
I think the greatest barrier to my adoption of the EZGO for me is the simple fact that my current helmets don't use the ratcheting closure. Using the alternate method of passing the EZGO through the Double D-Ring strap doesn't seem as stable to me.
Still, the idea is sound and in markets where the EZGO can connect as designed, the strap would be a great alternative to leaving a lid unattended on a bike parked on the street or other similar situation.
I was a doubter at first but I've come to see the EZGO as a useful tool and a good idea for carting one's helmet when not riding. The construction of the strap and the micrometric buckle
hardware is nicer than expected considering the $19.99 (USD) list price (currently on sale for $15.90).
wBW Review: EZGO Helmet Carrying Strap
Manufacturer:
EZGO
Colors: Grey, Black, Blue, Blue and White, White Stars on Black
Made In: China
Size: One fits most
Review Date: November 2017