Racing leathers and a diamond-encrusted walking stick claimed to have belonged to the godfather of stunt riders, Evel Knievel, have been auctioned online.
The two items were sold over the weekend in a joint lot for $US78,000 (about $A101,000).
The items, sold by Heritage Auctions of Dallas, are claimed to be original and were offered by the stunt king's family.
While there is no supporting evidence that the items are genuine, a quick search of Evel Knievel images on the internment reveals a lot of different leathers.
Some are mainly white but there are also blue leathers. Other differences are the belt "buckle" and shoulder insignias. But all include a patriotic American flag theme.
No doubt the number of crashes Evel had in his career not only necessitated the need of a walking stick, but also new leathers!
These are claimed to be from the 1972-73 period which could have included a jump at the Cow Palace in Daly City, California. He broke his back and was knocked out when he fell off and was run over by his Harley-Davidson XR-750.
Or they could be from his 1973 jump over 50 stacked cars at the Los Angeles Memorial Coliseum, a record that was not broken until 2008.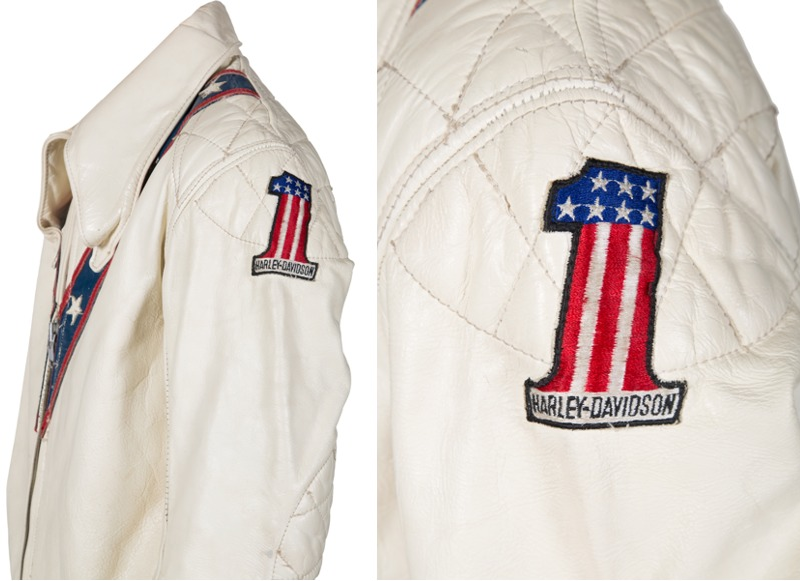 Either way, there is some road rash on these leathers, so he's obviously taken a tumble in them.
Evel is listed in the Guinness Book of World Records as the survivor of "most bones broken in a lifetime". They say he broke more than 433 bones, but his son, Robbie, said it was 40 to 50 and Knievel claimed he broke 35.
He was hospitalised more than 20 times and was jailed for several months after attacking the author of an unflattering book with a baseball bat … not with his walking stick!

The stick features a gold head decorated with a motorcycle and rider depicted in diamonds and has a hidden liquor compartment.
It is claimed Evel drank not only for celebration, but also medication.
He died in 2007, at 69, only days after giving rap artist Kanye West permission to use his image in a music video.
(Article updated February 27, 2017)