Most standard motorcycle seats are too soft or too hard, shaped so you slide forward into the tank and don't take into account rider ailments such as a bad back, says John Moorhouse of Ergo Seats.
John knows motorcycle seats. He has been upholstering them since he started an apprenticeship in coach and motor body trimming at the age of 15.
He says most standard seats on motorcycles are either too hard or too soft, lacking support for long rides like on our Ducati GT1000.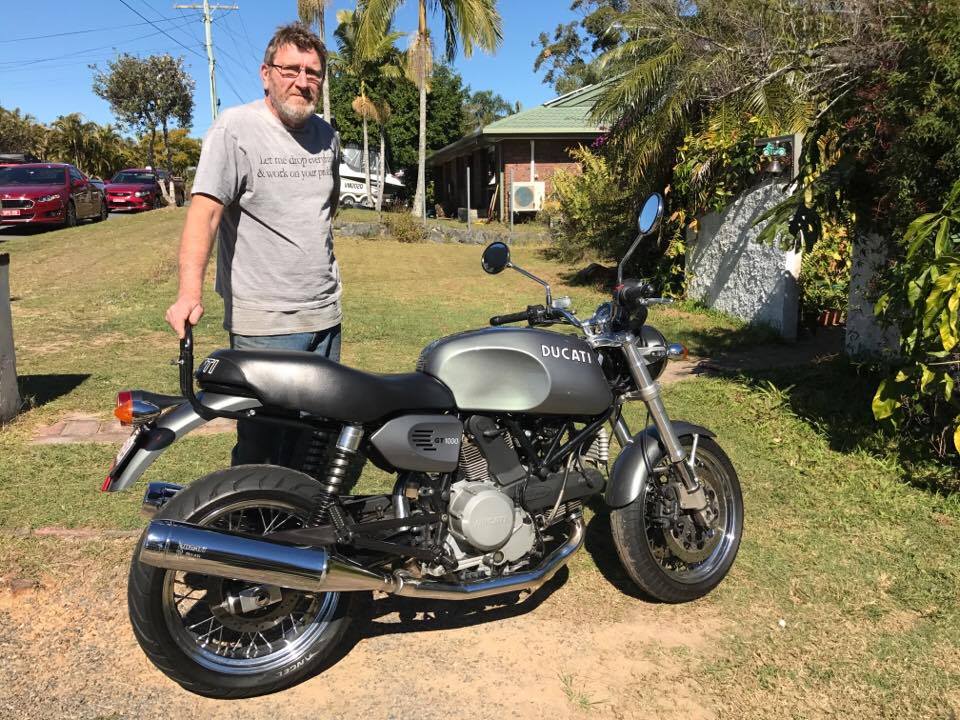 He believes manufacturers may make some seats soft so your initial impression in the showroom is one of comfort.
"However, as you settle into a soft seat on a long ride, you start to sink down into the firm until your are sitting on the hard supports underneath," he says.
These companies then try to sell you an expensive "comfort" or "touring" seat that may have more expensive foam, but is still a general solution to a very specific problem.
John says every seat and every rider's backside is different so his first step in customising a seat is to get a photograph of the rider sitting on their bike.
He can then tell how close the rider sits to the tank and re-design the seat especially for them.
John says most seats tend to make the rider slide forward, so he has to re-shape the seat angle.
"I am trying to get the rider's posture correct, so I usually lift the front and shave the back to roll the hips back," he says.
"But it's a little bit different with every bike and, of course, sports bikes are different again."
John replaces the standard cushioning with a firm, closed-cell, high-density foam like memory foam.
Layer upon layer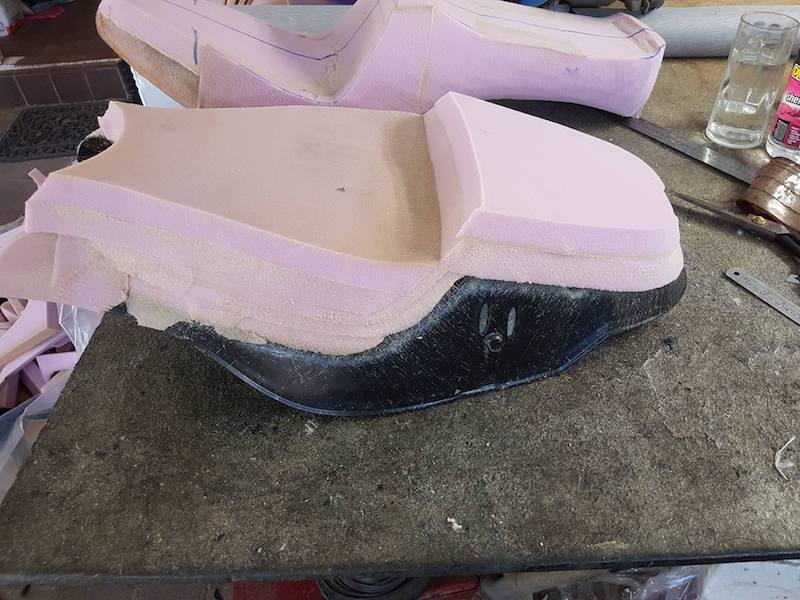 He usually applies several layers of the foam to reshape the seat and add extra support or cushioning, depending on the rider's needs.
"A lot of my customers have bad backs or problems with their coccyx (tailbone), so I can build up the foam to give them support or insert a soft section for the coccyx," he says.
"I even had one rider who wanted an Air Hawk embedded in his seat. I've not heard back from him, so he must be happy."
John cuts and pastes several layers of foam, carefully crafting them into a shape that is a little taller than required.
He then brings the profile down to the correct shape and height with an air sander.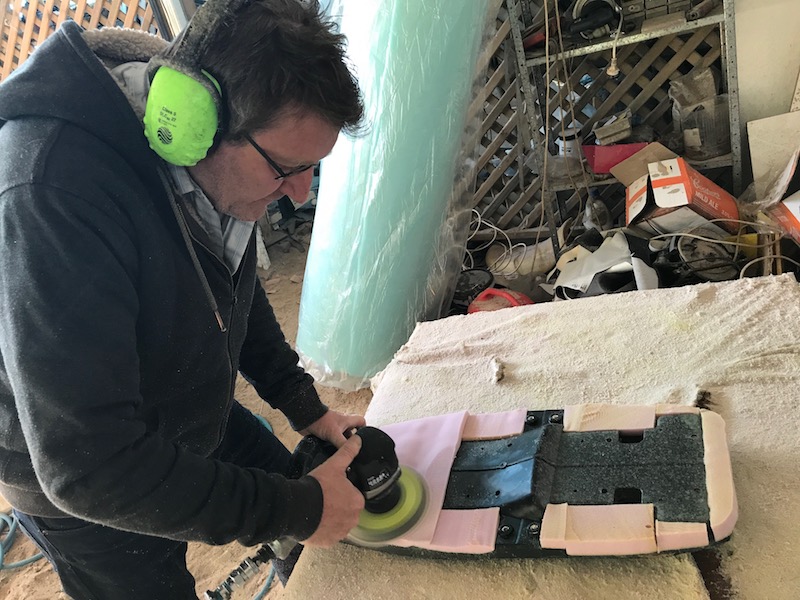 John finishes off with a vide variety of vinyl or leather coverings to which he can add patterns, coloured stitching and even stencilled lettering.
Basically if you can think of a design, John can do it. He's even customised a seat in pink leather for one female rider!
Click here to read about John's tips on choosing the right seat cover.
He uses stainless steel staples underneath so they don't rust.
Ergo Seats review
John re-foamed the too-soft seat on our Ducati GT1000 and the result is brilliant.
No more numb bum on a long ride.
The rib-stitched leather is not only a classic look, but it also makes the seat grippier.
Together with the contoured foam, I don't slide around and my pillion doesn't come sliding into me every time I slow down.
I now not only feel more comfortable on the bike, but I can feel what the bike is doing underneath me which helps with handling.
John managed to use the original vinyl piece at the back to retain the "Ducati" lettering.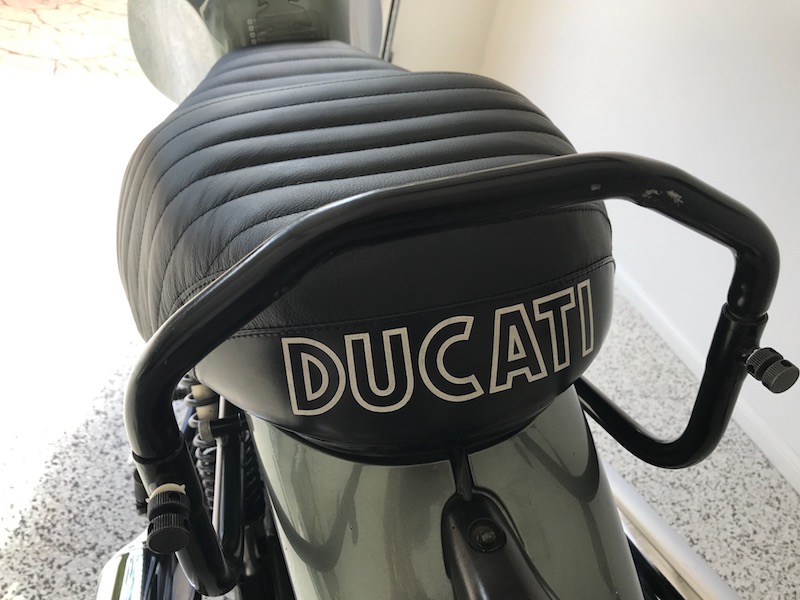 He also managed to get the seat to fit better than the original which had gaps around the tank. It also clips into the locking mechanism easier than before.
We wouldn't suggest taking your motorcycle seat to just any upholsterer.
Seek out a specialist custom motorcycle upholsterer like John at Ergo Seats who understand the way riders sit in their seats and their need for support and feel.
Unlimited guarantee
John is located in Brisbane, but says he customises seats for interstate riders who post their seat to him, together with a photograph of them sitting on their bike.
He also offers an "unlimited" guarantee on his work.
"I don't want people badmouthing me on social media, so I ensure they are always happy," he says.
"I've had some people come back after several years to get something changed because they were meaning to get back to me, but just put it off.
"It can take about 1000km for the foam to bed in, so I ask riders to be patient.
"I also find riders who want leather seat covers need to come back after a while because the leather sags and needs to be refitted."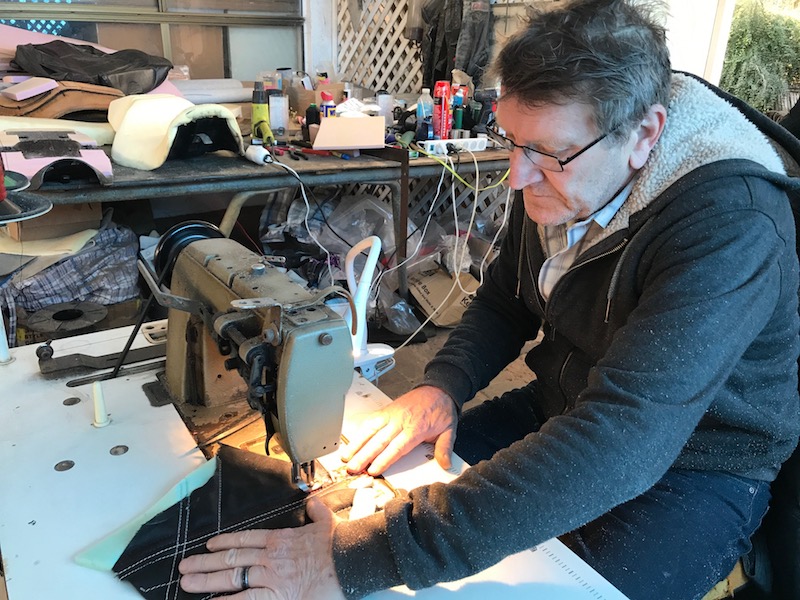 Our seat felt very firm at first, but after a couple of long rides it has bedded in.
I now find I sit in the same position and don't squirm around in the saddle trying to get comfortable.
The leather looks like it might stretch a bit so I may have to return in a month or two to have it re-stretched into place.
Prices vary from a few hundred dollars up to $600-700, depending on how much reshaping is required and the quality and detail of the cover finish.
Most jobs take about five working days to complete.
You can contact John via his Facebook page and he responds to inquiries within minutes.