DuPont Motorcycle Degreaser Review Summary
DuPont Motorcycle Degreaser Image Gallery
It must be chain cleaning and lubing season.
That deduction is based on the number of emails that have been coming in recently.
Our readers have many questions and recommendations for chain lubes and chain cleaning products.
This thank-goodness-it's-finally-gone winter has been pretty tough on the equipment around here.
Especially the Mulitstrada 620 (Blog) test mule that bears the brunt of the dirty work (literally) all year 'round.
The Multistrada also gets to try all the different chain lubes we review, from grease to sticky sprays and everything in between.
The chain was literally encrusted with junk — it actually had little whiskers of road grime, tar and dirt sticking out all over.
So it was time to roll up the sleeves, snap on the rubber gloves and get to work. And guess what?  I had a brand-new chain cleaner to use for the job!
A Brand New Chain Cleaner!
We've been hinting at a new chain cleaning product and now it's here: introducing DuPont Motorcycle Degreaser!
webBikeWorld readers are very familiar with two other DuPont products: DuPont Teflon Multi-Use Dry Wax Lubricant (review) and DuPont Teflon Chain Saver (review) chain lubes.
Feedback from webBikeWorld readers indicates that those two products are the most popular motorcycle chain lubes available.
They both do an excellent job and both are designed to leave no sticky residue on the motorcycle chain that might attract dirt.
UPDATE (May 2012): DuPont Teflon Multi-Use Dry, Wax Lubricant is no longer being made. See our updated DuPont Teflon Multi-Use Lubricant review for more information!
Both products are less expensive than many or most other chain lubes and, best of all, they're readily available in just about every local hardware store, including Home Depot, Lowe's and Walmart.
I've even seen these products for sale in grocery stores!
Two things can't be underestimated here — the easy availability of these lubes and the DuPont reputation for quality and performance. Well, maybe three things — the low price is icing on the cake!
UPDATE (May 2011): DuPont Motorcycle Degreaser now available in 16 oz. bottles (see below)!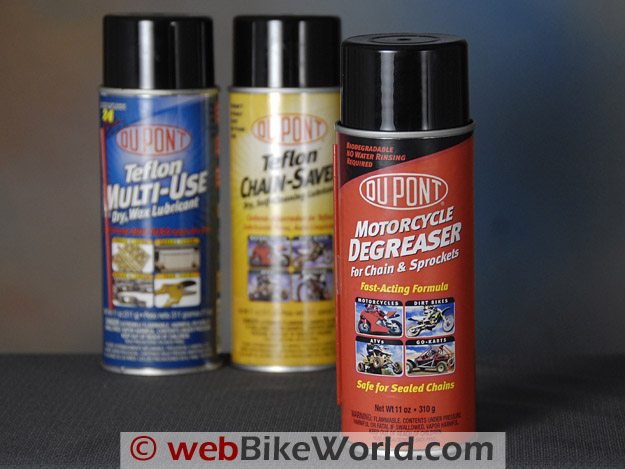 DuPont Motorcycle Degreaser
In addition to the great news about this brand-new product, there's more: I'm proud to say that we played a role in the development of the new DuPont Motorcycle Degreaser!
When DuPont Teflon Chain Saver was announced, we were the first to evaluate it and report back to you in our review.
That report kicked off a series of communications with Finish Line Technologies, Inc., the company that manufactures DuPont lubes and the Degreaser under license for DuPont.
During our discussions, I mentioned the need for a good chain cleaner and some of the criteria that would be important for such a product.
Of course, one of the most important criteria is that the chain cleaner or degreaser would first have to be compatible with O/W/X/Z rings used in motorcycle chains, which are typically made from a nitrile, such as Buna-N synthetic rubber or its variants.
Other important factors are ease of use, including minimizing the amount of clean-up time; compatibility with chain lubes; and a sprayer that could control the application of the product.
And then there is the environmental factor — there are many harsh degreasers available, but they have a chemical formulation that is death to O-rings and terrible for the environment.
So the Finish Line engineers went to work and over the winter and one day we received a box with some prototype degreasers to try.
Feedback was provided and more development work was completed and the end result is the soon-to-be-released DuPont Motorcycle Degreaser for Chain & Sprockets.
Finish Line has graciously allowed us to be the first to try the new degreaser and to announce it to the motorcycle community.
But, they understood that the report would reflect our experiences, so if it didn't work as expected, you'd also be the first to hear about it. Fortunately, that isn't the case!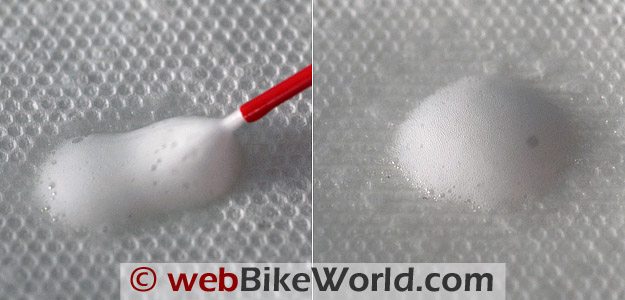 The Chain Cleaner Paradox
Developing a motorcycle chain degreaser isn't as easy as you might think.
Sure, there are plenty of high-powered and also highly toxic chemical degreaser sprays that can instantly dissolve grease. But the chemicals that make it happen are deadly to O-rings and the environment.
We've noted before that there really aren't many cleaning products specifically designed to clean motorcycle chains.
Also, Finish Line found that many of the chain cleaners on the market claiming to be safe for O-W-X-Z rings really weren't.
The additives in some of the products can actually degrade the nitrile rubber, which is susceptible to oxidation via ozone or chemicals.
It's really important to minimize O-ring degradation however possible.
That's because this critical seal has to remain flexible enough to keep the grease inside the chain rollers while keeping out dirt, in a wide range of temperatures from freezing (your bike is parked outside at night) to high heat within minutes of leaving the garage.
Another issue is clean-up. Several webBikeWorld readers have suggested using one of the so-called "Green" degreasers that are readily available but which aren't designed specifically for motorcycle chains.
But most of those products have to be rinsed from the chain before the lube is applied, or they will degrade the ability of the lube after it's applied.
Using a pressure washer to rinse off the degreaser is an issue, because it's impossible to control the spray without ending up with grease-laden soapy water all over the bike, the driveway and into the environment.
Also, it's not a good idea to spray pressurized water around the O-rings.
So you can see that making a degreaser that will actually work but which also meets all of these somewhat conflicting criteria is a real balancing act.
Pump the product full of chemicals that instantly dissolve grease and risk damage to the O-rings and the environment, but make it too mild and it won't be as effective for actually degreasing the chain.
DuPont Motorcycle Degreaser Features
After testing for O-ring compatibility and degreasing performance and all of the other criteria, the Finish Line engineers have developed the product now called DuPont Motorcycle Degreaser.
I've been using it over the last few weeks and I think it does an excellent job at striking a balance between usability, performance and the important environmental issues.
DuPont Motorcycle Degreaser is biodegradable and it meets local requirements so it doesn't violate the California Safe Drinking Water and Toxic Enforcement Act of 1986 (Proposition 65).
It does not degrade the nitrile- or rubber-based O-X-Z rings. This wasn't easy to do, according to Finish Line.
One of the side effects of addressing the environmental issue is that the "quick drying" chemicals could not be used in the formula.
But one of the benefits of using the DuPont product is that it doesn't need to be rinsed off the chain.
That's because it's compatible with chain lubes — although I'm sure they hope you'll be using the Teflon Multi-Use Dry Wax or the Teflon Chain Saver products to lube the chain after it's been cleaned!
The degreaser has a minimal and actually rather pleasant citrus smell, which is also a bonus.
It comes in an 11 oz. (310 g) [Note: Corrected from 10 oz.] or 14 oz. (414 g) spray can (will come later) and bulk liquid containers may also become available.
It has a suggested list price of $6.99 for the 11 oz. aerosol can and a projected list price of $8.99 for the 14 oz. can.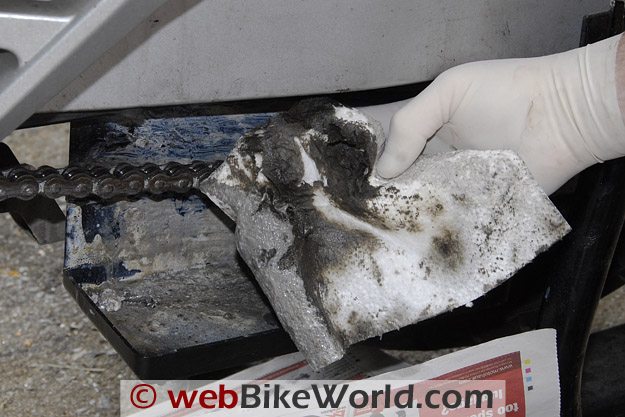 Using the DuPont Motorcycle Degreaser
Cleaning a motorcycle chain is a very messy process.
The first thing I do is spread old newspapers on the ground — and of course for a motorcycle those would have to be the Motorcycle News from the UK, which arrives once a week.
(Anyone who has paid for a yearly overseas subscription will know that this is absolutely the most expensive disposable floor covering you will find!).
Next, I put the motorcycle up on a rear swingarm stand; in this case, my trusty Steel Horse stand (review) that fits the Multistrada.
I use the very handy Chain Drain (review) to keep the spray off the rear wheel and to drain any liquid and gunk that drips off the chain. [Correction:  The company that makes the Chain Drain and Bean Clean (review) is still in business].
Rubber gloves are definitely called for also, along with a good supply of paper towels.
And don't forget the Grunge Brush (review) which, as I just discovered, is also sold by Finish Line!  Finish Line and DuPont have exclusive licensed rights to market the Grunge Brush while the inventor, Eric Silvers also sells the brush under his Simple Solutions brand.
It's best to clean the chain after a ride so the chain is still warm.
After making sure I have as much of the bike protected as possible, it's time to apply the DuPont Motorcycle Degreaser.
One of the requests I made to Finish Line was to try and keep the spray pressure relatively low instead of using a powerful spray that would blast the dirt and grease off the chain and all over the bike.
I think this is important from the environmental point of view but also to help make the product more efficient; i.e., allow the user to control the amount of degreaser going on to the chain.
The sprayer will also work at all angles, including upside-down. No CFCs are used in the formula and the can is made from recyclable steel.
The result is a specially designed spray nozzle on the can allows a light touch to stream the degreaser on to the chain or a stronger push will spray it with more pressure but not enough to blast it all over.
The can includes one of those little red tubes (5″ long) that fits on the spray head and allows the degreaser to be directed on to the chain links.
The directions call for spraying the chain and allowing the product to soak in for one minute.
After that, I use a Grunge Brush to scrub the chain, being careful to make sure the gunk is directed into the Chain Drain.
The Multistrada chain used in this example and in the photos was an extreme case.
So after I brushed the entire chain by slowly rotating the rear tire, I wiped it down with a couple of folded paper towels and then soaked it again and repeated the process.
It actually took three complete soaking/brushing cycles to get all the junk off this very dirty chain.
The soaking process seems to be very important to ensure the DuPont Motorcycle Degreaser will work correctly.
I checked the cans of Motul and Motorex chain cleaners we reviewed in the past and the instructions on those also suggest a soaking period, as does the Bean Clean product, so this should be nothing new.
It may take more than one soaking/brushing cycle to really loosen up the grime, depending on the condition of your chain.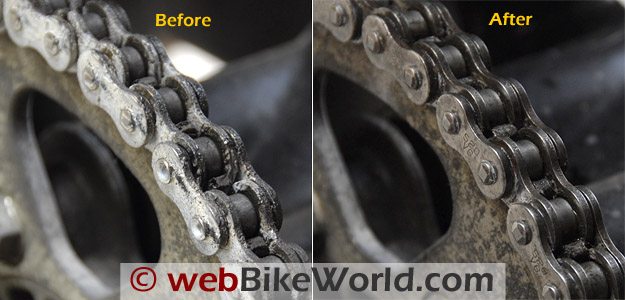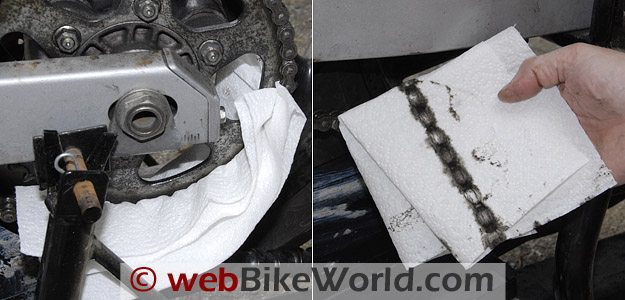 Results
In this particular instance, I couldn't believe how much junk came out of the Multistrada's chain; you can get an idea from the photos. After the third cycle, I wiped down the chain a couple of times with paper towels and then folded a single paper towel in half and slowly (and carefully) rotated it through the front and rear sprockets (photo above).
This is a good trick that helps absorb some of the remainder and also helps clean the sprocket teeth, which otherwise can be difficult to access.
When the chain was as clean as I could get it and relatively dry, it was time for a re-lube.
The DuPont Motorcycle Degreaser is compatible with chain lubes and the instructions call for an immediate application of chain lube after the chain has been cleaned.
I used the DuPont Teflon Chain Saver this time, which has a slightly more waxy application than the DuPont Teflon Multi-Use Dry Wax Lubricant, but is specifically designed for motorcycle chains.
After a few minutes, it leaves a nearly dry, slightly waxy coating on the surface of the chain.
It took about 75% of an 11 oz. pre-production can to thoroughly clean this very dirty chain in the three soak/brush cycles. We estimate it should take only one or two cycles to clean a "normally dirty" chain.
The DuPont Teflon Multi-Use Dry Wax Lubricant chain lube leaves no sticky residue and most users report very clean chains with this product, which means easier chain cleaning.
By the way, the DuPont Motorcycle Degreaser also works for other degreasing tasks on the motorcycle or car, including cleaning the engine parts.
UPDATE: DuPont Motorcycle Degreaser Now Available in Larger Size
May 2011 – DuPont has released a new "bulk" sized bottle packaging for the DuPont Motorcycle Degreaser. The product is now available in 16 fl. oz. (472 ml) bottles and has a list price of $6.99.
This size bottle provides a larger quantity and it can be used to soak a complete chain or it can be poured into a hand sprayer bottle or simply brushed on to the chain or other item for degreasing.
Also, at $6.99 for 16 oz., the bottle may be a better value than the 11 oz. aerosol can for $6.99, although you give up the "power" of the aerosol spray by using the liquid.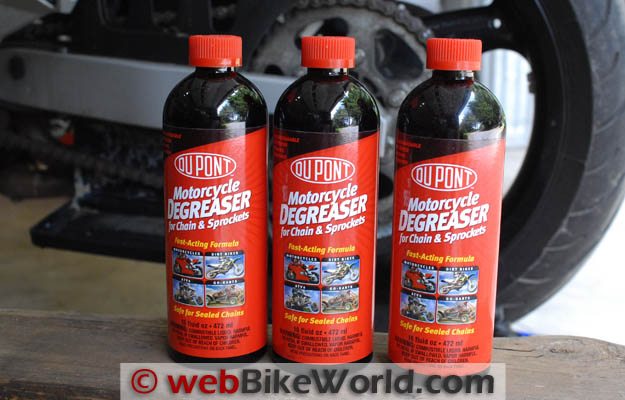 Conclusion
Motorcyclists finally have an excellent chain cleaner that is efficient, easy to use, works well and is readily available.
We plan on having it available for sale in the Chain Lube aisle of the webBikeWorld Amazon.com store (where you can also purchase the DuPont chain lubes!).
The product will be officially released by DuPont this week and will be available for sale; they graciously allowed us to be the first to announce it to our webBikeWorld readers!
UPDATE (May 2012): DuPont Teflon Multi-Use Dry, Wax Lubricant is no longer being made. See our updated DuPont Teflon Multi-Use Lubricant review for more information!
w

BW

 Review: DuPont Motorcycle Degreaser
Manufacturer: DuPont Performance Lubricants
List Price: $6.99 for an 11.0 oz. aerosol can.
Colors: N/A
Made In: U.S.A.
Review Date: May 2010
Note:
 For informational use only. All material and photographs are Copyright © webWorld International, LLC since 2000. All rights reserved. See the webBikeWorld® 
Site Info page
. Product specifications, features and details may change or differ from our descriptions. Always check before purchasing. Read the
Terms and Conditions
!
Owner Comments and Feedback
---
From "B.G." (November 2012): "I bought two 11 oz. aerosol cans of this product off the shelf from a local (store) in July of this year (2012).
They sat on my garage shelf, being a cool temperature place for storage of aerosol cans, and they sat there until yesterday, November 11, 2012.
I was working in my garage, pushed the can plunger and the chemical erupted from all sides of the can outlet. It soaked my hands and I bolted for the opened garage door. I attempted to push / release the plunger to try to stop the flow.
Nope, it continued to quickly empty itself all over my driveway.
After I recovered somewhat from these events, I decided to get back to work. I reached for the second can on the shelf…
Yup, you guessed it, one push on the plunger, and it erupted and emptied itself too. I was incensed. This stuff was all over me, and my property.
I had kept the original receipt and took the now empty cans back to (the store). They made good on a refund.
I was never upset with them. DuPont could have shipped these things to any retailer. DuPont however, I am *very* upset with. I noticed the same store no longer stocks this product. I wonder why?"
Update From "B.G." (November 2012): "So, I was still in need of some method of cleaning the cycle chain. I decided I wanted to like the DuPont product because of it's "features", I just did not like the delivery method (the aerosol "incident").
The features I liked are that it does not require water to clean up. You brush it on, let it set up for a minute, and then wipe it off. No ozone depletion propellants.
So, I decided to take another chance on the chemistry, in a liquid, non-aerosol, (brush on) delivery. I bought the 16 oz. bottle of liquid, and a "grunge brush", via on-line purchase. Not available locally…
This stuff really does a nice cleaning job, with little cleanup effort.
The hard part was when to know that I was "done".
Since the product is not rinsed off with water, and it is designed to "coagulate" and remove a previous lube job (along with the dirt), the only way for me to understand "done" was to examine the chain to see if more could be wiped off before applying the next (spray on) chain lube job.
That is, I did not know whether or not the remnants of the degreaser, that did not get wiped off , would affect the ability of the new lube going on.
I really still don't know, I'm just assuming that I got enough off after wiping and looking for 15 minutes, before applying the new lube.
Pour a bit into an open top jar, dip the grunge brush into it, insert brush onto chain, and spin the tire (both directions). Cap the jar and save the remainder for another day (do not pour back into the clean stuff).
In all, I'm pleased with the results. The grease / dirt buildup is obviously gone, it does a much better job cleaning than just using a rag.
I have decided to use a mask and goggles in the future. Simple precautions against breathing the small particles thrown off by the action of the brushing."
---
From "B.C." (6/10):  "In the past I have been using Kerosene to clean my chain.
The DuPont degreaser worked very well, it cleaned quicker than Kerosene. It cleaned the chain and sprockets with only a little "elbow grease" required.
I used a small scrub brush and several different towels. It cleaned up very well, and left the chain sparkling clean.
I use chain wax on my chain which has a tendency to build up a thick and sticky coating on the sprockets but the DuPont Chain Degreaser removed it easily.
However, the spray can delivery, like any spray, tends to go some places you really don't want it going.
Some additional clean up took care of that minor problem. Let's face it, there is no way to clean a chain with out getting dirty.
Seems like a good product and works better than anything I have tried to date."
Editor's Note:  The spray head was designed to allow variable flow, it needs very soft pressure to control the stream more efficiently.
---
From "E.C." (5/10):  "Firstly this is great news!  Secondly, DuPont has awesome customer service.
Back in December I had been thinking, "What's really the best way to clean my chain once using DuPont Chain Saver?"
Thinking that regular cleaners like Motul, Tirox, etc. may not be as effective as they could be for this kind of cleaning.
Thought emailing a company as big as DuPont would be a pointless endeavor, too big, too many people, too few who would care enough to actually respond.
Even if I got a response, I was expecting either an automatically generated email or a link to a page on their site with no real information.
Not the case at all!  There's a customer service guy there named Bill who is just awesome.
Got an after business hours response in less than 5 minutes, with real personalized pertinent information and incite.
It's nice to know that a company as big as DuPont realizes who it's biggest customer is: a nobody guy like me that spends less than $50 a year on their product. That everyone, no matter how small, matters.
Tirox, if you're reading this… learn from this!  Reply to my emails!  You have a great product, finish the job with some customer service!
I emailed Bill at DuPont tonight just to thank him again and express my enthusiasm to find their new products on shelves.
In awesome Bill at DuPont fashion, he replied to my email immediately and notified me that DuPont Motorcycle Degreaser will be available … nationwide. Should start showing up this week."
---
From "S.S." (5/24):  "I'm looking forward to another chain product from DuPont, as their Multi-Use Teflon spray is all I use on my chain after reading your review.
Perhaps because my Triumph Legend spends most all of its time on the street, my chain has never looked as bad as the one in your review!
In fact, the first several applications of the DuPont Teflon spray actually cleaned my chain up pretty well as a side effect, so I am assuming the vehicle that evaporates and leaves the wax residue must have some solvent qualities itself.
In any case, thanks for doing the field work on this product for us, and as always, thanks for such a great website!
Editor's Note:  I think you're correct — if you have a clean chain to begin with and use the DuPont Multi-Use spray, which dries and doesn't leave the sticky residue, you would most likely need far fewer complete chain cleanings. So count yourself lucky on that!
Other WebBikeWorld Chain Lube Posts