September 12, 2006 – Ducati announced today the Multistrada 1100 and Multistrada 1100S motorcycles.  The bikes feature a new 1078 cc engine, an increase from the 992 cc of the previous version.
The new engine has 95 HP (claimed) at 7,750 RPM and 76 ft. lbs. of torque at 4,750 RPM.  Both Multistradas also feature a wet clutch and the 1100 S features an Öhlins suspension.
Following is the Ducati press release:
The Ducati Multistrada 1100 and 1100S introduce a new generation of sport bikes, capable of excelling on every road you challenge with amazing sports performance, outstanding comfort and everyday-use versatility.
Ideal for a day in the mountains, the daily commute or a weekend tour, the Multistrada is aggressive like a sport bike when the road turns twisty, yet smooth and relaxed when scenery beckons.
For 2007, the Multistrada features a potent new 1100 Desmo engine with a quieter more robust 'wet' clutch, comfort enhancing vibration-isolated handlebars, and a new maintenance program that reduces costs by as much as 50% — the Multistrada's all-round performance is better than ever.
Developed on the winding mountain roads and city streets of Italy, the Multistrada is a real-world motorcycle for real-world riders, a dream come true, a high performance sports bike that doesn't compromise comfort, versatility or practicality.
The Multistrada breaks down all the barriers.  Its unique versatility is a matter of design.  On mountain roads its impressive cornering performance comes by way of Superbike-grade suspension, world-class brakes and the renowned Ducati Trellis frame.
For long journeys, the longer travel suspension smoothes the way, vibration isolated handlebars reduce fatigue and the relaxed riding position optimizes comfort for both rider and passenger.  In town the agile chassis, wide bars and broad power of the new 1100 engine make crossing busy city traffic an adventure to look forward to.
It is this extreme versatility and all-round performance that prompted US magazine Cycle World to nominate the Multistrada 'Best Sport Tourer'.
The Multistrada is available in two versions: The impressive Multistrada 1100 and, for those who demand the ultimate in sport performance, an all-conquering 'S' version, the Multistrada 1100 S.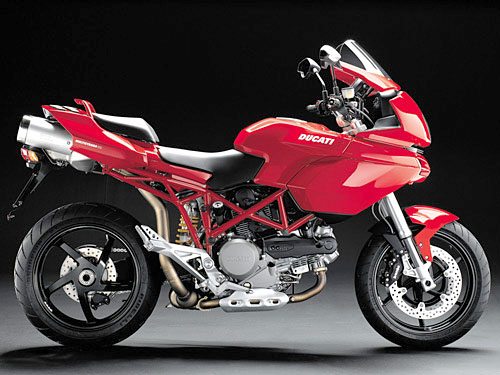 Multistrada 1100 
The new Multistrada 1100 widens the horizons of all those who are 'sport motorcyclists' at heart but still want a bike they can use seven days a week. Riding a Multistrada makes every road a thrill.  The punchy new 1100 Desmo L-Twin engine delivers smoother, more tractable power delivery and, coupled with a refined chassis, delivers confident handling and optimal comfort, even over long distances.The unmistakable Ducati Trellis frame combines with fully-adjustable suspension to adapt the bike to any road condition and every riding style, while rider comfort has been further improved with new vibration-isolated handlebars.
Superb road holding, a powerful new 1100 engine and all day comfort gives the versatile Multistrada a unique personality and character in true Ducati style.
The 1100 is the latest evolution of the Multistrada concept, introduced by Ducati at the start of 2003.  It contains all of the innovations that helped to make the model a true point of reference for a totally new market segment.
The characteristic two-part nose fairing, with a transparent screen that moves with the handlebars, allows better than average steering maneuverability.  The unique tank and seat assembly comes from a single molding and provides a fuel capacity of 20 liters; one of the innovations on the Multistrada 1100 is the inclusion of a fuel reserve sensor.  The joint action of the fuel level gauge and the new sensor guarantees a reliable and constant indication of the amount of fuel remaining in the tank at all times.
Two display management functions are new features on the 1100 model: trip fuel and auto 'light off' system.  The former is an additional trip meter that is activated when the fuel reserve light is on, while the latter is a feature that automatically switches off the lights after 60 seconds of key-on if the engine is not running.
Other style features of the Multistrada that remain unchanged on the 1100 version are the front headlight cluster, the single-sided aluminium swingarm, the tail section and the aggressive exhaust unit.
Like the rest of the 2007 range the Multistrada 1100 fully complies with EURO 3 exhaust emissions: the lambda probe inside the muffler unit combined with a three-way catalytic converter ensure maximum efficiency.  The function of the lambda probe is to detect the amount of oxygen present in exhaust gases and gauge the fuel mixture. In this way the oxygen concentration through the catalytic converter allows the correct chemical reaction and the three-way converter oxidizes the unburnt hydrocarbons and carbon monoxide and reduces the nitrogen oxides.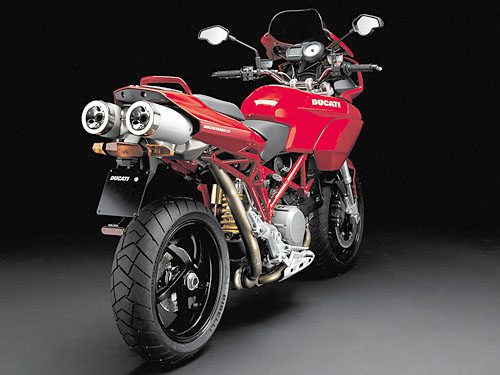 Chassis
The renowned Multistrada chassis remains unchanged, guaranteeing exceptional stability at speed, as well as fantastic agility through fast bends, thus allowing expert riders to find it easy to achieve blistering performance with the 1100.
The round tube Trellis frame is made from high quality steel (ALS 450) for maximum rigidity and precise directional control.
The fully adjustable suspension of the Multistrada 1100 features Marzocchi forks at the front with upside-down 43 mm stanchions.  Adjustments for hydraulic compression and rebound damping as well as spring preload are standard.
The Sachs rear monoshock is equipped with a practical hydraulic remote control to adjust spring preload, which operates through Ducati's rising rate linkages.
The Multistrada is equipped with an exceptional braking system; two 320 mm semi-floating discs at the front wheel with two 4-piston Brembo calipers, while rear stopping power is provided by one 245 mm disc with one Brembo 2-piston caliper.
Starting with Model Year 2007 the entire Multistrada family benefits from new vibration-isolated handlebars, which through a pair of silent blocks contained in the specially-designed steering head increases rider comfort.
Engine
The Multistrada 1100 receives a boost in cylinder size thanks to an evolution of the renowned Desmodue air-cooled twin-cylinder engine.  For this model the Ducati 1100 Dual Spark now has a displacement of 1078 cc, which offers truly powerful torque and extraordinary reliability.
The new engine benefits from a bore increase of 4 mm to 98 mm, vs. the 1000 Dual Spark's 94 mm. As a result the cylinder displacement is 1078 cc, a considerable increase on the 992 cc of the previous version.
This new engine now offers a power output of 95 HP at 7750 rpm and 10,5 Kgm of torque at 4750 rpm.  These superb values contribute to the bike's rideability and the powerful mid-range delivery of this modern air-cooled engine highlights the sporting character of the new Multistrada 1100.
The engine has been designed to comply with the Euro 3 norms while, at the same time, boosting performance.
Compact, powerful and acknowledged as the ultimate expression of the Ducati philosophy of air-cooled twin design, the new 1100 Dual Spark Desmo engine that equips the Multistrada family represents the result of decades of experience and a whole series of innovations that extend from the combustion chambers to the crankshaft.
The end result is a powerful engine that is particularly exuberant in the mid-range and generally acknowledged as the most advanced air-cooled L-twin ever designed. In addition to offering the significant advantages of an air-cooled power plant, the 1100 DS also draws inspiration from the advanced Testastretta racing engine, including the special casting techniques used to make the cylinder heads, the use of oil-pressurized plain bearings to support the camshafts, and the angles and configuration of the valves.
All this, plus the exclusive Dual Spark ignition, with its "double flame front", offers more complete combustion, while simultaneously boosting mid-range power and reducing emission levels.
A closer look at the 1100 DS engine reveals a reduced angle between the intake and exhaust valves, one of the basic principles with which the renowned Testastretta engine was designed, which allows for a more compact combustion chamber, reducing the volume and thus obtaining improved combustion.  The improved efficiency of the combustion chamber allows the engine to run on a leaner air/fuel mixture without compromising performance at high temperatures and significantly reduces emissions of hydrocarbons (HC).
The camshafts are supported on oil pressurized plain bearings, which reduce the overall dimensions, the weight, and the number of moving parts, while also improving heat dispersal.  The new configuration also puts the camshafts in a more direct relationship with the valves, reducing friction and stress on valve components and thus increasing reliability.
In fact, although the cylinder head is more compact, it allows more space for the intake and exhaust valves, these being 45 mm and 40 mm in diameter respectively.  Further innovations include valve seats made of beryllium bronze, a technologically advanced material that affords better heat dispersal and wear-resistance and thus maintains valve clearances more accurately over a longer period of time.
To guarantee high mid-range performance, the crankshaft, cylinders and pistons have been designed to obtain a bore and stroke value of 98 mm and 71.5 mm respectively.  The pistons are fitted with nitrided steel rings, which afford improved sealing and significantly reduce oil consumption.
The connecting rods are made from a new material composition (30NiCrMo4) that has exceptional flow characteristics during forging.  In cross section, the new rods are thinner side-to-side, but wider fore to aft, increasing strength and lowering weight for increased reliability and performance.
The crankshaft is of a more compact design and the oil passages have been strategically repositioned in areas less critical for its structural strength.  The result is a crankshaft that is more rigid and with less flex, making for less vibration and improved reliability.
The 1100 Dual Spark engine also features a new 'wet' clutch that has lighter lever effort, is quieter and more modular than a dry clutch and is characterized by having exceptional wear-resistance.
Thanks to an excellent compromise between performance, reliability, noise and lever effort, this clutch is ideal for sports riding and at the same time offers ensures a more progressive action and feel.
The overall look of the engine is characterized by injection-molded timing belt covers in black, high mechanical and thermal resistance plastic.  The engine covers are in a new dark grey color.
Starting with the entire 2007 range Ducati has introduced a new maintenance program in which servicing intervals have been extended, and less parts are required and fewer operations are performed, thus reducing the bike's overall running costs by up to 50%.
Multistrada 1100 S
Due to its world-class suspension and componentry level, this version is for those riders who demand the ultimate in sports performance.  It is based on the Multistrada 1100 but features a number of components derived from the Ducati Superbikes, including fully-adjustable Öhlins suspension and carbon fiber highlights.
The Multistrada 1100S is to all intents and purposes a production special, a bike that is capable of highlighting the sporting characteristics of a model whose winning feature is its versatility.
The 1100 features a number of racing components including a front mudguard and cam belt covers in carbon fiber, as well as exclusive variable-section alloy handlebars, which from this year are fitted with vibration isolator mounts.  The prestigious Öhlins suspension, derived from the Superbikes, bring clear benefits in terms of superior road handling as well as an exclusive quality look.
Chassis
The chassis is the same as the one that has always given the Ducati Multistrada its extreme versatility and all-round performance and the Multistrada 1100 S earns its 'S' status by adding sophisticated suspension and a sporting set-up to an already high performance motorcycle.  It provides true Superbike performance and is capable of lightning-quick cornering and extreme riding precision.
At the front 43mm Öhlins forks with low friction TiN fork sliders, adjustable in hydraulic compression, are complemented by a fully adjustable Öhlins rear shock with remote preload adjuster for Superbike-class road holding.
Colors
Multistrada 1100 – Red Fairing Red Frame Black Wheels.
Multistrada 1100S – Red or Black Fairing, Red or Black Frame, Red or Black Wheels (not mix and match).
Ducati Multistrada Apparel
Ducati is always on the lookout for a modern, exclusive look, an unmistakable style that identifies passion and history, as well as excellent quality materials.  For the new season Ducati decided to create a range of apparel that not only satisfies the numerous demands of Ducatisti but also becomes a strong personality symbol.  As a result the Ducati Multistrada apparel range has been created: essential sporting items that match all aspects of motorcycling with unique Italian wearability.
Motard Jacket
Jacket in tough elastic nylon with washable cow leather inserts, 100% breathable, provided with removable CE-approved protectors, hygienic and wear-resistant lining adjustable side fasteners and elastic shoulder and armhole inserts to improve overall movement.  Men's jacket only, available in black.  Sizes: 48 to 58.
"Made in Italy" Jersey and T-Shirt
Stylish merino wool jersey and long-sleeved cotton T-shirt with a 'Ducati Made in Italy' patch on the front and on the sleeve.  Green-red colour available only in Men's version.  Sizes: S to XXL.
2007 Ducati RX-7 Helmet
The RX-7 Ducati 07 helmet stands out for its safety details and classic Ducati design.  The new anatomical shape of the cap means that the helmet now has a more natural wearability.  The safety of the structure has been further improved by the use of new high-performance composite laminated fibers.  Dry-cool, an innovative new material, has been used for the inside of the helmet and is removable and washable; the CE-approved visor is heat-molded and the strap fastening is racing-type.  The internal ventilation system ensures comfort and safety in every weather condition.  Sizes: XS to XXL.
Motard Boots
Touring boots with imitation leather uppers, fitted with shinbone, shoe and malleolus area protections and soft inserts on the collar and the heel of the boot to help movement by increasing sensitivity.  The boot also has a rubber anti-slip sole, a rubber gear guard and an elastic side insert for comfort in the calf area.  The internal lining is in fine velvet.  Sizes: 39 to 45.
Multistrada MY07 Accessories
Multistrada is synonymous with versatility and dynamism, characteristics that once on the bike, become sheer riding pleasure.  The accessories that Ducati has created for this bike derive from the desire to highlight these qualities and at the same time to allow the rider to customize his Multistrada to bring it in line with his own specific demands.  From performance to comfort, the range of accessories available is extremely vast and will satisfy the most demanding of riders; those who want to accept the challenge of the open road or those who wish to let themselves be transported along their vacation itineraries.
Exhaust Kit
Homologated exhaust kit with cover in carbon, dedicated ECU and high-efficiency air filter.  For exclusive track use, it can be transformed into a racing exhaust; transformation however implies loss of homologation.
Hand Guards
Pair of hand-guards in polyurethane; their wide all-enveloping shape protects the rider's hands in every condition.
Carbon Rear Mudguard
Carbon rear mudguard with chain guard; this light mudguard offers protection and fits perfectly to the single-sided rear swingarm.
Passenger Seat Cover
Passenger seat cover in fiberglass; can easily replace the passenger seat cushion to give a more sporting, single-seater 'look' to the Multistrada.
Tank Bag
Bag and protective tank cover in PVC; a vital touring accessory thanks to its 12-litre capacity.
Panniers
Pair of red side panniers in rigid plastic; with a capacity of 34 litres, the side panniers have enough space for a full-face helmet.
GPS Satellite Navigation System
Satellite navigation system complete with mounting brackets and 'plug & play' cable.  With a wide range of accessories and useful navigation functions, this system is one of the most complete GPS car and bike navigation systems on the market today.
Technical Specifications – Ducati Multistrada 1100 and 1100S
Engine – L-twin cylinder, 2 valve per cylinder Desmodromic, air cooled
Displacement – 1078 cc
Bore x Stroke – 98x 71,5 mm
Compression Ratio – 10,5:1
Power – 95 HP – 70 kw @ 7750 rpm
Torque – 10.5 kgm – 102.9 Nm @ 4750 rpm
Fuel injection – Marelli electronic fuel injection, 45 mm throttle body
Exhaust – Single steel muffler and pre-silencer with catalytic converter and lambda probe
Emissions – Euro 3
Transmission
Cambio / Gearbox
6-speed
Rapporti / Ratio
1st 37/15, 2nd 30/17, 3rd 27/20, 4th 24/22, 5th 23/24, 6th 24/28
Primary drive – Straight cut gears, Ratio 1.84:1
Final drive – Chain; Front sprocket 15; Rear sprocket 42
Clutch – Wet multiplate with hydraulic control
Chassis
Frame – Tubular steel Trellis frame
Wheelbase – 1462 mm / 57.6 in
Rake – 24°
Steering angle – 35° right and left
Front suspension – 1100: Marzocchi 43 mm fully adjustable upside-down fork; 1100S:  Öhlins 43 mm fully adjustable upside-down fork with TiN
Front wheel travel – 465mm / 6.5 in
Front wheel – 6-spoke in light alloy 3.50 x 17
Front tire – 120/70 ZR 17
Rear suspension – 1100: Progressive linkage with fully adjustable Sachs monoshock; hydraulic remote pre-load control. Aluminium single-sided swingarm.  1100S: Progressive linkage with fully adjustable Öhlins monoshock; hydraulic remote pre-load control. Aluminium single-sided swingarm.
Rear wheel travel – 141mm / 5.6 in
Rear wheel – 5-spoke light alloy 5.50 x 17
Rear tire – 180/55 ZR 17
Front brake – 2 x 320 mm semi-floating discs, 4-piston, 2-pad caliper
Rear brake – 245 mm disc, 2-piston caliper
Fuel tank capacity – 20 l (of which 6.5 l reserve) / 5.3 US gal (of which 1.7 US gal reserve)
Dry weight – 196kg / 432 lbs
Seat height – 850mm / 33.5 in
Max height – 1340mm / 52.77 in
Max length – 2130mm / 83.9 in
Instruments
Speedometer, rev counter, clock, scheduled maintenance warning, warning light for low oil pressure, fuel level, oil temperature, fuel reserve, trip fuel, neutral, turn signals, average speed, average fuel consumption, remaining fuel meter, fuel injection diagnostic system, auto light off system, immobilizer
Warranty – 2 years unlimited mileage
Other WebBikeWorld Brands Posts