Ducati MotoGP Motorcycle
Back by popular demand!  The original photos of the Ducati Desmosedici MotoGP bike, now updated with the 2005 GP5 version!
Last year didn't evolve as planned for Ducati in MotoGP, but they have lots of hope for the new season.
Loris Capirossi and Carlos Checa have been testing the new Ducati GP5, most recently at the new track in Qatar.
The March 2005 test was the final one of the Ducati race team's winter schedule, and comes just a couple of weeks before the first of two official 2005 MotoGP championship tests scheduled for Barcelona on March 18-20.
Development work on the Ducati Demosedici GP5 is continuing non-stop and the Ducati Marlboro Team so far likes what they've seen after three scheduled days of testing at the new Losail circuit.
The circuit, which continues to offer little grip, is made up of a series of linked curves and requires high cornering speed: for this reason the Ducati Marlboro Team engineers focused mainly on the front end set-up of the bike.  Numerous tests were carried out with different suspension and front geometry settings.  Loris and Carlos also shared the work with the front race tyres brought by Bridgestone, each rider trying out several different types.
Loris Capirossi ended the first day of very windy testing in Qatar with a best time of 1:58.92 in his total of 45 laps (For comparison, the recent 2005 World Superbike opening day race at the Losail circuit saw Troy Corser set fastest lap with a 2:01:24).  "I have to admit that it wasn't bad for the first day of testing" commented the Italian rider.  "Today we concentrated on different suspension set-ups, in particular at the front of the bike.  The track is in virtually the same condition as it was during last year's GP and I hope that it will improve in the next couple of days".
Spanish rider Carlos Checa, who set pole position at this circuit in 2004, ended the first day of testing with a total of 65 laps to his name, the quickest being 1:59:14.  "I lapped pretty close to the time I set last year and as it was only the first day, I was quite pleased with that" declared Carlos at the end of the day.  "Today we did a lot of work on the front suspension and on my riding position.  In the afternoon the track had already improved from the morning, and hopefully this trend will continue for the next two days."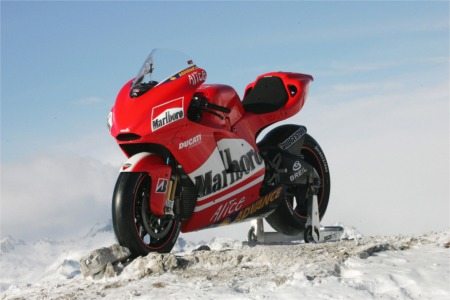 2005 Ducati GP5 MotoGP Race Bike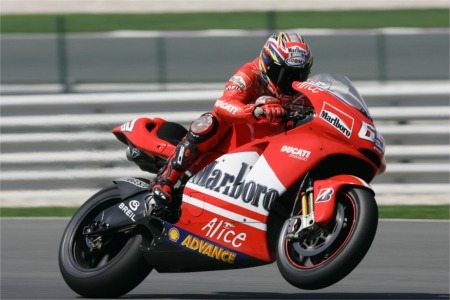 Loris Capirossi on the Ducati GP5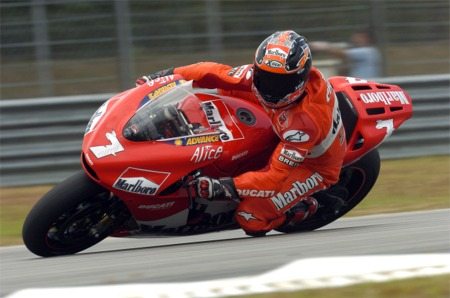 Carlos Checa on the 2005 Ducati GP5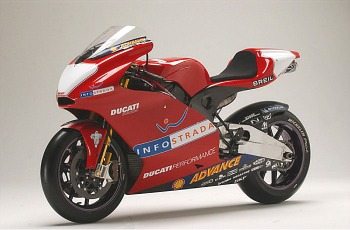 Photo of the original Ducati Desmosedici MotoGP motorcycle, released in 2003.
Other WebBikeWorld Brands Posts