DUCATI DIAVEL ON ITS WAY?
Ducati has been the target of many rumours in the past few months from a scrambler to running in the Open Class at the MotoGP. The last proved to be true, so the odds are stacked in favour of the latest rumour that the Italian company will this week unveil the 2015 Diavel. It's tipped to be a little more comfortable to ride, although it already feels like riding in a hammock, so i'm not sure how much more comfortable they can make the muscle bike. Speaking of muscle, it is claimed to be getting the dual-spark Testastretta 11 degree DS moto from the new Monster 1200, but packing an even greater power punch.
INDIAN 'TRIBE' ANNOUNCED AT DAYTONA?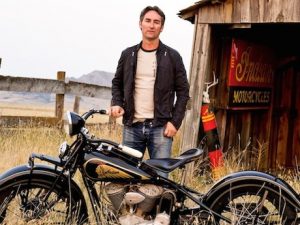 American Pickers TV star Mike Wolfe will play a major role for Indian Motorcycles at the Daytona Bike Week starting next weekend. The iconic manufacturer says Mike will make an "exclusive announcement" announcement at the Kick Start Party next Saturday. It's tipped that he will launch the first American branch of an Indian owners' group to match Harley's HOG. Indian Tribe is high on the list of suggestions and you can be assured the company will run it past Indian elders first as they did when naming their new Chief range. Mike will also be involved in several other parties and sessions for Indian Motorcycles.
RUSSIAN PRESIDENT'S BIKER GROUP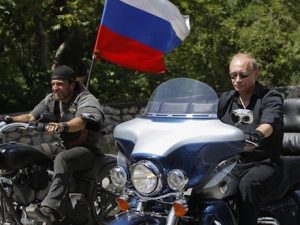 A riding group with close connections to Russian President Vladimir Putin is riding to the Ukraine to support pro-Russian protests against the new government and deliver "humanitarian aid" to protestors. Putin regularly rides his Harley with the so-called Night Wolves group and is a close friend of their leader Alexander Zaldostanov, nicknamed "The Surgeon".  Last year, Putin personally decorated Zaldostanov with a state honour after the group helped restore a monument symbolic of Soviet war heroism in the southern city of Volgograd.  In 2011, Putin led a column of the bikers on his Harley at a rally held on a former Soviet warship in the Russian Black Sea port city of Novorossiisk. The club's aim is to "spread Russian influence around the world".