Ducati Confirms Hypermotard Production
May 7, 2007: Final Hypermotard Specifications
The Hypermotard takes on urban canyons and mountain curves with total abandon. Its purpose is single-minded – to thrill.
The aggressive 'motard' styling and stance combine with Ducati Sportbike technology to deliver the best of both worlds.
With a riding position that ensures total control, the exceptionally slim and incredibly light Hypermotard is ready to dominate every inch of asphalt with big-bore acceleration and road holding that redefines the street experience.
High performance starts with attitude and the Hypermotard is the most aggressive of the Ducati family. Reduced to its essentials, it is extreme, untamed, over-the-top and always hungry for the next challenge.
It offers what no ordinary Supermotard can – speeds exceeding 125mph on the race track, fuel injection, and 90 Desmo hp – all combined in an unmistakable Ducati package that offers unbridled passion for motorcycles that are truly unique and exhilarating.
When first unveiled at the Milan International Motorcycle show in November 2005, the Hypermotard won instant praise. Just hours after its launch it was awarded "Best of Show" and motorcyclists the world over craved its arrival.
By taking the minimalist supermotard racing concept, then adding Ducati's unrivaled twin-cylinder power and Superbike heredity, the Hypermotard delivers a remarkable experience. The Hypermotard 1100 is extreme and thrilling to ride every day of the week. It turns familiar roads into an all-new heart-thumping experience.
Taking its attitude into the city or the mountains with street-wise confidence and no respect for conformity, the Hypermotard is ready for any challenge. Wide, tapered section handlebars transfer control of the tarmac to the rider and a full length seat eases fore and aft movement – up front when entering the turns, then slide back for maximum traction on exit.
A rigidly triangulated Trellis frame and track-tested chassis geometry is matched with state-of-the-art suspension. Start off with the road-holding prowess of huge 50mm Marzocchi forks, gripped by a triple screw lower fork crown.
These cartridge damper forks work as impressively as they look, with special high rigidity stainless steel sliders and external adjustability for compression and rebound damping, plus spring pre-load. The rear suspension performs with equal precision by using a fully adjustable ZF Sachs shock mounted to a robust single-sided swingarm.
The 'S' lightweight performance and extreme look is further enhanced with the liberal use of carbon fiber. The advanced composite is used for the fork protectors, timing belt covers, front fender rear section and tail side covers.
Ducati Hypermotard Video Courtesy MCN.
(may take some time to load).
Check out Ruben Xaus ripping the Hypermotard near the end!
Light Marchesini wheels mounted on large diameter axles are fitted with the latest Z-rated Bridgestone BT014 tires sporting a fat 180/55 section on the rear. Stopping power is controlled by twin radially mounted Brembo four piston calipers gripping new lightweight 305mm twin discs up front, and a 245mm disc at the rear to make stopping as thrilling as gassing it.
The new 1100 Desmo engine pumps out potent torque and horsepower. Twist the throttle and no matter the rpm, fuel injected power is at the rider's command. The lightweight, 90 degree Twin stands at the pinnacle of more than three decades of Desmo air-cooled development. One ride makes it clear why the 1100 engine has charmed journalists worldwide. This is the perfect motorcycle engine.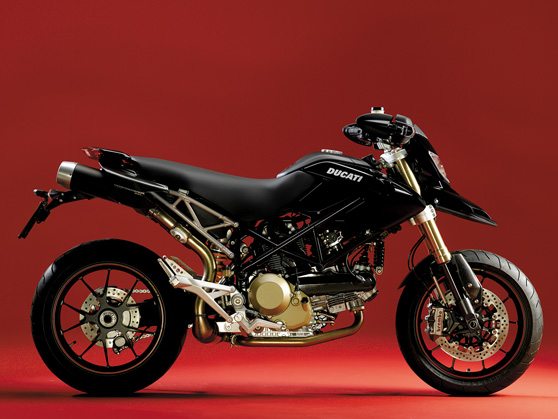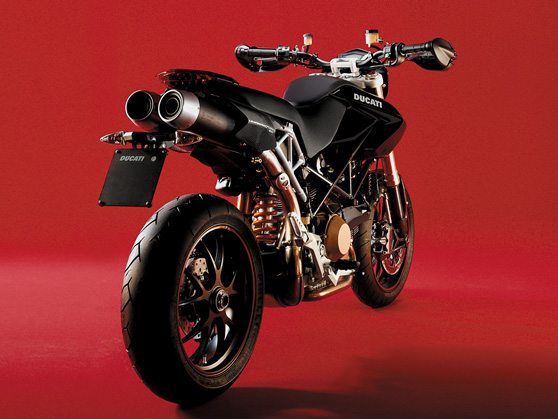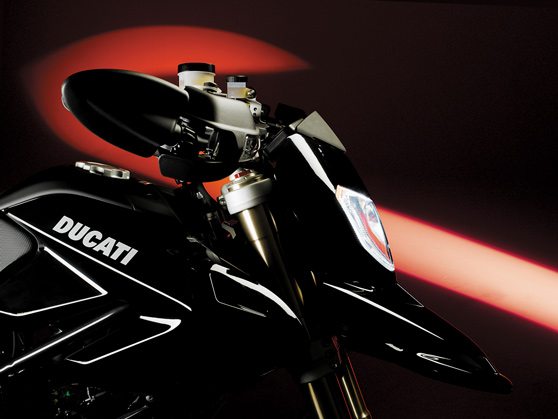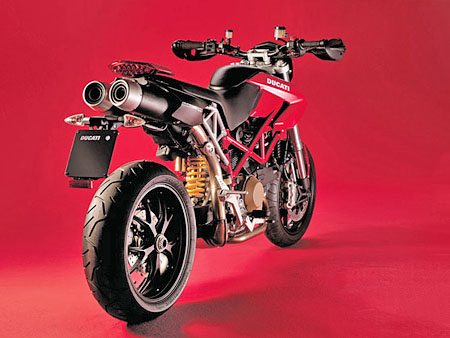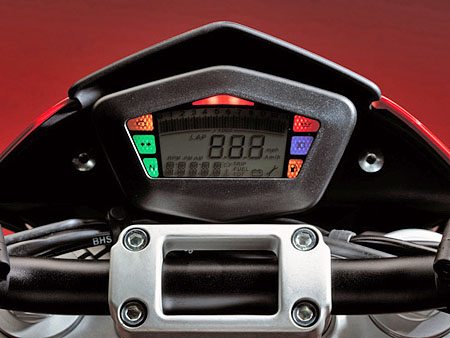 Instrumentation
The Hypermotard uses Desmosedici GP-styled digital instrumentation. This pure racing, minimalist solution has no switches or buttons to compromise its clean lines. Instead, additional information to the default read-outs is managed by the left handlebar-mounted switch gear, allowing the rider to scroll through and select various menus. The read-out presents rpm in a progressive bar graph and the speed numerically.
Looking clean and purposeful, the display provides an extensive amount of data including: speedometer, rev counter, clock, maintenance schedule, oil temperature, oil pressure warning light, battery voltage, fuel reserve warning light, reserve fuel trip, indicator light, neutral light, injection system diagnostics, lap time memory storage, automatic light-off function after 60 seconds with key on and immobilizer status. In addition, it can list lap times recorded by using the high-beam flash button as a stopwatch.
As the Hypermotard comes Ducati Data Analyser (DDA) ready, the instrument display also doubles as a control panel for the activation of the data acquisition system. The DDA memory key and software is available as a Ducati Performance accessory.
Handlebars and Controls
One glance down at the Hypermotard controls is enough for the rider to understand that this is no ordinary Ducati. While its motard feeling is enhanced by the minimalist layout, hand guards and tapered handlebars, the radial clutch and brake pumps with their remote reservoirs show its Superbike heritage.
The fully adjustable clutch and brake levers not only enable a comfortable setting for all riders, but the clutch also sports a considerably lighter lever action. This is partly because of the lever arrangement, but mainly because an increase in clutch plate friction coefficient has allowed a reduction in clutch spring pressure.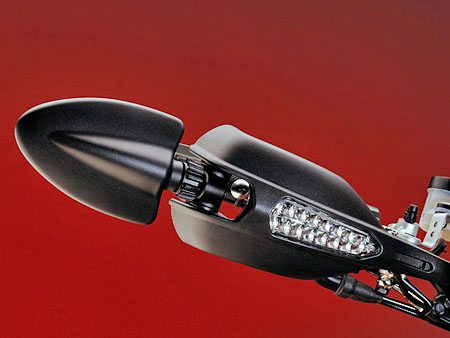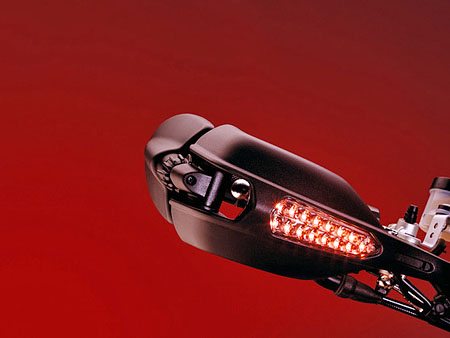 Once again, Ducati has pushed motorcycle design limits to find an innovative solution for the Hypermotard mirrors. With the challenge of maintaining a clean, racing look around the handlebar area, designers created a new folding mirror concept which is styled on the hand guards typically found on off-road bikes. Flipped out for high visibility street mode and easily folded in for a quick change to 'Hypermode', the mirror hand guard assemblies also integrate the LED directional indicators for an even cleaner front-end.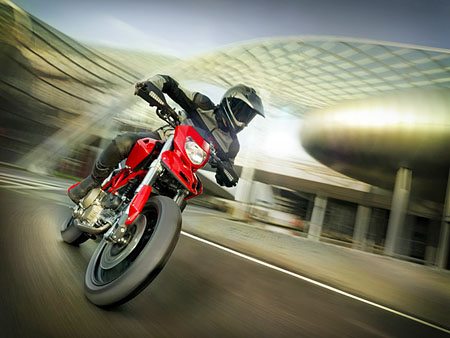 Footpegs
In order to offer the opportunity of maintaining a minimalist, no-compromise image, the Hypermotard's passenger footpegs are designed to be removable. This attention to detail enables a clean 'monoposto' look when on the track while allowing a fast and easy change to 'biposto' for the street. Furthermore, the rider's footpegs have a removable rubber insert so as to increase boot grip on the peg during extreme competition use by exposing the serrated metal edge.
Lighting and Indicators
While the headlamp introduces a new and highly compact lighting shape which blends with the single piece nose fairing and front fender molding, the rear light employs a specially designed strip of LEDs enhanced by a high diffusion lens shaped into the sleek lines of the tailpiece. The same LEDs are intensified under braking. The front directional indicators also employ the latest in LED technology for illumination, and are ingeniously integrated into the hand guards that also support the foldable rear view mirrors.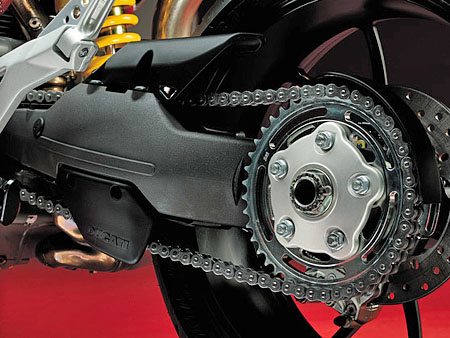 Tail Section
The high intensity LED rear light assembly is molded into a unique tailpiece positioned high behind the seat. The supporting structure has been designed so that the under part of the tailpiece is formed perfectly to offer a sturdy pair of pillion grab-handles. This ingenious solution not only helps to merge the rear light into the Hypermotard styling but also provides a safe grip for passengers.
Ducati Data Analyser (DDA)
With the purchase of the DDA, which includes PC software, a USB-ready data retrieval card and instructions, owners can review and analyze the performance of the Hypermotard and its rider, and make comparisons between various channels of information. The DDA is available from Ducati Performance Accessories.
Normally used on race bikes only, the system records numerous channels of data including throttle opening, vehicle speed, engine rpm, engine temperature, distance traveled, laps and lap times. The system also automatically calculates engine rpm and vehicle speed data so as to display gear selection as an additional channel of information. At the end of a ride or track session, up to 2MB (approximately 3.5 hours) of data can be downloaded to your PC ready to compare, analyze and get an inside view of the rider's and the Hypermotard's performance.
Data can be analyzed in graphic form with options to zoom into detail of specific sections. Dragging a trace along a timeline to reveal individual values of the above listed channels enables the user to analyze performance in the same way as data technicians in factory teams.
Exhaust System
The Hypermotard's 2-1-2 catalytic exhaust system with lambda probe is Euro 3 compliant. Its lightweight and compact design is achieved using 1mm thick tubing which terminates in Ducati's trademark twin under-seat, black exhaust mufflers, stylishly contrasted with great looking aluminum end caps.
Engine
The Hypermotard 1100 is powered by the incredible Ducati two-valve, air-cooled, Desmodromic Dual Spark engine, giving it outstanding power delivery, from grunting low RPMs to the singing howl at redline. The Hypermotard 1100 engine, which is an evolution of the Multistrada 1100 engine, flexes its muscles with a big 98mm bore and short 71.5mm stroke to make 90 horses and 76 pounds of torque.
In keeping with its extreme character, engineers chose the Ducati 'dry' racing-style clutch for the Hypermotard, the popular preference of thousands of Ducatisti the world over. Furthermore, the primary drive gears have been advanced with a new lightweight construction.
Power is optimized with fuel injected into 45mm throttle bodies and a 2-1-2 exhaust system that exits high behind the rear of the saddle. Two spark plugs per cylinder, Dual Spark, optimizes combustion temperatures and increases maximum power and torque throughout the rev range, enhancing reliability and reducing fuel consumption.
Compact and purposeful, the Desmo Twin engine's lightweight and narrow L-Twin layout, no wider than a single cylinder, ensures that the bike is lean and agile. The air-cooled design eliminates all the water radiators, hoses, valves, reservoirs and pumps, keeping the motorcycle's weight down to a minimum 390lbs (177kg) and its lines clean and race-like.
With more experience and success with twin-cylinder high performance engines than any other manufacturer in the modern era, the air-cooled L-Twin remains central to Ducati's philosophy of motorcycling. This experience, plus constant investment in quality by design, advanced materials and engineering techniques, has allowed Ducati to reduce the cost of scheduled maintenance by as much as 50%.
Hypermotard S
Adding 'S' to the Hypermotard takes the thrills and road holding to the highest level.
The outstanding Marzocchi 50mm forks of the 'S' include a durable low friction, DLC (diamond-like carbon) black coating to the sliders, making the Hypermotard 'S' respond effortlessly to every minute variation in the tarmac and improve its already impressive road holding.
The advanced 'S' suspension is further enhanced with an Öhlins remote reservoir rear shock, renowned in racing circles as the ultimate performance choice. This incredible shock is fully adjustable for compression and rebound damping and spring preload ensuring that the 'S' is readily adaptable to riding style and every road it challenges.
With a bike as capable as the Hypermotard 1100 S, superior stopping power is fundamental. By using the same Brembo Monobloc calipers first introduced to the world on the new 1098 Superbike, world class braking performance is assured. Each caliper is created from a single casting, as compared to the conventional two piece construction, to ensure rigid flex-free operation and a consistent solid 'feel' at the lever. And to ensure that the look of the calipers matches the 'S' personality, each is machine finished.
Professional racers know that one of the best ways to improve the handling and performance of a motorcycle is to reduce unsprung weight by upgrading to superior lightweight wheels. Even from a distance, the black Marchesini wheels with red pin-stripe confirm the 'S' performance of this Hypermotard.
Created from forged then machined alloy, both front and rear wheels are significantly lighter (2 kg less than the standard version) and create a lower moment of inertia and unsprung weight for improved handling and quicker steering.
Mounted to the wheels are new Z-rated Pirelli Diablo Corsa III tyres. Designed to deliver racing performance on the road, they warm up quickly, give great feedback, are stable under severe braking and feature dual compound construction on the rear.The Hypermotard 'S' – maximum performance, minimum weight, extreme attitude.
Color Scheme
Tank Frame Wheels
HYPERMOTARD 1100 Red/Red/Black
HYPERMOTARD 1100 S Red/Red/Black
---
Hypermotard On Sale in U.S.A. in July 2007
The Ducati Hypermotard is now in production and Ducati says they are scheduled to arrive in the dealer network in Europe in May (see photo below) and in the U.S. in July.
"The production schedule for this new model has been fully respected and the first bike came off the production line on 18 April.
The new Ducati Hypermotard 1100 bikes will arrive on the market in Ducati's official dealer network by the end of May.
In the rest of Europe the bikes will also be delivered at the end of May, while they are due to arrive in the USA and Australia in the month of July."
---
March 7, 2007 – Final Hypermotard Development Tests Completed
Development of the Ducati Hypermotard, which is to be launched in Ducati Stores all over the world from this May, is continuing with great success.
As announced in Milan during EICMA 2006, production of the motorcycle will begin during the next few weeks and final tests confirm that everything is progressing as scheduled.
The Hypermotard has generated enormous interest all over the world and Ducati is now channeling significant resources into this exciting new motorcycle so as to meet all expectations and fully satisfy the 'Ducatisti' eagerly awaiting its arrival.
In recent days a series of tests have been carried out at the Mores circuit in Sardinia by Vittoriano Guareschi, the official Ducati MotoGP Team test rider. His testing of pre-series prototypes has contributed greatly to the final set-up of the machine.
"The bike is fantastic!" Commented Guareschi immediately after a track session. "It's so much fun to ride that you lose all track of time, you never want to get off it. These tests have allowed us to define the set-up and make a few final modifications before going into production."
"Everything is on schedule and things really couldn't be better. I reckon the Hypermotard is the bike that was missing and I'm sure it'll be a great success. I've had a great time today, knee on the ground at every corner. The bike's just perfect, well balanced, smooth and, above all, a true Ducati."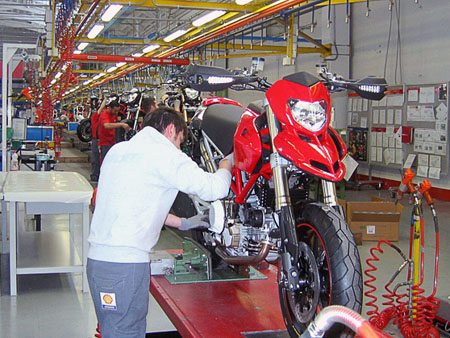 ---
Hypermotard 1100 and 1100S technical specifications now available (below)!
Ducati has decided to begin producing the Hypermotard. The announcement was made in the online "Desmoblog" by Federico Minoli. Ducati said that the response to the initial concept bike was overwhelming and they decided to move it into production as quickly as possible.
The Hypermotard was first seen at last November's EICMA trade show in Milan, and it received unanimous approval from both Ducati fans and the press. This was followed by awards and worldwide recognition – from both the media and from motorcycle design associations. The Ducati Hypermotard was awarded "Best of Show" during its debut at EICMA and "Best Bike for 2005" by the Motorcycle Design Association.
Federico Minoli, President and CEO of Ducati Motor Holding, said that he took it upon himself to personally follow the potential that this bike has shown among the Ducati Community. After a successful online survey, Minoli started an open debate about the Hypermotard on the Desmoblog and he received many positive suggestions in response.
Minoli wrote "Thanks to the capital increase, the enthusiasm shown by Ducatisti and the work done in research and development, we have decided to add the Ducati Hypermotard to our production schedule, without giving anything else up. We are also going to reduce the development time thanks to the work done while the bike was still a concept. I am therefore proud to announce that the Hypermotard will be available in a dealership near you in the Spring of 2007."
The Ducati Hypermotard is expected to have approximately 100 hp and weigh about 175 Kg (385 lbs).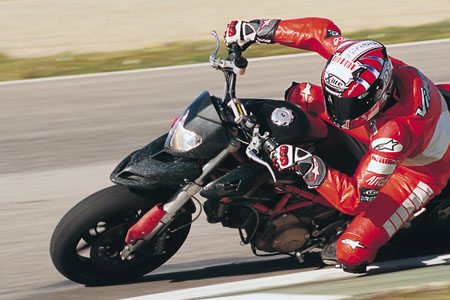 ---
Ducati has just announced the Hypermotard, an outrageous new motorcycle design that is an answer to the KTM 950 Supermoto, the bike that led the way in the ultra-motard class.
Ducati's Hypermotard released the following information at the beginning of the Milan motorcycle show:
The Hypermotard attacks urban canyons and carves up mountain passes with total abandon.
High performance starts with attitude. Stripped down to its essentials, the Hypermotard is an extreme performance, totally over-the-top motorcycle. Its purpose is single minded – to thrill.
Incredibly slim and exceptionally light, with a riding position to dominate, the Hypermotard is ready to rock every road.
Race styling makes the blood boil, but the Hypermotard offers what no other bike in its class can: speeds exceeding 220 KPH on the track, fuel injection, and big bore acceleration with more than 100 horsepower on only 175Kg of dry weight – the most extreme, mountain-conquering, urban-assaulting machine ever – from Ducati.
UPDATE:  Ducati Hypermotard Voted Motorcycle Design of the Year for 2005
Bologna, February 2006: The Motorcycle Design Association, a group of designers and professionals from within the two-wheel industry worldwide, has voted the Ducati Hypermotard, designed by Pierre Terblanche, as the best overall motorcycle design trophy winner for 2005.
This award follows on from the 'Best of Show' award that was given to the Hypermotard during the Eicma Show in Milan last November, one of the most important shows worldwide for the motorcycle sector.
In winning the best overall design award, the Hypermotard scored 50% more votes than the runner-up, the Yamaha MT-05.
The Design Trophy was awarded for the first time in September 2001; since then, every year, over 70 top professionals from the worldwide design sector are called upon to vote for the best motorcycle design. The jury, made up of designers as well as representatives of the press and the main motorcycle manufacturers, gather to chose the winners in five categories, and then nominate the Motorcycle Design Trophy for the best overall motorbike design.
The Ducati Hypermotard: On the Road
Bring on the curves, the bumps, and the unexpected. A rigidly triangulated Trellis frame and track-tested chassis geometry is matched with state-of-the-art suspension.
Start off with road-holding 50mm Marzocchi R.A.C. forks, gripped by a triple screw lower fork crown, then add an Ohlins remote reservoir shock that mounts to a stout, single-sided swing arm.
Ultra light forged and machined Marchesini racing wheels are paired with a single radial mounted Brembo four piston, four pad calliper gripping a 320mm disc up front and a 240mm disc at the rear.
Power
1000ccs of Desmo power. The 1000 Dual Spark engine pumps out torque and horsepower that is smooth and linear, because the roads that the Hypermotard seeks are neither smooth nor linear.
A slipper-type racing clutch makes aggressive downshifting and heavy braking more exciting by damping the abrupt selection of lower gears while entering a turn. Magnesium engine covers subtract more weight for a feathery feel and athletic maneuvers.
Rider Controls
A ride on the Hypermotard is road domination. The wide tapered section handlebars transfer control of the tarmac to the rider. Full-length seat design lets the rider move fore and aft, up-front entering the turns, back for maximum traction on exit.
The Hypermotard. Two wheels, one purpose. The most thrilling ride ever.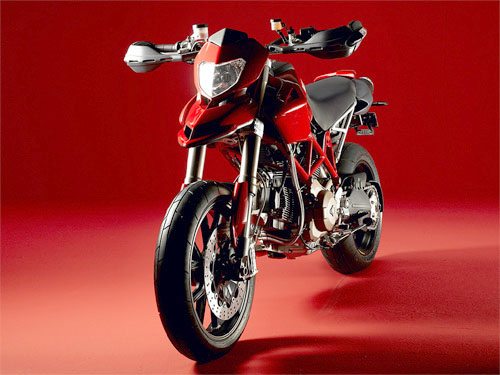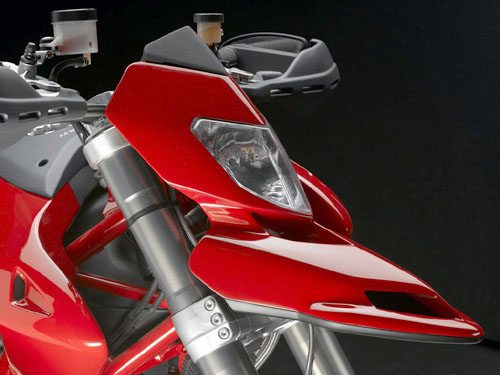 Specifications Table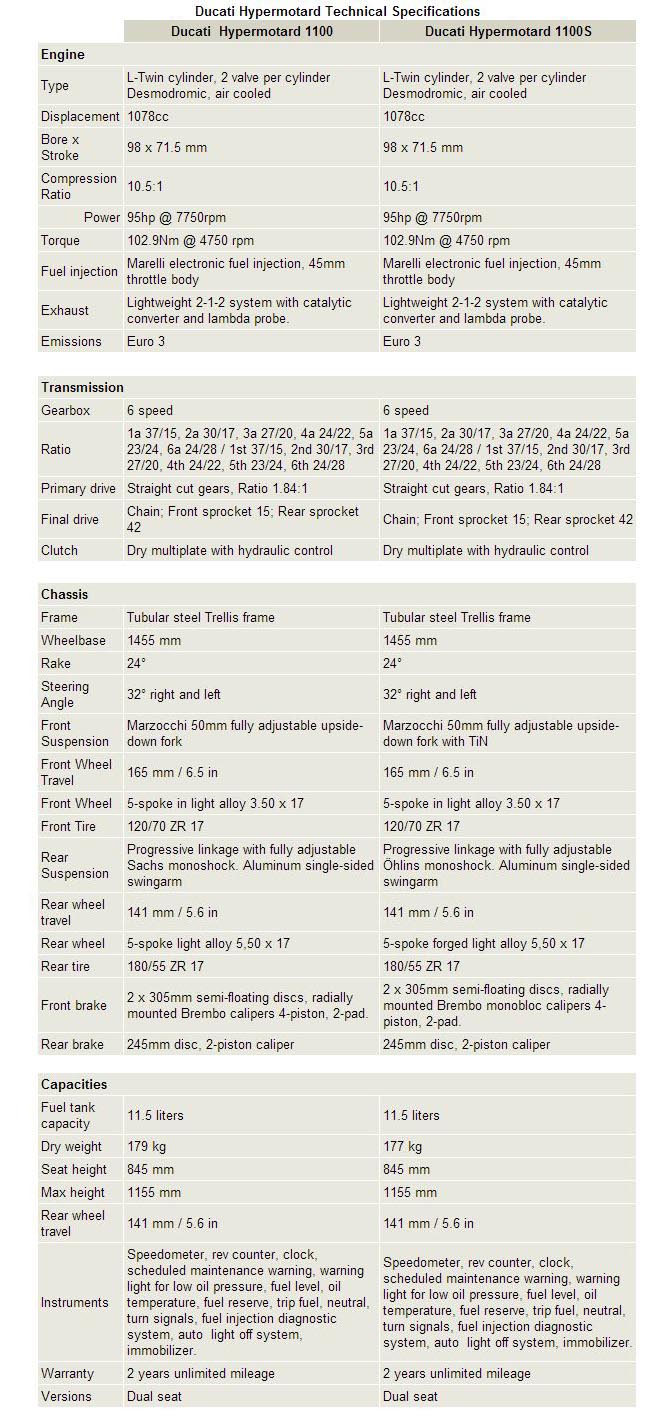 Ducati Hypermotard Apparel
The selected items that come from the Spring/Summer Ducati collection, meet the aggressive and essential look of the new Hypermotard. All garments in the Ducati collection are noted for the extreme care in details and craftsmanship of the products. Special focus has been placed on optimizing fit according to the different clothing type, be it men's or women's cut.
Motard Jacket
The 'Motard' jacket combines an aggressive look with a range of technical features. Made in high-strength nylon, with sections in washable cowhide (thickness 1.1-1.3mm) and comes with CE-approved composite protection on the shoulders and elbows. On the shoulders this external protection is thermoformed as in racing suits.
The inside has a fixed lining with anti-bacterial treatment, plus a removable micro down thermal lining.
Elastic inserts at the shoulder blades and arms ease arm movement, while reflective inserts on the sleeves and back increase safety during night riding. Numerous adjustments added to the cuffs in elasticized fabric grant additional comfort to this garment which is available in black/red, in men's sizes only. Sizes: 48 to 58
Motard Summer Jacket
The 'Motard Summer' jacket combines an aggressive look with a range of technical features. Made in high-strength nylon, with sections in washable cowhide (thickness 1.1-1.3mm) and comes with CE-approved composite protection on the shoulders and elbows. On the shoulders this external protection is thermoformed as in racing suits. The inside has a fixed lining with anti-bacterial treatment, plus a removable micro down thermal lining.
Fitted with a G2 back protector, the jacket also has elastic inserts on the shoulder blades and arms to ease arm movement, while reflective inserts on the sleeves and back increase safety during night riding. Numerous adjustments added to the cuffs in elasticized fabric grant additional comfort to this garment which is available only in men's sizes. Sizes: 48 to 58
Flag Pants
Produced in 1.1-1.3mm thick cowhide, 'Flag' pants have homologated composite protection on shins and knees and have sanitized fixed lining treated to guarantee hygiene and durability. They can be joined to some Ducati jackets by a zipper that wraps around the whole waist and comes with belt loops and elasticized fabrics inserts on calves to improve comfort and fit. Available with the same design in men's or women's fit. Sizes: men's 46-60, women's 40 to 50
Ducati Desmo Boots
Ducati Desmo boots by Puma come with high density rubber soles that provide stability, grip, and resistance to abrasion. The uppers are fitted with high abrasion resistant micro-fiber, specially developed for this style. It has a water-resistant zipper system, breathable fabric lining and flexible inserts at the heel and forefoot for easy instep and comfort.
There is considerable protection in these hi tech boots: internal nylon ankle bone protection, TPU shin plate impact protection, molded TPU heel area, toe and heel zinc sliders and pre-molded sock liner to absorb vibration. Colors black/red. Sizes 38-47
Ducati Flat2 Boots
The Ducati Flat2 boots by Puma come with titanium sliders and soles made of high abrasion resistant rubber to guarantee the best grip. The uppers are in high abrasion-resistant leather with a special water repellent treatment and come with rubber gear shift protector, inserted 3D molded nylon ankle protectors between upper and lining and a rubber shin plate to protect against impact. 360 degree ankle protection, consisting of TPU moldings and foam inserts, provide improved stability as well as lateral impact protection. Colors black/red. Sizes 38-47
Motard Gloves
'Motard' gloves, available in red, black, white and black, white and silver, are produced in cowhide and durable, elastic and breathable inserts in Dainese's special Stone fabric. The Motard gloves are multi-layer with carbon fiber composite on knuckles and soft inserts on knuckles and fingers. Elastic leather inserts on the back of the hand improve comfort and movement and pre-shaped palm and finger guarantee comfort and precision. Cowhide palm with abrasion-resistant reinforcements and soft pads distribute load during braking while perforated inserts on the back of the fingers increase ventilation to keep hands fresh. Sizes: S to XXL
"Company" Sweatshirt
The 'Company' sweatshirt is in 100% cotton and features a Ducati logo patch on the front and a long zip fastener. Men's sizes: S-XXL. Women's sizes: S-XL
"Company" Polo Shirt
The 'Company' polo shirt is in piquet 100% cotton and features a horizontal stripe with a Ducati logo patch on the front. Men's sizes: S-XXXL. Women's sizes: S-XL (in elastic cotton).
Ducati Hypermotard Accessories
For the new Ducati Hypermotard, numerous accessories that optimize both the aesthetic and mechanical aspects of the bike have been created. Following is a selection of the most important accessories.
Lightweight, high performance 2 into 1 racing exhaust kit – This complete system includes stainless steel 54mm manifolds and a carbon fiber and titanium silencer. Designed to capture the style and performance of the systems used on the World Supermotard circuit, the silencer is mounted high on the right side and the pipe layout increases ground clearance and allows even more extreme lean angles.
Moreover, the system is 7 kg (15+ lbs.) lighter. The silencer is equipped with a removable core for race track use, and comes with a matched ECU (engine control unit), and airbox cover to maximize performance. Also included is a set of new side panels to integrate the new system to the bike. Power is increased more than 6%.
Carbon fiber silencer kit — This 2 into 2 slip-on carbon fiber silencer with titanium end caps is homologated for road use and complies with EU noise and emission standards. Engine performance is optimized with the supplied dedicated racing ECU and air box cover.
Racing camshaft kit — Engineered to increase power at mid to high rpms. The camshaft power kit includes a dedicated ECU (engine control unit) to calibrate the fuel injection and ignition advance to maximise the power when combining these camshafts with the complete racing exhaust system (part no. 96450808B). Power is increased more than 10%.
Racing 'slipper' clutch — Complete light-alloy, hard-anodized racing clutch with titanium nuts and bolts for lightweight and superior strength. Specially designed for racing, it provides 'slipper' clutch benefits, reducing the destabilizing rear wheel 'lock-up' or 'chatter' phenomenon when downshifting agressively. Its lightweight yet durable construction saves 0.2 Kg (0.4 lbs.)
Adjustable steering damper — Traversally-mounted FG Gubellini aluminum steering damper kit comes complete with mounting kit. Featuring adjustable damping and a black finish, it improves stability and adds a confident feeling to your front end.
Teflon footpeg slider — Fitted to the underside of rider footpegs, they protect the pegs against wear, and act a an "early touch-down" warning sensor during extreme riding on the track.
Carbon fiber rear wheel hugger — Lightweight and functional, it includes an integrated chain guard and protects the rear suspension from dirt and debris in extreme conditions.
Carbon fiber tank cover — A lightweight replacement for the standard plastic cover, it enhances the Hypermotard's performance attitude.
Magnesium clutch-side inner case — Supplied with titanium screws, and finished in bronze colour, the kit looks great and adds lightweight performance.
Magnesium alternator cover — Supplied with titanium screws and finished in bronze colour, it includes a dedicated billet aluminium front sprocket cover, and saves a total of 0.4 Kg (.8 lbs).
Racing seat — With its special profile designed for a more forward supermotard riding position, the seat features advanced cushion foam, and a non-slip cover for increased comfort and control.
Ducati Data Analyser (DDA) — Records up to 2MB (3 hours) of data onto a special memory key ready for analysis with the supplied PC software via a USB port. Data channels include throttle position, speed, engine rpm, engine temperature, distance travelled, laps and lap times.
Note: For informational use only. All material and photographs are Copyright © webWorld International, LLC – 2000-2013. All rights reserved. See the webBikeWorld® Site Info page. NOTE: Product specifications, features and details may change or differ from our descriptions. Always check before purchasing. Read the Terms and Conditions!
Other WebBikeWorld Brands Posts