Ducati Announces the Hypermotard 796!
Ducati Previews the 2010 Hypermotard 796: The New Way to Go Hyper!
October 2009 – The Hypermotard family will expand for 2010 with the addition of the exciting new Hypermotard 796. Just as aggressively striking as the 1100, the new Hypermotard 796 features a lower seat height and brand new smooth and flexible engine to make it the perfect urban assault vehicle, according to the company.
"Whether it's working the daily commute or attacking the open roads, the 796 will ride the common ground between manners and madness by mixing Ducati's unrivalled twin-cylinder power and sportbike heredity with the lightweight and minimalist supermotard concept", said Ducati, in their press release announcement.
The Hypermotard 796 weighs in at a claimed 167 kg (368 lb), partly achieved by a lightweight engine, but also by continued chassis development that includes redesigned top and bottom fork clamps and an improved frame layout which eliminates almost all of the forged elements previously used with the 1100.
At 825 mm (32.5 in), the seat height of the 796 is a sure-footed 20 mm (0.8 in) lower than the 1100 and, when combined with the new engine's smooth power delivery, this Hypermotard inspires confidence however and wherever its ridden.
The completely new Ducati 796 engine, which conforms to Euro 3 regulations, produces 81hp (59.6kW) of power and 55.7 lb-ft (7.7 kg) of torque with the smooth and economic rideability expected from all Desmodue L-Twins.
The engine is equipped with an APTC 'wet' clutch to give a 'slipper' type action that prevents destabilization of the rear-end during aggressive down-shifting and also gives the extra benefit of a super-light feel at the lever, a great advantage in stop-start city traffic or during longer journeys. Let's just hope it's not the same ultra-sensitive, on/off APTC clutch used on the Multistrada 620!
The new Hypermotard 796 comes in an urban-style Dark finish with matte black tank and beak section, black frame and black wheels or, alternatively, matte white tank with contrasting matte black beak, black frame and black wheels. For the purists, an 1100 look-alike red tank with matching beak section, red frame and black wheels gives the 796 a traditional livery.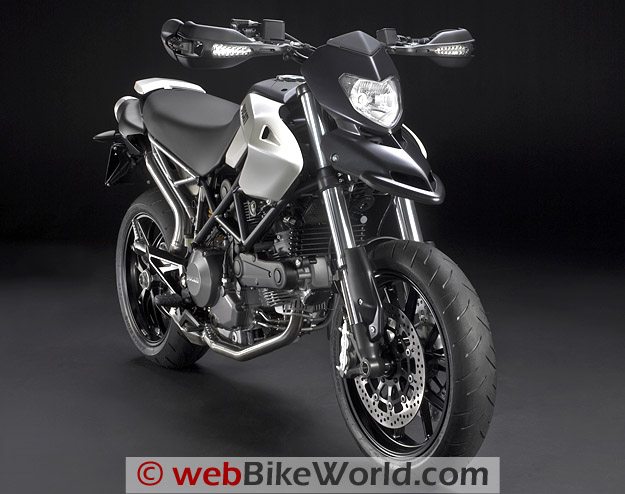 Ducati Hypermotard 796: Details
Hours after its first showing at the 2005 Milan International Motorcycle show, the Hypermotard was awarded "Best of Show" and became an instant hit in Italy, where motorcycles are as much a lifestyle choice as they are transportation.
Since then, its out-of-the-ordinary design went on to win converts around the world and the praise and admiration for this unique bike has never stopped – and neither has its development. The thrilling, street-wise Hypermotard range with L-Twin acceleration and pavement-attacking style is now extended with the hyper-agile 796 – the new way to go Hyper.
Urban Upstart
The Hypermotard's rigidly triangulated and now lighter than ever Trellis frame and track-tested chassis geometry is still stylized by a distinct high fender at the front and dual under-seat silencers at the rear, but the new 796's overall profile says it all: Go Hyper!
At 825 mm (32.5 in), the seat height of the 796 is a sure-footed 20 mm (0.8 in) lower than the 1100 and, when combined with the new engine's smooth power delivery, this Hypermotard inspires confidence however and wherever its ridden. The upright seating position offers a commanding view of the road ahead, while the wide handlebars make the bike effortlessly flickable through the urban maze.
The 796 weighs in at just 167 kg (368 lb), partly achieved by a lightweight engine, but also by continued chassis development that includes redesigned top and bottom fork clamps and an improved frame layout which eliminates almost all of the forged elements previously used with the 1100.
The lightened frame retains its torsional strength to become even more agile and easier to handle than before, while 17" wheels by Enkei are produced in lightweight aluminum to keep the unsprung weight low and handling, braking and acceleration performances high. The same 3.50 front and 5.50 rear rim sizes as the 1100 are used with Bridgestone tires.
Suspension duties up front are taken care of by a pair of very capable 43mm Marzocchi forks, while the rear is managed by a Sachs suspension unit featuring adjustable spring preload and return damping, allowing adjustments for riding style or load. The rear operates through a similar progressive link to the 1100 and uses the signature Hypermotard single-sided swingarm.
Twin 305mm semi-floating discs gripped by radially mounted 4-piston Brembo calipers provide powerful and progressive front-end braking with that all-important rider-friendly 'feeling', while the rear is equipped with a 245mm disc and 2-piston caliper, also by Brembo.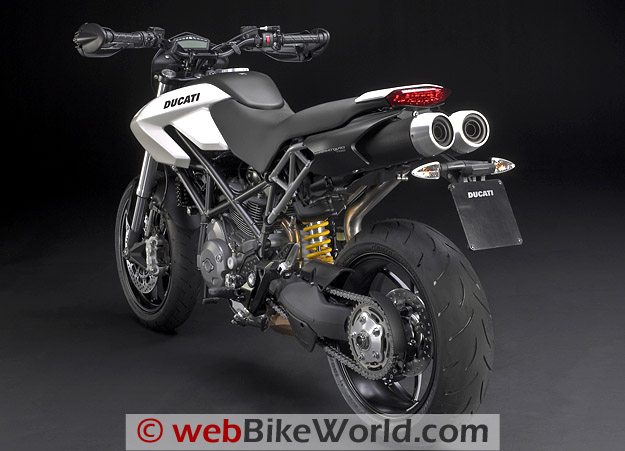 A Brand New Ducati Engine
The 796 engine isn't just a 'stroked' 696 – it's a completely brand new Desmodue power unit. A new crankshaft designed around lightweight 848-type flywheels, spin with a 66 mm stroke instead of the 696's 57.2 mm, helping to maximize power to an impressive 81 hp (59.6 kW) @ 8000 rpm and torque to 55.7 lb-ft (75.5 Nm) @ 6250 rpm while maintaining the smooth and enjoyable character, famous of all Desmodromic L-Twins.
To protect power delivery and maintain optimum efficiency, an oil cooler similar to the 1100 is used, adding even more family resemblance to its bigger brother.
Helping to increase the Hypermotard 796's agility even further, the fully redesigned crankcases save an incredible 1.2 kg (2.64 lb) over the 696 castings, and are responsible for the major part of the impressive 1.9 kg (4.2 lb) total saving over the 696 power unit. The clutch and alternator outer casings of the new engine are finished in an 1100-style carbon grey.
Breathing through a newly-revised airbox intake duct and fed through 45 mm throttle bodies, the 803 cc swept volume is compressed to a ratio of 11:1 – compared to the 696's 10.7:1 – before being injected and ignited with Siemens controlled electronics.
The 2-1-2 catalytic exhaust system uses an efficient pre-silencer configuration with twin lambda probes providing finer fuel mapping and Euro 3 conformity. The system's lightweight and compact design is achieved by using 1mm thick tubing and terminates in Ducati's trademark twin under-seat, black exhaust mufflers, stylishly contrasted with great looking aluminum end caps.
An APTC 'wet' clutch gives a 'slipper' type action that prevents destabilizing of the rear-end under aggressive down-shifting and also gives the extra benefit of a super-light feel at the lever, a great benefit in stop-start city traffic or during longer journeys. The 21-plate oil-bath clutch (11 friction and 10 steel) represents a power-enhancing weight reduction over the 'dry' system as well as having a quieter operation and requiring less maintenance.
The new Hypermotard 796 engine combines all recent advances in Ducati's ongoing design, manufacture and production quality campaigns to offer competitive service intervals of 12,000 kilometres (or 7,500 miles).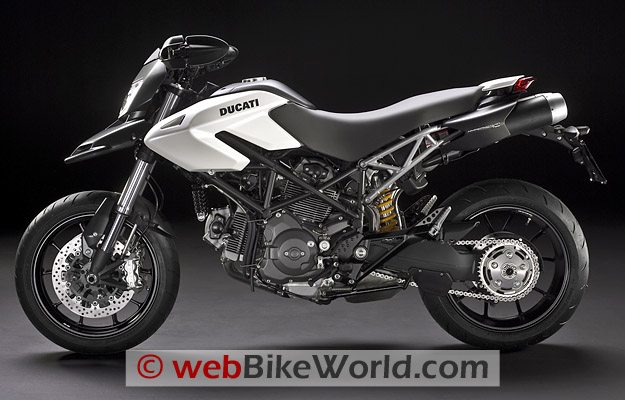 Controls and Instrumentation
While its motard feeling is enhanced by wide bars and handguards, the 796's minimalist image is further characterized with the orange back-lit Streetfighter-style digital instrumentation and switchgear.
The slim-line switch bodies house easy-to-use switches and buttons and feature a unique weapons-like 'trigger catch' that slides down to cover the starter button when the kill-switch is activated.
Looking clean and purposeful, the display provides an extensive amount of data including: speed, revs, time, maintenance schedule, oil temperature, oil pressure warning light, battery voltage, fuel reserve warning light, reserve fuel trip, turn indicator light, neutral light, lap time memory storage, automatic light-off function after 60 seconds with the key on and immobilizer status. In addition, it can list lap times recorded by using the high-beam flash button as a stopwatch.
The instrument display also doubles as a control panel for the activation of the Ducati Data Analyzer (DDA) system, which is available as an accessory from Ducati Performance. The 796 has been built 'system-ready' for the data acquisition kit, which consists of a special DDA software and memory key that slots into a plug under the seat. T he same plug also doubles as the connection for a handy new battery charger available as an accessory from Ducati Performance.
Integral construction Brembo master cylinders are used for both the clutch and brake systems and maintain a clean handlebar arrangement for the rider. They are fitted with user-friendly 4-point adjustable levers that provide easy-to-reach control for all hand sizes and the APTC clutch offers a super-light lever action ideal for use in the city.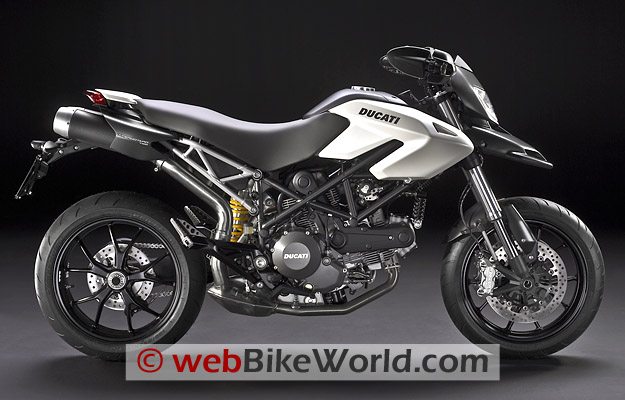 Ducati pushed motorcycle design limits to find an innovative solution for the Hypermotard 1100 mirrors and this has been maintained on the new 796.
The challenge of maintaining a clean, racing look around the handlebar area, motivated the design of the folding mirror concept which is based on the hand guards typically found on off-road bikes. Flipped out for high visibility street mode and easily folded in for a quick change to 'Hypermode', the mirror hand guard assemblies also integrate the LED directional indicators for an even cleaner front-end.
Lighting and Indicators
The headlamp uses a highly compact lighting shape which blends with the single piece nose fairing and front fender molding, while the rear light employs a specially designed strip of LEDs enhanced by a high diffusion lens shaped into the sleek lines of the tailpiece.
The same LEDs are intensified under braking. The front directional indicators also employ the latest in LED technology for illumination, and are ingeniously integrated into the hand guards which support the foldable rear view mirrors.
Tail Section
The high intensity LED rear light assembly is molded into a unique tailpiece positioned high behind the seat. The supporting structure has been designed so that the under tray of the tailpiece is formed perfectly to offer a sturdy pair of pillion grab-handles. This ingenious solution not only helps to merge the rear light into the Hypermotard styling but also provides a safe grip for the passenger.
796 in Three Colors
The new 796 comes in an urban-style Dark finish with matte black tank and beak section, black frame and black wheels or, alternatively, matte white tank with contrasting matte black beak, black frame and black wheels. For the purists, an 1100 look-alike red tank with matching beak section, red frame and black wheels keeps the 796 in traditional livery.
The Hypermotard Story
When the prototype Hypermotard was first shown at the Milan show it represented the creation of a new segment, one that bridged the gap between refined sport bikes and minimalist supermotards. But some at Ducati had reservations about the initial Hypermotard concept and were unsure whether or not the market was ready for such a motorcycle.
Despite those reservations, the project continued to be developed, driven by the belief in the upright and in-control riding position of a dirt bike, but not the harsh characteristics of its single cylinder engine.
These confident few liked the feel of a skinny, taut and agile chassis, but not the fact that its original off-road design made it a compromise on the street. They set about creating a bike that combined the agility and lightweight precision of a supermotard, with the refined power characteristics of a charismatic L-Twin Ducati sportbike. They were designing the future.
As each day went past, more and more people in the factory got to hear about the completed bike and those who had the chance to catch sight of it all responded in the same way: "Wow! We're going to produce it, right?"  There was one way to gauge market response: show it at the 2005 Milan show as a prototype and conduct an online survey.
Ducati presented the prototype Hypermotard as its centerpiece that year and their confidence was rewarded with a global 'yes!' from the public, the 'Best of Show' award, and demands from riders all over the world to produce it immediately.
In fact, a staggering 15,000 people completed the Ducati.com survey, with more than 50% asking for the Hypermotard to be built exactly as shown at the show. But Ducati were serious when they asked the public for their feed-back and took time to sift through thousands of additional suggestions and requests, such as twin front brake discs instead of the prototype's single, and integrated many of them into the final production design.
The innovative Hypermotard spawned a new and exciting 'cross-over' category that had reinvented pure riding pleasure with a practical and versatile motorcycle that could be used every day. Riders hungry for excitement immediately understood the concept and have been enjoying it ever since.

Shell Advance Video of the Ducati Hypermotard 796 Engine
Quick Glance History  of the Ducati Hypermotard
November 2005:  Prototype Hypermotard 1100 shown at Milan International Motorcycle Show. Awarded 'Best of Show'.

November 2006:  Production Hypermotard 1100 and 1100 S launched at Milan International Motorcycle show.

May 2007:  Hypermotard 1100 and 1100 S were launched to the press and at the same time arrived in showrooms as an early release model year 2008.

November 2008:  Model year 2009 Hypermotard 1100 updated with an additional color option of pearl white. Hypermotard 1100 S with an additional color option of black and DDA kit supplied as standard equipment. The Hypermotard 1100 S takes victory at Pike's Peak International Hill Climb, Colorado (1200cc category).

October 2009:  "Hypermotard" family expands with the release of new model year 2010 Hypermotard 796.
Hypermotard 796 Accessories
Carbon Fiber Silencer Kit:  2 into 2 carbon silencer kit with titanium end caps. This dual silencer system is homologated for road use, and includes a dedicated ECU and air filter cover.

Carbon Fiber Fuel Tank Cover:  The carbon fiber fuel tank cover enhances the sleek style of the bike. Its visual impact is immediate, adding a bold personalized touch to the bike.

Carbon Fiber Number Plate Holder:  Designed for the back of the Hypermotard, this carbon fiber license plate holder comes complete with plate light and the necessary components to reposition the rear indicators.

Carbon Fiber Low Front Mudguard:  This low, front mudguard in carbon fiber gives the Hypermotard an even more aggressive appearance.

Carbon Fiber Rear Mudguard With Chain Guard:  The rear mudguard in carbon fiber comes with a chain guard that adds to the sporty yet clean lines of the Hypermotard.

Carbon Fiber Front Sprocket Cover Frame:  The carbon sprocket cover frame provides protection and gives the lower part of the bike a stylish edge.

Lower Seat:  Lower, comfortable seat. The specific shape and padding made of foam materials in varying densities ensures a high level of comfort.

Slider for Foot Peg:  Teflon slider that can be fitted under foot peg to protect it against rubbing on asphalt during the most demanding bends.

Anodized Billet Aluminum Oil Filler Plug:  Red. The anodized billet aluminum oil filler plug adds an eye-catching touch to the bike.
 New Ducati Apparel to Match the Hypermotard 796
Fighter Textile Jacket
Made of D-Stone fabric, the Fighter jacket combines the comfort of textile with the resistance of leather. The jacket, both abrasion and tear-resistant, offers composite protectors on the elbows and shoulders, the option to insert the G2 back protector (attached by a zipper in the lumbar area) and thermo-formed, aluminum-enhanced external shoulder protection, in order to guarantee maximum safety.
The bi-axial elastic inserts allow total freedom of movement without compromising the safety or durability of the garment.
Ducati clothing is distinguished by its personalization, conceived and created with attention to detail; in this case, white on black renders the Fighter jacket unique and the new Ducati logo stands out on the left shoulder.
Attention to detail is also apparent on the inside of the jacket, which is lined with nylon treated with antimicrobial SaniTyze, guaranteeing comfort, hygiene and prolonged resistance. The jacket is also fitted with adjustable side zippers and a zipper to allow for attachment to leather pants.
Ducati Leather Trousers
These black leather pants, with composite protections on the shins and knees, are ideal for touring and offer a compromise between comfort and protection. Practicality is ensured by the adjustable waist and the elasticized fabric inserts in the crotch. Topped with a jacket-to-pants zipper attachment, the pants are also available for women.
Dark Full-Face Helmet
This full face helmet combines elegance with optimum levels of quality and safety. In matt black, the red Ducati logo stands out boldly on the front; a stylish design in keeping with the rest of the 2010 collection.
The impact that the dark helmet creates aesthetically is only enhanced by the numerous hi-tech features. The front and rear air vents, protected by a metal grill, for example, as well as the outer fiberglass shell that guarantees total impact-resistance, yet is lightweight and comfortable, thanks to the hybrid multiple density foam EPS liner and hypoallergenic, sweat-proof fabric used on the inside.
Motard Helmet
The Motard helmet boasts both a captivating design and advanced technical characteristics, and can be used in three different configurations: with peak and visor, peak only or visor only.
The outer fiberglass shell guarantees is lightweight but extremely resistant while the inside is composed of a hybrid multiple density foam EPS liner with a hypoallergenic, sweat-proof fabric to offers optimum comfort.
Ventilation is ensured with two vents at the front, twin rear outlet s and lateral vents. In addition, there is the possibility to adjust the angle of the peak, depending on riding requirements and, thanks to a double system that allows for peak and visor adjustment, there is full movement of the visor even when the peak is mounted. The padded neck roll helps to reduce turbulence and wind noise and the padded chin strap, which ensures the best fit, can be removed for cleaning.
Company Gloves
The Company gloves have fully ventilated polyurethane protections on the knuckles to ensure breathability, while the black color with red detailing gives the product a stylish edge. Elasticity is guaranteed as the gloves are made of neoprene and feature bi-axial elastic inserts. With carbon protections and leather reinforcement on the palm, the gloves are a great compromise between optimum safety and style.
Desmo Racing Boots
The high-density rubber soles guarantee stability, grip and abrasion-resistance; the uppers are formed from an extremely abrasion-resistant microfiber which has been specifically developed for this model.
The zip fastener is waterproof and the fabric lining highly breathable. They are easy to put on and extremely comfortable due to the flexible inserts on the heels and toes, the preformed rubber insert on the mid calf Velcro strap provides extra grip against the bike.
Particular attention is paid to safety with internal nylon ankle protections, TPU shin impact protections, preformed TPU support and additional TPU sliders to protect the leg as well as galvanized sliders on the toes and heels. Available in sizes 38 to 47.
Ducati Super Ride Boots
The Super Ride boots combine comfort and safety. Featuring microfiber PU uppers which are abrasion-resistant, soft, stitched inserts, Velcro fastening and shin protectors, they are perfect for all types of road trip. The anti-slip rubber soles and various protections complete these hi-tech boots.
Company Jeans
The Company jeans, in 100% cotton, are ideal for everyday wear. The color, lightly faded on the hips and seat, and the tone-on-tone Ducati stamp on the rear pocket, give the piece added style. Comfortable and lightweight, these jeans combine practicality and fashionable design. A version for women and children is also available.
Color Bands Hooded Sweatshirt
The Color Bands sweatshirt is a versatile garment, suitable for all occasions. 100% cotton, this sweatshirt features red Ducati script against a grey background, as well as a hood with a multicolor lining. A zip fastener and two handy pockets complete the garment.
Color Bands Polo
The Color Bands polo shirt is the ideal garment for young, cool style-lovers. Made of a mixture of cotton and elastane for a slimmer, more comfortable fit.
More:  wBWDucati Page
Ducati Hypermotard 796 Specifications

Engine
Type
L-Twin cylinder, 2 valve per cylinder Desmodromic, air cooled.
Displacement
803cc
Compression Ratio
11:1
*Power
81hp (59.6kW) @ 8000rpm
*Torque
55.7lb-ft – 7.7kgm @ 6250rpm
Fuel injection
Siemens electronic fuel injection, 45mm throttle body
Exhaust
Lightweight 2-1-2 system with catalytic converter with twin lambda probes.
Emissions
Euro 3
Transmission
Gearbox
6 speed
Ratio
1=32/13  2=30/18  3=28/21  4=26/23  5=22/22  6=24/26
Primary drive
Straight cut gears, Ratio 1.85:1
Final drive
Chain, Front sprocket 15, Rear sprocket 41
Clutch
APTC wet multi-plate with hydraulic control
Chassis
Frame
Tubular steel Trellis frame
Wheelbase
1455mm
Rake
24°
Total steering lock
70°
Front suspension
Marzocchi 43mm usd forks
Front wheel travel
165mm (6.5in)
Front wheel
5-spoke in light alloy 3.50×17
Front tire
120/70 ZR17
Rear suspension
Progressive linkage with adjustable Sachs monoshock. Aluminum single-sided swingarm
Rear wheel travel
141mm (5.6in)
Rear wheel
5-spoke light alloy 5,50×17
Rear tire
180/55 ZR17
Front brake
2 x 305mm semi-floating discs, radially mounted Brembo calipers 4-piston, 2-pad.
Rear brake
245mm disc, 2-piston caliper
Fuel tank capacity
12,4l – 3.3 gallon (US)
**Dry weight
167kg (368lb)
Seat height
825mm
Max height
1155mm
Max length
2120mm
Instruments
Speedometer, rev counter, clock, maintenance schedule, oil temperature, oil pressure warning light, battery voltage, fuel reserve warning light, trip fuel, indicator light, neutral light, injection system diagnostics, lap time memory storage, automatic light-off function after 60 secs key-on, immobilizer. The instrument panel menu functions are controlled from the left-hand switchgear. Ready for DDA system.
Warranty
2 years unlimited mileage
Versions
Dual seat
** The weight excludes battery, lubricants and coolant for liquid cooled models.
Note:
 For informational use only. All material and photographs are Copyright © webWorld International, LLC since 2000. All rights reserved. See the webBikeWorld® 
Site Info page
. Product specifications, features and details may change or differ from our descriptions. Always check before purchasing. Read the
Terms and Conditions
!
Owner Comments and Feedback
Other WebBikeWorld Brands Posts