An Italian Design Collaboration
Ducati's 2021 gear line will include a Jacket with a smart airbag system to keep you safe in the event of a crash! Their 2021 gear line included a few re-branded items including racing suits, helmets, and jackets, in addition to some general apparel items.
The Smart Airbag jacket in particular is something I want to bring focus to though, as in my opinion, it was the highlight of the entire lineup release.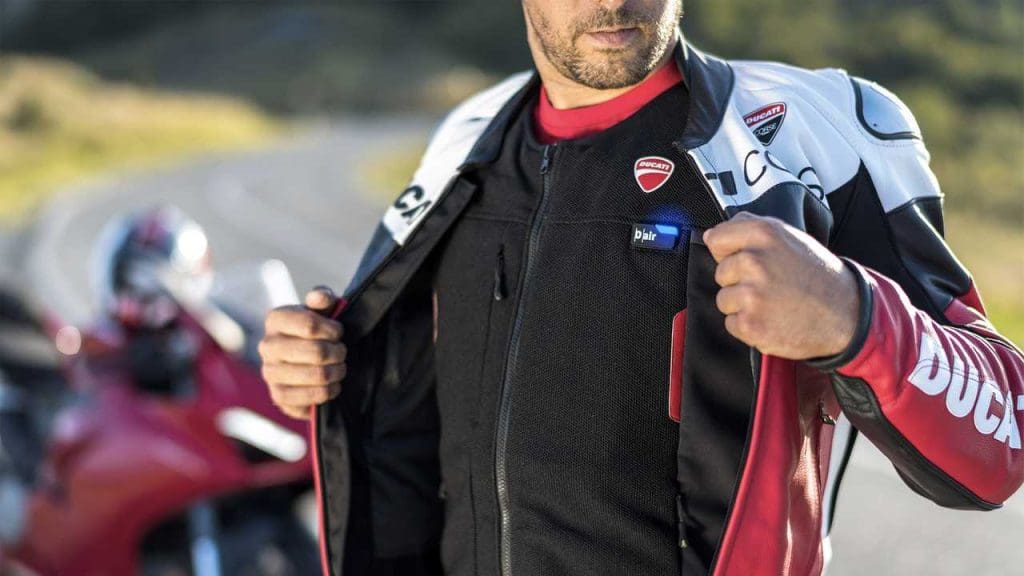 Unfortunately, it's not like Ducati decided to put their money where their mouth is and commit to the full R&D required for making a crash-safety jacket. This new airbag jacket is just a Dainese D-Air Smart Jacket rebranded with Ducati colors, materials, and logos. Ducati riders love to match their bikes to their gear though, so at least this gives a more specific option for riders to gravitate towards when picking out a smart jacket.
Ducati's evolution of the D-Air Smart Jacket has brought us red trimming and liner and a higher neckline packaged into a mesh exterior to keep the jacket cool and lightweight (an airbag system tends to add a few pounds). This jacket is aimed to be used in addition to your current jacket to double the level of safety you will be equipped with when venturing out into the unknown. Put on this Ducati Smart Jacket and throw your regular padded one over top – easy!
There is no pricing or availability released by Ducati as of yet, so be sure to stay tuned of this is an item you need to complete your Ducati riding kit!