Ducati 999 The New 999
The new 999 Testastretta is the most advanced, highest performance Ducati Superbike yet. Hailed by the press as the best V-twin ever built, our goal here in Bologna was to create a Superbike of stunning design and performance that improved rider ergonomics, simplified maintenance, reduced motorcycle complexity and boosted horsepower.
Aerodynamics, mechanical and electronic components, chassis and running gear were developed first, styling followed.
The result is a 999 that is quicker, slipperier and frankly, sexier than ever – a real race machine that epitomizes the best of Ducati's high performance tradition, but pushes that heritage fast into the future. The new 999: the Superbike formula that has dominated the sport for over a decade reigns.
More:  500×375 popup photo of the new 999 in red  | 500×375 popup photo of the new 999 in black
Design
Two years after the launch of the first 999 models, Ducati decided it was time to update production bikes with all of the features and technological improvements developed during racetrack testing. The new 999 now features an innovative aluminum alloy two-sided box-section rear swing-arm, a true replica of the one used on the 999 Factory race bike.
Handling has been enhanced with a more favorable weight/rigidity ratio. Other key modifications include: a wider and higher nose fairing (upper air intakes have been sealed) that provides better rider aerodynamics and a raised Plexiglas windscreen for better wind protection.
All-new Terblend NNG02 polymer plastic fairings lower overall weight by 1 Kg. The turn indicators have been incorporated into the mirrors, which are spaced further apart, to improve aerodynamics and complement the motorcycle's clean lines.
Testastretta
The 999 Testastretta engine produces incredible linear and tractable power delivery, pumping out 140 HP at 9750 rpm and 11.1 kgm at 8000 RPM.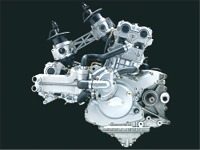 The name "Testastretta", or "narrow head", comes from its cylinder heads that have a steep, included valve angle of only 25 degrees. Flat top pistons are the optimal choice for efficient combustion because they create the best environment for a smooth and linear combustion flame front.
This allows a very compact combustion chamber and enables the use of flat top pistons while still having a high compression ratio. The new Testastretta engine, developed on the racetrack during years of competition training, has a stroke of 63.5 mm and a 100 mm bore. This short stroke lowers the average speed of the piston resulting in a higher rpm redline, maximum performance, and improved reliability.
Ergonomics
An adjustable riding position allows for optimum ergonomics, performance, handling, and control on the road and the racetrack. Fitting the 999 to individual rider size is accomplished with adjustable foot-pegs and adjustable rake, suspension and a seat/tank combination on the single-seat version with 20 mm of fore and aft travel. A well-loaded front end ensures manageable and precise control, at the same time taking the weight off the rider's wrists. The 999 is equipped with radial master cylinders with built-in reservoirs offering a wider steering angle for easier city riding.
TECHNICAL SPECIFICATIONS
Brakes
The Superbike Brembo braking system consists of twin 320 mm steel front brake discs set in a more outward position for improved cooling and a steel 240 mm diameter rear brake disc. The front brake "triple bridge" calipers are rigid for incredible stopping power and feature four 34 mm pistons and four individual sintered brake pads. The radial front brake and clutch levers are adjustable for better ergonomics.
Suspension
The 999 features a fully adjustable suspension system. Upside-down 43 mm Showa forks with low friction TiN treatment and a Showa rear shock provide a smooth ride on all road and track conditions.
Wheels
The 999 utilizes lightweight, five spoke, Y-shaped Brembo/Marchesini wheels.
Swingarm
The 999 now features an innovative aluminium alloy two-sided box-section rear swing-arm, a true replica of the one used on the 999 Factory race bike.
Exhaust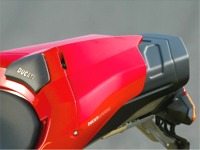 The exhaust system's innovative asymmetrical layout and the high-volume single-muffler result in significant torque at the middle of the rev range. The 999 complies with Euro 2 standards.
Frame
The 999's highly advanced trellis frame, constructed of mitered and welded high-strength steel tubing, ensures precise handling and stability for a consistent and predictable ride.
Instrument Panel
The Ducati 999 utilizes an incredibly advanced instrumentation panel. Composed of a circular tachometer with a backlit, classic, white dial and LCD panel, it indicates engine coolant temperature, speed, odometer, battery voltage, air temperature, fuel consumption, code-based diagnostics and signals for 200 and 100 rpm before redline. The panel also indicates time, routine service interval and anti-theft system status.
ENGINE
Type
L twin cylinder, 4 valve Testastretta Desmodromic, liquid cooled
Displacement
998 cc
Bore and stroke
100 x 63.5 mm
Compression Ratio
11.4:1
Power
103 kW – 140 HP @ 9750 rpm
Torque
109 Nm – 11.1 Kgm @ 8000 rpm
Fuel injection
Marelli Electronic Fuel Injection, 54 mm throttle body
Exhaust
Single steel muffler, with catalytic converter
Emissions
Euro 2
TRANSMISSION
Gearbox
6-speed
Ratio
1a 37/15, 2a 30/17, 3a 28/20, 4a 26/22,5a 24/23, 6a 23/24
Primary Drive
Straight cut gears; Ratio 1.84
Final Drive
Chain; Front sprocket 15; Rear sprocket 36
Clutch
Dry multiplate with hydraulic control
CHASSIS
Frame
Tubular steel trellis frame
Wheelbase
55.9 in / 1420 mm
Rake
23.5°- 24.5°
Steering angle
28.5° right and left
Front Suspension
Showa 43mm fully adjustable upside-down fork with TiN
Front Wheel travel
4.9 in / 125 mm
Front Wheel
5 spoke Y light alloy 3.50 x 17
Front Tyre
120/70 ZR 17
Rear Suspension
Progressive linkage with fully adjustable Showa monoshock
Rear Wheel travel
5.0 in / 128mm
Rear Wheel
5 spoke Y light alloy 5.50 x 17
Rear Tyre
190/50 ZR 17
Front Brake
2 x 320 mm semi-floating discs, 4-piston 4-pad caliper
Rear Brake
240 mm disc, 2-piston caliper
Fuel Capacity
15,5 l (of which 3 l reserve) 4.1US gal (of which 0.8 US gal reserve)
Dry Weight
410 lbs./ 186 Kg
Seat height
30.7 in / 780 mm
Max Height
43.7 in / 1110 mm
Max Length
82.5 in / 2095 mm
Instruments
Speedometer, rev counter, high beam indicator,turn signals, warning light for low oil pressure, fuel reserve, neutral, water temperature, immobilizer
Warranty
2 years unlimited mileage
Versions
One – two seats
Other WebBikeWorld News Posts