2012 Ducati 1199 Panigale
Ducati 1199 Panigale Photos From EICMA
November 8, 2011 – Just by coincidence, I entered the 2011 EICMA show for the first time this morning right in the same building as the Ducati display.
The new 1199 Panigale was there in its standard and "S" versions. Funny thing — the Ducati staff were rather downplaying the intro. Normally, a brand-new bike of this stature would have some sort of high-tech display arrangement, but the bikes were scattered across the floor with just two rotating displays with the requisite females posing nearby.
Howzit Look?
Anyway, I'd like to say that the bike's looks totally knocked me out…but I can't in all honesty. Yes, it looks great — no two ways about it. But I don't see a complete revolution here; it looks more or less like you'd expect for a modern Ducati of 21st Century vintage.
I think the Panigale also looks bigger "in the flesh" than in photos. I've seen photos of the bike with a rider on board and it looks like he's sitting on a 125 or something. But close up, it seems to have about what I'd expect for modern sportbike dimensions and proportions.
The headlights and tail lights look good and a bit different, but I just can't help thinking that the rest of the bike looks pretty much as I'd expected for any new Ducati superbike/sportbike designed in 2011. I daresay the couple-year-old KTM RC8 looks more revolutionary to me than the Ducati.
About That Engine…
What does knock me out is the Superquadro engine. I guess I'm an engine geek, but the super-oversquare bore/stroke is just amazing — truly Formula 1 territory. Finally, after all this time, the desmodromic valve train proves its merit and its worth — I doubt the engine could push valves with the kind of forces they'll get in the Superquadro if they were powered by mere springs.
Is it useful for the street? Probably not. Of course, I'm just an armchair speculator at this point — as is just about everyone outside the Ducati engineering team. But the hard, cold truth is…it's hard to believe anyone would need this kind of technology for street riding.
Yet, on the other hand…people buy Ferraris for the street, right? Although you can get there in a Kia just with just as much comfort (probably more). Just like you can get there on my DR650 (blog) and, I daresay, with more comfort and less anxiety (and much lower insurance bills!) instead of a Panigale…
Finally: A Real Job for Desmodromic Valves
It's ironic that the desmo system was first developed because spring technology and metallurgy weren't up to the task of high-speed valvetrain action. But those old-fashioned springs quickly came up to speed, as it were, and for a variety of reasons (mostly having to do with tradition in the same sense that H-D keeps the V-twin), Ducati and desmo were forever entwined.
Now, here we are close to 100 years later and the valves in the Superquadro are moving too fast for current valve spring technology and metallurgy, so we need a desmodromic system to prevent float. I think that's pretty cool! Can't wait to hear the Superquadro at full song… More on the Superquadro engine here, with info, photos and a video walk-around.
OK, here are some photos, followed by a video walk-around. More info, photos and the original press release can be found below on this page also.
Ducati 1199 Panigale Photos and Video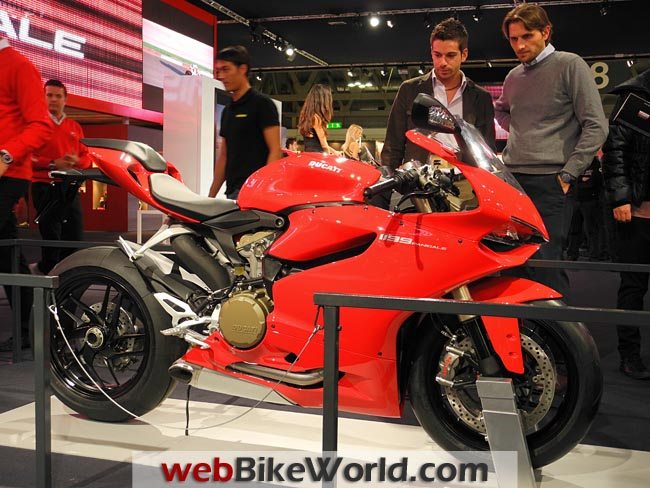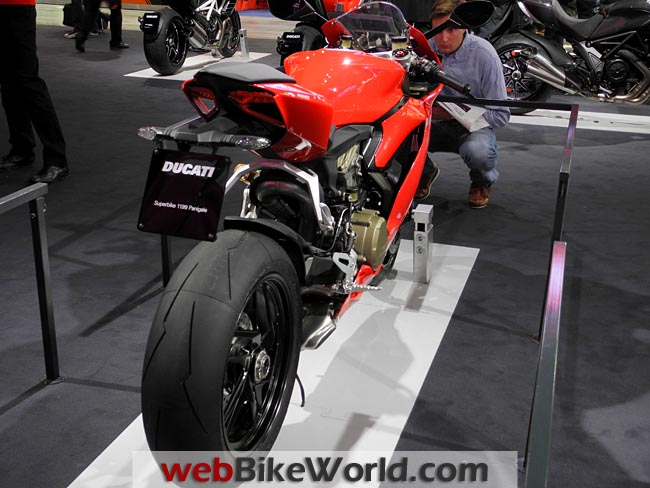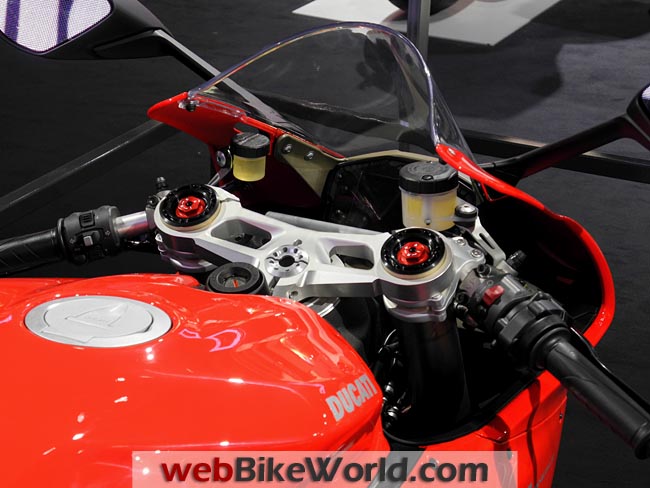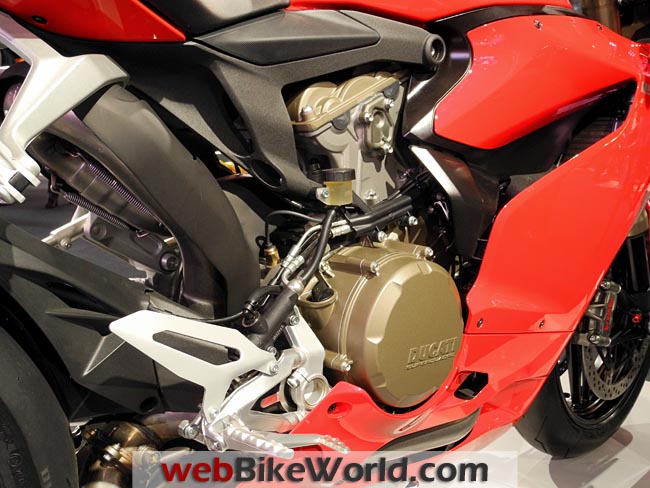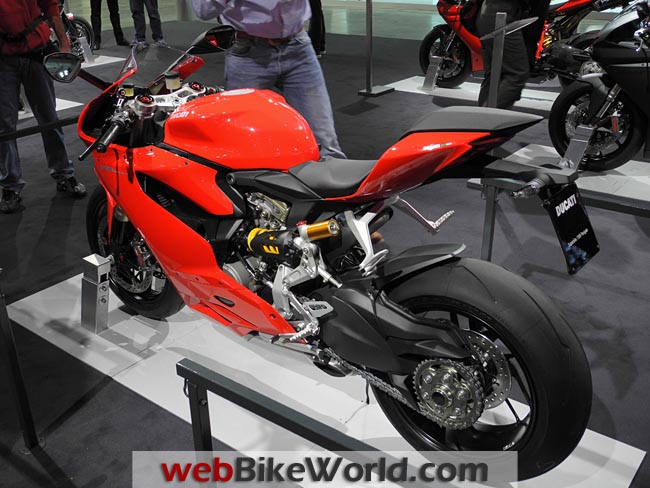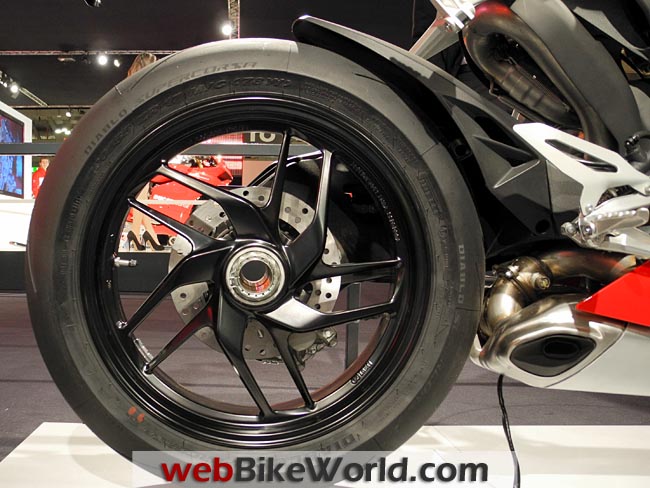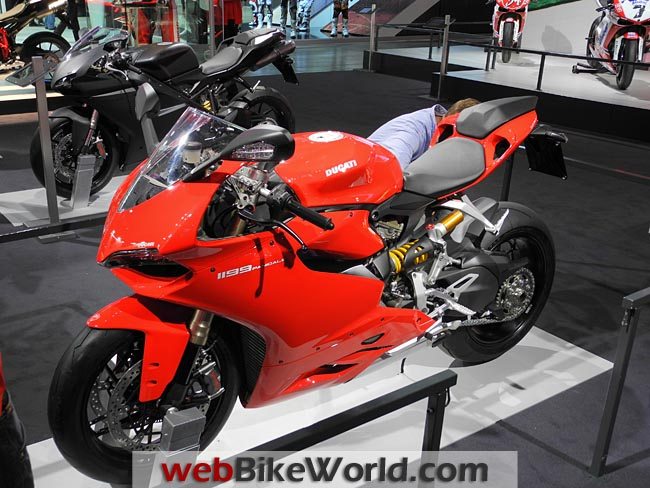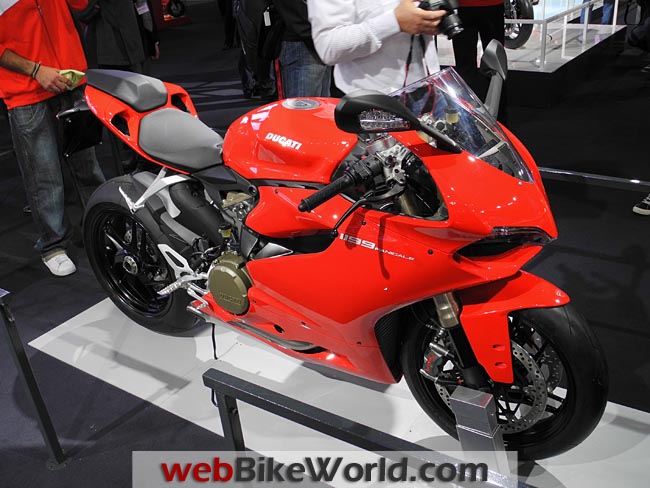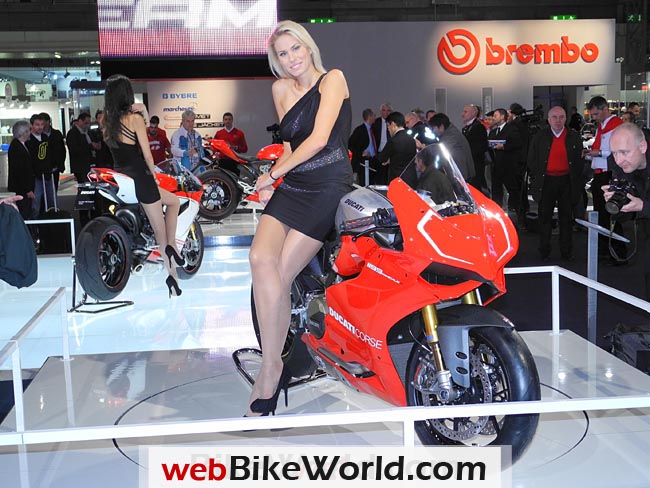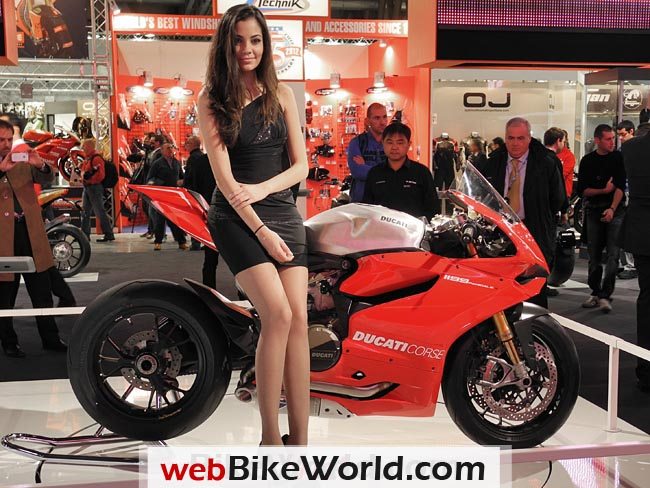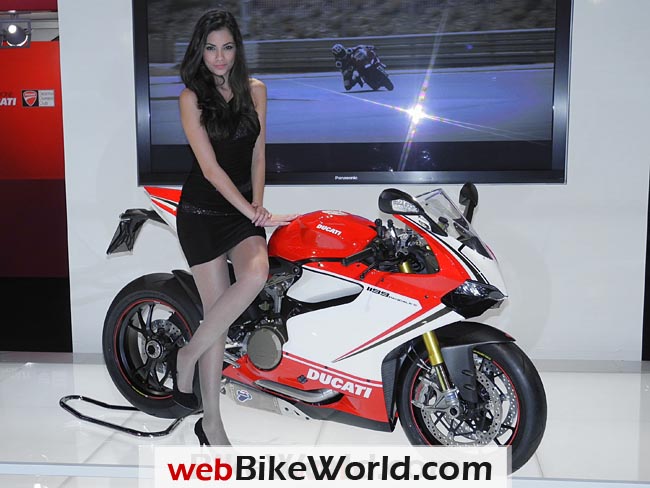 More: Ducati Superquadro Engine: Info, Photos and Video
w

BW

 Video: Ducati 1199 Panigale
w
BW

 Video: Ducati 1199 Panigale Instrument Cluster Demonstration
2012 Ducati 1199 Panigale Preview
November 7, 2011 – Ducati will have the new 1199 Panigale on display at the EICMA show tomorrow, but in the meantime, here is an edited version of the initial press release.
Ducati has unveiled the long-awaited 1199 Panigale Superbike alongside its entire 2012 range at the 2011 EICMA show in Milan (Rho), Italy.
Ducati announced sales of appproximately 42,000 motorcycles in 2011, which generated revenues of €480 million, a 20% increase over the previous year.
Ducati Motor Holding General Manager, Claudio Domenicali, proceeded to release the details of the 2012 models with particular focus on the 1199 Panigale.
"Throughout our long and successful twin-cylinder history of racing, Ducati has never built a sportbike as advanced as the 1199 Panigale," said Claudio Domenicali during his presentation.
"We are moving into a new generation with a 'revolution' of the species that establishes new limits for the category. Its Desmodromic heart, the new Superquadro engine (see below), is the most powerful twin-cylinder ever produced and represents the base of a new concept of frame and engine integration".
"This concept enables the 1199 Panigale a dry weight of just 164 kg and gives it a riding sensation that is closer than ever to a full race bike. With revised ergonomics, full Ride-by-Wire engine management and enhanced systems of ABS and traction control, we have controlled the beast within the 1199 Panigale so that the full emotion of this motorcycle can be enjoyed easily and safely."
Indeed, the 2012 Ducati Superbike family marks the official introduction of the ground-breaking 1199 Panigale, 1199 Panigale S and flagship 1199 Panigale S Tricolore and opens a new chapter in the company's iconic Superbike history.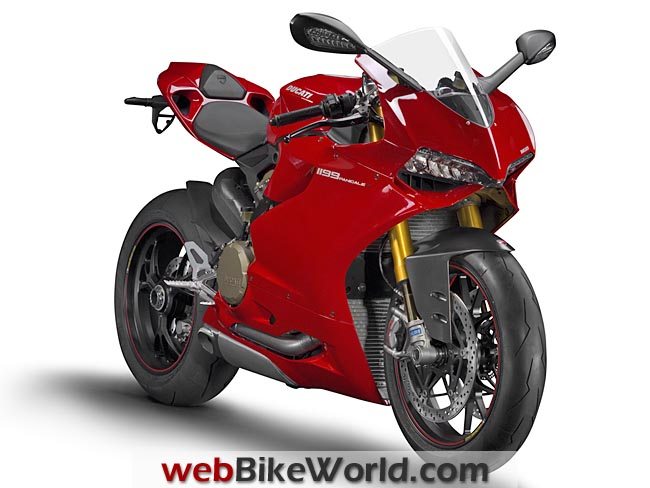 Available early in 2012, Ducati's new generation Superbike, goes beyond the barriers of motorcycle design and engineering to set the most extreme benchmark ever and the direction for future sport bikes. Developed in the red-hot environment of racing and designed to raise the performance bar to its highest, the 1199 Panigale uses innovative Ducati Corse-derived solutions to make World Championship level technology available to everyone.
The most high tech, most powerful twin-cylinder production engine on the planet is now an integral part of an innovative monocoque chassis that combine to deliver an astonishing 195 hp from 164 kg (361.5 lb) of futuristic Italian thoroughbred.
The highest production motorcycle power-to-weight and torque-to-weight ratios in the world are fitting trophies for the incredible results that Ducati have achieved. Bred for the track and trained for the road, the new 1199 Panigale is a true revolution of the species destined to influence the entire sportsbike environment.
With the click of a button, Ducati's Riding Mode concept delivers performance with enhanced rider confidence by combining seven class-leading technologies.
The latest-generation sports ABS system, Ducati Traction Control (DTC), Ducati Electronic Suspension (DES), Ducati Quick-Shift (DQS), Ducati's new race-derived Engine Brake Control (EBC) and Ride-by-Wire (RbW) are now all programmed into seamless, electronic rider assistance. Even the full colour Thin Film Transistor (TFT) display changes to suit the rider's environment.
State-of-the-art from the ground-up and melding latest technologies with exciting new family features, the 1199 Panigale is totally "Ducati" in every respect. Its no-compromise approach to sport design and stylish attention to incredibly fine detail presents authentic Italian performance at its purist.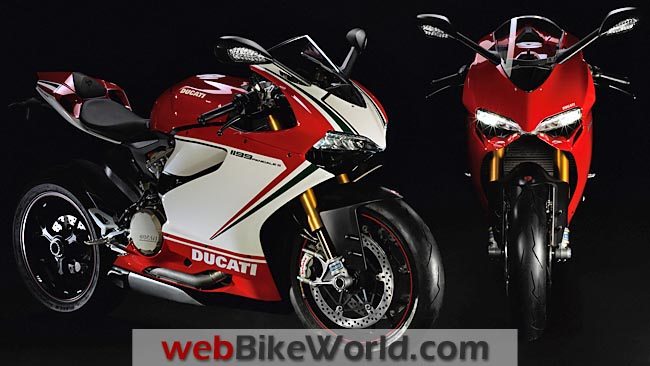 More: Ducati Superquadro Engine: Info, Photos and Video
Publication Date: November 7-8, 2011
Note:
 For informational use only. All material and photographs are Copyright © webWorld International, LLC since 2000. All rights reserved. See the webBikeWorld® 
Site Info page
. Product specifications, features and details may change or differ from our descriptions. Always check before purchasing. Read the
Terms and Conditions
!
Owner Comments and Feedback
Other WebBikeWorld Motorcycle Brands Posts
wBW Motorcycle Brands Info