A rider, aged 35, spent a harrowing few seconds stuck to the tray of a hit-run ute driver this morning (10 January 2020), causing him to crash his black Triumph motorcycle, Queensland police say.
The driver of the white utility was last seen speeding off on the Ipswich Motorway, Rocklea, and the motorcyclist was taken to Princess Alexandra Hospital with non-life-threatening injuries.
Police are now appealing for assistance to find the driver.
Officers were called to the inbound side of the Ipswich Motorway about 8.30am following reports a white utility had struck a motorbike and left the scene.
"A black Triumph motorcycle was travelling inbound on the motorway between the Granard Road exit and the Sherwood Road exit about half an hour earlier," police say.
"Initial investigations suggest the white trayback was being driven dangerously through traffic before forcing the 35-year-old rider from Heathwood off the road.
"He became stuck on the tray of the ute for a few metres before he was able to detach himself and subsequently crashed the bike."
The incident caused significant delays to traffic.
Investigators are appealing for anyone with dash cam vision or information to contact police.
If you have information for police, contact Policelink on 131 444 or provide information using the online form 24hrs per day.
You can report information about crime anonymously to Crime Stoppers, a registered charity and community volunteer organisation, by calling 1800 333 000 or via crimestoppersqld.com.au 24hrs per day.
Quote this reference number: QP2000066829
We wish the rider a full and speedy recovery and we hope the driver is found and charged.
Hit-run penalty
The driver faces a fine of $2611 fine or one year's jail for leaving the scene of an accident involving an injury.
If the driver is proven to have "shown callous disregard for the needs of an injured person", a jail sentence is mandatory.
It seems riders are particularly vulnerable to hit-run incidents.
We have tried to gather statistics before for the proportion of hit-run incidents that involve motorcyclists without success as relevant departments don't keep those figures.
However, we suspect riders figure in a higher proportion of hit-runs than they represent as a percentage of traffic on the road.
Reasons for this could be: drivers are unaware they have hit a rider; they think they can get away with it because an injured rider can't pursue them; or they simply don't care.
Goulburn fatality
In NSW, a 56-year-old male rider died about 5.15pm today (10 January 2020) after his motorcycle went down an embankment off Crookwell Road at Pejar, about 40km north-west of Goulburn.
Hume Police officers found the rider, but he was already dead.
A report will be prepared for the information of the Coroner.
Anyone with information about this incident is urged to contact Crime Stoppers: 1800 333 000 or https://nsw.crimestoppers.com.au. Information is treated in strict confidence. The public is reminded not to report crime via NSW Police social media pages.
Our sincere condolences to the rider's family and friends.
Victorian crash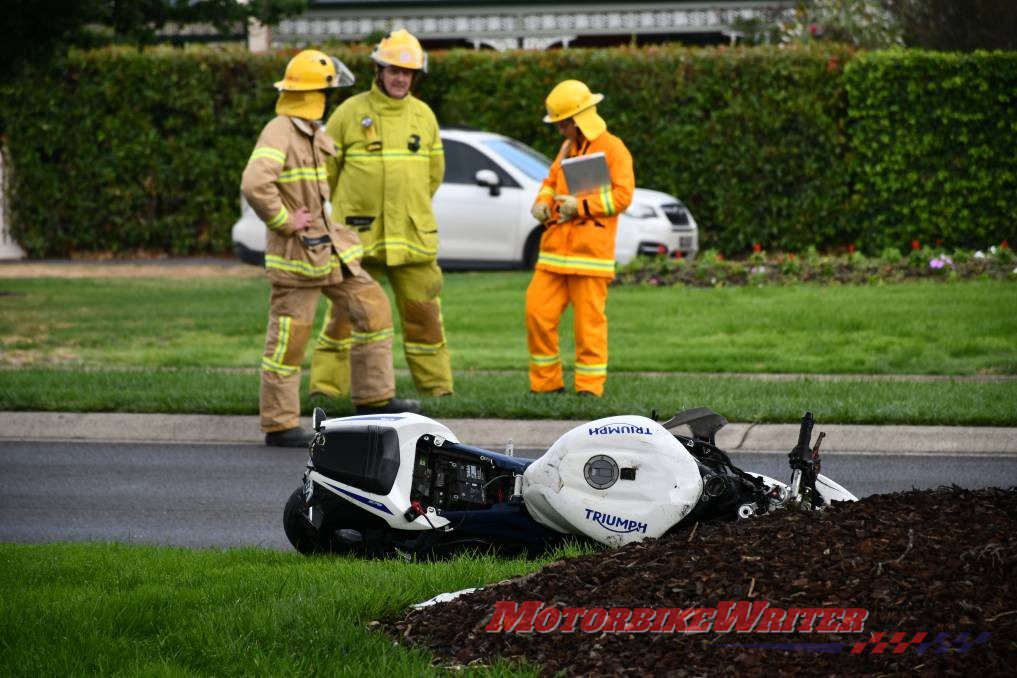 Victorian Police are appealing for witnesses after a collision between a 2015 white Triumph Street Triple R and a black Holden in Ballarat East on Tuesday (7 January 2020).
The accident occurred on Victoria Street near the intersection of Queens Street about 5.35pm.
A 25-year-old Ballarat East male rider was taken to hospital with life-threatening injuries.
The 74-year-old Bacchus Marsh male driver was uninjured.
Police urge anyone who witnessed the incident or with dash cam footage to contact Crime Stoppers on 1800 333 000 or submit a confidential report at www.crimestoppersvic.com.au
We sincerely wish the rider a full and speedy recovery.