A motorist faces two charges of driving with intent to menace after two incidents involving a car swerving toward lane filtering riders were videoed in October 2018.
The alleged offender will appear before the ACT Magistrates Court on 19 July 2019 and faces more than $3000 in fines or 12 months in jail or both for each of the charges.
The incidents occurred on Majura Parkway on 30 October 30. One incident is shown in this video which we published on November 2.
ACT Police were made aware of this video a day later and began investigating.
A second video later emerged showing another rider also allegedly being intimidated by the same driver.
ACT Police made several calls for help to identify the two riders so a charge could be laid.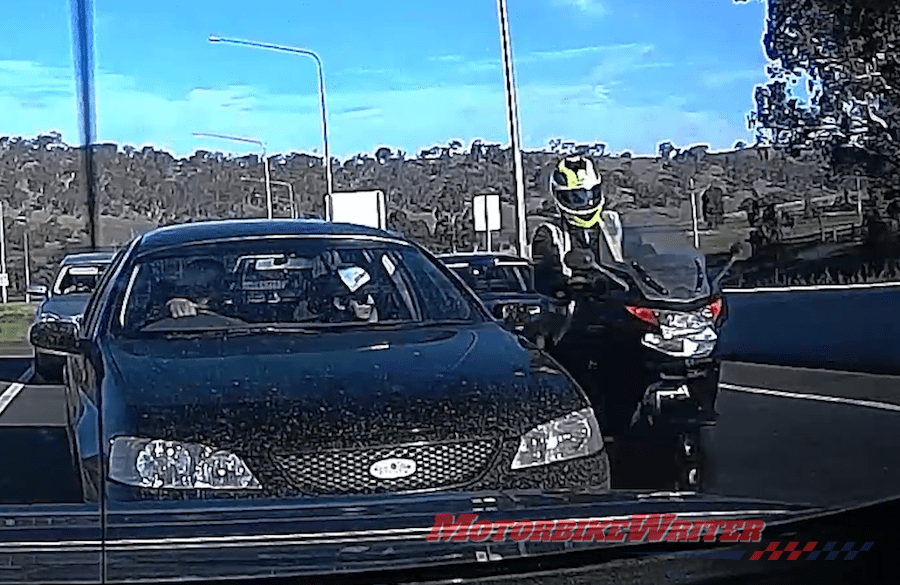 Two charges
At the time, ACT Police issued these details of the incident:
About 4:30pm, the riders were separately travelling northbound on Majura Parkway, Majura, when a green Ford Falcon swerved, almost colliding with the riders. At the time, the riders were lawfully lane filtering.
Police could not provide any further details, but we suspect that the two charge numbers supplied means both riders have come forward.
We will follow the matter when the charges are heard in court next month.
Legal filtering
Interestingly, these incidents occurred only a few weeks after the ACT made lane filtering legal.
Lane filtering is now legal in all states and territories (except NT and WA which is expected to follow shortly) and has been legal in NSW almost five years.
Not only is lane filtering legal but it also benefits all motorists as it helps move heavy traffic more quickly.
You can do your bit to educate drivers by sharing this article you are reading now as well as this "Open letter to drivers".
Filtering rage
Drivers obstructing riders has been happening since lane filtering was introduced.
Check out this video from 2017 sent to us by Newcastle rider Harry Criticos.
"I was filtering legally when a driver stuck his whole body out in an attempt to block me," the 2016 Triple Black R 1200 GS rider told us.
"I did not stop and he did make contact with the bike. I hope it hurt."
It might be worth telling your driver mates that this particular motorist not only got hit, but also copped a $325 fine and three demerit points.
Lane filtering is legal 
Surely it is time for some major advertising campaigns in each state to advise motorists that riders are allowed to filter and what benefits there are for ALL motorists.
That was the major finding of an online poll we conducted in 2016, yet there are still few major ad campaigns.
So far, lane filtering education campaigns have been minimal and mainly aimed at riders, not the general motoring public.
We not only need major ad campaigns, but also roadside signage such as this photoshopped sign.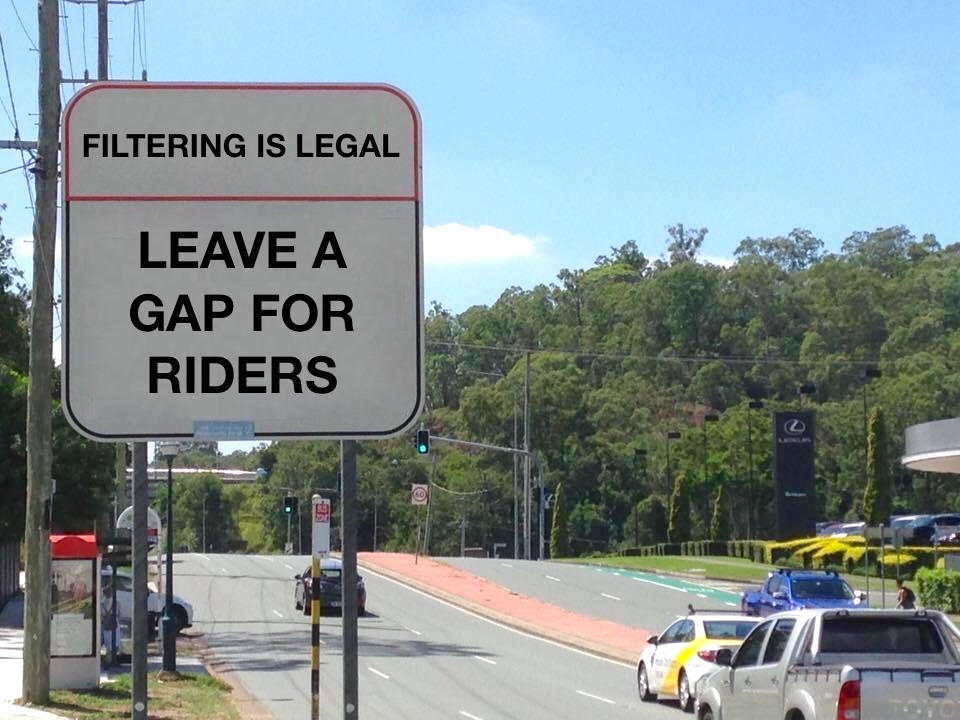 We are not aware of any polls about lane filtering in Australia.
However, in California where lane splitting (filtering at higher speeds than 30km/h) is legal, polls have found it is vastly unpopular among other road users. The main objection is that it's unfair!
That breeds hostility which results in stupid behaviour such as in the above video.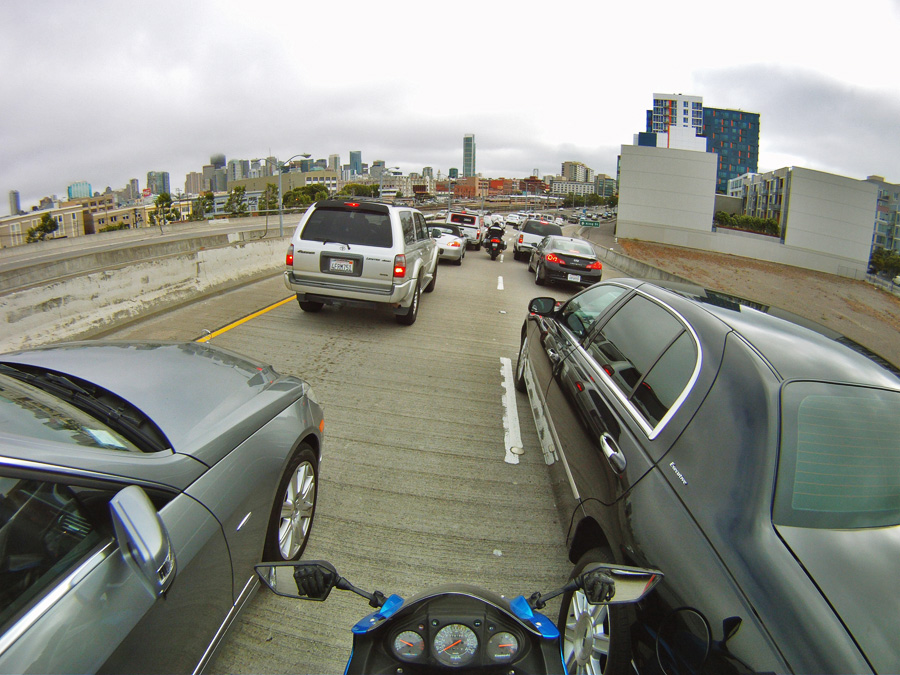 So long as lane filtering remains unpopular and/or erroneously believed to be illegal, motorists will do stupid and dangerous things to stop riders filtering.