A 52-year-old driver who ploughed his Kia Rio head-on into several club riders in Kyogle, northern NSW, killing one and injuring four others last year has face court in Lismore.
Royce McCocker, of Warwick, Queensland, was charged on 26 March 2020 for the accident that occurred on Sunday, 20 October 2019.
He was to have faced Kyogle Local Court on 10 June 2020, but that was moved to 29 July in Lismore Local Court because of COVID-19.
His matter was re-listed in court this week for 26 August 2020.
Club riders
The carnage occurred when six club riders from the Sons Of The Southern Cross SMC were heading south out of Kyogle and the Kia was heading north, allegedly on the wrong side of the road.
One of the club riders, Wes "Pop" Carlton, 55, suffered critical injuries and sadly died at the scene.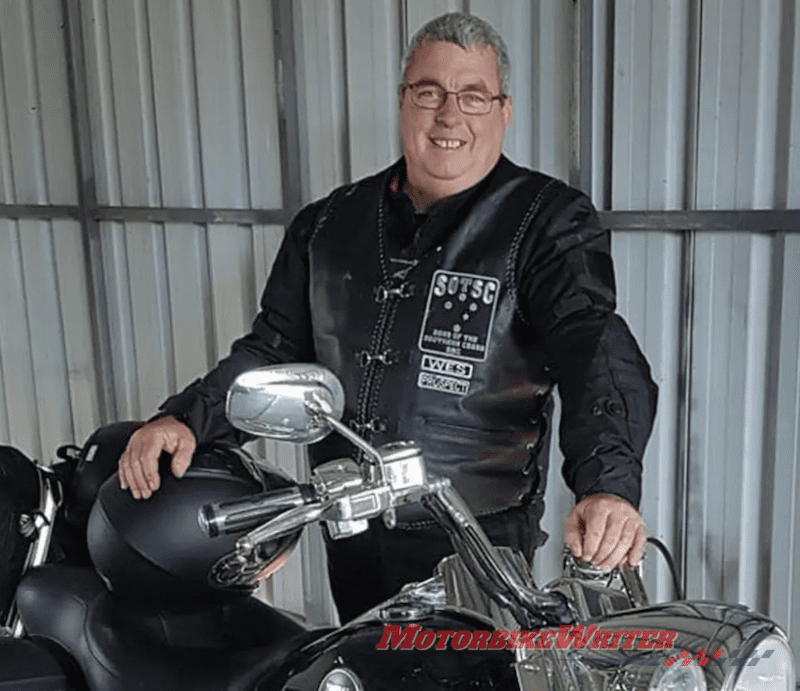 Another rider, a 56-year-old man, suffered serious injuries and was taken to Lismore Base Hospital before being airlifted to Gold Coast University Hospital in a serious but stable condition.
The other two riders, aged 52 and 53, suffered serious injuries and were taken to Lismore Base Hospital for treatment.
The injured riders were named as "Smiley, Wellsy and Browny".
Two more riding in the SOTSC group were not hit.
Driver charged
The driver and sole-occupant of the car, a 52-year-old man, was trapped for a short time before being released and taken to Lismore Hospital for treatment and mandatory testing.
Officers from Richmond Police District established a crime scene, which was examined by the Far North Coast Crash Investigations Unit.
Following extensive inquiries, the 52-year-old driver was arrested on 26 March 2020 at his Warwick home.
He was charged with dangerous driving occasioning death, three counts of dangerous driving occasioning grievous bodily harm, negligent driving occasioning death, negligent driving occasioning grievous bodily harm, and driver not keep left of centre dividing line.
His licence has been suspended.
Our sincere condolences to the families and friends of all riders killed and our best wishes for a full and speedy recovery for all those injured in these crashes.
Group crashes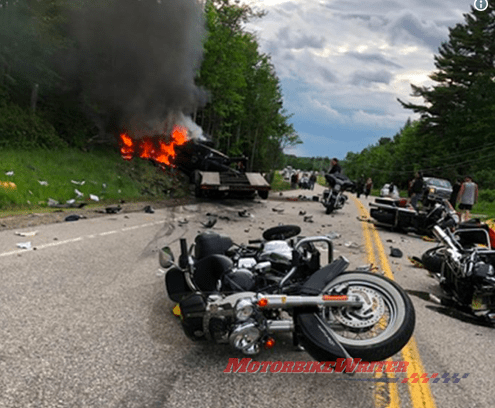 Riders are vulnerable road users, but when they are riding in a group they present a bigger target and the results can be carnage.
We have reported on several group crashes in recent months in Australia.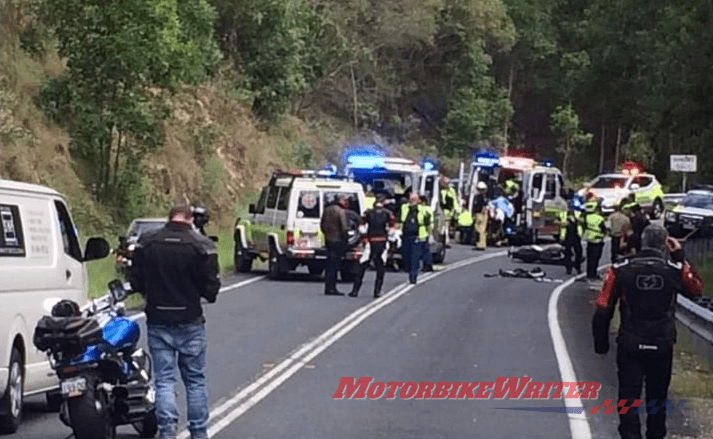 In March 2020, two riders and a pillion were injured when two motorcycles collided head-on (pictured above) and in the same week, two riders travelling the same direction collided and one rider crashed and sadly died.
But the most tragic was the crash in North America where an unlicensed pick-up truck driver ploughed into 10 bikes, killing seven riders.