Draggin' Liners Image Gallery
Comfortable; not as hot as you might think; protective and easy to wear.
I've been wearing a pair of generic Kevlar-lined jeans for my motorcycle commute to and from work.
I can use the locker room to change out of the jeans and into khakis or something more comfortable to wear during the day.
However, transferring all the junk in my pockets from the riding pants to the work pants was becoming tedious.
I'd have to remove my belt, take everything out of the pockets in the riding jeans, put on my work pants, then put everything back in the pockets…
And then at the end of the day I had to do the same thing in reverse to wear the motorcycle jeans on the ride back home.
To add to the "ordeal", I was also wearing a pair of Icon Leg Field Armor (review) under the jeans.
Granted, putting these on wasn't a complicated or overly tedious process.
But I found it annoying, even though it only took an extra few minutes each day.
One option was, of course, to just wear the Kevlar jeans all day at work.
However, the fabric is fairly heavy, and to be honest I don't find them to be comfortable to wear all day around the office.
I also decided to order a pair of mesh overpants to try as an option.
I figured I could just slip them on and off and be done with it, but they were too bulky and the fit left a lot to be desired, so back they went.
Draggin Liners
While I was doing some research on Kevlar lined pants, I discovered Draggin' Liners.
They are basically a pair of "long johns" (long underwear) that use the same type of Kevlar fabric found in the company's Draggin' Jeans (review) and Shirts, but the Draggin Liners are designed to be worn underneath "normal" pants.
I figured I could remove them quickly at work in the locker room — I take off my riding boots and switch to street shoes anyway — and then quickly put them back on at the end of the day for the ride home.
The Draggin Liners proved to be comfortable and convenient.
The fabric fits and feels very much like a pair of thermal underwear, only the knit is much more open so they don't trap heat the same way.
Draggin Liners have an elastic waistband and elastic cuffs at the bottom of the legs, also similar to a pair of long underwear pants.
And they include elastic stirrups at the bottom so the legs won't ride up when putting on or taking off a pair of street pants.
The fit of my Draggin Liners in size medium is perfect for me.
The website says the size medium Draggin Liners fit a waist of 32″ to 34″. I have a 33″ waist and the fit is perfect. I also have a 31″ inseam and the length is also an excellent fit.
Draggin Liners are available with optional armor, so I went ahead and ordered the knee armor.
It's made by Knox and it's CE approved and it attaches to the inside of the legs with hook-and-loop fastener.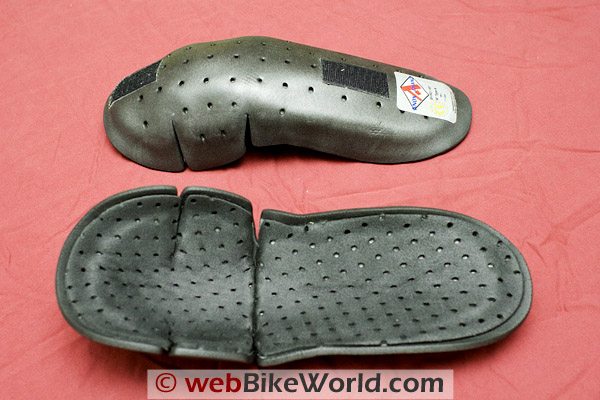 Why a Liner?
Note that Draggin' Jeans has since changed the knee armor to a new type made by SAS-Tec; however the Knox armor is still available in their closeouts section.
SAS-Tec hip armor is also available, but I have not purchased it.
With all this talk of thermal underwear, I'm sure some people are worried about how hot these things will get when the weather turns warm.
Well, this summer turned out to be a hot one up here in New England and I had the chance to really test out the Draggin Liners — and the knee armor — in the heat.
I had several "opportunities" to ride in 95-degree Fahrenheit summer goodness, and the various thermometer billboards I passed on my 30 mile commute to work all read over 100 on many days. It was HOT!
As I got started on my commute I kept thinking to myself "Why am I wearing long johns under my pants?  This is nuts!".
But actually, the Draggin Liners aren't really that bad.
Of course, they're not exactly cool either when the temperatures rise, but they're better than I thought they'd be. My textile (not mesh) jacket was very hot, and my Sidi Boots were also very hot, but the pants were just…warm.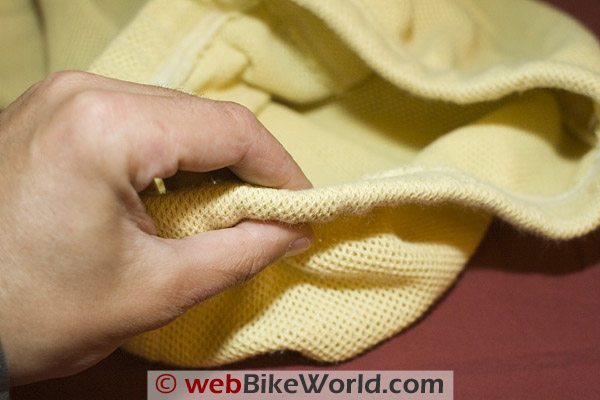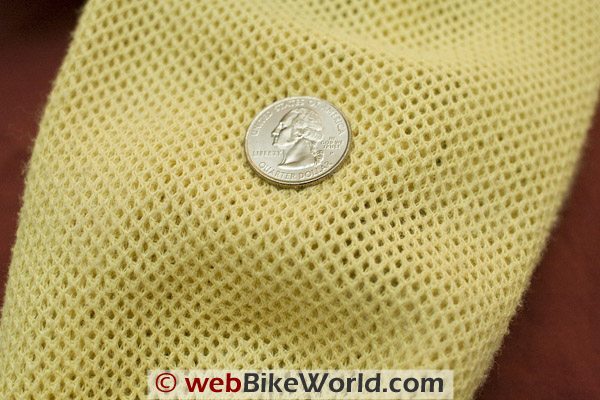 Riding With the Liner
In fact, on many days when I get to work the only part of me that isn't soaked through with sweat are my legs, and I usually carry a fresh shirt and pair of socks in the tailbag.
The Draggin Liners get a little damp with sweat, but not so much that they soak through the pair of Dockers khakis I usually wear over them.
I ride a full fairing bike, but when I get a crosswind I can feel the wind against my legs through the mesh knit of the Draggin Liners — they are indeed breathable.
One exception though, as you might expect, is the knee armor — it has a rubbery feel and it's nestled inside the legs, pressed against the skin — no breathability here!
Ten minutes into my 100-degree commute and the knee armor gets stuck to my skin the same way a fat aunt might stick to the plastic slip covers on Grandma's sofa on a July afternoon.
This does make the knee armor slightly uncomfortable, but no so much that it interferes with operating the motorcycle — and not so much that I would take it off and risk my knees in an accident.
But overall, I think if I owned a mesh jacket and some "Air" boots the ride would probably be pretty comfortable, because the Draggin Liners don't really make it any hotter than wearing of regular Kevlar jeans.
When I arrive at work, it's a quick process to take of the pants, set them aside, take off the Draggin Liners, then put the street pants back on.
Just as easy as I had hoped! In addition, some time is saved by using the armor in the Draggin Liners because I don't have to mess with removing the Icon Field Armor, so I'm at my desk surfing the web five minutes faster than usual.
I have since ridden a thousand or so summer miles with the Draggin Liners and the knee armor in more temperate summer temperatures of around 70 – 80 degrees Fahrenheit.
They're very comfortable under most jeans and khakis and if it wasn't for the knee armor, I wouldn't even notice that I'm wearing what amounts to a pair of Kevlar undies.
It's also comforting to feel the Draggin Liners under my pants, standing by in case of an errant cager.
The Kevlar material of the liners is very soft against my skin and it does not irritate at all, especially (although I would rather not admit it) since my skin can be pretty sensitive.
And the Kevlar is also double-thick in the seat and the knees, the two areas that tend to incur a lot of road rash in motorcycle accidents (according to my random, unscientific research).
Draggin Liners are made in the U.S.A. and they are nicely constructed, with two rows of stitching around the seat and knees. The waist elastic is wide and thick and looks like it should hold up well over time.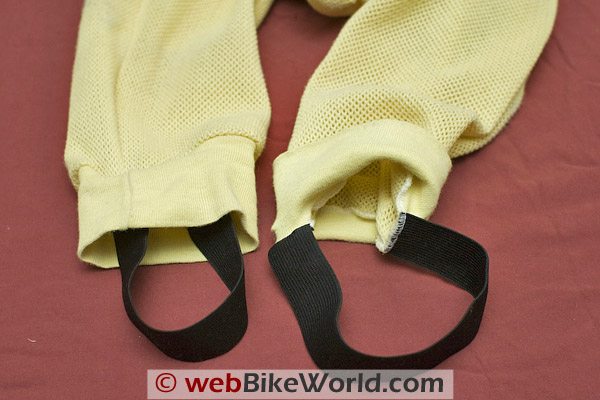 Stirrups
The heel elastic and stirrups are of decent quality, but not as impressive as the elastic used in the waist.
My Draggin Liners have held up very well in the 600 miles or so I've ridden in them and they still appear new other than a slight color change caused by washing. The color change is to be expected, according to the manufacturer.
In cooler temperatures, the liners should be comfortable to wear under a pair of pants all day if the knee armor was removed; they should feel just like wearing a (slightly airy) pair of long johns.
Conclusion
I am very pleased with my Draggin' Liners. They offer a lot of versatility, especially when used for commuting to work, and I can take them off quickly.
They are comfortable to wear under many types of pants and they don't add much heat in the summer.
The "mesh knit" allows for some breathability in the right conditions (and would probably be even better when riding bikes without full fairings).
Draggin Liners are easily folded up and can be stuffed in a tail bag or backpack.
The Knee Armor is CE approved, flexible, and fits securely in the Liners, and more importantly fits securely against the knee, but is not too constraining. Like any good product made in the U.S.A., they aren't cheap, but I feel they are well worth the money.
w

BW

 Review: Draggin' Liners
Manufacturer: Fast Company
List Price (2005): $149.95
Colors: Yellow
Made In: U.S.A.
Sizes: S-XL
Review Date: September 2008
Note:
 For informational use only. All material and photographs are Copyright © webWorld International, LLC since 2000. All rights reserved. See the webBikeWorld® 
Site Info page
. Product specifications, features and details may change or differ from our descriptions. Always check before purchasing. Read the
Terms and Conditions
!
Owner Comments and Feedback
---
From "J.F." (August 2010): "I have the Draggin Liners and shirt. I wear them under Olympia mesh riding gear and in that configuration see them as a lower cost alternative than the Motorport Kevlar riding gear.
I'm saving for that but in the meantime Draggin liners offer an additional level of protection. That's worth the price to me."
---
From "G.W." (September 2009): "I disagree with the reviewer's conclusion, with respect to the Draggin Jeans Liners. I bought these two months ago and am very disappointed in the product, especially considering their purchase price.
Firstly the extra cost SAS-Tech armor does not stay attached to the liners with the Velcro provided. My jeans offer enough compression over top of the liners to hold the hip pads in place but the knee pads simply flop off.
My second issue is I'm not sure how much abrasion protection these actually provide. The abrasion of just washing and drying these a few times is causing the Kevlar weave to break down and fray. Also from what I have since read this kind of loose weave Kevlar offers questionable abrasion protection.
Given the high cost of these liners I feel a good quality pair of over pants would be a much better investment."
---
From "K.M." (December 2008):  "I loved the idea of the Draggin Jeans Liner. It would be something protective to wear under my OWN jeans, that would be comfortable to wear in high heat (the only times I would be wearing jeans on my bike).
Sadly, this product is WAY overpriced. You can EASILY buy summer (vented) textile mesh protective riding pants that would, probably, offer MUCH better protection than these liners (I can't see the DJ liners offering more protection than JR/Fieldsheer/Icon/etc mesh pants). Without testing, I question the effectiveness of it's "open weave" construction, but would consider them if they were priced accordingly (as the minimal protection they offer). Why pay MORE for less effective protection (and that's even BEFORE you add the cost of it's "optional" armor!)?? "
---
From "M.H." (September 2008):  "Sounds OK, but strictly from a cost perspective, for about $130 I've got a pair of armored overpants that are weather proof (mostly) and unzip down the side for warm weather, and I can wear any pants I want underneath, including shorts. Just saying ;-)"