Dispatch 1 Motorcycle Power Distribution System Image Gallery
Technology has given us some ingenious solutions, but it can also bring significant problems.
For example, we now have many different and wonderful electronic gadgets, toys and accessories for the modern motorcycle.
But they can introduce a problem: providing the different levels of electric power and then managing the power requirements for all of this gear that we're so fond of carrying.
It doesn't take long to end up with a rat's nest of wires and a confusing mash of buttons, switches and dials arrayed across, over or through the handlebars.
Some devices can be connected to a traditional 12-Volt power distribution system.
Most of these types of "hubs" are switched devices; essentially a terminal block that is connected to the motorcycle battery and allows the various power and ground wires to be neatly connected in one place.
Some of these power distribution systems are designed specifically for motorcycles and they work well for what they do.
But most of them do not or can not provide the voltage-reduced outputs required by modern electronic gear such as USB devices, radios, Bluetooth helmet systems and radar detectors, to name a few.
Work-arounds do exist to help the rider manage these diverse power requirements, but too many solutions are third-party adaptations that typically result in the user ending up with a bevy of specialized adapters, converters, relays and harnesses.
The end result? More complexity, rather than less. But we want it simple, right?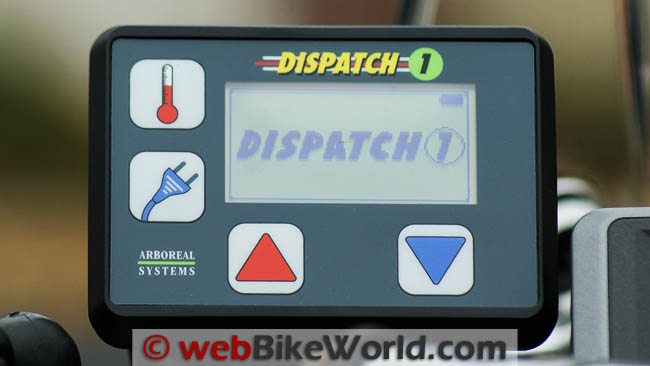 What Is It?
So let webBikeWorld be the first to introduce you the Dispatch 1 Power Management System, just introduced by a company called Arboreal Systems, located in Berkeley, California.
The Dispatch 1 system is a unique "smart" power distribution system that allows you to control up to ten accessories and electrical devices with protected power circuits and port-specific outputs.
The devices that the system can manage include everything from heated clothing to radios to MP3 players, GPS systems, Bluetooth intercoms and more.
Power Distribution Module
The Dispatch 1 system consists of two separate modules. The first module is the power distribution module, to which all of your electrical devices can be connected.
The power distribution module is mounted remotely, either under the seat, in the tail section or other location on the motorcycle.
The power distribution module is then connected to the motorcycle's electrical system, where it acts as a computer-controlled "hub" for the connected devices.
Connecting all of your electrical and electronic gear to the power distribution module eliminates the "rat's nest" of wiring, fuses and even relays from heated clothing, radios and other gear.
In fact, as you will learn, the Dispatch 1 system can even replace the heat controllers required by heated garments, which can potentially save money on expensive "HeatTroller" or other types of heat output control devices.
The Dispatch 1 power distribution system also provides continuous power to USB or other rechargeable devices.
This includes electronics like an MP3 player, an iPhone, iPod, Droid or a GPS unit, eliminating the issue about the batteries on those portable devices discharging at an inopportune moment or recharging them during a trip.
Controller Module
The second half of the Dispatch 1 system is the controller module.
This is another "box" with an LCD screen, used by the rider as the single interface to control and manage all of the devices that are connected to the remotely mounted power distribution module.
The controller module can be mounted on the motorcycle's handlebar or placed in an accessible fairing pocket, the top of a tank bag or other handy location.
That's right — the controller is portable, because it uses a wireless connection to communicate with the remotely-mounted power distribution module!
This portability also means that the controller module can be used on more than one motorcycle. For example, if you own two motorcycles, a separate power distribution module can be purchased and mounted in the second bike.
Then the single controller module can be easily moved from one bike to the next to control the devices.
Because the controller module communicates with the power distribution module through a wireless connection, it's easy to swap the controller between bikes without the need for wiring.
Sounds interesting, right? Words and phrases like "New", "Different", "Leading-edge", "Versatile" and "Supremely Functional" come to mind and they are all good descriptions for this product and technology.
So let's get started — and there's a lot to cover, because this device is such a new and unique product!
Introduction
Let's face it — rapidly evolving technology, consumer demand for new electronics and gear and an ever-flowing supply of new devices from far-off lands means that motorcyclists can now carry, install and use — both on or off the motorcycle — a staggering array of accessories and personal devices.
And all of these require either a consistent power source or a method for recharging at some point in time.
Years ago, before spare electrical outlets or accessory connectors were commonplace on motorcycles, the usual home-brewed solution for adding a louder horn or an auxiliary light set was to wire it all into a hot lead somewhere on the bike.
Heated vests and other gear could also be connected directly to the battery.
That was with or without a relay of some sort and usually without due regard for power consumption requirements and battery output capacity. Sometimes this worked well; sometimes it didn't.
Education and experience and the College of Hard Knocks are wonderful teachers…
Power Distribution Systems
Moving forward in time, frustrated users began to develop solutions, such as multi-terminal connection blocks, power distribution hubs or switched fuse panels, along with a pre-requisite relay here and there for switching purposes.
Some newer power distribution devices may even take advantage of solid-state electronics to provide efficiencies and may even eliminate the need for relays.
Demand being what it is, these solutions have evolved into commercially viable products, with varying names, features and prices.
At this point in time, there is a very healthy and very diverse market segment for this type of gear that provides what is collectively called "power distribution systems".
This term identifies any and all of the devices that so many of us rely upon to power our gear.
They include commercial systems like the Centech AP-type fuse panels or fuse blocks; the Bluesea DC Blade Fuse Block; the Fuzeblock Fuze Block; the Powerlet Termin-8 Power Distribution Kit and others.
The availability of these power distribution systems allow the motorcyclist to further enhance and expand their riding comfort, environment and experiences by adding toys, gizmos, gadgets and accessories.
But it has not been without limitations and frustrations.
As an early adopter, I embrace innovation and technology. And as a long-time avid motorcyclist, I welcome the change innovation and technology has brought.
But, I have also been frustrated over the lack of effort from the motorcycle industry in supporting the technologies that many of us now use or want to use.
A specific example that clearly illustrates this issue is the matter of charging a USB-based device.
How many of the typical power distribution systems on the market support the direct charging of 5V USB-based devices or other electrical devices that are not +12V DC?
And how many of these same systems provide dynamic switching and management of their circuits, without some physical switching of fuses or the use of cumbersome relays and bulky harnesses? Rhetorical questions, to be sure — because we all know the answers.
Well, it seems that another frustrated motorcyclist decided to do something about the situation.
And so, as we start a new year, there is new player, Arboreal Systems of Berkeley California, with a new solution: the Dispatch 1 Power Management System, the subject of this review.
The company, based in Berkeley, California, states that they were founded to design and manufacture a better solution to the accessory power provision and management problem so familiar to motorcyclists — like me.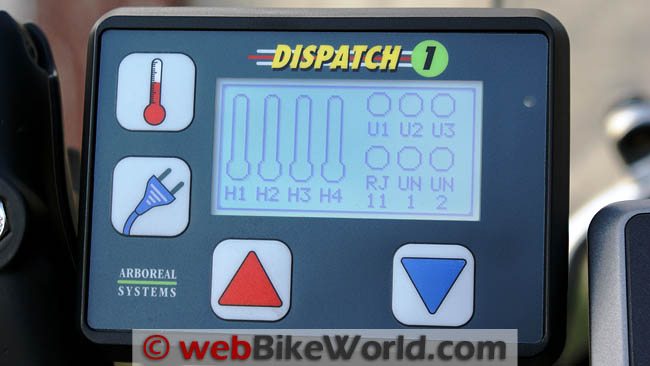 The Dispatch 1 Power Distribution Management System – Overview and Details
The "Black Box" distribution module approach is familiar to motorcyclists for powering multiple electric and electronic items such as heated gear, radios and other communications systems (which can be wired, wireless or hybrid, such as the Biker Com Intercom System (review)).
While admittedly more complicated in some aspects than a simple switched circuit system, the Dispatch 1 is also far more capable.
Providing switched and un-switched power of varying voltages to multiple devices might seem more evolutionary than revolutionary, but trust me, the revolution is here and this system provides a wakeup call.
Unlike other single-module power distribution systems, the Dispatch 1 system consists of two primary components: a distribution module and a controller module. Both are linked together wirelessly.
The two form a system that provides electrical power, power distribution and management of the connected devices.
The distribution module of the Dispatch 1 system is the functional wired powered interface that provides the connections and the different voltage outputs for up to 10 different connected accessories.
The second half of the Dispatch 1 system is the controller module. It can be considered as the management console for rider input, to control all of the devices connected to the power distribution module.
The controller module also acts as an information display for the attached devices.
Using a clean-sheet design approach, robustness and quality were apparently the goals in designing the Dispatch 1 system, with the use of 100A solid-state components for circuits that are actually rated at no more than 15A and a robust multi-layered circuit board implementation.
The Dispatch 1 system also has a surplus of processing power.
Each module has its own 16-bit processor running at 16 MIPS with 64Kb of program memory — lots of overhead and power to handle additional tasks.
The multi-layered circuit board approach used for the Dispatch 1 electronics manages the electrical switching needs for attached gear.
This eliminates the need for inividual relays for powered items, such as lights, heated gear or radios.
Along with providing other advantages, a primary design benefit of the Dispatch 1 system is that "'parasitic drains" from always-on electronics (e.g., LCDs, alarm systems, immobilisers, etc.) are much smaller and current surges that could affect CAN-bus equipped motorcycles aren't an issue.
Some of the features and advantages that are claimed by Aboreal Systems for the Dispatch 1 system include:
The absence of electrical relays allow a significant advance in reliability and efficiency.
Total capacity of 750 Watts (60 Amps).
Circuits include four heating, two switched, three USB and one RJ11 power port.
All of the power circuits are software configurable.
Configurable voltage alarm and trigger (always on) functions.
Highly flexible user customization capabilities.
Extremely efficient and completely linear heating control circuits.
Highly efficient and robust ZigBee radio technology (see section below) are used for wireless link between the Dispatch 1 modules.
The Dispatch 1 controller is portable, which provides an economic alternative for multiple motorcycle use.
The Dispatch 1 controller module is designed to accept a standard RAM mount.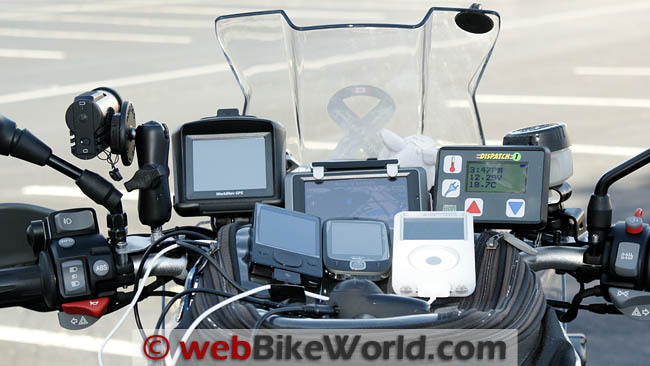 Details of the Dispatch 1 Controller Module
The Dispatch 1 controller module is the user interface for the Dispatch 1 system.
It can be mounted on a RAM mount on the handlebar or it can be placed in a fairing pocket or tank bag. It is not wired directly to the power distribution module; instead, it uses a wireless connection for communications (detailed below).
The controller module is roughly the size of an average motorcycle GPS unit.
The rectangular shape measures in at 4.21 x 3.1 x 1.22 inches (Length x Width x Height) or 10 7mm x 79 mm x 31 mm.
My first impression upon handling the controller module was very positive; it fits nicely in the hand; it feels solid and it is well finished with a good tactile feel (i.e., not slippery).
The controller module, as the user interface component of the system, features an easy-to-read LCD that is backlit with a polarized transflective panel that is viewable under all lighting conditions.
The soft-touch membrane keyboard is completely sealed, UV-coated and its switches are rated for a life in excess of one million cycles — heavy duty stuff.
The controller module is an extremely well-sealed and shock resistant component, built for the long haul. The Arboreal Systems website documents its construct and ability to withstand the elements.
The front panel of the module is completely waterproof and UV protected.
The controller module itself is "weatherproof" and "water resistant", but not (yet) certified to an IP standard. The module uses a heavy duty sealed display component.
The module sections fit very tightly thanks to close-fit tolerances, a large O-ring seal and compression from six security screws.
The module has stood up to everything thrown at it so far — driving rain while riding, sitting outside in the cold with freezing rain and up here in below freezing temps.
Sitting out on the handlebars through everything so far hasn't revealed any weaknesses. I think it will stand up to the elements quite well. Longer term updates will be posted.
Six small 3/32 inch socket head machine screws secure the back-plate, seal and main assembly together to form a weatherproof housing. These would be removed to replace the four AA batteries that provide power for the module.
Based on component efficiencies, including the very low power requirements of the ZigBee radio used for the wireless communications (more on this below), battery life should be in the order of months — all dependent on the amount of usage, of course.
Battery life can also be extended by keeping back-light levels nominal and by shutting off the module if it isn't needed for interactive purposes whilst riding (the system will remain on and functional however).
Although the controller module can be mounted via a RAM mount for direct viewing and safe access, it communicates to the power distribution module via the wireless ZigBee connection.
So it can also be carried in a convenient but secure location if continued access is not needed.
Just remember — like Bluetooth helmet and other wireless systems, it is a radio device, so low power radiation is present when the controller is switched on.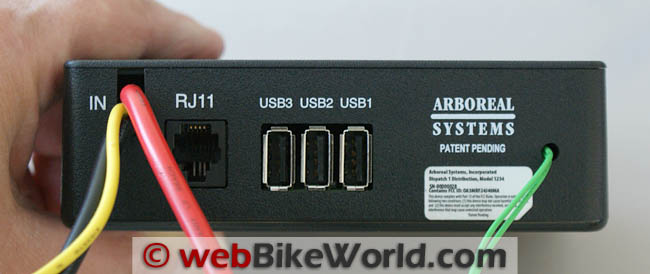 Details of the Dispatch 1 Power Distribution Module
The Dispatch 1 controller module described in the previous section is the user interface and the display.
The second half of the Dispatch 1 system is the power distribution module; in fact, it is the core of the Dispatch 1 system.
It is mounted remotely on the motorcycle and it serves as the electrically powered hub to which all of the electric and electronic accessories are connected.
The Dispatch 1 controller module communicates with the power distribution module through a wireless connection.
The power distribution module then executes the command and logic instructions, providing individual switched and dynamic output power to the various connected accessories.
The distribution module is slightly larger than the controller module.
It is a rectangular black plastic casing with a close- fitting sealed cover. Overall measurements are 5.0 x 3.5 x 1.5 inches (Length x Width x Height) or 129 mm x 89 mm x 40 mm.
On one side of the power distribution module there are six recessed 2.5 mm x 5.5 mm co-axial barrel sockets, marked left to right as U2, U1, H4, H3, H2 and H1 respectively.
The U2 and U1 connections are typically used as 10 to 15 ampere (A) circuits for dedicated accessory lighting and other higher wattage devices.
The H1 to H4 (H = "Heat") connections provide modulated power for heated clothing outputs.
And for most systems, the output can be directly connected to the user's garment connection or interface, eliminating the controller or "HeatTroller" type device.
Each of the H1 to H4 outputs on the Dispatch 1 power distribution module have 32 linear steps, ranging from trickle to full output to control your heated clothing.
It uses a highly efficient state-of-the-art pulsed width modulation (PWM) technology to provide this fine-grained level power management.
Additionally, when set to 100 (percent) output, these same ports can also be used as extra higher wattage outputs, like the switched U2 and U1 ports.
The opposite side of the distribution module box reveals the positive, negative and trigger leads, along with a single RJ11 port, three smart USB Type A ports and the ambient air temperature sensor lead.
The RJ11 port provides a power interface for many popular radar detection systems, such as the Valentine One, Escort and others.
Providing direct power for modern USB devices is a big plus for the Dispatch 1.
And its USB-standard 5V power output allows devices like iPhones, iPods, Droids and Garmin GPS units, to name just a few, to be continually powered or recharged.
The three smart USB circuits in the Dispatch 1 power distribution module will automatically reset if a fault is detected.
Overall protection of the system and thus connected peripherals is provided by individual circuit fuses and solid-state protection circuitry.
The controller display also provides a visual warning if something is wrong. Replacing any of the standard spade style mini-fuses is very easy, given access to the distribution module itself.
Once the system is installed and the accessories are connected using optional extension leads or third-party USB extension cables, all of the management functions are then controlled by the rider from the Dispatch 1 control module.
This virtually eliminates the need to access the distribution module. By itself, this feature adds another dimension to the typical power distribution systems setup.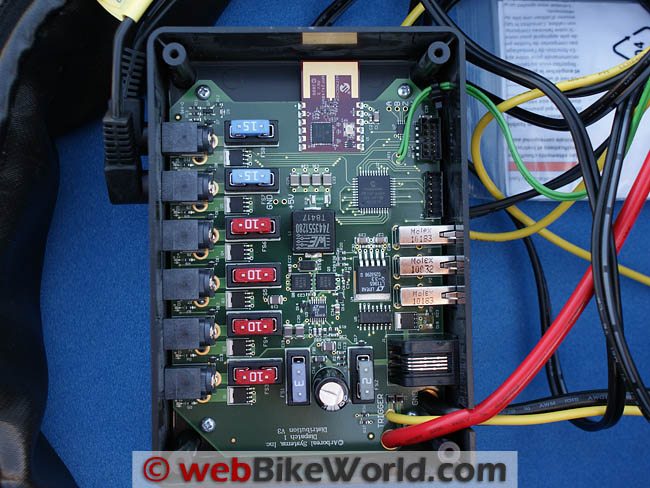 Dispatch 1 Wireless Communications: ZigBee Radio 101
As mentioned earlier, the Dispatch 1 controller module uses a wireless connection to communicate with the power distribution module. That wireless connection is based on theZigBee radio frequency specification.
The ZigBee protocol (or "Low Rate Wireless Personal Area Network") includes a suite of communication protocols that employ very small, low-power digital radio communicators embedded in the devices.
In the Dispatch 1 system, the ZigBee devices are embedded in the controller and power distribution modules.
The ZigBee protocol is similar to another radio frequency application you may be familiar with: RFID (Radio Frequency Identification or "smart tags").
In fact, some "active" RFID tags use the ZigBee protocols for communications.
The ZigBee system design is based on low cost and large scale production.
The radio devices are based on the IEEE 802.15 4-2003 (or later) standard for Low-Rate Wireless Personal Area Networks.
Typical applications for ZigBee are wireless light and utility controllers, in-home electrical meters and a growing application field in the consumer electronics equipment market.
As designed, radios using the ZigBee system provide low data transfer rates with secure networking with long battery life.
The technology is intended to be simpler and less expensive than other personal area networks, such as Bluetooth.
There are three types of ZigBee devices: Coordinator (one per network); Routers (application function and intermediate point for relaying data); and End Devices (minimal functionality and power efficient).
With the Dispatch 1 implementation based on a point-to-point protocol between the controller module and the power distribution module, the ZigBee network relay functionality is needed.
Accordingly, the "coordinator" functions are handled by the distribution module when under power, with the "end device" being the controller module.
As an end device, the controller module can be shut down to conserve battery life when not needed for wireless interaction with the distribution module.
See Also: Arboreal Systems Neutrino Review |  Motobrain PDU Review
Next: Part 2 Initialization and Setup 
w

BW

 Review: Dispatch 1 Motorcycle Power Distribution System
List Price (2011): $349.00
Made In: Designed, assembled and tested in U.S.A.
Colors: N/A
Sizes: N/A
Review Date: February 2011
Note:
 For informational use only. All material and photographs are Copyright © webWorld International, LLC since 2000. All rights reserved. See the webBikeWorld® 
Site Info page
. Product specifications, features and details may change or differ from our descriptions. Always check before purchasing. Read the
Terms and Conditions
!
Owner Comments and Feedback
---
From "P.W." (02/11): "This is a great first pass but could use some changes:
1) Distribution module: too large and plug type is silly/space wasteful as shown by photos. Go back to screw clamp blocks used on other systems, they're more secure anyway.
2) Control module: a bit large, not waterproof, needs an option to be powered from the bike given its short battery life (months) and ideally the display screen should be more configurable including allowing user name changes or abbreviation changes for items.
If the control unit had the option to run from bike power, it might be useful if it had something like a rechargeable lithium battery in it, like a GPS has, so you can move it and keep settings intact.
3) Too many heat outlets: Am not going to run passenger control through a rider panel and my BMW has built in grips/seat heaters.
Two should be configurable and re-namable to something else. A headlight modulator function or some similar might be useful to some.
In a fully mature version of the Dispatch, I can imagine an optional remote heated controller, perhaps with additional controls also, that can be carried by the pillion and used for the heated gear or whatever else a pillion might control.
Overall it's great to finally see this type of innovation. Hope they continue to develop it.
For reference, my ride is a fully farkled 08 RT- 2 extra sets of lights (FF50 and problematic TrailTechs) plus accessory brake and front LEDs, radar detector, Scorpio alarm and assorted other stuff.
I charge my iPhone and a spare Scale Q2 module in an electrified BMW tank bag and run heated gear with a Warm N Safe dual remote controller.
Editor's Note: The control module is waterproof; see the section above, entitled "Details of the Dispatch 1 Controller Module".
Using batteries that last months is probably a good compromise we think because it avoids one more accessory that needs hard-wiring and it can be easily transported from one bike to another.
---
From "D.B." (02/11): "This looks like a fantastic idea, yet I would not buy it in its current form. To be honest, to my eye it looks rather "beta".
What this system needs before I would ever consider it for the distribution module to be natively waterproof without a dorky looking dry bag, and for the control module to be MUCH smaller.
While I may currently have more controllers and wires going to my battery compartment, they are all very tidily hidden away.
On a (standard) bike, one would have a very difficult time hiding the less than pretty dry-bagged distribution module, a waterproof module would look a lot better when its not able to be totally hidden.
As well, the controller module is HUGE.
Its already difficult enough finding space for one's GPS, music device/sat radio, etc, without having to mount that monstrosity. Hopefully the manufacturer will come up with a smaller version of the controller.
Perhaps a model with smaller distribution and controller models for riders (most riders?) that don't require the heated outputs? Or maybe a very small controller that is just meant to control ONE heated output (grips).
Still, an exciting product, I'll be monitoring their website and maybe one day, I'll be lucky enough to see a product that will work for me. I'll be curious to see other's thoughts.
Also, there are many bikes that will not have space to fully hide this module.
On a naked bike, all you have is under the seat, and not usually enough room for a module of this size.
The whole dry bag thing seems VERY primitive. Can't think of ANY other m/c specific products that require that.
You know, I've thought about this system a little more, and in it's current state, unless you are looking for multiple heat controllers, it really doesn't offer any advantages (especially for its price) over a fuse block.
And dedicated adapting cables, all of which are inexpensive, and readily available (and already installed on my bike).
In its current form, one still has to run all of the wires up from where ever the box is mounted and zip tie them in appropriate locations,
And you still have to purchase and run USB and iPod etc. dedicated cables (and they will have to be long enough to be run from the distribution box's mounting location, to one's gear).
So again, except for having 4 heat controllers in one box, what is going to make me want to purchase this box?
I think what would make this system really cool (and likely less expensive), is if both parts were combined into *one* box!
Make it fully waterproof, put standard AMPS spaced mounting threads on the back for bar etc. mounting, and have a waterproof quick disconnect power INPUT.
This would allow one to either mount it on your bars, or in a tank bag, etc., which would in turn put all of the connectors somewhere where you have good access to them for plugging in your clothes, devices, and accessories.
One would also be able to move the entire unit from bike to bike.
And one would only have to run *one* wire up from the bike, a power input wire up from the battery.
In my opinion, this would be highly advantageous over my current system and would be something that I would want to purchase."
HBC's Reply:
Distribution Module: Yes, the distribution module should and could be weatherproof, without using the optional protective bag, the use of which only serves to complicate where the distribution module is located.
I agree that both modules could be smaller and my hunch is that the distribution module will see some shrinkage, and perhaps a lightweight metal case for strength.
But from a design perspective, I appreciate that the numerous output ports all need to be factored into the physical aspect.
Unless some are removed or a common (smaller) interface used like coaxial ports.
But then this would necessitate an adapter of sorts to bring the output back to the desired interface standard (i.e., USB Type A), a step backwards so to speak.
The Dispatch 1 was designed to do away with relays, adapters, conversion modules, etc., and it does.
Yes, you still need to run power leads or cables from the distribution module to wherever for use with fixed and portable devices. But except for the rare exception, you do NOT need proprietary adapters or special harnesses or anything else.
For example, if your device or devices are powered or charged per the USB 2.0 power specification, then a simple USB 2.0 approved third-party extension cable such as a Type A to mini-USB or micro-USB lead, is likely to be the only thing needed.
They are available in varying lengths.
My follow-on work will see weatherproof coaxial and USB power outlets mounted in and on the motorcycles and all connected to the distribution module, making wiring point to point, simple, effective and totally functional for multiple applications; more on that later.
Using these specific outlets powered via the Dispatch 1 is a near-perfect combination.
Controller Module: I have been using numerous tactile control and touch-screen devices over the years, on and off motorcycles.
And the Dispatch 1 controller module is a good compromise given the four easy to locate and use push/release controls and the screen.
A smaller module could be done resulting in less discrete control surface, but this could be offset by having all interaction via a touchscreen — similar to most GPS units.
This integration would be a great evolutionary step, but as a first edition, I can live with the current controller, even considering my crowded handlebar environment…and don't forget, it can go elsewhere if constant access isn't needed.
If you are using the system for simple straightforward power or recharging purposes, interaction is minimal and thus access can be as well.
But if you are using the system for dynamic power and switching, like I do, then having it in full view and the operational screen at the ready is the solution.
System Advantages: Something that I will directly respond to is the comment about the system not offering any advantages.
As pointed out in the article, I have a lot of electrical equipment, fixed and portable, personal and under evaluation, in use on the motorcycles.
When I can get rid of at least 50 feet of redundant harness wiring, multiple relays and handlebar switches in just the first installation, then this is a good thing.
As identified in the article, my two Denali LED kits are the perfect example of how effective the Dispatch 1 can be in reducing "clag".
The Denali harnesses are well made and meant for the long haul, but between the massive relay and a handlebar switch for each set, there are a lot of multiple wire leads, etc.
And all of this is typically needed along with a standard fuse block or other distribution module, like my Centech and Fuze block devices.
With the Dispatch 1, power to both lights on each kit is via a splitter cable (available for the Denali kits) to a single lead off the distribution module. Nothing else is needed — near instant power switching is controlled by me via the controller.
And if I did want to add the handlebar switches back into the mix, it is just two simple leads. End result: two power leads from the Dispatch 1 with two small splitter cables — done.
Will we see a small integrated single weatherproof module that could be mounted on the handlebar or somewhere providing simpler access to the available ports, with a single power input lead?
I will agree that this would be a good solution of sorts, albeit possibly with some limitations, as noted above.
But if requirements (less ports) were changed or offered as an optional construct, then there is no reason why a smaller integrated module could not be produced.
It could be similar in size, shape and construct of the BikerCom Bluetooth system with its multiple connections, etc.
But can it, or will it be done at some point in time? I expect so.
Nevertheless, we are where we are and even as technology lets creative individuals or corporations move ahead in designing and delivering "solutions", simple economics, along with supply and demand, are likely to keep this integrated solution just a bit further off down the road, but perhaps not that far…
The Dispatch 1 is not the perfect solution to an absolute set of requirements.
But it is different, very functional and for those who have complex and dynamic power requirements, you will be amazed at how well the system addresses requirements.