I've loved the miniature world of scale models ever since I was a little kid.  I still have vivid memories of the Matchbox display cabinet at the local toy store.  This was back in the days when Matchbox diecast models were made in England by Lesney, and the toy store was downtown, and not in a mall.
While all my friends were playing with American iron miniatures, I could identify every lorry, farm vehicle and car plying the English countryside.  I had an immense and probably somewhat strange (now that I think about it) fascination with British modes of transportation.
Well, one passion leads to another, and I started following the career of young Valentino Rossi (thank you, Speedvision!) back when he was riding 125's.  I'm not a sports guy at all; I know absolutely nothing about "normal" sports, such as football (never played it), basketball (too short) or baseball (too nearsighted!).
In the rare sport that does hold my interest (Tour de France, Dakar Rally, Formula 1 and MotoGP) I usually root for the underdog.  But something about Rossi's style and attitude has captured my imagination and I've been a huge fan ever since.  I even jumped on a too-expensive. limited edition print of Rossi on his 2002 Honda (Vale, you could at least have used a pen!) and have it hanging in my room.
I bought and read Valentino Rossi – Moto Genius (Rossi's biography) as soon as the publisher's ink was dry, so I figured the next thing I needed was a collection of his bikes in miniature.  I looked around a bit, but didn't find anything that struck my fancy until I came across this ixo diecast model.
The folks at ixo must be moto-maniacs, or why else would they spend all the time and money that's involved in manufacturing a diecast model to produce such now-obscure examples like Marco Lucchinelli's 1981 Suzuki RGB500?  I'm pretty sure the market for that model is not something that's going to make you an instant millionaire.
ixo also makes diecast models of modern and vintage rally and Le Mans style cars, modern and classic automobiles, street bikes and more.  You can find ixo models and many other motorcycle diecast models at various stores and online retailers.  I found Moto Replicas through a magazine ad, and ordered my Rossi replica online.
Their website is a bit tricky to navigate, but the ordering process, handled through Yahoo!'s Small Business Mall, was first-rate.  I received an email confirmation and the next day the package was sent out along with a FedEx tracking number via email.  Shipping and handling cost (to my location anyway) was only $3.95, and FedEx delivered the package a couple of days after I placed the order.  Can't ask for more…
The ixo diecast model comes with a built-in display case.  The bike is attached to the bottom of the case via a screw (just visible in the photo below).  The clear plastic case sits on 4 pegs attached to the base and back of the display, and it provides secure storage without having to worry about dust and fingerprints.
The model comes with a small brochure highlighting other ixo motorcycle models, but it would have been nice for them to have an index-sized printed card with maybe some history or specifications on the bike.
But the detail is superb, right down to Rossi's colorful "The Doctor" logo on the windscreen.  Even the radial front brake caliper has a "Brembo" decal.  And check out the chain — you can see every link.  All things considered, I'm very satisfied with my purchase.  It's a bit expensive, but considering the limited quantity that these types of models are made in and the limited market, it's not bad.
I love toys — they make me feel young again!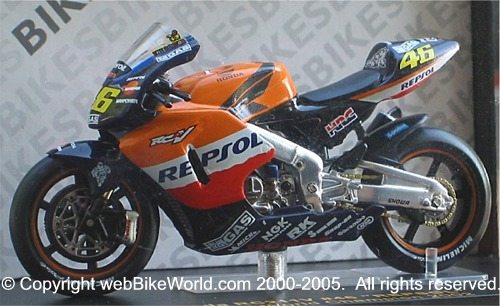 Note:  For informational use only.  All material and photographs are Copyright © webWorld International, LLC – 2000-2011.  All rights reserved.  See the webBikeWorld® Site Info page.  NOTE:  Product specifications, features and details may change or differ from our descriptions.  Always check before purchasing.  Read the Terms and Conditions!
Product Review:  ixo Valentino Rossi Repsol Honda RC211V Diecast Model

Available From:   Moto Replicas
Suggested Retail Price:  $29.99 + S/H
Models:  Many different motorcycle models available.
Made in:  China
Product Comments:  Very detailed 1:24 scale diecast model of Valentino Rossi's winning RC211V.  Comes with display case.
More:  

w

BW

 Motorcycle Racing Page  |  Motorcycle Accessories
More Sources for Motorcycle Models:  Moto Replicas has die cast models of various race bikes, including Rossi's Honda RC211V  |  Check out the Mini Motorcycle Toy Museum online; also visit the Mini Moto Store  |  Protar has some very finely detailed models  |  Brough's Books sells a bunch of miniatures  |  Here's a site with a bunch of scale models of various Triumphs  |  More scale models available at Speedzilla  |  Here's a site with photos of scale models made by the own  |  Bikersbits has race and street replica models  |  DK Models carries Corgi, Lledo, Minichamps, Hotwheels, Ixo, Vanguards, Maisto and more; postage and shipping are included in the prices
Other WebBikeWorld Brands Posts