Diamond C Motorcycle Trailer Image Gallery
This is the third motorcycle trailer reviewed on webBikeWorld.com
This time we're back again with a flatbed style.
This type of trailer is the best solution for our needs for a number of reasons.
The only disadvantage is that a flatbed trailer may be too large to store on the premises, but we're fortunate because we don't have that problem.
There are many advantages to a flatbed motorcycle trailer over a dedicated motorcycle-only trailer and that discussion has been previously covered in our other trailer reviews.
First of all, a flatbed style trailer is highly versatile; it can carry all sorts of non-motorcycle-related objects.
For example, we buy bales of hay of all sizes to feed our farm critters, so we needed a trailer that would haul anything from bags of horse feed to sawdust to a couple of big bales of hay.
A flatbed trailer can also carry many other items such as household appliances, furniture, lawn mowers, equipment, ATVs and more. When you're running two outdoors-related businesses, this is important.
Most of my rural neighbors own a flatbed trailer, either large or small. A trailer comes in very handy when you live in the country, and it's a good substitute for a pickup truck.
Besides, at last count there were something like 18 motorcycles in our 10-home neighborhood.
So there's always a strong demand for the loan of a good trailer for one reason or another, from bringing a bike down to the shop for repair to hauling it across country for a tour of the Rockies.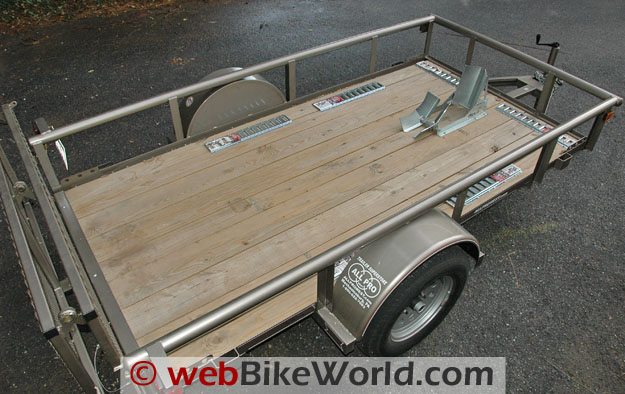 Motorcycle Trailer Criteria
I decided to go on the hunt for a new flatbed trailer because the Rocket folding trailer (review)isn't really designed to haul much more than a sportbike and it certainly can't carry a load of hay!
I finally worked all the bugs out of the Rocket trailer by forgetting that it can be folded up and simply leaving it fully assembled. The ability to carry it on a hitch was never used and it's way too clumsy for that anyway.
I also gave up and removed the clumsy spare tire carrier, which completely changes the balance point on the trailer.
The Rocket does ride smoothly when loaded and its light in weight and works nicely to haul the Ducati or Burn's Frankensteinian track bike, but I needed something bigger and sturdier, so it was back to the flatbed concept.
I'm sold on a flatbed for motorcycle hauling. Set up correctly, a flatbed makes one-person loading and unloading a snap, and I definitely needed that.
The Rocket is a two-person evolution and I don't always have that second person handy.
Having already gone through one flatbed trailer set up for motorcycle hauling (review), I now had a much better idea of what was important.
My first flatbed motorcycle trailer was nice, but it was a real light weight and it needed reinforcement and tweaking to carry a touring bike or cruiser.
A trailer takes a real beating, and in my experience, if you're buying a motorcycle trailer, you want to get the strongest and sturdiest and best-made trailer you can afford.
There are a lot of no-name flatbed trailers out there, sold by everyone from Tractor Supply to Joe's Midnight Trailers.
I have a deep fear of what a bad trailer might do when I'm towing it on a crowded Interstate at 70 MPH, and I simply do not want a cheap 10″ tire trailer holding my bike(s).
One other thing was the 4 foot by 8 foot length of our old flatbed, which was too short after the wheel chock was mounted to carry one of the Big Boys like Chris' BMW K1200LT or the Harley or even my old 1998 Triumph Tiger without removing the tailgate.
But removing the tailgate is a chore and then it must be carried in the towing vehicle because a tailgate is necessary for unloading the bike once I arrived at my destination.
So I was looking for a really sturdy, possibly commercial-grade flatbed trailer that would do it all.
It had to haul the heaviest and longest motorcycles possible in addition to working for the varied farm duties, including carrying loads of feed, grain and hay in both small (50-100 lbs.) and hauling big bales of hay, which must weigh 500-700 lbs. if they weigh an ounce.
The words that came to mind for this trailer were big, tough, sturdy, commercial grade, rugged, robust and with 15″ wheels and the ability to attach every and any type of tie-down I could imagine — that was my goal.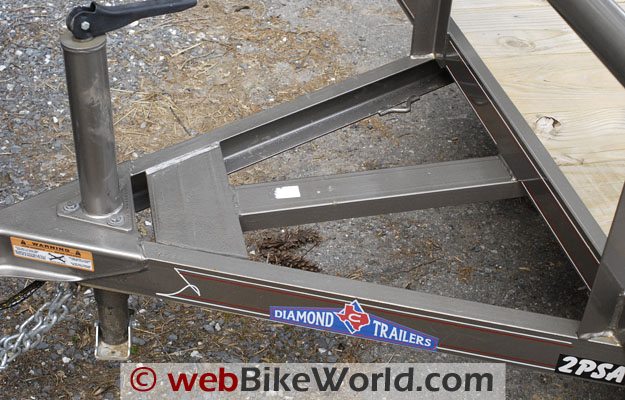 The Diamond C 2PSAL10X60 Trailer
OK, so it doesn't have the most romantic name in the world…
The paperwork from the trailer store calls it the "Road Clipper" — certainly a more memorable appellation than "2PSAL10X60".
But who knows?  Harley has gotten by for years naming their bikes with mouthfuls like "FLTRX" (review), so maybe there's something to it.
I knew nothing of the Texas-based Diamond C trailer manufacturing company, so I didn't have this particular trailer in mind.
But one day, after searching online for a trailer that might be made better than my original flatbed and basically coming up empty, I stumbled upon a Diamond C retailer with a decent website that included recent photos of the trailers they had for sale.
Technically, the Road Clipper (the name I prefer) is not really a motorcycle trailer per se. It's listed as a "Home" trailer, but it's built like a commercial trailer for sure.
In addition to the 5×10 shown here, it's available in sizes ranging from 5×8 to 7×14. A variety of options are available, including a built-in toolbox, side loading for ATVs and more.
Diamond C makes a lot of different trailers and quite a few are commercial grade. This one looked sturdy as heck in the photos so I decided to take a spin up to see it.
And since it was to be a round trip of about 170 miles, I must have felt pretty confident it was the one I was searching for, because I took the truck and all my rigging, hoping to come back with a trailer.
I walked around the vast outdoor collection at the trailer store and found the 5′ by 10′ Diamond C trailer you see here.
It was the only trailer of that size on the lot, and the salesman didn't even know there was such a thing as a 5×10.
Apparently this is either a rare size or one that isn't often requested, probably because it can only fit one full-sized motorcycle rather than a pair.
I looked it over, front to back, top to bottom and realized it was the trailer for me.
It definitely, positively meets my criteria of rugged, big and tough. It's made from an interesting combination of 60 mm diameter tubing on top, forming the rails and big, hefty 75 mm (3″) L-angle steel welded together to make up the rest of the frame.
This thing has so much steel it weighs 840 lbs. unloaded!
The frame is simply massive, with lots of reinforcement underneath the A-frame tow bar in front.
The frame is also constructed in a way that distributes the load throughout the entire assembly, including the sewer-sized pipe that forms the top railing.
It has a load capacity of 2,990 pounds. Just by coincidence, a trailer with a 3,000 pound capacity or over in the U.S. must have electric brakes, thus the 2,990 figure on this one.
It has a big solid Dexter axle, leaf spring suspension, big 15″ wheels with 5 lug nuts. The wheel hubs also feature rubber covers that allow easy access to the grease zerks underneath, making a complicated bearing maintenance task a simple proposition.
Of course, the trailer includes a full set of lights, but this one also has yellow and red running lights in front and back that are well protected by metal.
The wiring runs through steel conduits to protect it from catching and possibly getting torn or cut.
The floor is made from a combination of 2″x4″ and 2″x6″ treated lumber, and each plank can be removed separately for replacement if necessary.
The trailer also has something I never used before, a bi-fold tailgate that keeps a lower profile, provides more room at the rear and makes it easier to use when lowering or raising the tailgate for loading and unloading.
The trailer also has a built-in telescoping jack rated at 2,000 lbs. and a commercial-grade ball head hitch with safety pin and heavy-duty safety chains that include safety clips.
The tongue is made from a combination of 1″x3″ rectangular tube and the 3″ L-angle steel.
And finally, the trailer is powder coated in this "Arizona Beige" color and it even features a few lines of hand-applied pin-striping to give it a touch of class. The trailer has a 3-year warranty.
All told, this is probably overkill for towing any type of motorcycle on the road, but since trailers take a lot of abuse and we needed it for other big hauling duties, it was just the thing.
Bigger and heftier is better when it comes to towing motorcycles, as I've learned time and again over the years.
About a half-hour later I was driving home with my new Diamond C motorcycle trailer and a spare 15″ tire and wheel.
The total bill, not including sales tax (it was purchased out of state so I paid the tax when I registered the trailer) was $1,689.00, including $90.00 for the spare tire.
Not bad actually, especially considering that a more focused motorcycle-only trailer can cost a lot more and won't be as versatile.
Besides, I figured that even if it didn't work out, I could always sell it to some local contractor…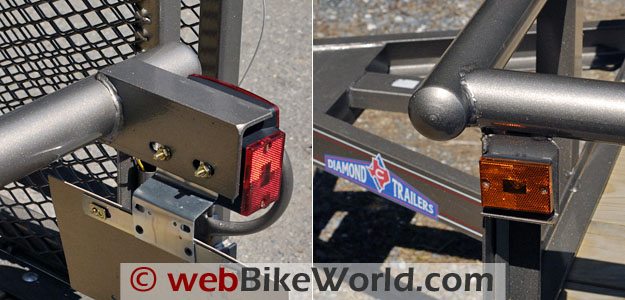 Wheel Chock and Accessories
Choosing and buying a trailer is only the beginning, of course.
We installed the beautifully made Acebikes Steady Stand Multi wheel chock (review), a precision laser-cut design that's adjustable for any motorcycle wheel diameter (See the discussion on the best placement for the wheel chock with regards to overall trailer balance in the Comments section below).
Diamond C welded a few tie-down points on the front and rear of the trailer, and I wish they had added a few more.
So we also added 6 strips of Erickson E-Track on the recommendation of some local experienced motorcycle trailerists.
E-Track is commonly used on open and closed motorcycle trailers as a quick and easy tie-down solution. A section of E-Track is a piece of stamped steel that is available in a variety of lengths.
It has a series of standard cutouts for several different types of hold-downs designed to fit in the slots. E-Track was a good solution for our needs because the almost-flush E-Track doesn't get in the way of the hay bales and other items we haul.
I now carry a bungee loop loaded with Erickson E-Track tie-off rings with the trailer.
The tie-down rings slide quickly into any of the slots along the length of the E-Track, which makes a versatile cargo tie-down system that's adjustable for any sized motorcycle.
I haven't yet used the fantastic Tyre Down rear tire holding system (review) on the Diamond C trailer and we may have to add strips of E-Track on either side of the rear trailer floor to work with the Tyre Down, so I'll get to that next.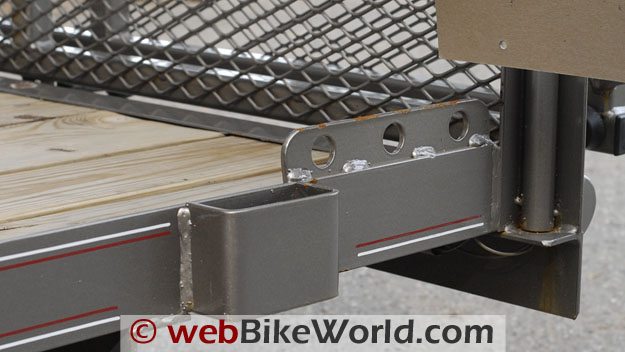 On the Road With the Diamond C
The trailer got its first test in a big way. I hooked it up to the truck, remembering, of course, to check the tire pressures, lights and safety gear.
It is actually very nicely balanced and you'd never know it weighs 840 lbs.
It's almost hard to believe because I can pick it up by the hitch and walk it all around with relative ease.
Once it was hooked to the truck, the trailer was off on its very first "real" run, the 400+ mile trip to pick up the Harley-Davidson Road Glide Custom.
Empty or full, the Diamond C trailer rides very smoothly on its big 15″ tires.
But here's the tip: don't let the trailer dealer tell you that "trailer tires don't need to be balanced". They absolutely, positively do; probably more so than car tires!
A properly balanced trailer tire makes a huge difference in how smoothly the trailer will pull, especially when empty.
When I first towed the trailer home, the tires were not balanced and although the ride was relatively smooth, I could feel the trailer bouncing around and jerking the hitch.
After I had the tires balanced I definitely noticed a big difference, especially when going over bumps, where the trailer just glided over instead of bouncing around and the pull on the hitch was barely noticeable.
It was a bit scary loading the Harley for the first time, because other than a few trials with the neighbor's bike, I wasn't sure how the Road Glide would load, whether it would fit in the wheel chock or even where to tie it down.
As it turned out, it was a "piece of cake" and the Harley is very easy to secure because it has a full (and heavy-duty) frame.
The Diamond C trailer handled the big 800+ pound Road Glide with no problems at all, pulled up and down the Pennsylvania hills by the all-wheel-drive Explorer with its hefty 300 HP V-8.
By the way, I noticed that we actually got better fuel mileage with the bike loaded than when empty.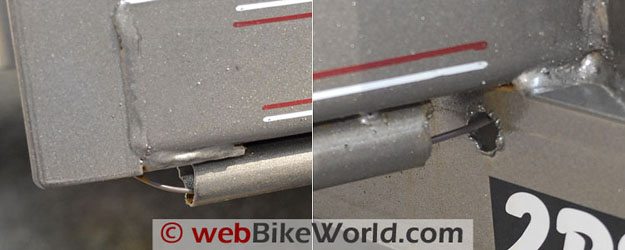 w

BW

 Video: Diamond C Trailer Walk-Around
Conclusion
I'm very pleased with this purchase and I think that after three tries, we've finally found the perfect motorcycle trailer.
Of course, a trailer this big is not for everyone, but if you have the room to store it, and the means to pull it (it actually pulls fine behind the wimpy Ford Ranger rear-drive pickup with a bumper hitch), then the heft and build quality of the Diamond C trailer should ensure years of safe use.
The only slight issue I have with it has to do with the conduit that hides the wiring.
It was cut with a torch, leaving rough edges, so I'll have to go through and tape and secure the wiring where it enters and leaves the conduit, to make sure the wires don't get chafed.
Other than that, the trailer works perfectly for all our needs.
It feels safe and secure; it tows very easily; the 15″ tires roll smoothly over the bumps and the tires and hubs barely get warm.
I feel much more confident with this trailer than any other trailer I've used, so I can highly recommend Diamond C quality and the 2PSAL10X60 trailer in particular.
More: wBW Motorcycle Trailer Reviews
w

BW

 Review: Diamond C Flatbed Motorcycle Trailer
List Price (2010): $1,599.00
Made In: U.S.A.
Colors: Red, White, Black, Beige.
Sizes: 8-14 ft. and 4 different widths.
Review Date: June 2010
Note:
 For informational use only. All material and photographs are Copyright © webWorld International, LLC since 2000. All rights reserved. See the webBikeWorld® 
Site Info page
. Product specifications, features and details may change or differ from our descriptions. Always check before purchasing. Read the
Terms and Conditions
!
Owner Comments and Feedback
---
Where to Place the Wheel Chock?
Here's a good question from Brian Z.: "With regards to axle fore/aft positioning…do you find that with it being more aft placed, that it makes the tongue heavier when loaded?"
Editor's Response: Good question! The trailer is well balanced, even though the axle may look like it's placed towards the back of the trailer, so when it's empty, there's no problem at all.
I weighed the empty tongue weight as 76 pounds. I can lift the unloaded trailer and easily move it around, but I don't know where the balance point is when it's loaded with a bike.
Chris and I studied it for some time to figure out where to put the wheel chock. This is an interesting topic; one which I should have addressed.
My wife tows horse trailers all the time and the experienced horse trailerists say the weight should be biased towards the front because you don't want the hitch pulling up off the ball when hitting a bump.
But I don't know where the exact proper theoretical spot for the chock should be and it would probably differ anyway from the Harley to the Ducati.
If anyone can provide some insight on how to figure out the best spot for the wheel chock placement, please let me know.
---
From "L.B." (8/10):  "Thanks for the review!  I recently returned to the US after living in Australia. I needed a trailer to use as a utility/motorcycle trailer.
I decided to give the looked at different brands and configurations and upon reading your review decided to give the Diamond C a try.
I first added motorcycle chocks and a took box. We loaded the trailer with my Triumph Tiger 1050 SE and headed to The Tail of the Dragon at Deals Gap (wBW Video Review).
I have nothing but good to say about the trailer. It pulls straight and true, has really good features and construction and looks good as well. I really like the double hinged fold up gate/ramp. Thanks for the review!"
---
From "C.C." (6/10): "Great review of the Diamond C trailer.
I owned one of their 'Charger' series, now called 4MT-L10CS for many years and found it to be an extremely well built and durable trailer, almost to the point of overkill; it was still easy to tow however.
I lived in Texas at the time and thought that Diamond C must be the best kept secret in motorcycle trailers since I rarely ever saw one outside the state, so I'm glad to see them getting more attention."
---
From "R.T." (6/10): "I enjoyed the review of the Diamond C Trailer. I agree, this type of trailer is the best solution for hauling around a motorcycle.
I have the Diamond C 3RBT (aka, "The Roustabout") and it has been great.
The metal ramp can get a little slick when wet so I put down some Herculiner bed liner which has really improved wet traction. Together with my Bike Grab Wheel Chock (review) and various tie down points this is a perfect set up for me."